Product Name: Traffic Swarm
Website: http://www.trafficswarm.com/
Price: $0 or membership fee starting from $20 per month
Product owner: Steve Little
Verdict: Not recommended
Have you ever heard about traffic exchange networks? If yes, then Traffic Swarm is exactly what is known as a traffic exchange network site. The site has been functioning since 2004 and is well known on the internet.
For those who are new to the whole internet thing it looks like an amazing opportunity and those who are experienced and know how internet marketing works, stay away from sites such as Traffic Swarm simply because their service is not that great at all.
Yes, you heard that right. If you are a website owner, their service is absolutely useless and can even hurt your website and your entire business.
The main idea behind Traffic Swarm
As I said above, Traffic Swarm is a traffic exchange network. Anyone who has a website can join it and add their sites to Traffic Swarm network to start getting a massive yet useless traffic to their own websites. Yes, this is how the system works.
Basically, it's a website that has a few thousands of members that want to exchange clicks and views, i.e. they visit each others websites and then leave them in order to get credits and when they get credits they get a chance to get other members to visit their own website.
To be exact, when you become a member, you start viewing ads placed by other members to get credits and when you get enough credits you will be able to create your own ad too. I think it's clear now how the whole system works. And now I'm going to dive into more details so you can understand whether you need this program or not.
Pros of the program
Free to join
You can drive a lot of useless traffic to your website
Cons of the program
Traffic Swarm is useless
It won't help you grow your business
Promotes other low quality services and products
You have to pay for your membership if you don't want to surf their useless network to get credits.
Inside the program
1. First off, in an ideal world, the traffic they are going to send you should help you grow your business but unfortunately it's not going to happen. All internet marketers are struggling online to get traffic to their websites and this is a fact.
The fact is if you fail to bring traffic to your site, your business will not grow or die at all. But does any type of traffic mean success to you? Absolutely not.
You can bring tons of traffic to your site and fail to make a single sale. To make your site profitable you need to bring highly relevant, targeted traffic interested in your products or services offered at your website.
In case with Traffic Swarm this goal becomes absolutely unachievable because their traffic is not targeted at all. Just imagine that their members earn credits for visiting and then leaving your website. Does it seem reasonable to you?
2. It's free to join Traffic Swarm though to get your ad displayed there and get useless traffic you need to spend some time at their website by viewing other members ads because when you surf their network you earn credits for that.
If you don't want to waste your time there then you have to choose one of their "amazing" packages: 6 month membership will cost you $25 per month, 12 month membership – $20 per month or 1 month membership – $30.
If you choose free membership you can publish 10 ads per month only. As you can see, to get that type of useless traffic you need either waste your time there or pay for it. It's up to you to decide if you want it or not.

3. FYI, you can also earn some money ($5) if you refer someone to their site.
4. I found a few testimonials on their website and just want to show them. Please take a look at these testimonials and tell me honestly, do you think they are from real people? I can make hundreds of such testimonials. I think any smart person can easily separate real from fake testimonials.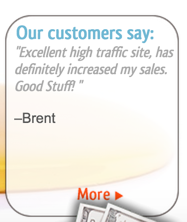 5. Here is how your ad will look like if you join their network. You can't make it stand out among other ads and the only you can do is just hope for someone to click on your ad and even if someone clicks, it's most probably to get credits and not because they are interested in your product or service.
To me it's a waste of time and money. To be honest, you can maybe get few real visitors but it's nothing compared to what you can get from search engines. With this type of traffic you can make a few dollars at best.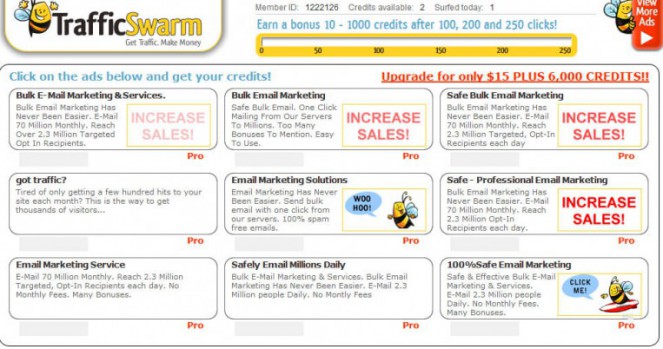 6. Another shocking fact is that when members of Traffic Swarm network visit your site they are not allowed to stay there over 20 seconds otherwise they will not get any credits.
Now ask yourself a simple question: Why do you bring visitors to your website? Probably you want them to stay there, read your content, leave some comments, contact you or finally make a sale.
Now I want to ask you a question: Do you think you can get them stay there, not to mention make a sale, if they earn credits for visiting and then leaving your site that fast? This is absolutely crazy and useless system.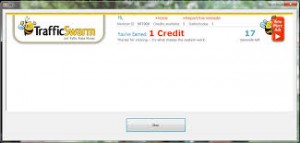 7. They also promote other poor quality products and I don't recommend them. Just as an example, they offer you to complete online surveys and get paid for that activity. Though some online surveys companies are legit, they pay pennies for completing their online surveys.
You can do it if you like it, but keep in mind that even if you dive into this and spend the most of your day you will earn approx. $300 per month at best.


8. One good thing to mention is that they have recently added a like button to their ad section and if someone likes your ad now they can like it and your ad will appear on Facebook. This is of course a good feature and can be helpful.
Final word on Traffic Swarm
As you probably see the whole picture now, I think you are smart enough to make your own decision. Traffic Swarm not only can't help you grow your business, but it can even ruin your reputation in the eyes of search engines, such as Google (the main player) due to sending you useless traffic. Why you need Traffic Swarm then?
If you want to get high quality traffic there is a proper way for that: driving free targeted traffic from search engines, such as Google, Bing and Yahoo.
Or you can buy traffic through PPC (paid advertising) – same high quality traffic from search engines and get the results you hope to see, but it requires some experience and knowledge to organize your PPC campaign accordingly.
The best program that can help you achieve your online dream is the Wealthy Affiliate – my # 1 ranked program for many years in a row. Read my review below and make sure to ask many questions so I can help you in the best way possible.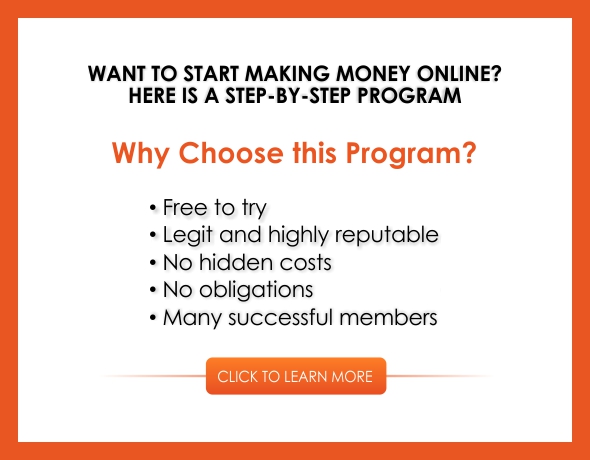 About the Author: Adam
My name is Adam. I'm the founder of Your Income Advisor. My goal is to help others succeed online, by exposing scams and reviewing top rated products. I can help you start
your own business online