Product name: Internet Lifestyle Network
Website: http://internetlifestylenetwork.com
Owner: Vincent Ortega Jr. and Mark Hoverson
Price: $37, $97 per month/upsells
Overall rank: 0 out of 100
Internet Lifestyle Network is the program created by Ortega and has been in the business of making money for several years. Then it was shut down.
At the time Ortega was promoting it as a great opportunity for making money online but unfortunately, he was wrong.
Though he promised to his members to pay $100 if they fail to earn $20 in 30 days. I've seen such claims in the past. I know what you get instead.
I've even seen promises, such as paying $500 for watching a video. Of course, all those programs are dead now like Internet Lifestyle Network.
Reviews of this programs are different on the internet though most of them are negative. Let's see if Internet Lifestyle Network is a scam or not.
Short review of Internet Lifestyle Network
Internet Lifestyle Network is the combination of mind changing courses, blogging, promoting Internet Lifestyle Network to other people, social marketing on Facebook.
When ILN was active it was a controversial program. I even found some opinions of ex-members that we're very happy with ILN.
Anyway, it's dead now which proves it was not good enough to stay in the business.
Pros of Internet Lifestyle Network
Cons of Internet Lifestyle Network
UPSELLS – over $2,000
The site is down
False income claims to earn $10,000 per month
Internet Lifestyle Network is the program that could teach you some valuable things at the time. It's no more active. Their business model was not good enough and as a result disappeared from the market. Instead start with the right program. It's free to try.
Internet Lifestyle Network review
Let's Start our review and see what Internet Lifestyle Network about and can it really allow us to live an internet lifestyle.
ILN teaches how create a blog, mindset courses and especially how to spread a word about Internet Lifestyle Network.
When it comes to their courses, it's just a theoretical stuff that will not help you unless you are willing to take action.
I know of another program called Future of Wealth by Anik Singal. I can't say this kind of stuff is useless.
Of course, this kind of motivation is useful but it's not enough to take action. We need practical steps too.
For example, ILN teaches you how promote Internet Lifestyle Network on Facebook.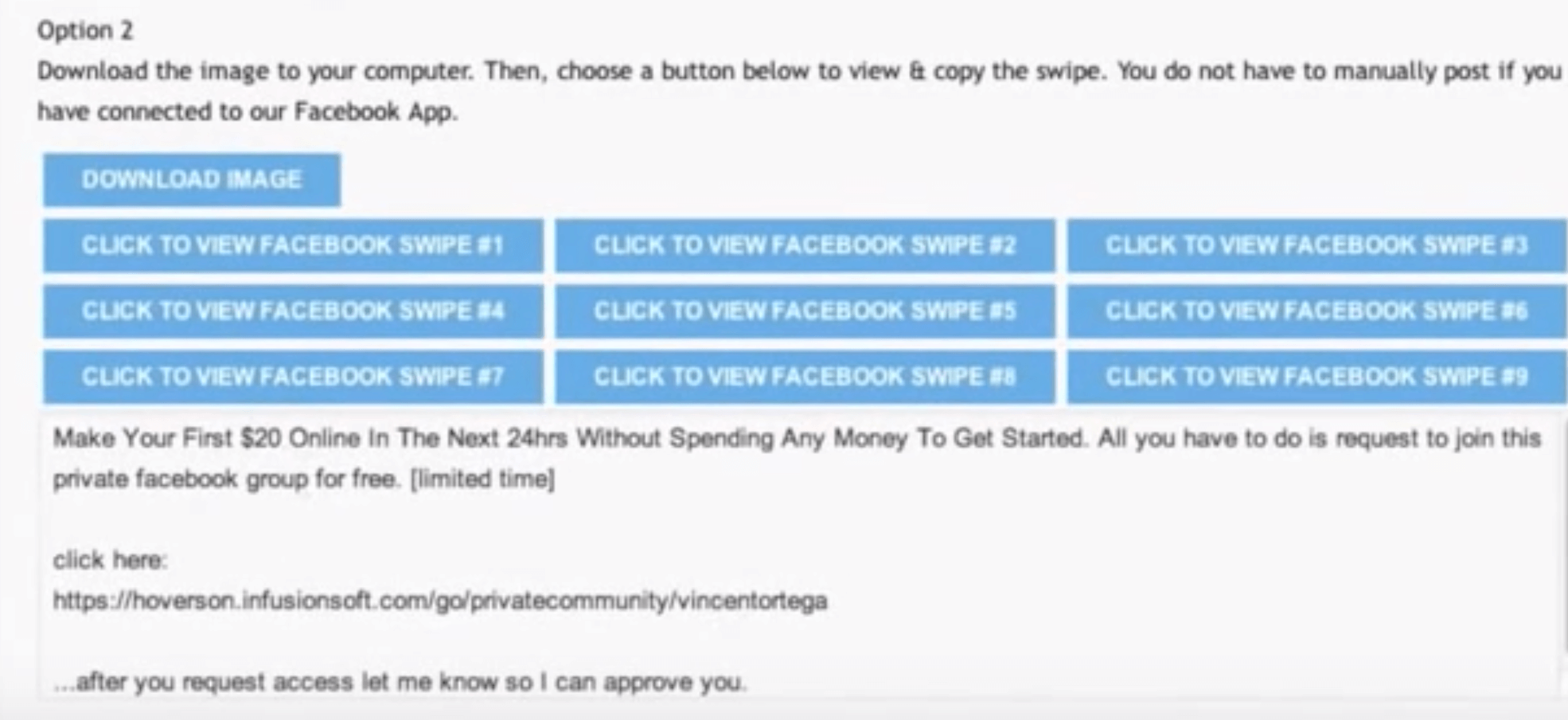 From my experience I can tell you promoting something on Facebook is not easy at all. You think you start your campaign and everyone will listen to you. Not at all.
Thousands of other people promote their stuff on Facebook and only few of them can actually monetize their business.
Promoting ILN on YouTube is not easy too. If you can get a lot of views you can make a solid income. It's just like Facebook.
Many YouTube channels can get only few views and clicks at best.
Internet Lifestyle Network course consists of several lessons:
Intro: Speed Wealth Fast Profit Formula
Find Laser Targeted Leads on Facebook
FAST 6-Figure Earner's Daily Facebook Playbook
6-Figure Speed Wealth Thoughts
Mark Hoverson's 8-Figure professional game
Vincent Jr's Viral Attraction Facebook marketing Leadership branding for direct Response
The 8-figure irresistible info marketing blueprint
Mark Hoerson's NEXT-LEVEL professional marketing
Vincent Ortega Jr's NEXT-LEVEL professional marketing
Inner circle top ILN affiliate training & webby replays
Creating 8-figure easy video sales letters
Take your video marketing to the next level
The famous viral 5 ILN formula
The 21 amazing word-for-word recruiting and closing strategies
Solomon CEO – Expectation
Mark Hoverson's Solomon CEO – $995
Mark Hoverson's Solomon CEO $10,000,000+ – $4995
The 7 rituals for 8-figure quantum wealth creation in your life
Mark H's Mindbenders & wealth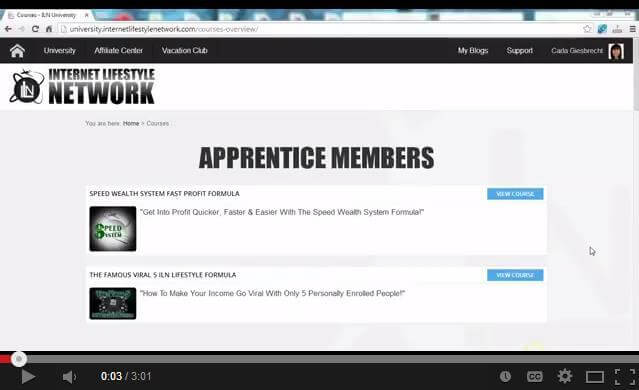 They also have private Facebook community with over 27,000 members. The community was helpful at the time.
ILN offers several memberships:
Apprentice members – $37 per month
Professional members – $97 per month
Executive members – $997 per month
Total Lifestyle Alliance – $2,000 and $250 per month – 4 years
Once you've joined the ILN, Ortega will be trying to convince you to upgrade to other higher levels of ILN membership.
All these upsells are designed to take more money from you. For example, Executive members that pay $997 get travel deals at a discount price.
This kind of product or service is not for everyone. Many people don't travel at all because can't afford it.
Another upsell which is $2,000 is useless in my opinion. Not by content. By the kind of promise Ortega gives you to make $10.000 in the first year.
On top of that he promises to refund your payment. Do you really believe he will refund after 1 year? I don't think so.
Like all other MLM programs Internet Lifestyle Network pays you only for levels you are a member of.
For example, if you are Apprentice member and sold a Professional membership you will not earn a commission.
You can only earn for promoting your membership package because you paid for it.
That's why you are encouraged to buy all membership packages which I don't recommend at all.
As a member of ILN you earn 80% commission on your own sales. You earn 50% commission from your referrals.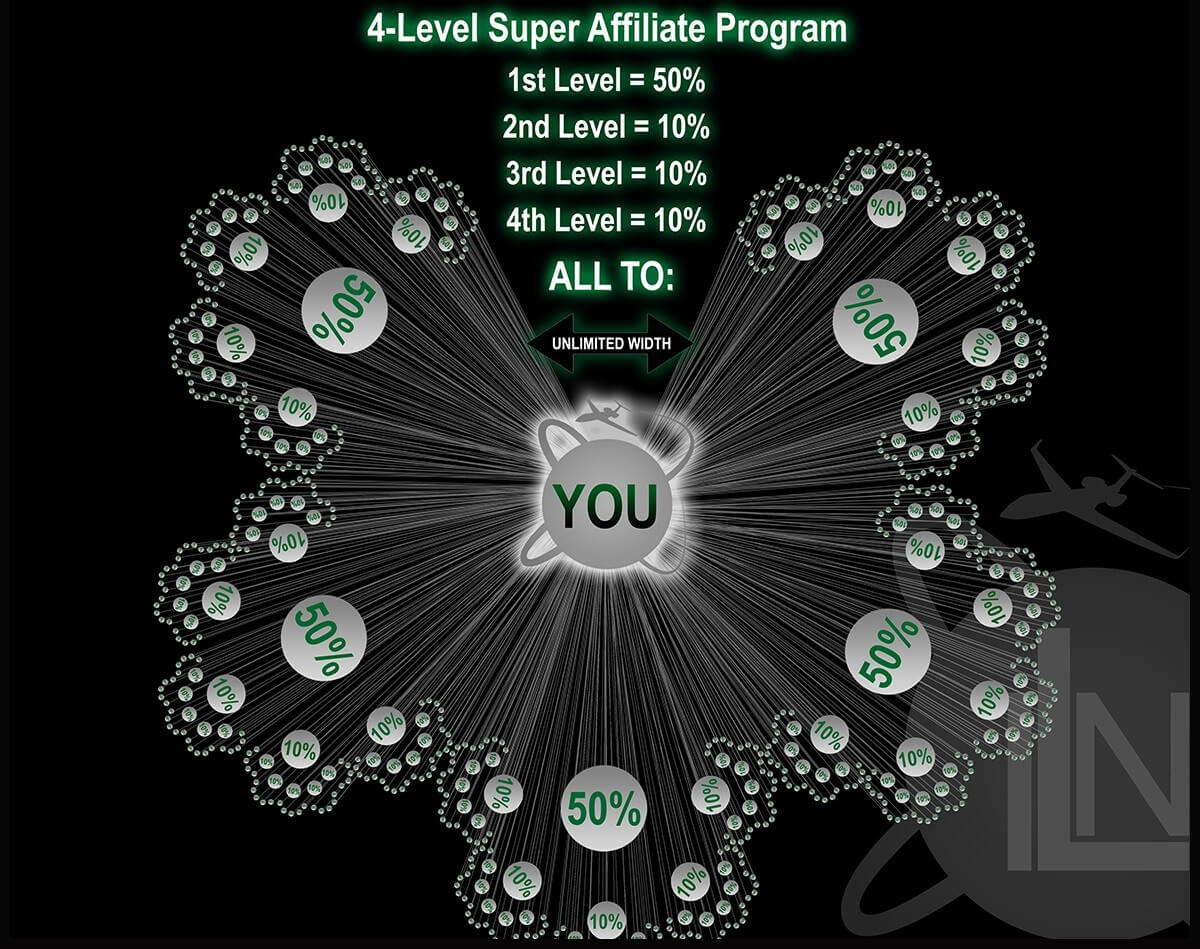 You earn 10% commission on referrals of your referrals. And finally you earn 10% on referrals invited by your second level referrals.
In one of ILN lessons there is a lot of talk about building a blog which is good.
But the main issue here is that you are not taught how to actually blog, create content for your blog, promote your content, get traffic to your blog.
The blog you get from ILN will not rank high in search engines. For this you need to pay for another membership that will cost you $97 per month.
Plus they ask for up to $495 for customizing your blog. This is insane!
What I like about Internet Lifestyle Network
Internet Lifestyle Network was not bad at the time in terms of active community and providing support to its members.
At least this is what I found on the internet when I dod my research. Unfortunately, the ILN is now dead.
But I think there is no reason to get sad because the program was no that great, especially due to its crazy promises and claims.
What I don't like about Internet Lifestyle Network
There are a few things that I don't like about Internet Lifestyle Network. First of all, their advertising video is full of ridiculous claims such as:
You either make money online or we pay you $100 cash..
They guarantee you'll get in profit in 30 days or they will pay you $100 cash..
Make your first $20 online in the next 24 hours without spending any money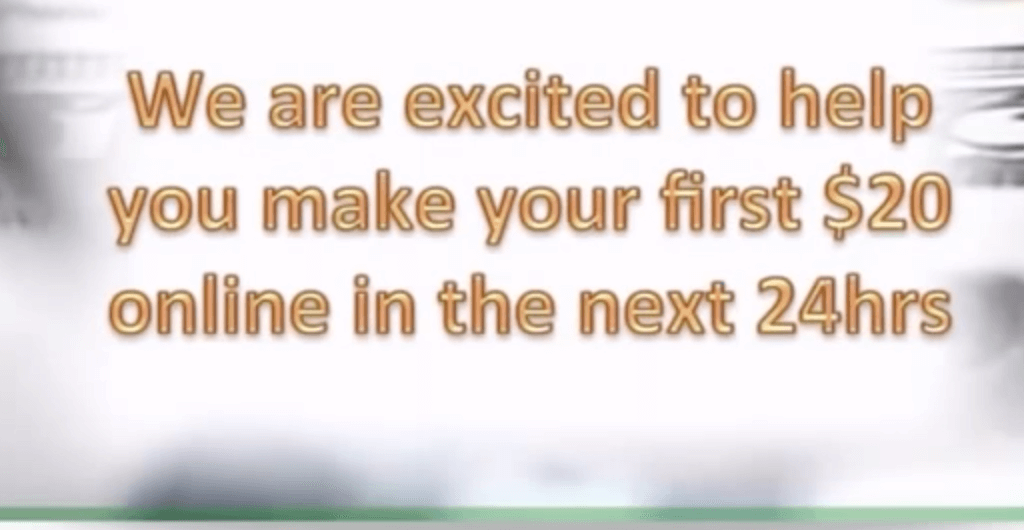 They promise that it's very easy to make money on Facebook. It's not true. It's one of the hardest things that I know when it comes to internet marketing.
For example, they show how to download the image and post it on Facebook along with the prewritten message. This will allow you too easily make a lot of money.
Considering that they promise you to make $20 in 24 hours it means you will earn $600 in your first month. Believe me, it will not happen.
They teach you to forward emails and easily make $20 in 24 hours. The reality is different.
There will be many other people like you sending the same stuff and believe me you will be struggling to make at least one sale.
BTW, please take a look at the screenshot of Internet Lifestyle video from YouTube. It has 90 likes and 248 dislikes.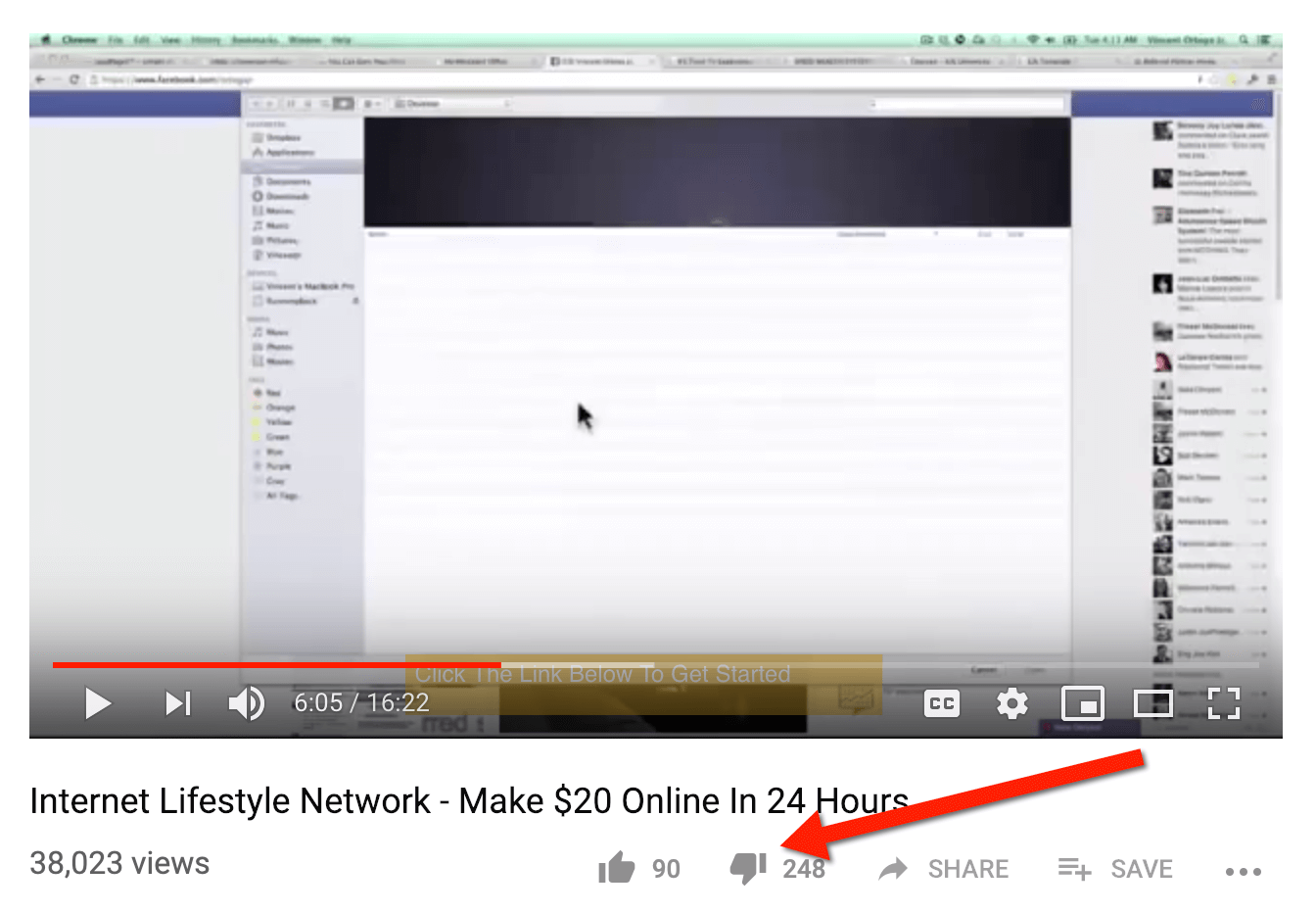 Most of the time the number of likes is way more than dislikes. In this specific case we see the opposite which means most people don't like what they see in this video.
In fact, all they teach you is promoting the same system to other people using their prewritten messages and other stuff, such as emails, images.
They show you their so called top earners that are making thousands of dollars per month after 1,2 weeks of joining Internet Lifestyle Network.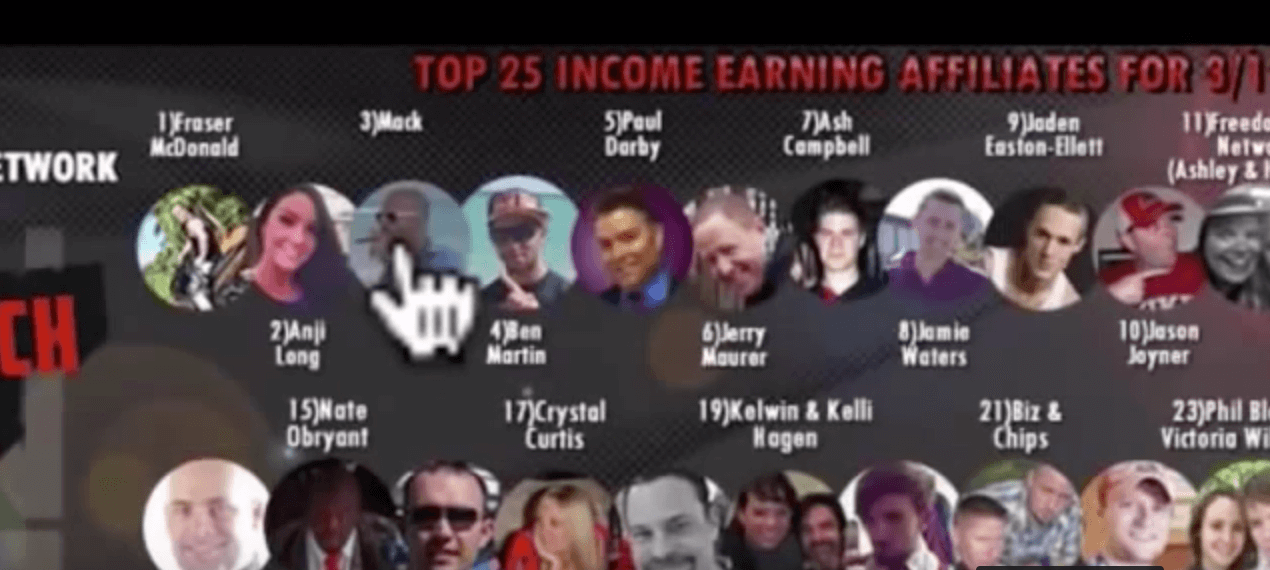 I don't believe this kind of BS because I know how to make money online, I'm actually making money and I can tell you with full confidence that it's absolutely possible but it's not easy.
They show you things like 23 year old kid making 17k in just a little over a month. And they say that it's verified. Even if it's verified believe me VERY few people can achieve it.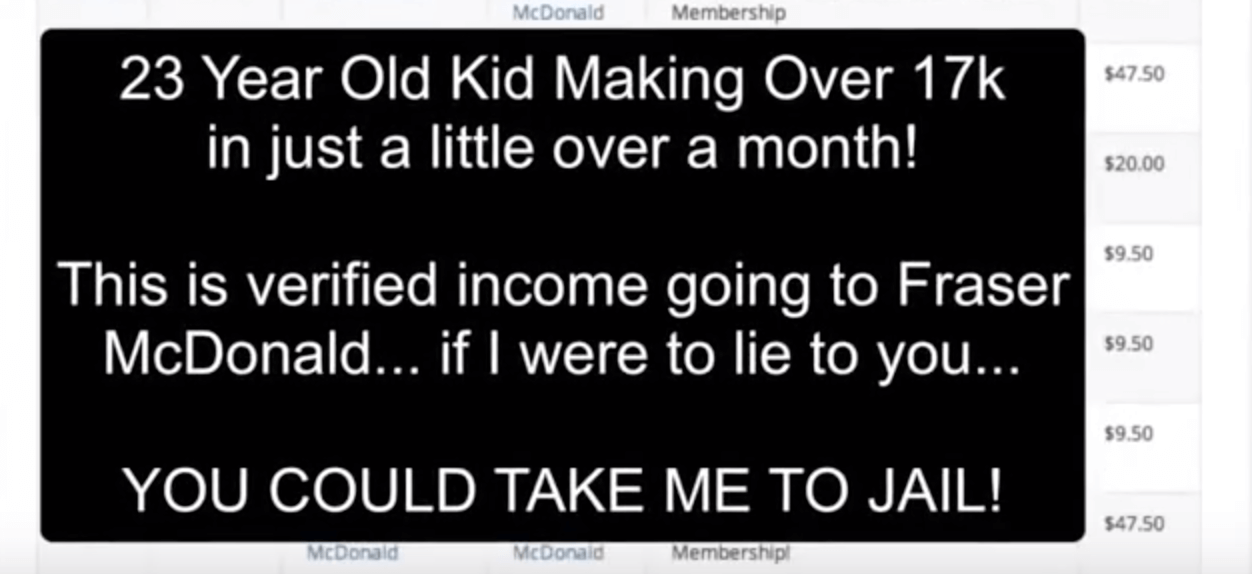 Also, according to my research, Ortega several times changes his program name and approach. This means his business was not going well.
For example, for some time his ILN website was redirected to Lifestyle Design Network with 7 day trial. Then after some time it was redirected to Super Charged Network.
Then Ortega was noticed in another MLM program called Vemma whose reputation was not good at all. You can read my Vemma review here.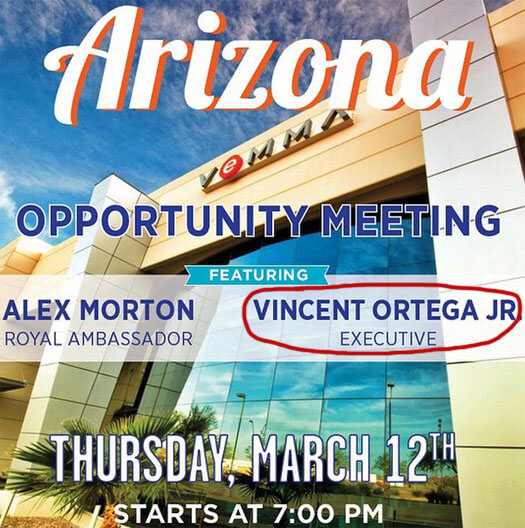 Vemma was even called an illegal pyramid scheme by FTC. They had many complaints that was featured on BBB.org website. You can also find many complaints about ILN on the internet.
Among other ILN claims I don't like one that explains online success as follows:
Setup Your Account
Start Your Training
Create Your Blog
Go On Vacation
This means after completing these 4 steps you can relax and start making money. In fact, it's not true.
After completing these steps your online journey is only beginning. You have to do a lot of work to get results. I consider this kind of approach is wrong.
Vincent Ortega also promises that if you follow what they teach you, you will be making easily $10,000 per month.
Unfortunately, they don't provide any info to back up their claims.
I also don't like the way you can ask for refund from Internet Lifestyle Network. Before asking for refund you have to:
To remain an active member of the program
You have to post on your Facebook profile
You have to watch all training videos
You have to complete all the tasks
You have to get 100 unique click-throughs for your affiliate links
You have to participate in webinars, comments etc
You have to allow the to spam on your Facebook page
And more
At the end of the day, if you don't get 100 clicks which is not your fault you can't ask for refund.
As you can see, there are too many things that need to be done before you can get your money. That's why most people will never get their money back.
In fact, all their actions built around their Global Resorts Network. The main idea is to get people to buy their expensive packages of over $2900-$11900 in cost.
Try My Favorite Program Free! No Risk, and No Credit Card Required
Can you make money with Internet Lifestyle Network?
Theoretically speaking yes considering that you can use their tools prepared for you. But in practice it works much differently. I know it firsthand.
My 5 year experience in internet marketing is the best proof for me. And finally ILN is no longer available to join.
Final word on Internet Lifestyle Network
Over the past 4 years I've reviewed many programs like Internet Lifestyle Network. Many of them are low quality programs.
For example, one of such programs is Digital Altitude that was also built around selling highly expensive training packages and promoting the same stuff to other people.
Though there was some good value in their training materials. Do you know what happened to DA? It was shut down by FTC.
I think Internet Lifestyle Network was closed by Ortega himself to avoid being shut down by FTC.
The final conclusion of my review is as follows:
I think Internet Lifestyle Network is a borderline scam because of its highly expensive products and the main reason is because Internet Lifestyle Network is dead.
This proves that their program was not good otherwise it would still work.
Final review of Internet Lifestyle Network
Training Support
UPSELLS – over $2,000
The site is down
False income claims to earn $10,000 per month
Overall rank:

0 out of 100
About the Author: Adam
My name is Adam. I'm the founder of Your Income Advisor. My goal is to help others succeed online, by exposing scams and reviewing top rated products. I can help you start
your own business online