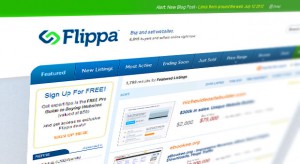 There are different ways of making money online and the most common and legit is building your own website and promoting a product or a service on it.
But though creating a website and content takes time and efforts it can easily pay off later when you complete the task and start making money.
Some people prefer starting their business from the ground because they have their own vision how to do it while others prefer taking someone else's business and grow it further. And there is a way to do this. There is a website called Flippa (www.flippa.com) for buying and selling websites and domains.
There are other websites involved in this business but Flippa is the best and reliable one. So, people just like you and me, build websites, create content for them, bring traffic to those websites, start making sales and then either keep those websites for themselves or sell them at Flippa at a higher price.
There are people who make thousands and even millions of dollars buying and selling websites alone.
They are real experts in that field. But to buy or sell a website you don't need to be an expert. Anyone can do it. If you are just starting your online carrier then I strongly recommend you to start building your own website and master SEO art first.
If you don't know what SEO means please read more of my stuff related to SEO. That is the foundation of online business. But if you still prefer taking someone else's business to grow it further then I would like to give you some recommendations.
Things to know before getting into Flippa business
When you buy a website at Flippa, you should buy one that has steady traffic, and preferably a monthly income. Normally, the more traffic a website has the more income you can expect from that website. But it is not always like that.
Sometimes a website that has less traffic converts much better than the one that has a lot of traffic, and there may be different reasons for that. For example, look at that website on the image from Flippa. It has 1200 monthly uniques, i.e. visitors and is making $416 per month.

It's not an advertisement
It is really a good mark for a website that has just 1200 visitors a month. I'm sure if you add more content to that website, apply some more techniques covered in the certification course at WA you can earn much more.
Take a look at another website from Flippa. It has 1040 uniques, i.e. visitors a month with $4738 as monthly revenue.

It's not an advertisement
As you can see, it confirms what I've said above, i.e. it has less traffic while making much more money compared to the previous one. There may be many reasons for that and if you read more of my stuff you will understand what I'm talking about.
How much are you going to spend at Flippa?
So, before you buy a website you need to know a few things. Your concern should be always around "evergreen" fields, such as consumer electronics, beauty and health – weight loss, hair loss, or computer software – antivirus software, etc.
For example, if you want to buy a website making $5000 per month it will cost you around $50.000. If it makes $1000 per month it will normally cost you around $15.000.
When you buy a website, first of all you need to ask the seller the reasons for selling it. Among reasons can be a website is losing traffic. Therefore, before buying a website, ask a seller for real traffic statistics for the last few months, 6 months would be reasonable.
If statistics show that traffic is growing or at least steady then you can buy that website and if it goes down then don't buy it.
Ask a seller for screenshots of his revenue that can prove that his website is making money and make sure that it comes from exactly same URL. Ask for a website statistics that preferably based on Google analytics.
Also check a seller's account history to make sure that he has a lot of positive records.
You can buy a website for $2000/3000 that generates a $300 of net profit monthly, work on it within a few months and double or even triple its revenue.
There are many people who are making money that way. Sometimes and for some people to start from the ground is really hard. Some people have a regular job and probably have no enough time to start a business from the ground.
Flippa can be a good option to start a business but before that you need to go through a certification course at WA. And even after taking the course you must be willing to work hard on your site and create new and fresh content to upscale your business.
If you are not willing to learn and work hard then neither WA nor Flippa can help you in building a business and in that case buying a website at Flippa can be a waste of time and money.
Is Flippa really the best option to make money?
While Flippa is a good option for those who want to make money online I personally do not recommend you to start from Flippa if you are just starting your online carrier. If you are not willing to learn and work hard then you can buy domain names and sell them at Flippa.
Just you need to do some research and find good domain names that are short, easy to pronounce, memorable and brandable.
For example, I've recently bought a domain for my future hotel reservation website, hotelsfarm.com.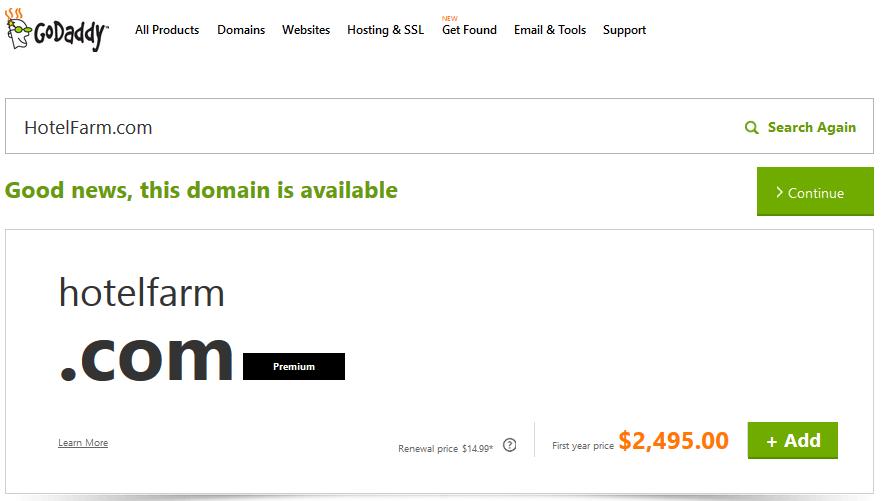 It's not an advertisement
However, I'd been searching for that domain for 3 to 4 hours, before I found that it was free. Actually, I found a hotelfarm.com, which was available at $2,495 but it was too expensive and I decided to do more research that led me to find a hotelsfarm.com. So, it is another option you can use to make money online.
You can easily find a good domain name and sell it at Flippa with minimum efforts on your side, just a few hours of research. You can buy a domain name for $4/5 and sell it for $50 at Flippa just as a side income.
Finally, if you are really interested and planning to get involved in internet marketing and start making serious money I highly recommend you to create free starter account at Wealthy Affiliate which is second to none in the industry.
With the help of WA you can learn the basics of internet marketing, build a real business and start making serious money online for years.
Actually WA helped me to build my business from scratch and many other successful internet marketers that I know. Read my review of the Wealthy Affiliate.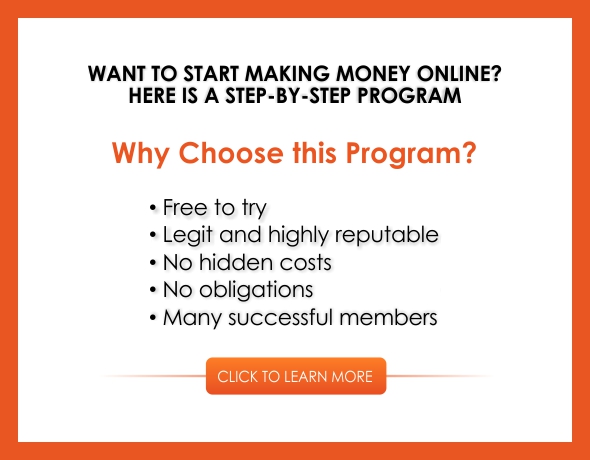 About the Author: Adam
My name is Adam. I'm the founder of Your Income Advisor. My goal is to help others succeed online, by exposing scams and reviewing top rated products. I can help you start
your own business online