Owner: Bryan Winters
Price: $1 trial, $47 first month, $97 each month after
Verdict: Legit but not recommended
5 figure day is a program you can join if you pay $1 to try it and then $97 per month in order to promote it and make money from it. If you're completely new to internet marketing then this program is not for you.
If you want to build your own business online then this program is not for you as well. Bryan's website starts with a typical sales message designed to convince you to buy his "awesome" product.
I don't like that type of websites that have nothing to offer except a misleading sales pitch. As an experienced internet marketer I can tell you with full confidence that this program is not going to teach you the basics of internet marketing.
The only thing you can expect from this program is that it will show you some techniques so that you can promote it to other people. You will learn how to promote their system using social media, email and forums.
They provide you with a lot of banners that you can put on your website or on other websites. To put a banner on other website means you have to pay for it.

If you are new to internet marketing then be informed that this is called paid advertising, i.e. you find a website that has a lot of traffic, contact website owner and ask their permission to put your 5 figure day banner on their website in return for a certain amount of money.
This is not cheap and you have to pay a lot to get a lot of traffic, and there is no guarantee that you can make any money. As Bryan Winters tells on his website: We can't guarantee you will earn anything at all.

Do you know why he can't guarantee you any success with his system? The reason is that he himself is the expert in internet marketing and he knows very well how to make money online. He is well aware of not teaching you any real techniques or the basics of internet marketing.
He doesn't teach you how to create an original content for your website, how to rank it on Google and other search engines, how to bring free traffic from search engines and how to track the traffic of your website to improve its conversions. He doesn't even teach you how to create a wordpress website.
What can you achieve with 5 figure day?
After joining the program you will get free websites with duplicate content (PLR). Duplicate content websites will never get ranked in search engines or get traffic accordingly.
They are absolutely useless. Any successful online marketer knows that if they want to be successful online they must learn how to bring free search engine traffic to their website and that about 75% of all web traffic comes from search engines.
Now, ask yourself a question: If this 5 figure day system doesn't teach you all this stuff then how are you going to be successful with it? If not search engines then you have to spam folks via email or social media, such as Facebook, Twitter, Google plus etc.
And do you really believe you can bring a lot of traffic via social media? Yes, you can but only if you have a lot of followers which requires time.
The other option is paid advertising, which you can hardly afford if you are new to internet marketing. And in addition to all this you have to pay $97 monthly for your membership with 5 figure day program. I don't think it is the best option for you as a beginner in internet marketing.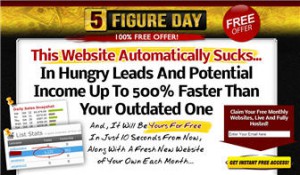 They have 9 training videos that actually don't teach you any practical skills to apply to your business and after watching them you'll  still need to do a lot of independent research.
The quality of videos is not good. There is a "Traffic Bootcamp" training in the program that includes some strategies, such as paid vs. free advertising, ad swap strategy, solo ads, banner ads, video traffic, forums, etc.
I don't want to waste my and your time explaining all this stuff because it will take a long time. The only thing I want you to know is that making money online is not as easy as you might be thinking. Applying most of the techniques taught by Bryan Winters requires a lot of time, effort and money in addition to a membership price.
So, Bryan provides you with pre-written emails that are supposed to help you make money but in reality it is you who is supposed to spend money, in order to "borrow" someone's email list and promote your 5 figure day product and hopefully make some money. Are you ready to spend money for that?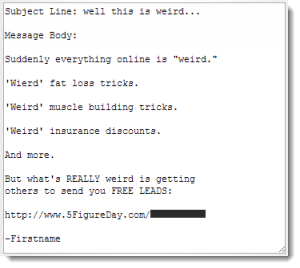 What I don't like about 5 figure day
The worst thing about 5 figure day is that there is no live support or a forum where you can ask a question or get technical or any other kind of support. Actually, they don't teach you any real skills or how to build your own online business.
The only thing they teach you is promoting their own poor product to others. I hope you now understand that the idea behind 5 figure day program – to help you earn 5 figure a day is absolutely unrealistic.
The only thing I like about the program is that there is a $1 trial offer and this is really great. At least you can try the program and if you don't like it then forget it.
And what I don't like the most about 5 figure day is that the program is very expensive. The first month – $47 + 11months/$97/$1067 = $1114 per year. That is a huge price for that type of product.
Compared to 5 figure day, I pay $359 per year for my membership in Wealthy Affiliate which is the #1 community in the world for teaching you how to build a successful business online + unlimited support, training, web-hosting, live chat, technical support and many more…
If you still have some doubts then to remove them you can try the program for $1 before making your final decision. But I'm sure that after trying it you will realize that it is not as easy as it is explained in Bryan's training.
I highly recommend you to try Wealthy Affiliate because I've been a premium member of Wealthy Affiliate since 2013 and know it from inside.
Please leave your comment below or if you have any questions feel free to contact me.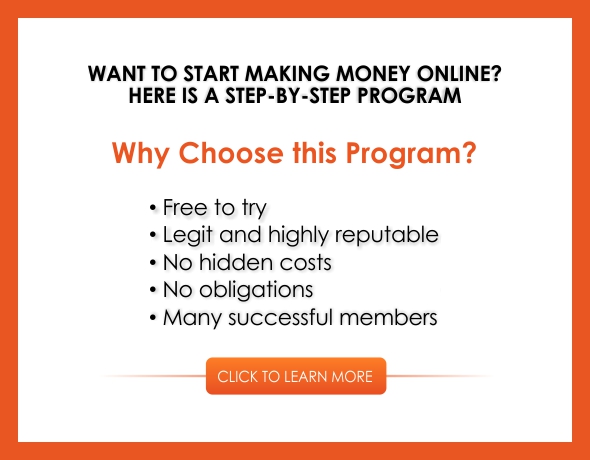 About the Author: Adam
My name is Adam. I'm the founder of Your Income Advisor. My goal is to help others succeed online, by exposing scams and reviewing top rated products. I can help you start
your own business online