Experts Academy
Pros
You can benefit from Brendon's experience
Money back guarantee
Cons
Extremely expensive
Limited support (by email only)
Brendon's teachings are not easy to implement, especially modules that require an ability to speak in public


Product name: Experts Academy
Program owner: Brendon Buchard
Website: www.expertsacademy.com
Price: $1,997
Overall rank: 60 out of 100
Verdict: Recommended? Yes and No
Final verdict: There are much better alternatives out there
Brendon Buchard is a very well known internet marketer who has made millions of dollars online and his name stands close to such names as Pat Flynn, Mark Dillard, Tony Robbins, Frank Kern and some other names.
Brendon is an honest guy making real money and he is definitely very different from many other fake millionaires that are selling their make money courses while they can't make any money themselves.
Brendon teaches folks how to build an online business (empire) based on your personal interests.
The idea of his course is great and in fact achieving success in life hugely depends on how passionate you are about what you do.
The only question is: Is it really worth paying such a high price for Brendon's course?
Keep reading my review of the Experts Academy and I will explain in details all you need to know about this course so you can make a decision.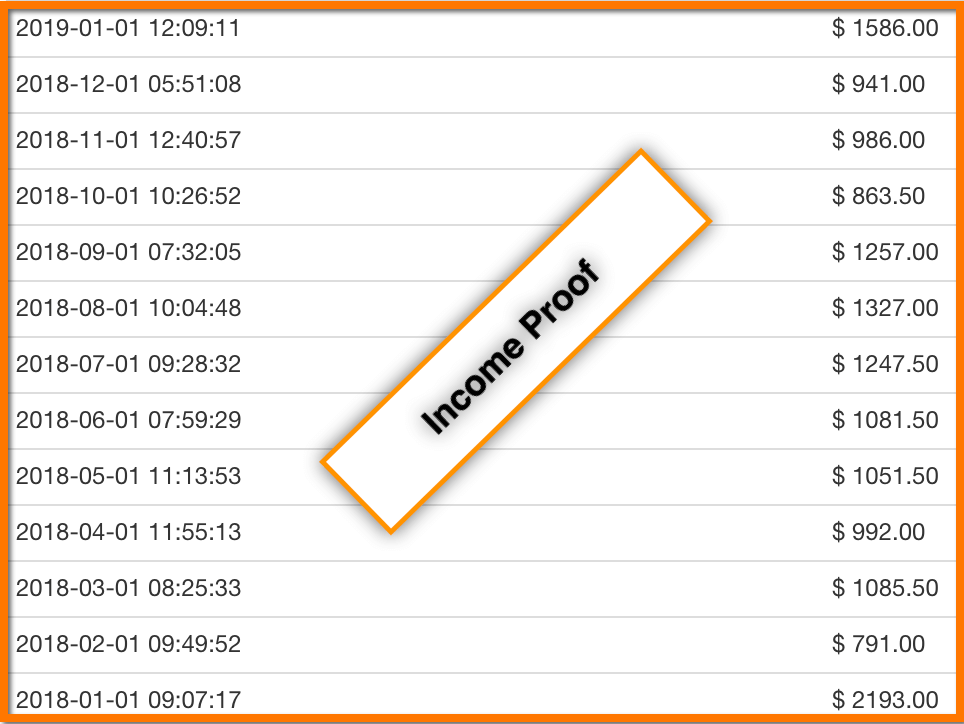 Pros of Experts Academy
You can benefit from Brendon's experience
Learn how to build your internet income empire
Money back guarantee
Cons of Experts Academy
Extremely expensive
Limited support (by email only)
Brendon's teachings are not easy to implement, especially modules that require an ability to speak in public
What you should know about Brendon's Expert Academy before investing $1,997
There are several videos on Brendon's website and once you've landed on his page you can watch the videos to get an idea of what you can expect from his program.
I have to admit that Brendon is an excellent speaker and really knows what he is talking about.
Most of his talk is just a motivational material and he is an expert in motivating people. Basically
Brendon teaches you how to create your own information product and promote it through different ways such as physical DVDs, seminars, downloads, webinars, PDF guides, etc.
There are even more ways to do it. His course reminds me of another course called "The Super product" of Alex Jeffreys. He also teaches how to interview top marketers and create information product and then sell it using different marketing techniques.
All I can say is that the idea of selling information product is not new at all. The question is: Can you create such a product? and Can you market it successfully? It's not easy at all.
Many people fail at it. I know that many people have bought Brendon's course and failed to earn even $1.
I always try to help my visitors by sharing my experience with different products and I do my best to help them avoid obvious scams or products/programs that fail to deliver what they claim to.
From my experience I can tell that even if you buy the best course available on the internet from someone who is making millions of dollars, it doesn't mean that after buying it you will be making money too, not to mention millions of dollars.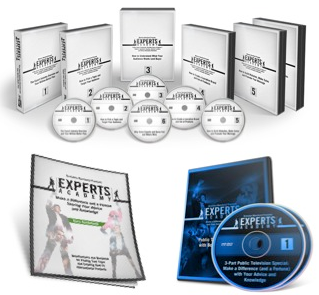 Brendon Buchard a private coach?
Brendon is the guy who knows what he is talking about and after watching his videos you will definitely want to achieve something big. His product is definitely not a waste of time and if used by someone who has the right mindset they will definitely achieve their goals.
BUT my main issue with this product is that his product is really overpriced. I think you agree that paying for the course that will cost you $1,997 is not affordable for most people.
By the way, Brendon doesn't give any guarantee that after buying his course you will be a millionaire.
He is not going to become your personal coach. I would pay such a high price only to someone who is willing to personally coach me, but it's not the case here.
You can contact him by email only which is not a big deal at all. I've recently paid $400 for a CPA course and for an additional $200 I could get a private access to a CPA expert who is making millions of dollars per year. In case with Brendon, it's too expensive and not so effective.
Does Brendon Buchard give you any guarantee?
I really respect Brendon for being transparent and honest with his people. On his website he clearly says that he doesn't give any guarantees that you will be successful online after buying his course.

I think it means a lot. Brendon is an honest guy and doesn't deceive folks. But anyway, his product is extremely expensive and I suggest that you ask yourself a simple question:
Are you ready to pay $2000 to someone who he is not going to become your personal coach and who asks you to pay such a high price for a course that you can get for a much lower price elsewhere on the internet?
What you can expect from Brendon
I have a good experience in internet marketing and trust me I know how it works and how to make money online and I'm actually making money from my websites. I know how top internet marketers make money.
They build their email list and then market many different products to that list and this way they make millions of dollars per year. The truth though is that most of their customers don't make even a penny online.
I'm pretty sure that after buying Brendon's main course for $2000 you will have to buy some other products and invest even more money in your "empire". This is the way they make so much money. Remember that.
How to start with Brendon on the right foot
If you still firm in your decision and want to buy Brendon's product I suggest that you start first with his free products. On his website you can get free copies of:

The Motivation Manifesto
9 Declarations to Claim Your Personal Power
The Charge
Activating the 10 Human Drives that Make You Feel Alive
The Millionaire Messenger
Make a Difference and a Fortune Sharing Your Advice
The Millionaire Messenger is the main ebook that will reveal Brendon's 10-step plan on how to make a solid income online through creating information product.
Also, you can watch several videos on his website that will allow you to understand what you can expect from Brendon. I'm sure it's the wisest way instead of investing $1,997 in his Experts Academy.
Brendon's courses
On his website http://brendon.mykajabi.com you can buy his courses:
The 10 Human Drives – $49
The Influence Course – $297
The Business Accelerator – $297
The Success Accelerator – $29 per month
Secrets of the Top 2% – $497
The Confidence Course – $97
The Achievement Accelerator – 3 monthly payments of $197
High Performance Academy – 3 monthly payments of $369
As you can see, you need to invest a LOT OF MONEY in order to be successful online with Brendon. I don't know about you, but I'm not ready for that.
And as I told above, there are much better alternatives and one such program is Wealthy Affiliate that helped me start making money online without investing the amount of money Brendon asks you to pay.
My recommended program will cost you $536 per year which includes a top notch training, websites, tools and support.
And I forgot to mention live chat available 24 hours a day. And plus you get access to real experts that are making thousands of dollars online.
Passion is the key to your success
As for motivational speeches, there are tons of material online. I suggest that you watch this video to understand what Brendon wants you to understand.
This video is really great and I strongly recommend to watch it. It's all about being passionate about what you do in order to be successful online.
Can Brendon really help you become a millionaire?
On Brendon's website you can watch a video that shows you people who have bought his course and made thousands of dollars online after applying the knowledge. But what does it mean to you?
If some of his customers are happy with his product and made thousands of dollars, it doesn't mean that you will achieve the same success.
Many people who have purchased his course have made zero. Here is a complaint that I came across on the web. This guy is not happy at all and I'm sure there are many people like him who invested $2000 and made zero.

This reminds us of Brendon's disclaimer in which he says that he doesn't guarantee any results to anyone. And this reminds us of programs that are much cheaper than Brendon's course.
Experts Academy training
Brendon's course consists of several modules:
Authors section
Speakers section
Seminars section
Online Marketing section
Life/biz coaching section
Q&A/Coaching calls with Brendon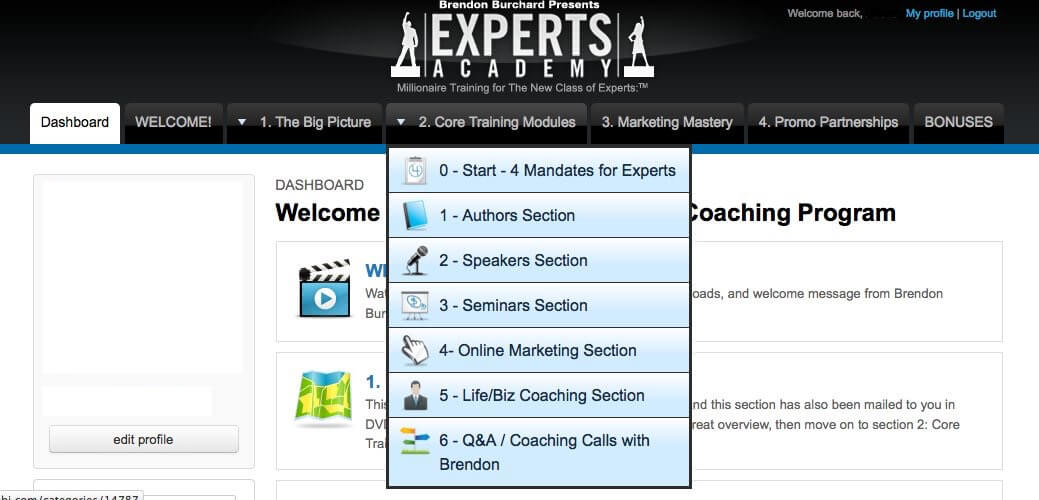 Brendon's Marketing Mastery online training consists of 5 week DVD series. The course covers 5 business models:
An online email marketing sequence that made Brendon 7 figures
A book proposal that made over $500,000 in advances from publishers
A speaking campaign used to book $10,000-$25,000 keynote speeches
A seminar marketing campaign teaching how to sell $5,000 workshops
A coaching questionnaire used for $45,000 year coaching clients
Online 5 week email coaching /online course
Marketing strategy planning session
The Experts Academy Promotional Partnership Crash Course – 4-week online modules ( This course is especially difficult to implement)
Free ticket to Experts Academy Live
Brendon also provides you with various tools that will make your job easier. By tools I mean templates, emails, pdf's, etc).
Is Brendon's course really a super course?
Brendon's course is extremely expensive as I mentioned it above. In fact, it teaches you how to build your online empire based on your passion which is great.
But there is no need to pay so much money for the course. Here is my article about how to turn your passion into a business.
Brendon doesn't teach you any secret strategies that other top marketers don't know. There is no secret here. Success online comes thanks to implementing certain steps and strategies.
Requirements:
Passion
Building a website
Creating content
Strategies:
SEO
Email marketing
Youtube
Social media
Paid traffic
Outreach
You can learn all this for a much lower price elsewhere. The program that I've mentioned above can teach you all this and even more.
There is no need to pay thousands of dollars, especially when you don't know if you can achieve any success with it.
I know many people who have invested thousands of dollars in programs and made zero. That's why I honestly recommend you to start with a program that is much cheaper and see how you can succeed with it first and then you can think of investing in products like Experts Academy.
The fact that Brendon has generated millions of dollars through email marketing is not a secret at all. I know this fact too and I use this method like many others do.
But very few people can achieve success with email marketing because it requires months and even years before you can build a responsive list consisting of people that trust you.
Building trust is essential for your business. Remember that. Any top internet marketer will tell you this simple truth: "Money is in the list". So, nothing new here.
And even this (email marketing) alone will cost you another $250 per year.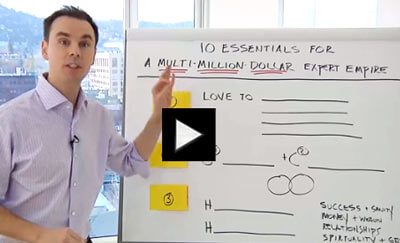 Brendon's 10 essential rules for success:
Choose a subject
Tell a story
Choose your strategy
Create your product
Gain leads and trust
Gain social presence
Build a system&structure
Gain self-confidence
Self-discipline
Service mindset
Again, you can learn all this inside my recommended program that is much cheaper and in fact I owe to this program for my success. The same info at a more affordable price.
My final recommendation
Brendon's Experts Academy is a good program, but it's extremely expensive and that's why it's not recommended to everyone.
I believe that before investing so much money in this high ticket item you would better try my recommended program first.
This will allow you to understand what internet marketing is all about and how to make money online. And I forgot to mention that my program is free to try.
Final glance at Experts Academy
You can benefit from Brendon's experience
Learn how to build your internet income empire
Extremely expensive
Money back guarantee
Limited support (by email only)
Brendon's teachings are difficult to implement, especially modules that require an ability to speak in public
Overall rank:

60 out of 100

Verdict:

Recommended? Yes and No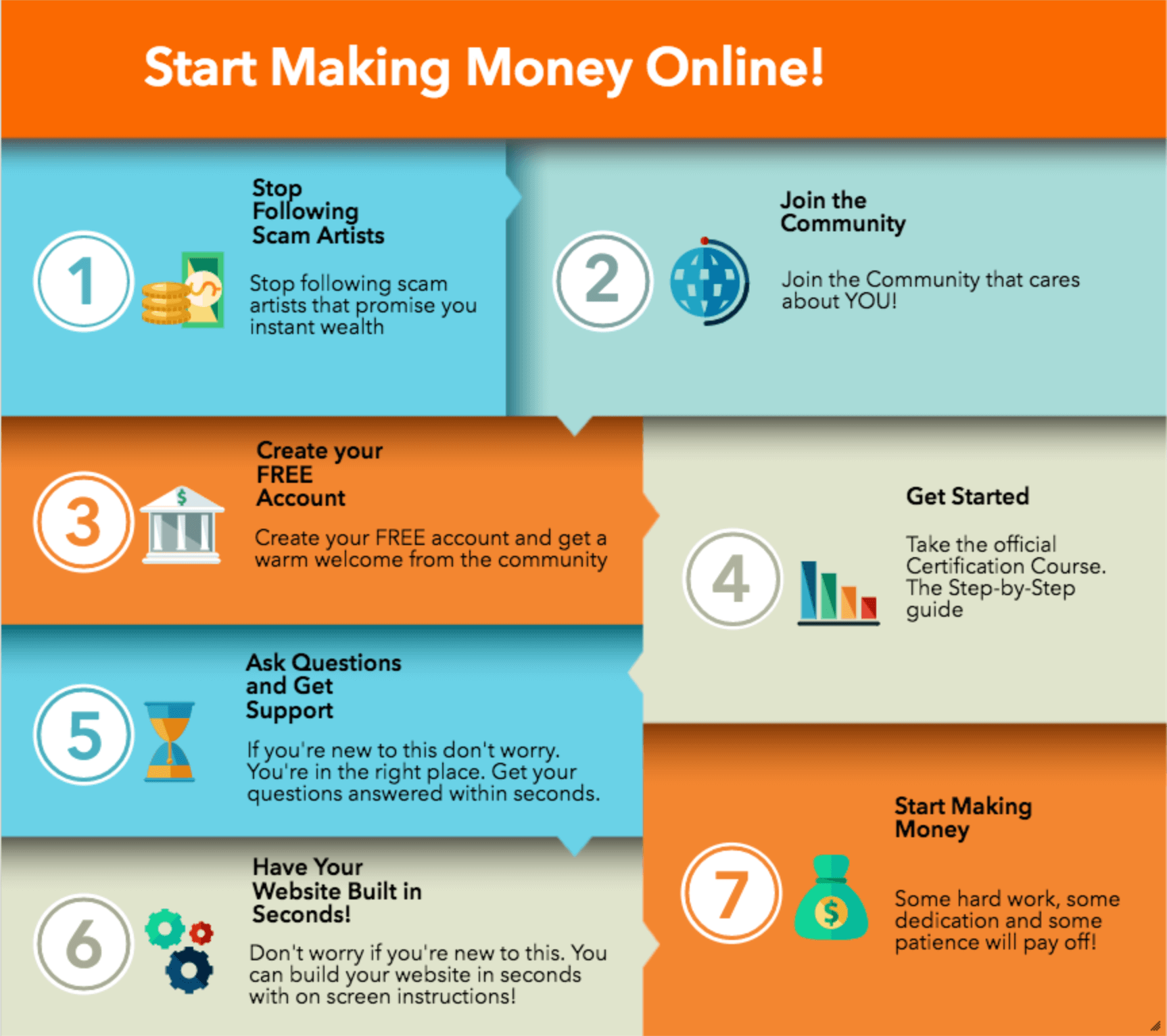 No obligations. It's free to join.
About the Author: Adam
My name is Adam. I'm the founder of Your Income Advisor. My goal is to help others succeed online, by exposing scams and reviewing top rated products. I can help you start
your own business online