Product name: Earn Honey
Website: www.earnhoney.com
Overall rank: 80 out of 100
Verdict: Legit
I think honey is an exact indicator of what you are going to get from this program.
Like other programs I've reviewed, such as Earnably, Quick Rewards, none of these programs will ever make you rich even if you are willing to spend all your time on them.
But does it mean Earn Honey is a scam? Definitely it's not. It's just one of many other paid to click, reward sites that are everywhere.
To be honest, they take much of your time and give little in return and that's why I'm not a huge fan of reward or paid to click sites.
But some people like this type of opportunity because it well fits into their plans and working schedule. In this review of Earn Honey I will let you know what Earn Honey is all about, how you can benefit from this program and if it's worth your effort or not
The main idea behind Earn Honey
There is nothing special about Earn Honey. It's just another paid to click, reward site that is designed for people who want to make some quick cash or get rewarded for simple actions, such as participating in online surveys or polls, watching videos or playing games online.

Pros of Earn Honey
Cons of Earn Honey
Some complaints
Decent income
Time consuming
Earn Honey review
In short, Earn Honey is a relatively new site and registration is free. The site was launched in 2014. You don't have to worry about becoming a member of Earn Honey because you have nothing to lose. You can leave the program whenever you want.
That's why it makes the process of joining a reward site easy and painless. Making money or earning rewards from the site doesn't require any specific skills and in fact anyone can accomplish their simple yet time consuming tasks.
But you must understand that watching videos and playing games online or participating in online surveys and polls can't make you a lot of money. It's simply impossible because of two reasons: First, the number of such tasks is very limited and second, payouts are extremely low.
As I said in my other reviews, I'm not a huge fan of sites like Earn Honey and that's why I don't waste my time on them.
But a friend of mine makes between $100 – $200 each month by participting in different programs like Earn Honey, Paidviewpoint, Earnably, Swagbucks, Clixsense, ibotta and some other programs.
Note, he doesn't make this money from each program. He makes this little money by participating in all programs combined I've mentioned above.
As you can see, even making this very limited amount of money is not easy because it requires you to create multiple accounts and then visit each site separately every day and see if there are any tasks available to complete.
The process is very time consuming and annoying and the reward is not that great, but you can make some extra cash though.
How you get paid by Earn Honey and how much?
After creating your free account and starting completing tasks, you will be earning Honey Dollars. Once you've enough HD (Honey Dollars) you can redeem them for various things including cash.
The amount of HD varies depending on the task you choose to complete within Earn Honey members area. For example, if you play a game for 10 minutes, you will earn 3 HD.
If you complete a survey and most surveys take between 10–30 minutes, you will earn something between $0,25 – $3. The longer the survey the higher is the payout of course.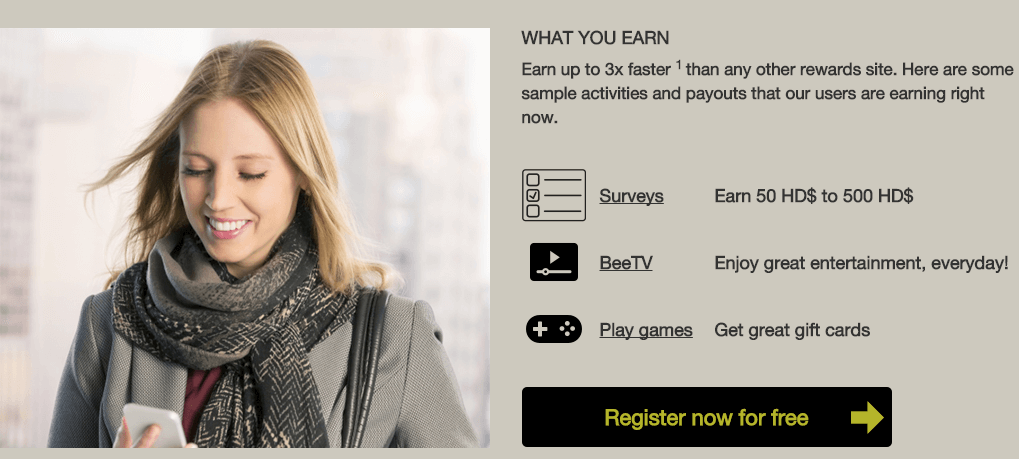 But as I said, the number of surveys per week is limited which means your earning is limited too. You can also get paid for watching videos, but earnings are not high.
When watching videos you have to look at their ads too. It's a combined process of watching a video and looking at ads for which you earn your rewards. You don't have to worry about videos because most of them are 1 minute long.
Also, they have a traditional referral program that allows you to earn some money by referring other people to Earn Honey website provided they stay active at that site.
They offer 10% of all your referrals which is great. After creating your free account you will also get your affiliate link that you can promote everywhere and get people to sign up through your link.
Though it may seem easy enough, in reality it's the hardest part of any program that allows you to earn a commission through a referral program. You should know how to promote your link and where to promote and even if you know it's still not easy because most people won't join the site.
You need to bring tons of web traffic to your link so you can get a good number of sign ups. The easiest way is to promote your referral link via social media sites, such as Facebook and Twitter to get some sign ups.

To earn $1 you need to accumulate 100 Honey Dollars. If you're not a huge fan of redeeming your HD for some sort of gift cards and you want a real cash then you need to accumulate at least 500 Honey Dollars in order to turn it into $5 and cash out via Paypal. The other option via Paypal is waiting until you accumulate HD equal to $25.
Complaints about Earn Honey
Almost all paid to click or reward sites have complaints and Earn Honey is not an exception unfortunately. Some people report that they have been removed from Earn Honey site for watching videos.
The truth is that some people have been watching videos in the background mode, i.e. in fact they didn't watch them at all. They set them on play mode without even watching them. This caused their account to be terminated which was completely their own fault.
But some complains are real. For example, some people complain of being unable to get their cash. Some complain of Earn Honey's support being not responsive. Sometimes it may take several days to get a reply from their support team.
There also have been some complaints from people who haven't been paid for watching videos.
Compared to some other paid top click and reward sites, I haven't been able to find many complaints about Earn Honey. Only few complaints. It means that Earn Honey is more reliable than other reward sites that I've reviewed in the past.
When it comes to Earn Honey, as I said above, I haven't found anything serious other than what was mentioned above.
If you plan to join Earn Honey program I highly recommend to read their FAQ section where they have a guide to the Do's & Don'ts of EarnHoney!
This guide is very helpful and will save you from future possible issues. I think if people read this section before joining the site there would have been WAY less complaints about Earn Honey.
Who can participate in Earn Honey program?
Unfortunately, according to their FAQ section, their program is open for USA only. But I registered my account though I'm living outside of USA and got a confirmation to my email.
What I like about Earn Honey
Compared to many other reward sites, Earn Honey members area is very simple and clear. I really like it. No confusion, everything is simple and easy to navigate and understand.
Upon registration you will be shown a short video that will explain you in a few words how to navigate with the members area and what to do.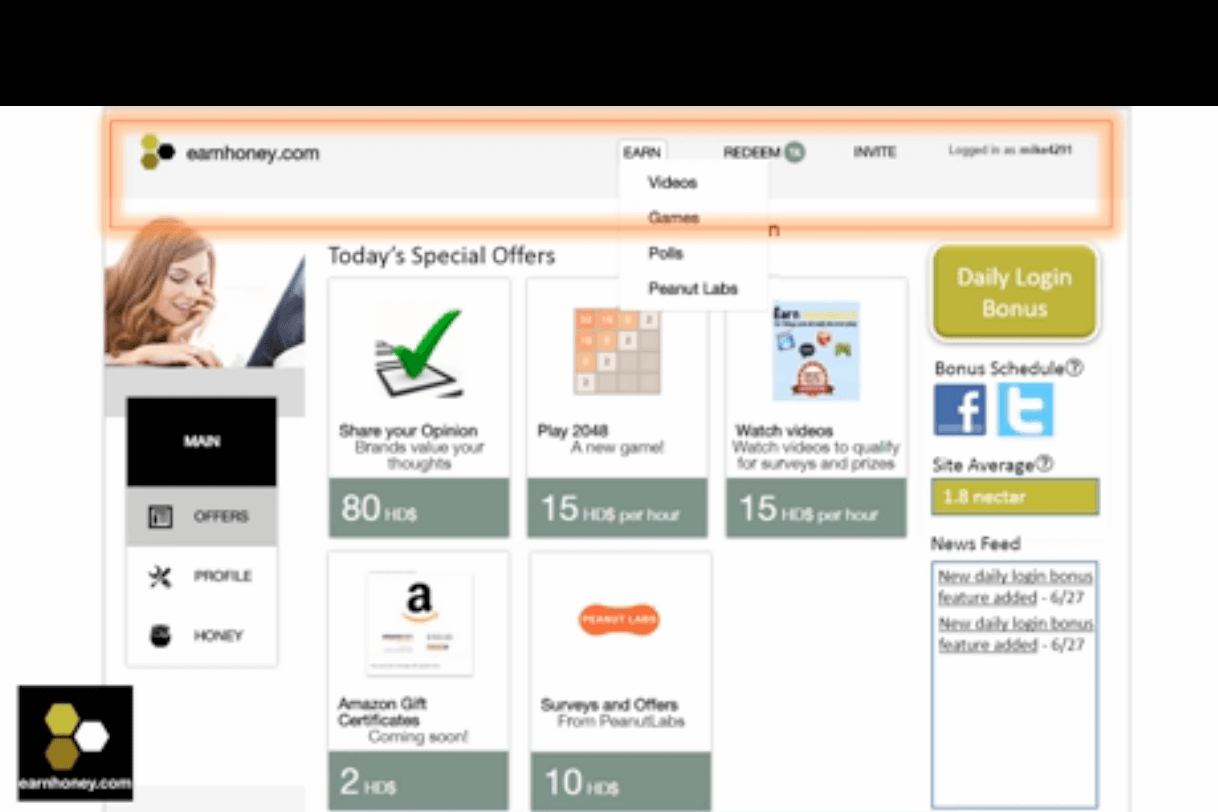 Can you become rich with Earn Honey?
Unfortunately, you can't. Before creating your free account with Earn Honey or any other reward site I would recommend to think well because many people complain that their earnings are very limited which is true.
They don't realize that for clicking on ads, playing games or completing surveys they can't earn as much as they expected first. If you have the right expectations and have the right approach then Earn Honey or any other reward site is a good opportunity.
But as I said above, it's not my cup of tea because I know that I can earn WAY more through affiliate marketing. That's why, I always recommend my favourite program that teaches you how to build a real business online.
BTW, if you apply affiliate marketing to Earn Honey referral program you can get a lot of sign ups through your referral link and this will allow you to earn WAY more than just completing surveys or watching videos.
Also, remember that Earn Honey offers very few ways to earn rewards. Other reward sites offer WAY more ways to earn an income.
Final word on Earn Honey
I hope you're satisfied with what you've learned from my review of Earn Honey. The program is legit though there have been some complaints.
I think some complaints is not a huge problem because I've reviewed many other similar programs and they have had complaints too.
I think it's very normal. But I understand that it may be a warning for some people and they won't want to join Earn Honey after reading this info. Anyway, it's up to you.
One thing you must remember that you won't make tons of money with paid to click, reward sites which is pretty clear from my review of Earn Honey. But making some extra cash is absolutely possible.
If you are looking for something more serious and genuine that can help you earn a full time online income then Earn Honey is not the best option out there.
In this case I can recommend you my favourite program I've been a member of since 2013. Give it a try. It's FREE to join. You can find the link in the comparison table above.
Final glance at Earn Honey
Extra cash
Some complaints
Decent income
Time consuming
Overall rank: 80 out of 100
Verdict: Legit
About the Author: Adam
My name is Adam. I'm the founder of Your Income Advisor. My goal is to help others succeed online, by exposing scams and reviewing top rated products. I can help you start
your own business online