Product name: Freelife International
Website: www.Freelife.com
Price: $19.95 to join, plus requires investment
Owner: Ray Faltinsky and Kevin Fournier
Overall rank: 50 out of 100
Freelife International has been around since 1995 and is known as a science-based nutritional company that promises to change your life for the better. They have a wide range of nutritional products, such as energy drinks, weight loss, diet, "anti cancer", "anti-aging" products.
This is what they claim to have. They have various bonuses, compensation plan, transformation weekly bonus system, 9-level organization commissions, advancement bonuses and more.
In short, like any other MLM company their compensation plan is too complex and you need to spend hours in order to understand how all this stuff can benefit you if you decide to join Freelife International.
The company is legit and I'm not going to tell that it's another MLM scam. No, it's not. They have real products to promote and some people are happy with this opportunity.
But though Freelife International is legit and they have a good compensation and reward plan, it's doesn't mean you can become rich in a few days.
Also, there are many both positive and negative reviews of Freelife International on the internet which can leave you on the fence about this company.
The good news is that you don't need to spend hours because I've done the research and I'm going to explain in details what Freelife International is all about and if it's a scam or not.
The main idea of Freelife International
The idea of Freelife International is pretty the same idea that we see in any other nutritional MLM company, such as Forever Living, Kyani, Vemma etc.
You join the program by paying a membership fee and then you have to buy their expensive products and promote them.
You have to have a solid budget in order to invest into Freelife International products and there is no guarantee that you can sell them in large quantities to be profitable. In fact, you buy them at your own risk.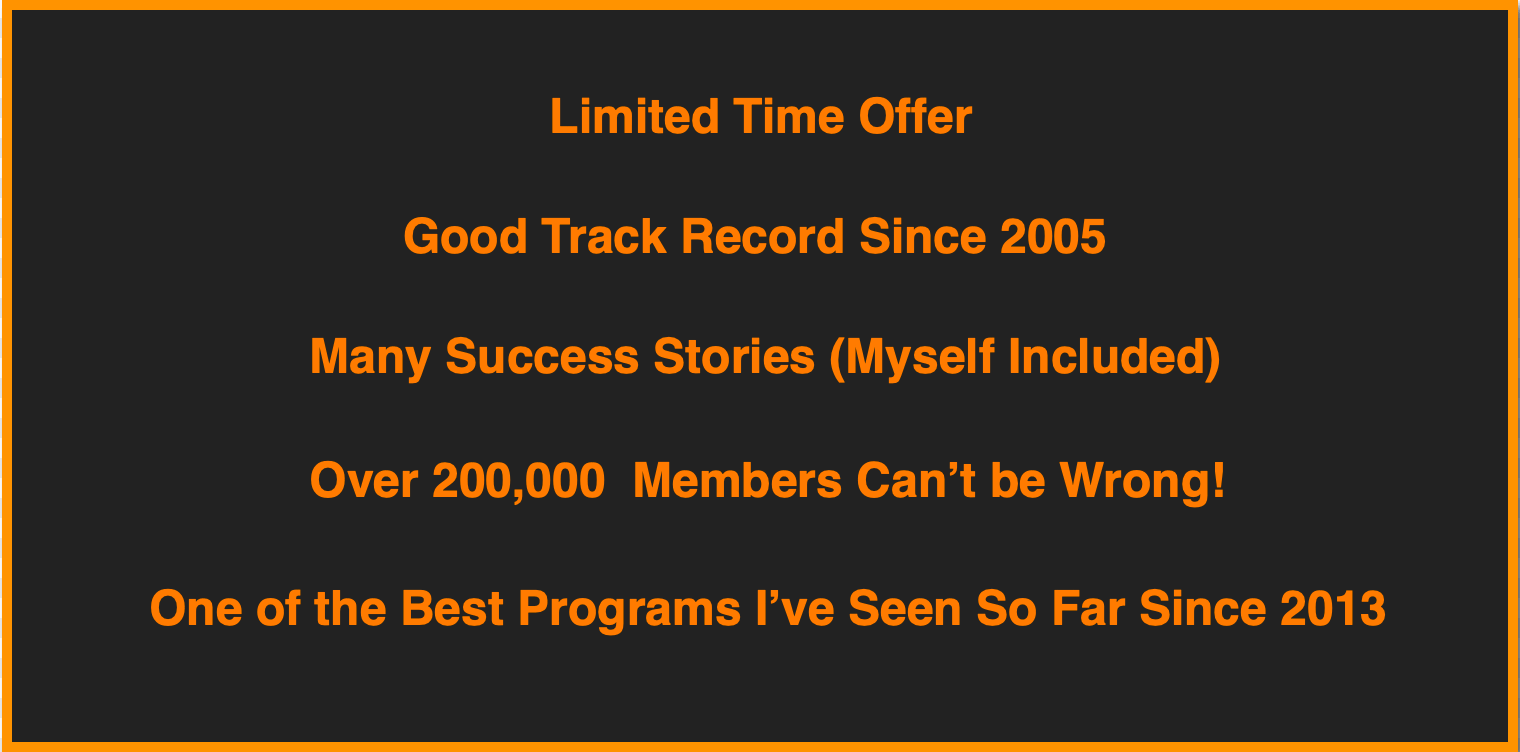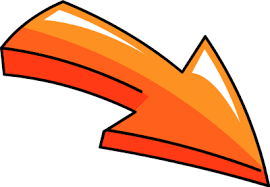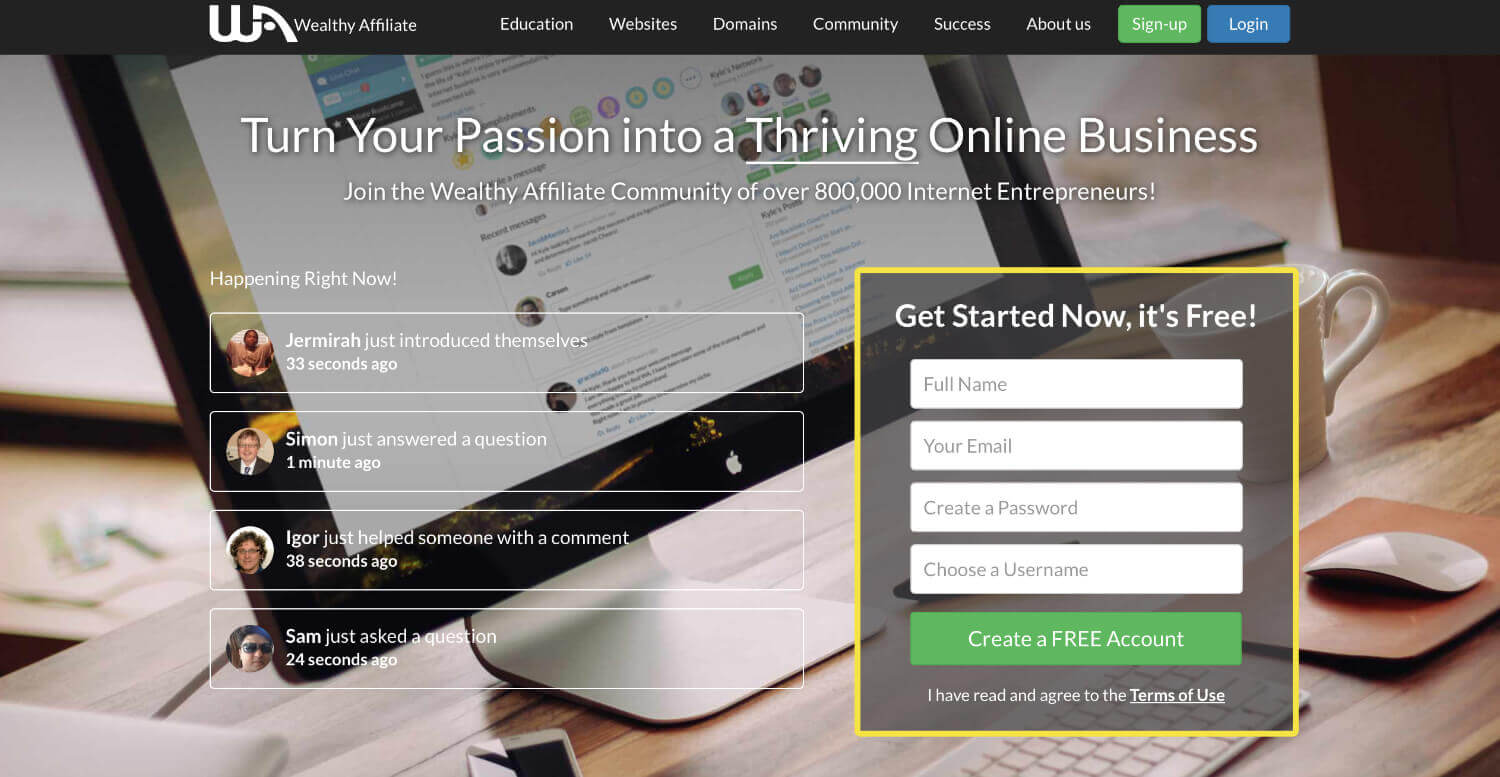 Pros of Freelife International
Quality products
Good compensation plan
Cons of Freelife International
Freelife International promises an abundant and easy life which is not true
Requires a solid budget to invest into Freelife International products
Requires direct face-to-face selling skills
Requires you to aggressively recruit other people under you in order to make money
Products are expensive compared to similar products available on the market
No step-by-step training on how to promote their product using free and paid advanced online traffic methods
Freelife International review
As I said, Freelife International has a wide range of products that you can promote. They have different categories:
TAIslim
TAIfit
TAIwellnes
TAIspa
TAIhome
TAIkids

The average price of their products is approx. $60 per 1 litre bottle. This is not cheap at all. For example, TAIslim is their protein product which is very expensive in my opinion.
You can buy a similar product from WHEY that will cost you $57.99 and it contains 5 times more powder (5lb) than TAIslim which contains only 1.3 lb.
On top of that WHEY is a well-known product of high quality. Why would you pay for TAIslim then?
One bottle (1 litre) of Goji juice for weight loss will cost you $56.49.
TAIGreens (150 gr.) will cost you $57.
GoChi package that contains 4 bottles (1 litre each) will cost you $205! I think it's too expensive and most people can't afford it.
TAIslim Shake Singles ($65 for single-serve packets)
TAIslim liquid ($205 for four bottles, 1 litre each)
TAIslim Boosters Protein Plus ($42.84)
GoChi ($205 for four bottles) – super juice
and more.
Are Freelife International products really so effective?
What I don't like the most about all MLM nutritional companies is that they always claim that their products are fantastic.
They always make big claims as if they could cure you from cancer, stop an aging process, protect you from any disease because their products are super products and backed by a scientific data. And that's why they are so expensive.
I have to admit that Freelife International tests its products to make sure that their products are effective. This makes them a bit different from other MLM nutritional companies. But I don't like the approach I see in most MLM companies including Freelife International.
They always tell that you have to take their products at least within 5,6 months for the best effect. Some people buy them and don't see any effect. But some people are happy.
Some, but not most people. I think all these claims are a bit exaggerated for the sake of keeping the price of their products as high as possible.
In reality, all nutritional companies make the same claims and the main focus of their products is to help you lose your weight through consuming less food and replacing it with their super products like TAIslim, Goji juice etc.
I think the results are very controversial and there is no enough scientific data that can prove that their products 100% work as they are being advertised. As an example, I came across RipoffReport website and found this link.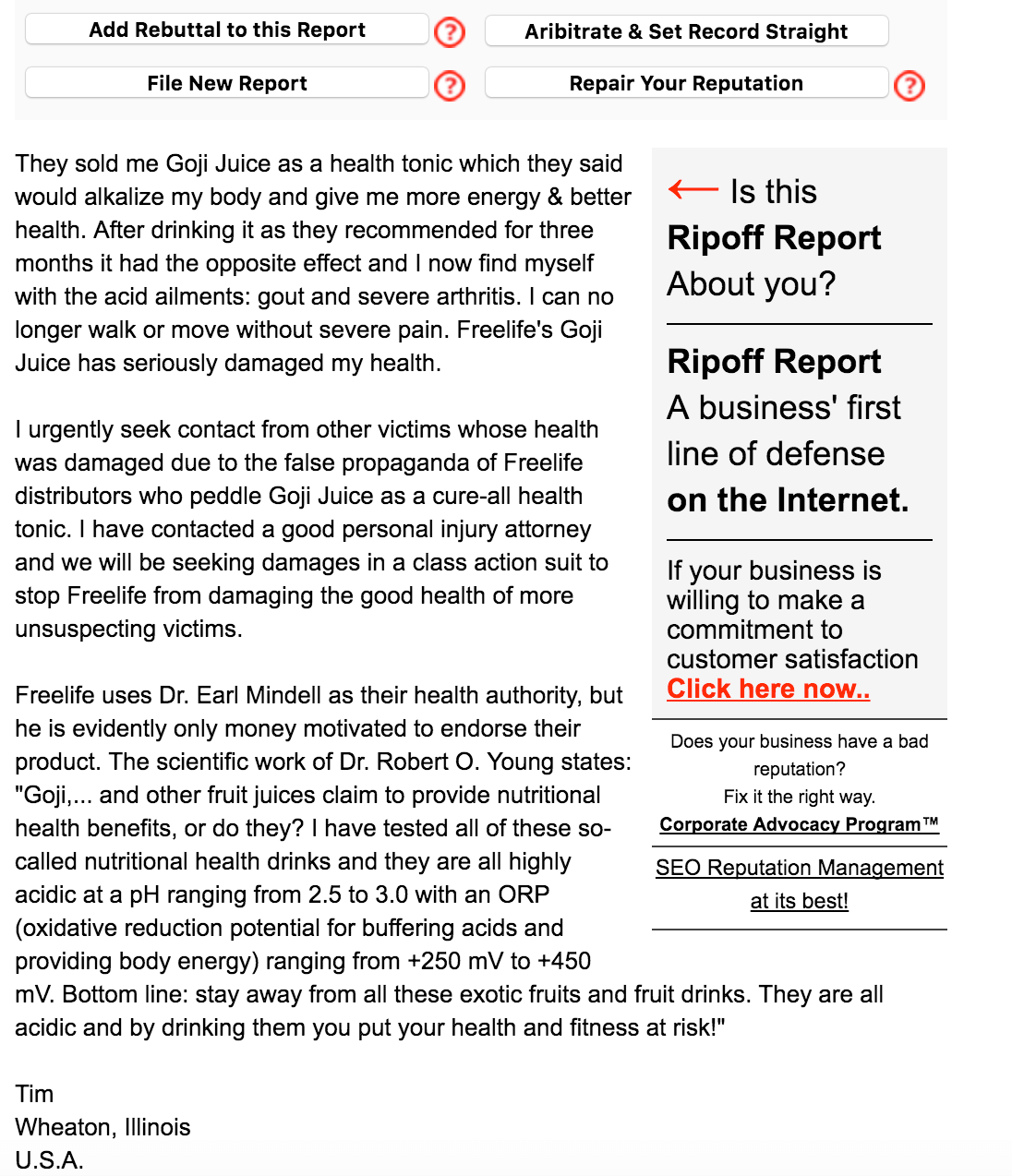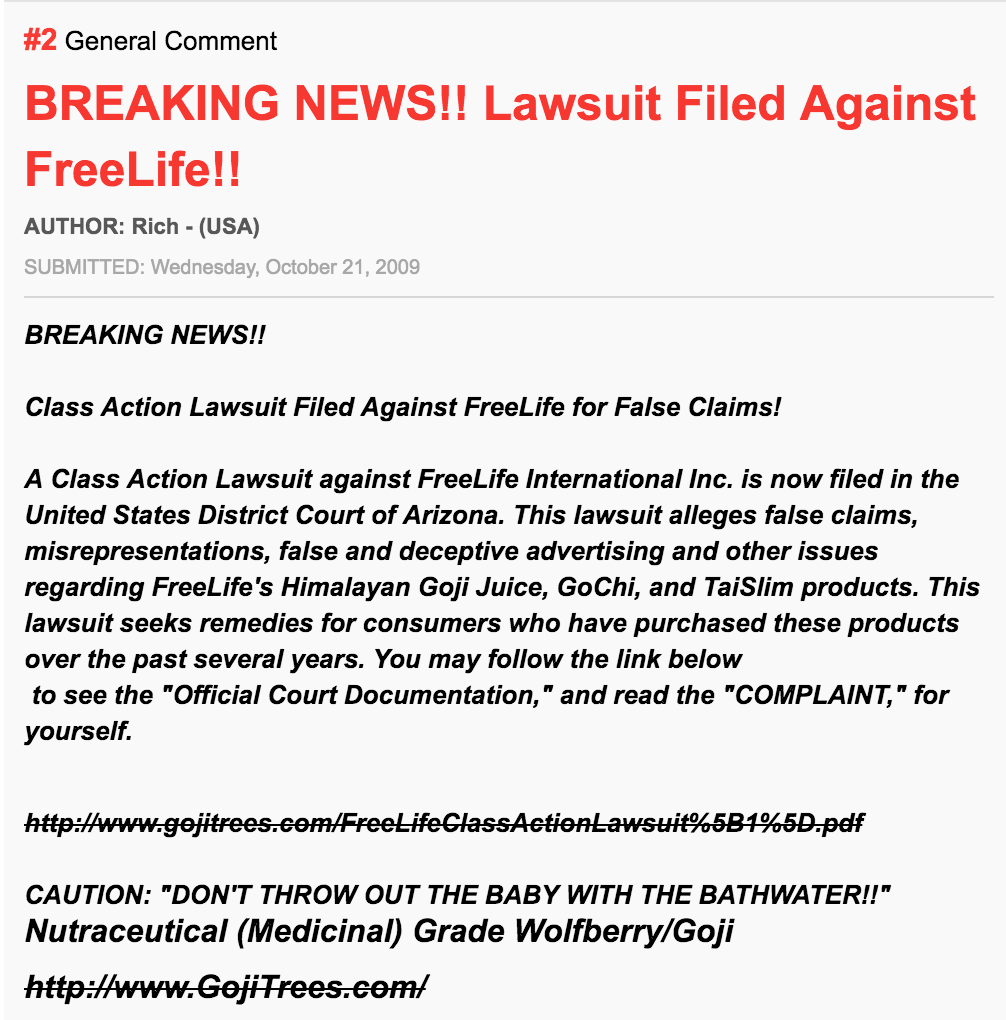 There are many controversial reports about Freelife International products. Some people report that Freelife International products improved their health. Some people report that their products damaged their health.
There is certainly a risk involved with many MLM companies and Freelife International is not an exception. There were reports about lawsuits against Freelife International on the subject that their products that contained Goji juice supplements didn't help against cancer or depression.
Though the company claimed that they contained anti cancer and anti-aging components. So, it's a big question if Freelife International products are really as good as they are advertised.
And now imagine that even if you decide to join Freelife International and promote their products, it won't be easy at all because most people read info before they buy anything on the internet.
Many of them will come across this report and won't buy Freelife International products as a result. By all this I don't want to tell that Freelife International products are bad. I'm just trying to give you all this info so you can make your own decision.
Can you really become financially independent with Freelife International and get the easy life?
Freelife International has a separate page on their website that describes how easy it is to achieve success with their company.
They tell you success stories and show you huge numbers, as if some of their members made $9,000 in 90 days and $100,000 in 18 months. Is this true? Maybe… I don't know.
But even if it's true, believe me, this achievement is not typical. Very FEW people can achieve this level of success. Most people will never see even a small part of it.
Probably, it's exactly the case when these achievers have good sales skills and know how to push the stuff. It doesn't mean that you can too. That's why I think this advertisement is a little misleading.
In order to be successful with Freelife International, you need some budget in order to buy their expensive products. You must have certain skills to be able to convince other people to buy the same stuff.
If you can, then you will be doing alright with Freelife International. Plus they have a good compensation plan that will allow you to earn commissions from your recruits and recruits of your recruits. That's the best part of MLM scheme.
But unfortunately, it's very hard to achieve and most people fail to achieve the success they dream about.
BTW, if you can bring three people to Freelife International and they will buy Challenge Pack ($264,93) you can get free products from the company.
They are many levels to participate in Freelife International program:
ME,Star Director, Star Director 2, Star Director 3, Star Director 4, Ambassador, Ambassador Emerald, Ambassador 1, Ambassador 1 Emerald, Ambassador 2, Ambassador 2 Emerald, Ambassador 2 Diamond etc.
If you can't accumulate 100 points in any given month, you will lose your active status. And remember that selling high tickets items is very challenging on the internet.
I know this from my personal experience. A friend of mine was a member of such a program and ended up wasting a few thousand dollars.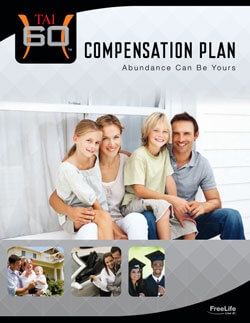 Also, I don't want to explain what each level means because it doesn't make any sense to explain what FreeLife International already explained on their website. What makes sense is to explain what you can expect from this program and how it can help you achieve your financial goal.
Because even the best compensation plan is useless if I can't sell products in order to benefit from the compensation plan.
The idea of any MLM pyramid scheme is that you need to recruit as many people under you as possible in order to be successful and those who you recruit should be active too and willing to spend money. This is of course not going to be easy as you probably understand.
Recruiting others requires time and patience and investment into Freelife International products on a long term base. Also you need to buy some other courses to learn free and paid traffic methods to be able to bring ton of people to your website.
If you feel you are ready and CAN meet all these requirements and spend as much money as it's required then you can join Freelife International and give it a try.
I personally think it's going to be very costly and challenging for most people and to be honest, I don't think it's the best program out there for beginners.
There are WAY better programs out there that require much less expenses and allow you to earn money in a more realistic way through affiliate marketing. And you don't need to recruit anyone.
I would also like to note that while reading their compensation plan I felt that there were too much hype in it. The plan is designed in such a way to make you believe that Freelife opportunity is super easy and you can qualify for a white Lexus, Cadillac or Mercedes-Benz quickly and easily.

Yes, you heared that right. They even recommend you to choose a white colour to be in sync with their pure clean vision. Can you imagine that?
I think you have to spend your whole life in order to qualify for such a bonus. I think their compensation plan is good but there is too much hype in it and it's misleading.


On their website they claim that it's YOU who determines how much and how quickly you want to earn and yet on the same website they tell that they don't guarantee any income.
Freelife International membership levels and reward system
To become a member to Freelife International you have to pay $19.95 which is pretty affordable for most people. This is definitely good. But in order to be successful you need to buy their expensive products.
They have several QSP programs: Gold QSP that will cost you $529,99 and Platinum QSP that will cost you $1,114 and there are some other packs available too that range between $428 – $1079.95. As you can see, it's not cheap at all and I think it's not affordable for everyone.
They also offer various bonuses, such as $1000 monthly car bonus, product rebates, Quick start bonuses, 9-level organization commissions, Star Director $75 monthly guarantee, Luxury car club monthly bonuses, Royal Ambassador Bonuses and many other bonuses.
In my opinion, like with all other MLM programs, their compensation and reward plan is very complex and I suggest that you read about all their bonuses and compensations on their page because otherwise it will take lots of time to explain everything in details.
Final word on Freelife International
As you can see from my review, I tried to be honest with you and gave you enough information about Freelife International. The company is not a scam though MLM business has a bad reputation on the internet and you can learn the facts from my article on MLM above.
The truth about Freelife International is that they have real products and if you have good face-to-face sales skills you can promote them and make money.
If you're not a sales person then this program is not for you. Plus it requires a good budget to spend on Freelife International products and they are not cheap at all. If you plan to work from home using internet and don't want to be a sales or phone person then you can find much better programs out there.
Promoting Freelife International products using internet is possible, but the main problem with most MLM programs that I've seen so far is that they don't teach you how to drive a massive traffic to your website using free and paid methods.
Simply because Freelife International is not an expert in SEO, social traffic, Facebook ads, PPC traffic etc. You need to pay for other programs that will teach you all this stuff.
That's why Freelife International is a very specific program and it's not for everyone. But they have a good support and can teach you how to become a face-to-face sales person.
If it's exactly what you want then feel free to join Freelife International. I think it's not a scam. If you look for a genuine program to make money online without sales skills then feel free to join my recommended program below.
Final glance at Freelife International
Quality products
Good compensation plan
Freelife International promises an abundant and easy life which is not true
Requires a solid budget to invest into Freelife International products
Requires direct face-to-face selling skills
Requires you to aggressively recruit other people under you in order to make money
Products are expensive compared to similar products available on the market
No step-by-step training on how to promote their product using free and paid advanced online traffic methods
Overall rank: 50 out of 100
About the Author: Adam
My name is Adam. I'm the founder of Your Income Advisor. My goal is to help others succeed online, by exposing scams and reviewing top rated products. I can help you start
your own business online