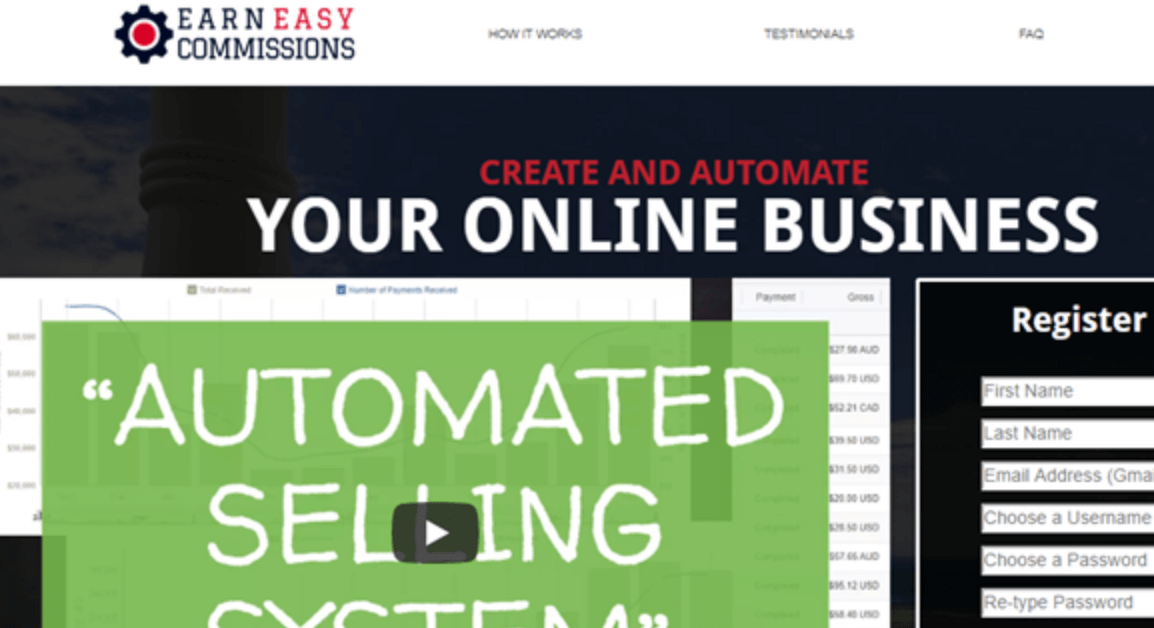 Product name: Earn Easy Commissions
Website: http://earneasycommissions.com
Owner: Chuck Nguyen
Price: Free/many upsells/hidden costs
Overall rank: 30 out of 100
I'm really glad and thankful that you are on my site trying to find out about Earn Easy Commissions.
I always do my research before paying my hard earned money. Unfortunately, it's not always effective because not all reviews are helpful.
Most people that review programs/products try to promote any product because they earn a commission.
I review products and do my best to provide the most realistic opinion without misleading anyone. As a result, very few programs get positive rating on my site.
I promise my review of Earn Easy Commissions will be very realistic. Because I don't want anyone to waste their money and time.
Short review of Earn Easy Commissions
Earn Easy Commissions is a program for those willing to learn how to make money online through affiliate marketing, CPA marketing and MLM type of compensation plan. The quality of the program is very arguable which I'm going to explain within my review.
Pros of Earn Easy Commissions
Cons of Earn Easy Commissions
UPSELLS
Hidden costs
False income claims
No refund
Too much focus on recruitment
Earn Easy Commissions is a mediocre program that requires you to invest a lot of money. Investment is optional. Without investment it will be hard to benefit from the system and earn money. Instead try my recommended program. 7 day free trial is available.

 
Earn Easy Commissions review
First of all, Chuck from Earn Easy Commissions tries to teach you how to make money through affiliate marketing. This seams to be legit.
But from the very beginning he does it in a very wrong way in my opinion. I put Chuck's advertising video here so you can watch it for yourself. I took it from YouTube.
You can watch it right here on my website. The length of the video is around 4 minutes. This short video is full of crazy statements and unrealistic claims.
Before I start commenting on this video I want you to pay attention to an interesting fact.
At the time of writing this review there were 295.472 views on youtube for this video.
It looks ok at first glance. BUT there are only 198 likes. How is it possible?
I encourage you to check other youtube videos that have the same amount of views and compare it to Chuck's video.
You will realize that it should have more likes and dislikes taking into account the amount of views. I'm sure the amount of views that Chuck's video has is fake.
In the video Chuck says that anyone, including complete beginners can make their first $100.000 online using the automated system prepared for you by Chuck.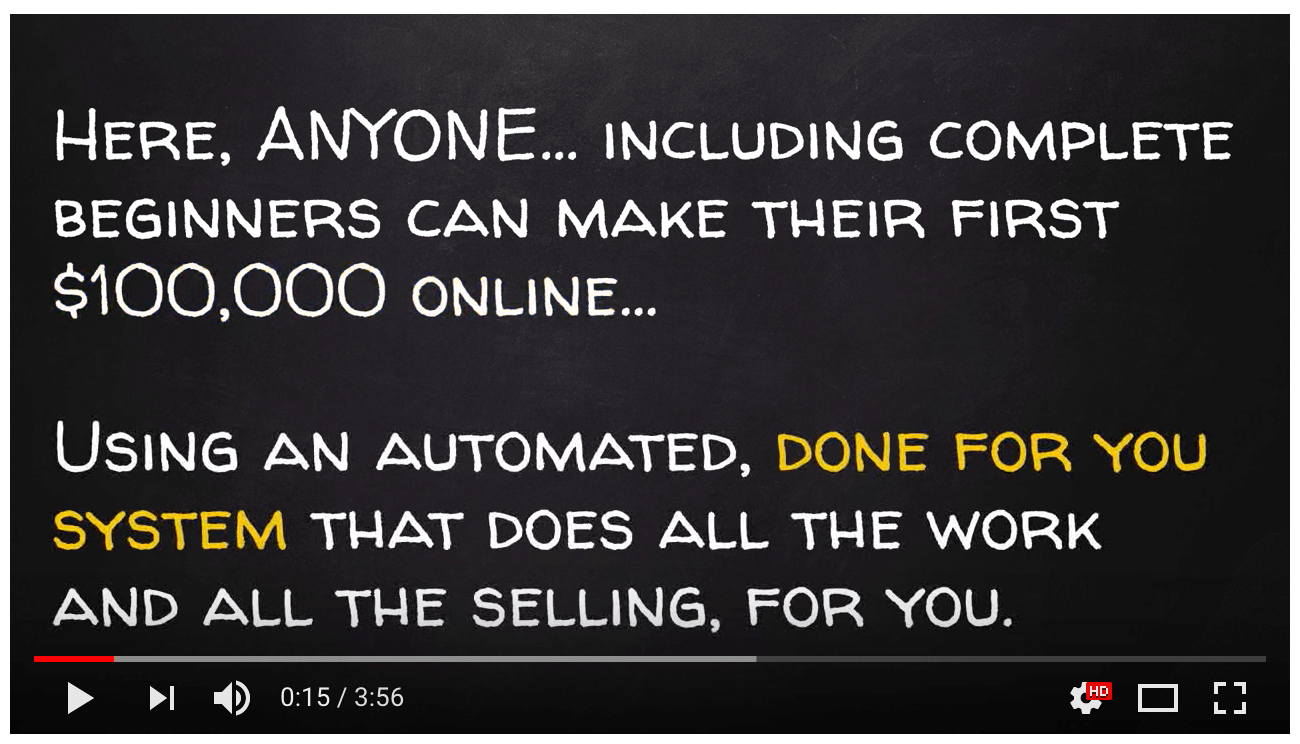 What does it mean? It means you don't need to do anything. Just follow the steps and you will start making thousands of dollars with Chuck's system.
I believe even if you don't have any experience in making money online it's clear that it does look too good to be true. And sure it is.
Don't trust those who promise you lots of money with zero or minimum effort from your side.
Then he says that you can use the same system and Chuck is not going to charge you a single cent.
Yes, it's true that you can start using the system without paying anything.
Another question is: Can you really earn the amount of money Chuck talks about?
Sure, it's far from reality.
Chuck also talks about done for you system and he again does it in a misleading way. He says that there is an old way and there is a new way.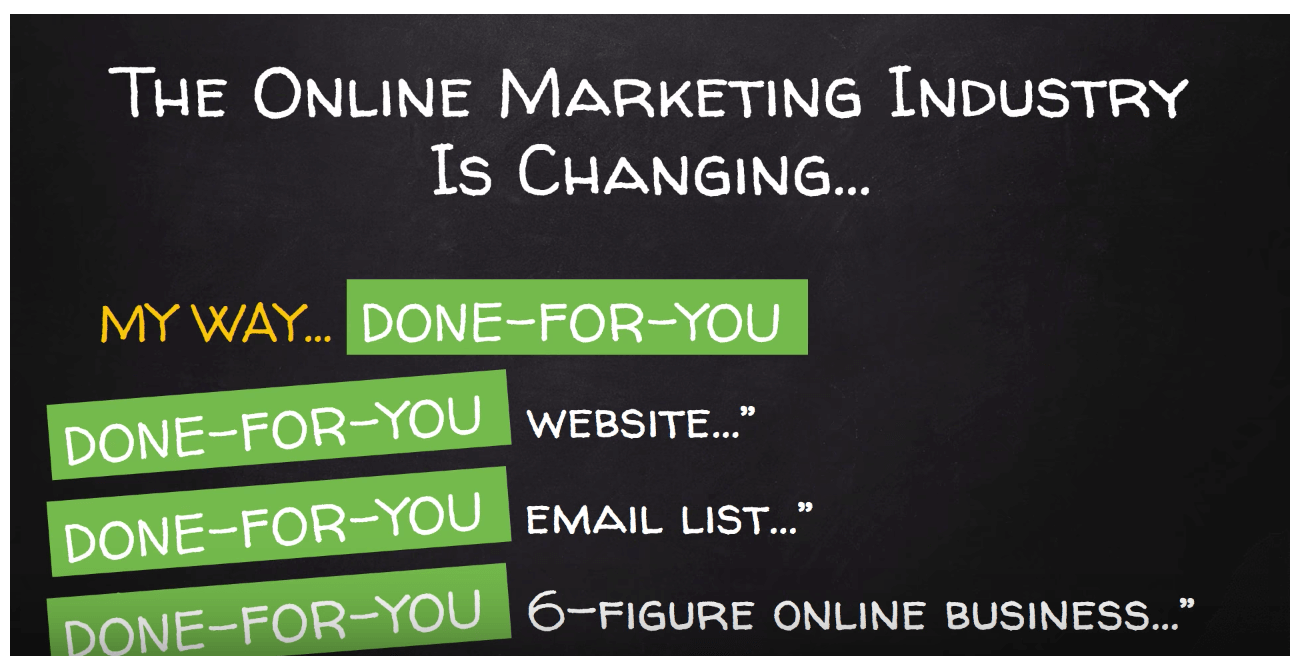 An old way is when you build a website, build an email list, build a 6-figure online business.
The new way is his, Chuck's way which means you don't need to do any of this. Chuck will do it for you. The truth is that it's not true.
You still have to do a lot of work. You still need to drive traffic, i.e. visitors to your website. There are two ways to drive visitors to your website, free and paid.
Free requires a ton of effort. Paid requires a lot of money. All this means Chuck is not completely honest with you. He is not going to do all the work for you.
And remember there is no new way to build a business online in 2018. This is not true. Building a business online is no different from doing it in real world.
You have to do the work. Of course, you can outsource some of the things to someone but you can't outsource the whole business to someone in the hope that they will do all the work for you and you will earn money while you sleep.
Though Chucks claims that he can build a 6-figure business for you. All I can say it's not going to happen.
And there is one important thing I want you to know about online business. I already told about it in many of my articles.
What works for someone else or for Chuck, doesn't necessarily mean will work for you. Maybe it will work. Most probably will NOT.
At least I'm sure you will NOT get same results. Replicating someone else's results is almost impossible.
Again Chuck talks about full automation done for you for free. He talks about no requirement for you to learn coding for your website, no optimizing funnels, no writing posts, no any analysis, no selling.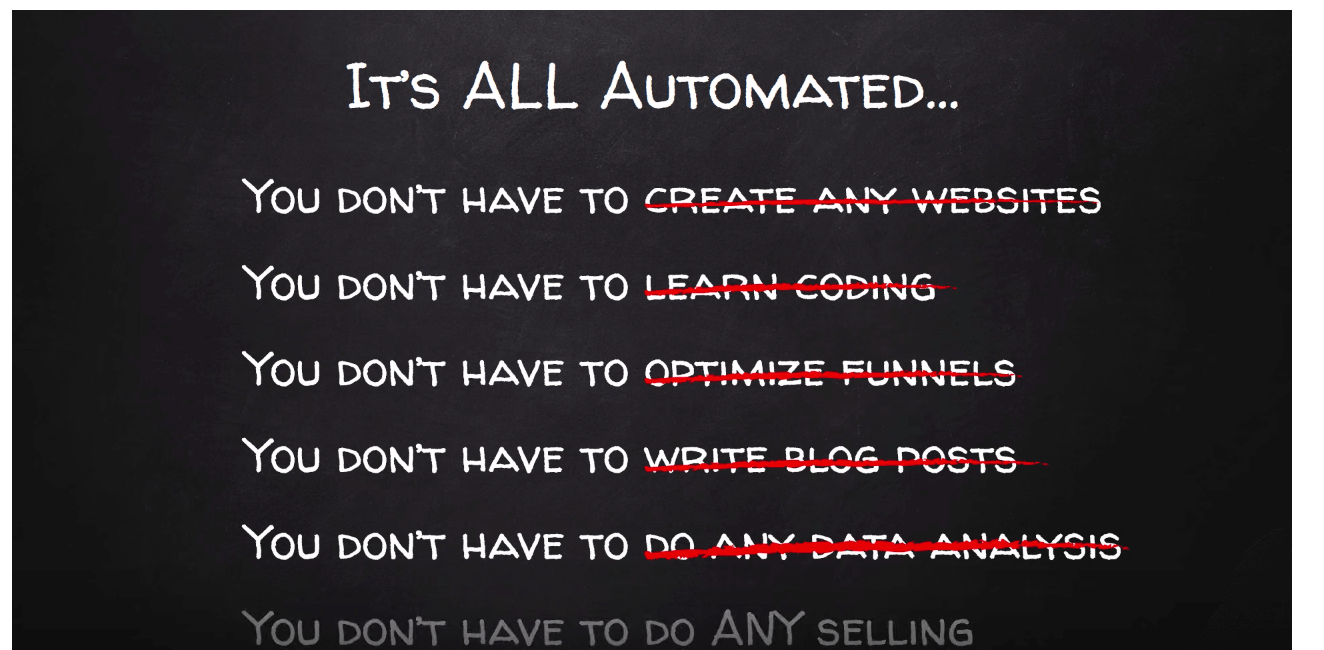 As I said above, this is not true. You still need to do a lot of things. Having a website doesn't mean making money.
You need visitors interested in your product/service. To get visitors to your website you will need to spend your hard earned money or take efforts.
Chuck is not going to do any of this for you!
Then Chuck makes absolutely crazy statements. Total BS. He claims that all his members, 100% of members make $100k in 12 months!!!
Can you imagine how this man is lying to you. I've never seen a program that has 100% success rate. Such a program doesn't exist.
Finally Chuck shows you testimonials that I believe are fake. He doesn't provide any real proof that those people are making money thanks to his automated system.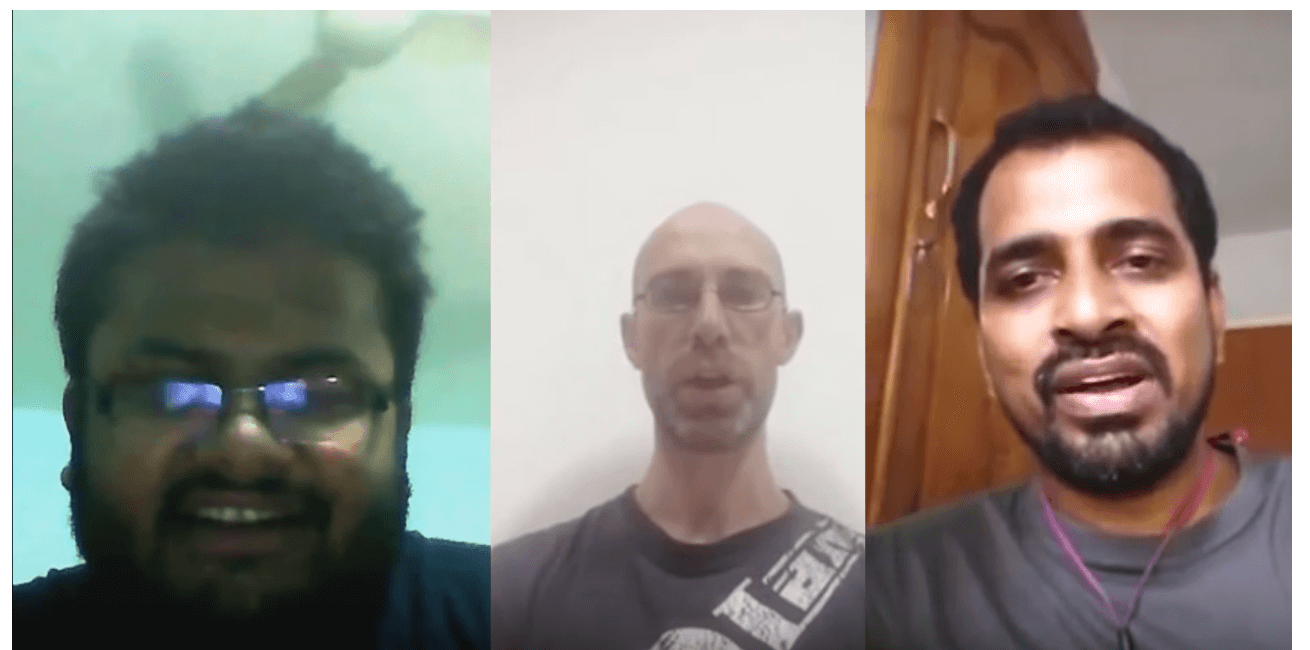 Unfortunately, like many other programs, Chuck doesn't explain how you are going to earn an income using his system.
Fortunately, you can create a free account and see how it works. After creating your free account you can start building your "online business".
Chuck's system consists of several business systems. Mainly it's an affiliate marketing and CPA marketing.
In fact, Earn Easy Commissions system doesn't teach you how to build a real business based on your passion/interest.
All it teaches you is promoting the same system to other people and by doing so you will be earning commissions.
Of course, promoting the system to other people will not be easy.
Because even if you bring people to your website and advertise your product it will be extremely difficult to convince them to join the system.
Even if it's free it will be very difficult to convince them to take action.
I know it firsthand. Anyway, if you can do it you will earn approx. $1.20 for each person that will join Earn Easy Commissions. This is called CPA marketing like I've mentioned above.
If someone pays to Earn Easy Commissions and buys one of their products/packages you will earn a commission. This is called affiliate marketing.
Earn Easy Commissions memberships
As I said, Earn Easy Commissions offers two types of memberships. One is free and the one one is paid. Free doesn't hold much value to be honest.
You can watch some videos but those videos will be only inviting you to buy other expensive products promoted by Chuck.
Still as a free member you can get someone to join Earn Easy Commissions and become a paying member.
In that case you will earn $100 from each VIP partner sale or if their paying member pays for GetResponse service or any other service included in Earn Easy Commissions program.
Second type of membership is a paid one which is pro membership. It's called VIP Partner and will cost $1000.
VIP Partner membership includes some good features and benefits such as:
How to get more traffic
$1.20 commission for each lead
$500 commission for each VIP Partner membership sale
Commission for a subscription to an email service
and tracking tool $200 commission from sales made by your invited people
and some other commissions
The last commission means that you will be earning money as it's normally done in MLM programs. In affiliate marketing you earn only from sales made by you.
In MLM programs you can also earn from sales made by your downline, i.e. people that you've invited to the program.
So, it's clear that as a Pro member you can earn way more commissions than as a free member. But in order to become a pro member you need to spend a lot of money.
And it's not only about paying $1000. You also need to pay for an email service, for traffic, for tracking tool and some other tools.
There is a lot of spending here while there is no guarantee that you will earn your money back, not to mention the profit.
What is Earn Easy Commissions about?
As a free member you can watch 5 videos:
Get started
Grab your referral link
Maximize your earnings
Zero to $10k
Check your referrals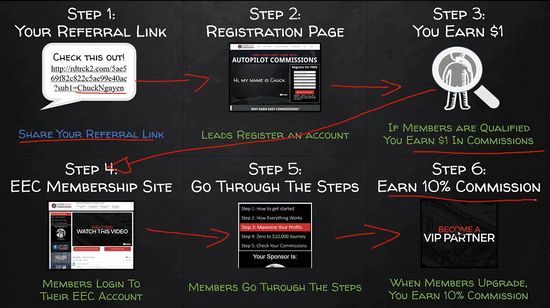 After watching these videos you will be asked to provide your PayPal account and join Chuck's Facebook group. Then you will be explained how to promote your referral affiliate link and earn 10% commission.
In these videos you will be asked to pay $1000 for VIP Partner membership. In my opinion, it's wrong to try to promote such an expensive package to someone who is absolutely new to online business.
Do you think it's reasonable to pay $1000 upfront if you have zero experience in making money online. I believe it's always better to start with minimum investment.
The idea of making $10.000 per month by promoting Chuck's system is that by making one sale you can earn $500.
It means you need to make 20 sales to earn $10.000 per month. It looks easy, right? No, it's not easy at all!
It's extremely hard to sell something online even for $50, not to mention $1000. Even with Chuck's system you will be STRUGGLING to make at least 1,2 sale per month.
Believe me, I've seen other similar systems and I've seen people's failures more often than their success stories.
In fact, very few people achieve success even with proven systems in place.
Chuck also tries to sell you another package for $97 and then you will need to pay for an email service, such as Aweber or GetResponse.
Those will cost you at least $19 per month. You will also get prewritten emails, banners.
What I like about Earn Easy Commissions
There quite a few things that I like about Earn Easy Commissions.
First of all, it's free to start which is great.
Another thing that I like is the training.
It's not high quality but still there is some material to watch and read.
What I don't like about Earn Easy Commissions
There are way more things that I don't like about Earn Easy Commissions. First, though the account to start is free you will be asked to invest a lot of money into the program.
There are also many hidden costs, such as tracking tool, email autoresponder service etc. Here is the list of investment required: $1000, $15, $17, $97.
You also need a lot of money for advertising so you can bring visitors to your website.
Chuck makes too many unrealistic income claims, there is no proof that his system works as he describes it. He even promises $10.000 per month on autopilot.
There is too much focus on recruitment which is not a good sign. In fact, you are not going to have a choice to build your own real business.
All you can do is to promote Earn Easy Commissions to other people like you.
Chuck doesn't tell you but the truth is that you pay for an email autoresponder service in order to build an email list (subscribers) and then promote Chuck's program to those people. It will take a lot of time to build that list, months, years.
Or you need to spend a lot of money each and every month to get those subscribers fast. This truth is hidden from you.
In fact, Chuck has another program called Digital Elites Academy and paying for Earn Easy Commissions is simply paying money for the same stuff you get with Digital Elites Academy. The problem here is that you can this program for $47.
But if you don't know about it then you have to pay $1000 to join Earn Easy Commissions which is in fact a hidden payment for the above mentioned course for $47.
If you stay as a free member and anyone who joins the same system stays as a free member too then no one is going to earn money. Someone has to make the payment so you can earn the commission.
Chuck talks about full automation which is not true. Don't trust people that make such crazy statements.
Chucks talks about 100% success rate of his program which is not true. This is total BS.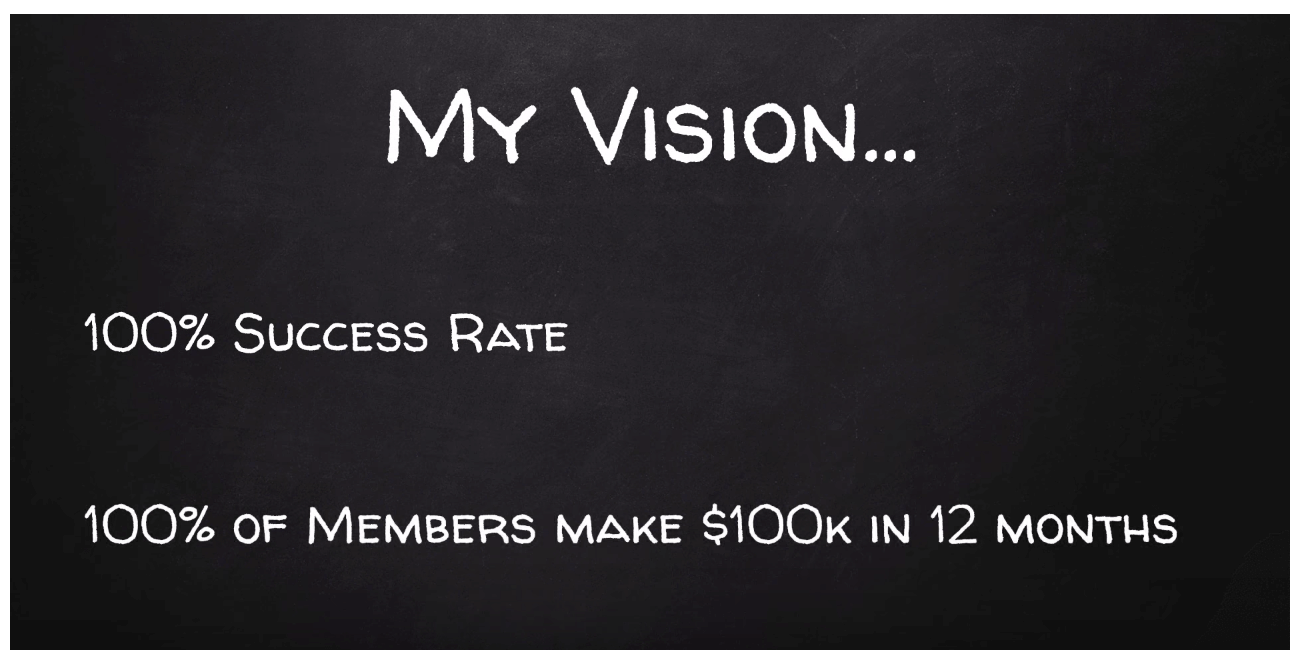 Finally, there is no refund policy. Once you've paid the money you won't get it back. Be careful before you decide to invest.

Final word on Earn Easy Commissions
When it comes to my final word regarding Earn Easy Commissions I have some thoughts. You see the pros of this program and the cons.
If you read the section of my Earn Easy Commissions Review you will realize that this program has way more cons than pros. In my opinion, all these cons are very serious.
I can't say Earn Easy Commissions is a total waste of time but I have to admit that the program is far from being perfect. Not only that.
I just don't want to recommend it to anyone. But still anyone can join it as a free member and try it.
Based on my experience since 2013 I believe you better avoid Earn Easy Commissions and find something more stable and legit.
If you trust my recommendation see the link at the end of my Earn Easy Commissions Review. Earn Easy Commissions is not a scam but you better avoid it.
Final review of Earn Easy Commissions
Free account
Training
UPSELLS
Hidden costs
False income claims
No refund
Too much focus on recruitment
Overall rank:

30 out of 100
About the Author: Adam
My name is Adam. I'm the founder of Your Income Advisor. My goal is to help others succeed online, by exposing scams and reviewing top rated products. I can help you start
your own business online