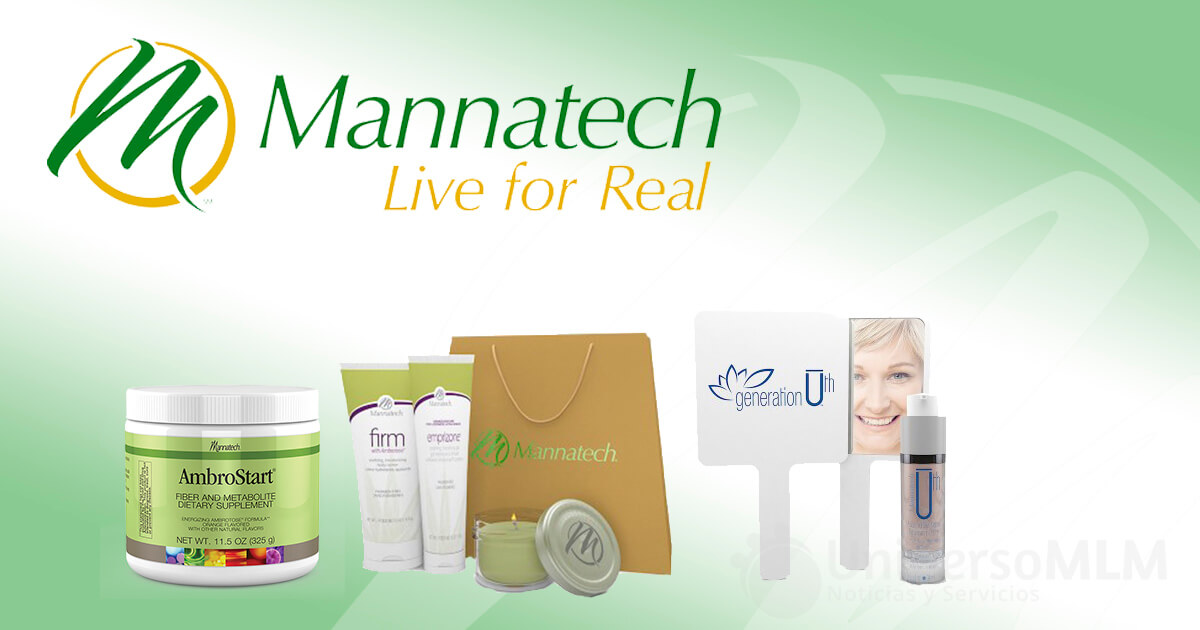 Product name: Mannatech
Website: mannatech.com
Price: $49.99 + product packs
Owners: Samuel L Caster
Overall rank: 40 out of 100
Mannatech is the next MLM company that I'm going to write my review about.
I've come across this company quite recently and decided to do my research to see if it is a scam or legit.
My research shows that Mannatech is legit but there are some serious issues I want you to know before you make your decision.
There were several lawsuits against Mannatech in the past which indicates that the company's reputation is not so good.
But this doesn't necessarily mean it's a scam. Writing review is not an easy task because you must stay objective when researching facts and making a conclusion.
As always I try to be objective and I'm going to review Mannatech and show you all positive and negative sides of the company and the opportunity itself that this company offers to you as a distributor.
Short review of Mannatech
Mannatech is one of many other MLM programs out there that is not the best one and not the worst one among those that I've reviewed over the past 4 years.
It's a very mediocre program that offers you an opportunity to make money by selling Mannatech products.
Your main task will be recruiting other people which is the main aspect of any MLM program.
Pros of Mannatech
Products
Been in the business for about 25 years
Support
Cons of Mannatech
Lawsuits against Mannatech
You need to be a sales person
Packages are not cheap
Strong focus on recruitment
It was called a "pyramid scheme"
Most people fail with MLMs
Mannatech is not a scam though I didn't include it in my recommended list. If you have good selling skills then Mannatech is for you. Otherwise I recommend another program which is my favorite one since 2013. It's FREE to start.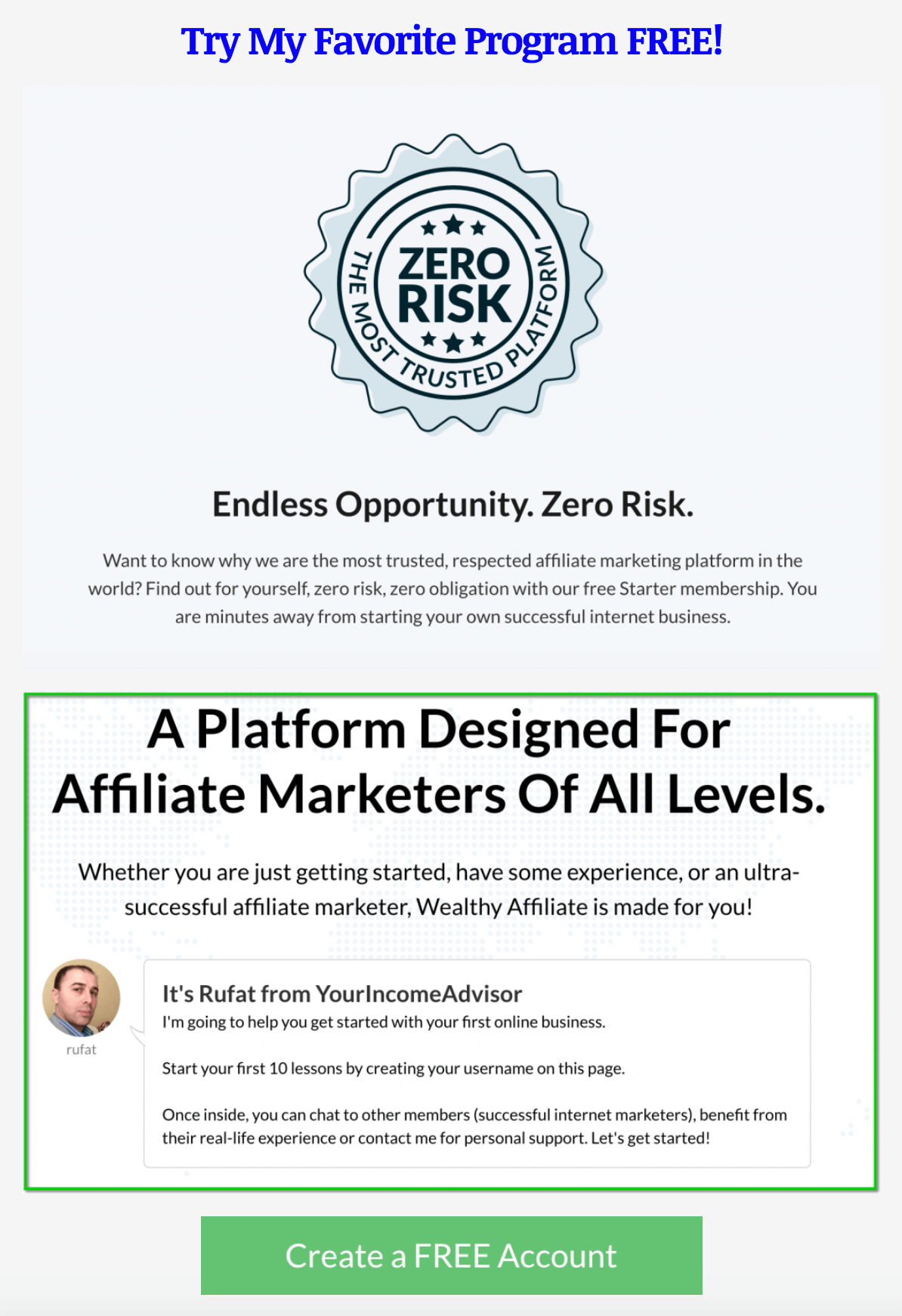 Mannatech review
First of all I want to let you know that Mannatech is an old company that has been in MLM business since 1993. This means if it is still in the business it's not a scam.
It probably provides some sort of quality service and people find it helpful or useful. Mannatech has also been added to the NASDAQ stock exchange.
Mannatech has offices in 30 countries.
Mannatech is specialized in dietary supplements and other health, skin care products. Some of Mannatech products:
Advanced Ambrotose (for improving immune system)
Ambrotose AO (protecting body with antioxidants)
Ambrotose complex (for improving immune system)
BounceBack (Recovering from exercise)
CardioBalance (Strengthening heart)
Catalyst (Multivitamin for fat-loss support)
GL-Probalance (For healthy digestion)
GL-Zyme (For healthy digestive tract)
Mannatech's main mission is to solve malnutrition problem and most of their products serve that purpose.
So, providing quality food supplement products is their main task. One thing I want to bring to your attention is that Mannatech doesn't produce medicines.
They produce supplements. Mannatech products can be divided in 5 categories:
Integrative health
Targeted health
Weight&fitness
Skincare
Home living
The idea of their products is helping you improve your health, immune system, digestion, burn some fat, get rid of the stress.
Aside from paying $49.99 for your membership to Mannatech you also need to buy one of their packages:
Basic pack – $99-$199
All-Star pack- $499
Premium All-Star pack – $999
As you can see, prices are not cheap. Before investing your hard earned money you have to make sure if you can sell those products.
If you don't have any experience in promoting mlm products I highly recommend to avoid this opportunity or start with the basic pack first to see how you can sell it.
This approach will allow you to avoid wasting your money.
As a Mannatech associate you will get:
90 days of free premium business tools
Ability to earn commissions
Bonuses and incentives
10% discount off retail prices
180 day money back guarantee
Support
Making money with Mannatech
As a Mannatech distributor you will be making money through different ways:
You will be selling Mannatech products and earning the difference between the wholesale price and retail price.
You will earn a commission if someone whom you invited to Mannatech buys one of Mannatech packs.
You will earn money by recruiting others into Mannatech. This requires a lot of efforts. You have to help them. The more success they can achieve the more money you will make.
There are more ways to make money with Mannatech: direct bonus, team bonus, leadership bonus, leadership level bonus, Platinum presidential bonus, Member bonus, member all-star bonus and more.
Unfortunately, very few people can benefit from these bonuses because the number of those who make any money at all with Mannatech is around 5%.
What I don't like about Mannatech
There have been several lawsuits against Mannatech over the past years. For example, Mannatech paid $750.000 to settle lawsuit charging fraud and invasion privacy.
Mannatech also paid $7 million to settle a lawsuit in Texas in 2009. They also paid $11.25 million.
The company was sued by the mother of a child who died of TaySachs disease. The company used this child's photo to promote their products.
In fact, the child died as a result of using Mannatech products. There were several lawsuits against the company:
For intentional infliction of emotional distress
For negligent infliction of emotional distress
For intentional misrepresentation
For negligent misrepresentation
For conspiracy to commit fraud
For invasion of privacy
For unfair competition pursuant to business & professions code
For unlawful misleading sales practices
All this indicates that Mannatech's reputation is not clean. There is no guarantee that there will not be other new lawsuits against Mannatech in the future.
Sometimes companies like this even may get shut down. I've seen many other MLM companies that were sued like Mannatech.
Very often it happens to MLM companies. This is one of the reasons why FTC warns people of MLM companies.
In 2017 FDA (US Food&Drug Administration sent a warning letter to Mannatech for wrong marketing practices.

I also don't like the fact that some distributors of Mannatech products try to convince people that Mannatech products can cure them from cancer or some other serious incurable diseases.
I've seen it in many other MLM companies. Very often MLM distributors make such claims though there is no any scientific proof that a certain product or medicine can 100% cure cancer or any other incurable disease.
Another thing that I don't like about MLMs is that it's the fact that most people can't achieve success in this business. And the same applies to Mannatech.
There are several reasons behind that. First reason is because most people can't successfully promote MLM products due to the lack of experience.
Second reason is because of lack of support from MLM companies. Third reason is because MLM products are very often expensive.
Next thing that I don't like about MLMs which also applies to Mannatech is that when you join an MLM company you will be taught to start promoting mlm products among your family members, friends, neighbors, relatives.
This is pretty standard approach almost for any mlm company. Some people take it normally though others don't like it.
I personally don't like it because very often you have to learn to become annoying and pushy in order to promote products.
It also implies organizing home parties, making friends with new people and promoting products.
In short, you need to become a socially active person and change your lifestyle to earn money as an MLM distributor.
If you are not willing to change your lifestyle then you better not join Mannatech at all. And remember that making first few sales is not that hard.
But making sales constantly each and every month in large volumes is a super hard task.
I also don't like the fact that Mannatech packages are quite expensive.
Before investing let's say $999 into Mannatech's premium pack you must know if you can sell those products.
Unfortunately, there is no way to know it exactly other than having enough experience in MLM field.
I'm not sure if you can return products if you don't sell them. Very few MLM companies allow this. Fortunately, Mannatech offers 180 day money back guarantee.
Another thing that I don't like about MLMs is that their products are never cheap and it's clear why. Because they have to pay to their distributors.
Normally they pay generous commissions on multilevel system. This means product must be sold at a high price so they can make payouts to their distributors.
This leads us to the next negative aspect of mlm business which is the competition.
It's always a challenge to compete with other non mlm companies that sell similar products for a lower price.
So, it's always a challenge to be an mlm distributor. Here is the example of Mannatech prices for supplements:
Ambrotose AO – $51.99
Advanced Ambrotose – $ 58.99
Catalyst – $52.99
PhytoMatrix – $51.99


As you can see, prices are very high. I don't think an average person can afford paying $50 for one bottle of supplement keeping in mind the fact that its effect has not been scientifically proved.
Remember that your main task as an mlm distributor will be finding a lot of people and convincing them to join Mannatech company under you.
You will be their leader. The more people you can find the more money you can make.
Sounds easy but in fact becomes a big challenge almost for all mlm distributors. As a result most of them quit after 2,3 months.
Your sponsor will be encouraging you to buy one of Mannatech packs.
I personally don't like this type of approach because very often sponsors are a bit annoying because their main task is to convince you to buy products.
When you buy they earn a commission.
I checked Mannatech on Google Trends and it looks like the company's current situation is not as good as it used to be in 2004-2007.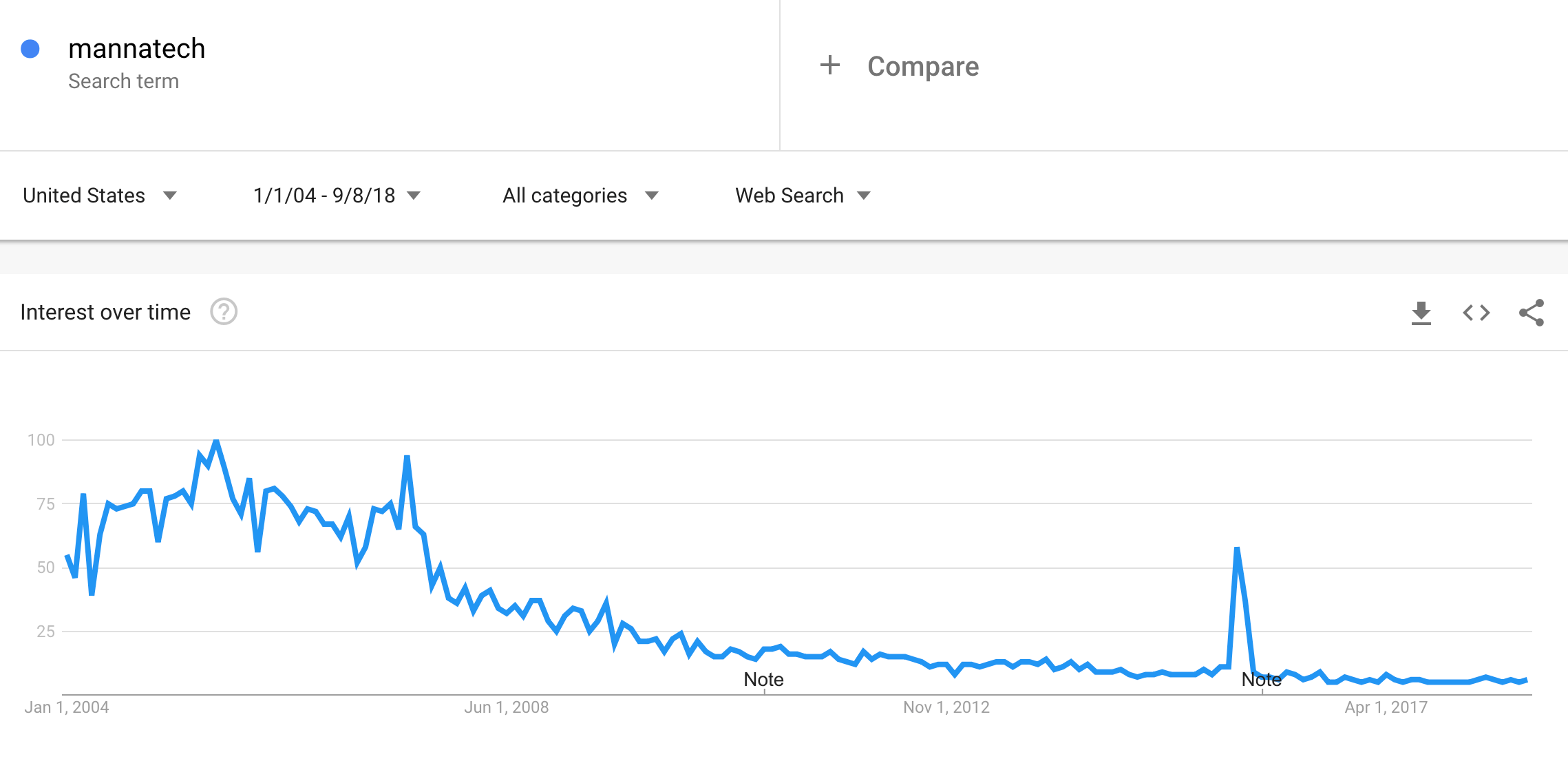 If you take a look at the screenshot below you will see that very few Mannatech associates have been able to achieve success in 2017.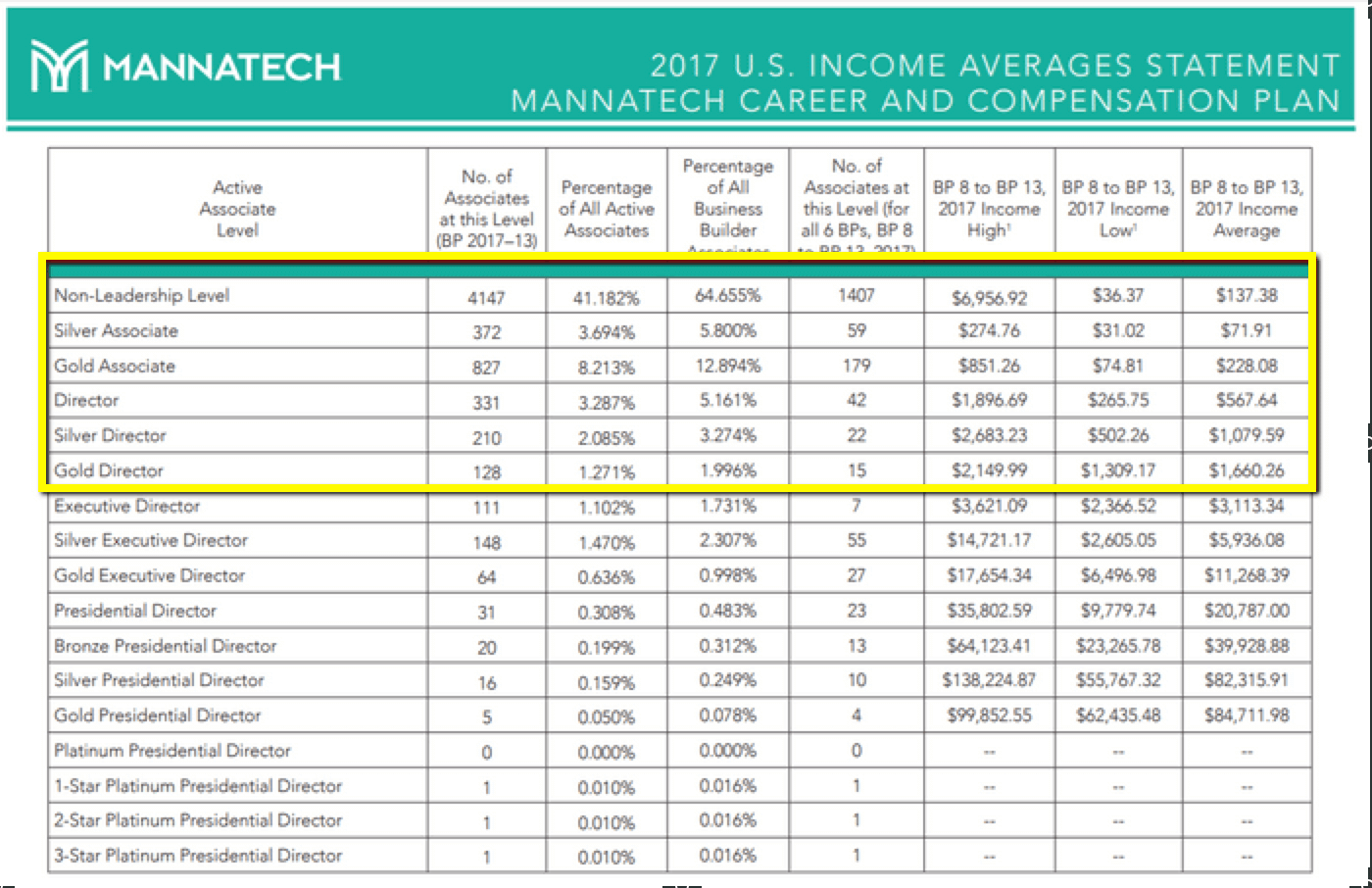 This means the opportunity itself doesn't look much attractive. This explains why Mannatech's rating is so low according to Google Trends.
One of the most popular Mannatech products is Ambrotose made from glyconutrients.
Though the company is investing a lot of money in product research there was a lawsuit against Mannatech called a "Glyconutrient sham".
Mannatech was accused of false practices advertising glyconutrients as a universal cure or preventive method for serious diseases like cancer, AIDS, diabetes, colitis. For more info you can read this article.
Very interesting that in the disclaimer on Mannatech site you can read this: "These products are not intended to diagnose, treat, cure or prevent any disease."
I have a question then: "Why do you try to convince people that your products can cure those diseases?"
It's not surprising then that there were so many lawsuits against Mannatech in the past.
Also, the number of those who make any money at all with Mannatech is around 5%.
What I like about Mannatech
Mannatech company conducts a lot of researches to improve its products and shares its case studies with the public. This is certainly a positive fact for the company. They invested $50 million in product research
Mannatech offers 180 day money back guarantee which is great compared to many other mlm companies that don't even offer any guarantee.
If you are good at sales you can make money with Mannatech. So, there is a room for personal and business growth.
Complaints about Mannatech
From my review of Mannatech it's clear that this company though has been around since 1993 it went through many trials and troubles.
I did some research and found some interesting info regarding Mannatech based on 40 reviews. An overall rating is not high.
It's 3.4 only out of 5. I found some positive and negative opinions.
It's really hard to come to the right conclusion. Some people rated Mannatech very low and have had different issues and complaints with the company.
Opinions are totally different:
Double standard policy within the company
No room for growth
The CEO is greedy and creepy
A pyramid scheme
Lack of communication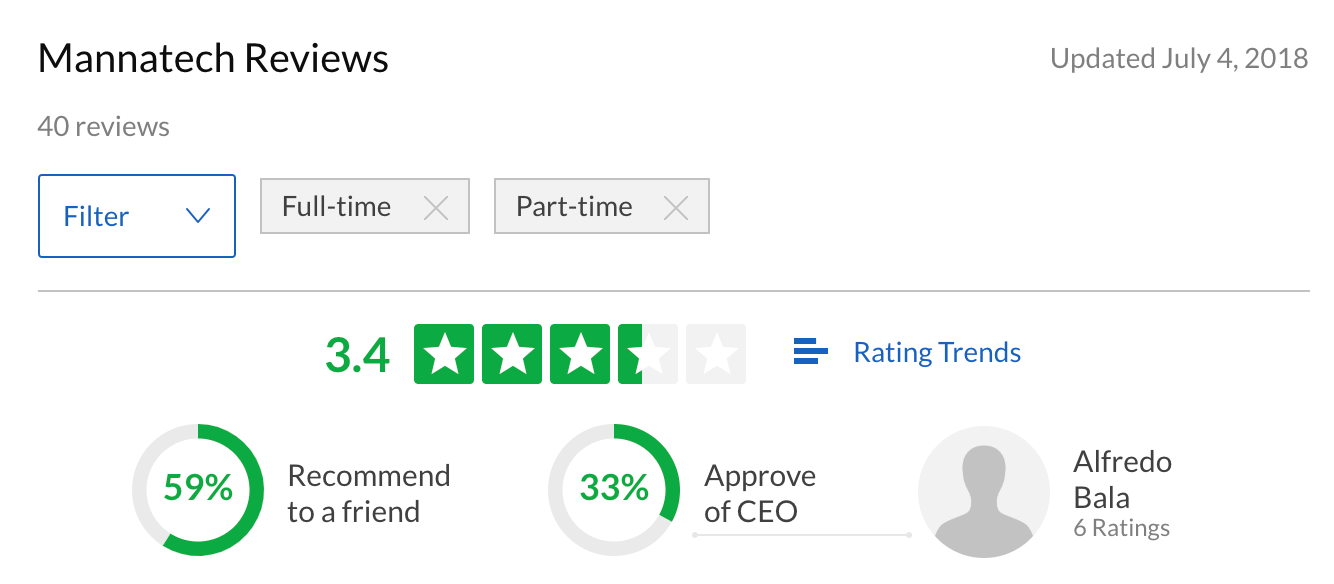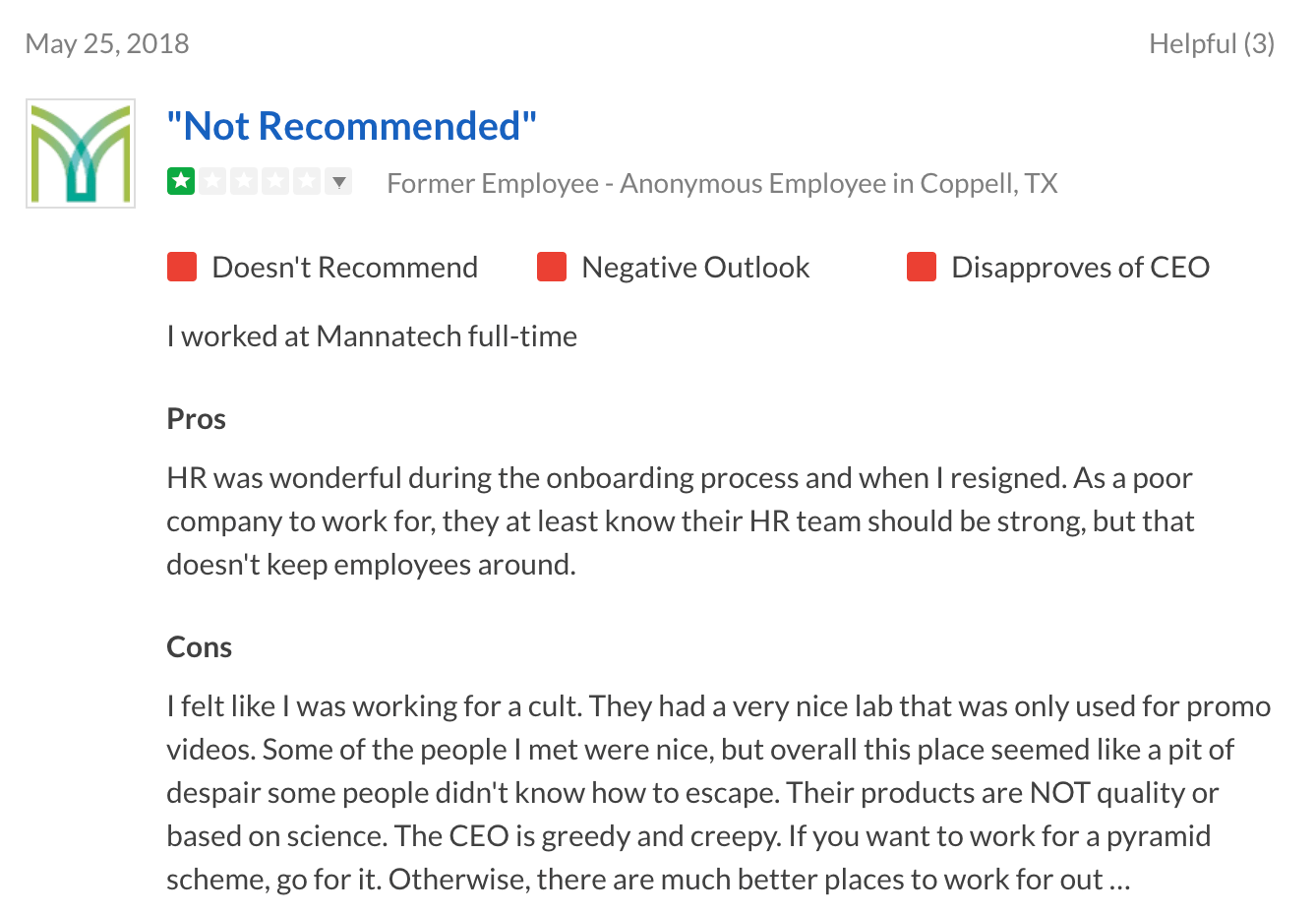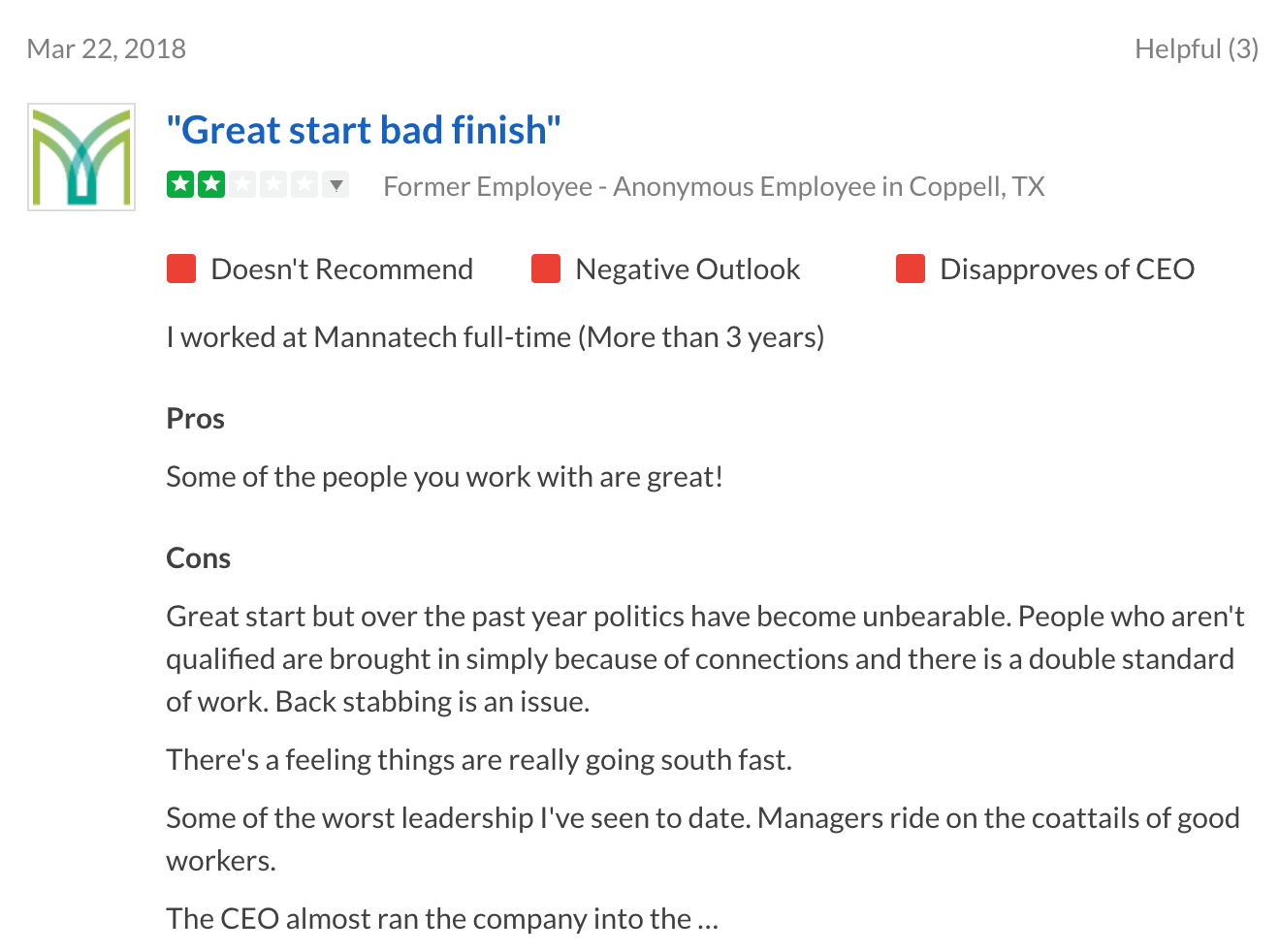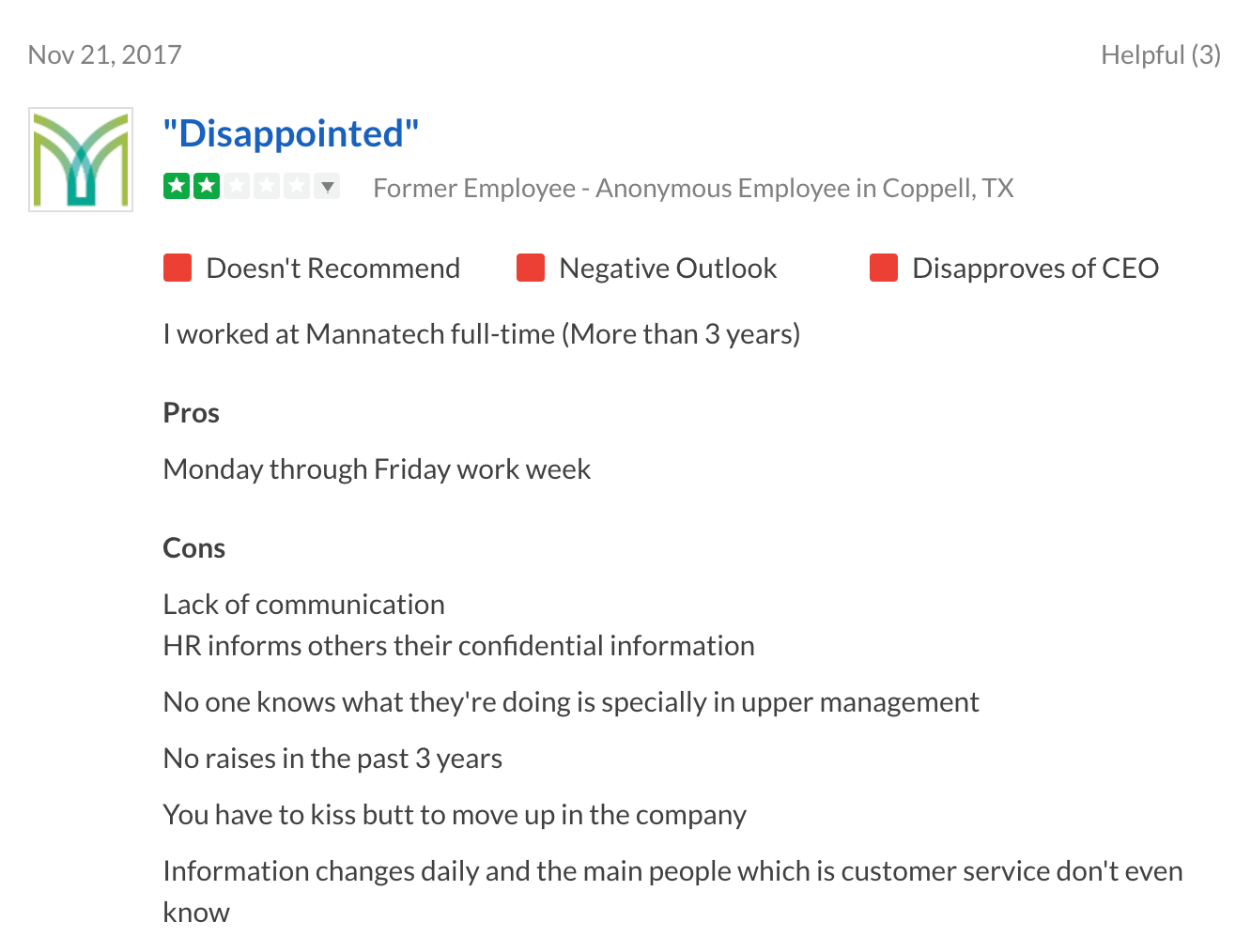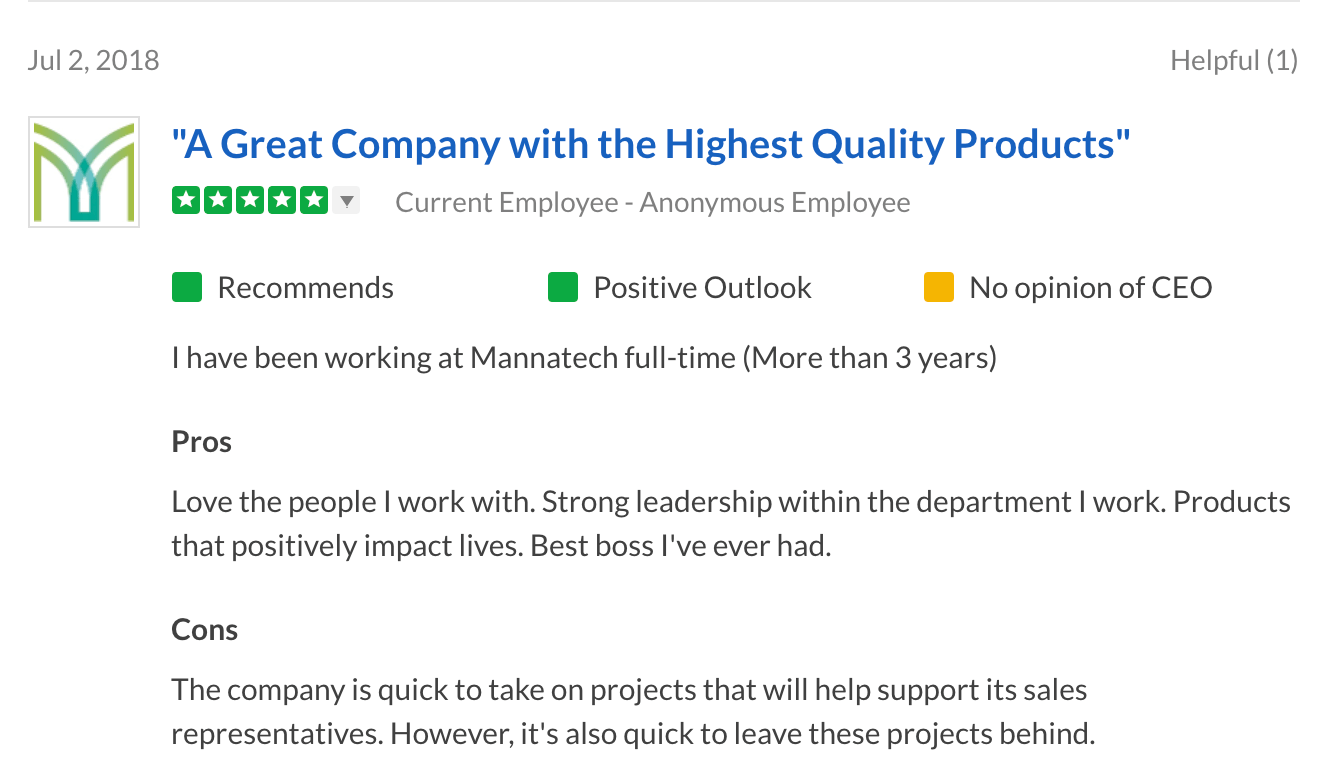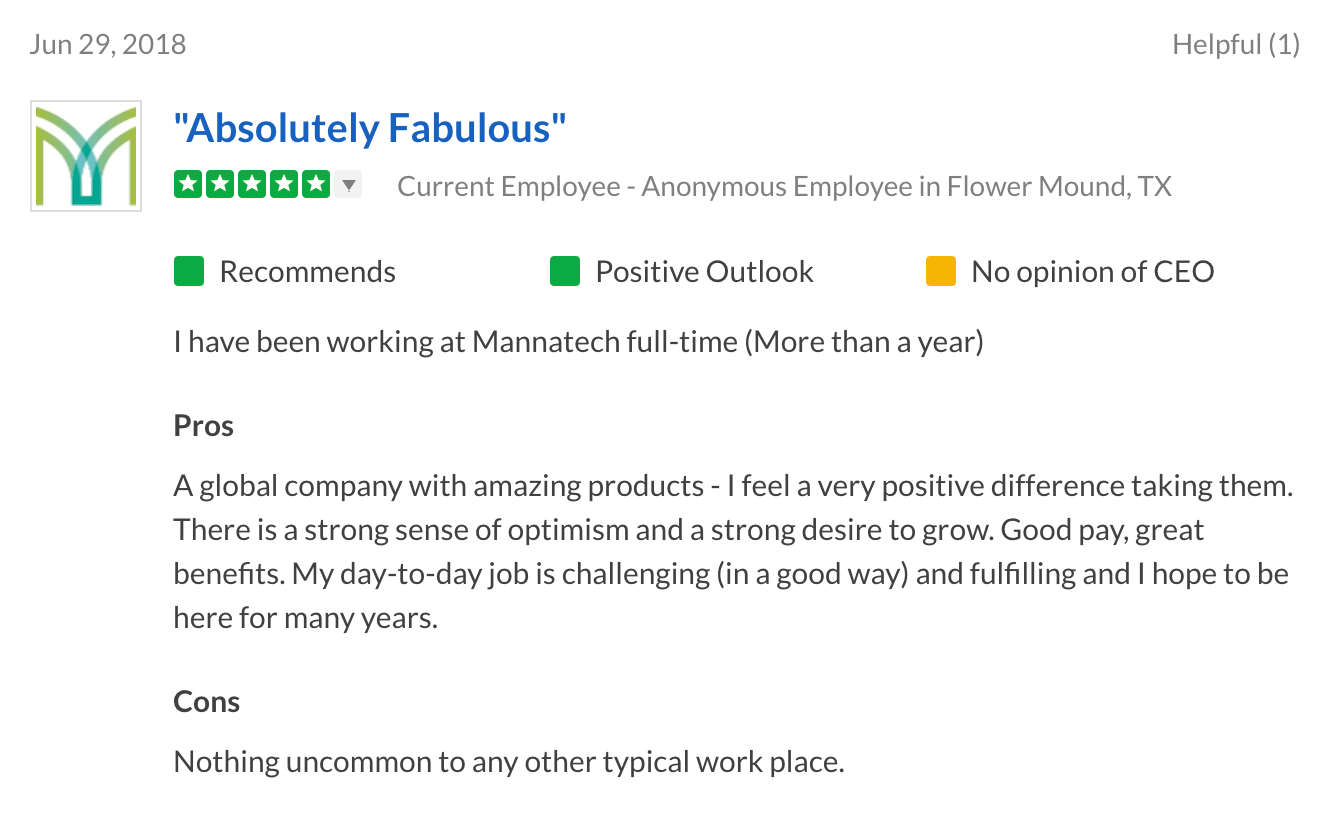 All this doesn't mean that Mannatech is bad for everyone who joins it. For some people it may be working very well. Those are very few unfortunately.
If you decide to join Mannatech you can do so. But before making that step I highly recommend to read the review to the end and then make your decision.
Can you become successful with Mannatech?
Despite all negative aspects that I've showed above I think Mannatech is not that bad for those who are good at marketing and selling.
I can't say that you won't be able to make a fortune with Mannatech because I don't know your skills.
But as I said above, very few people are successful with MLMs, especially with Mannatech.
You know your skills and after reading my and other reviews you will know exactly if Mannatech is for you or not.
When it comes to my personal recommendation I never recommend MLMs.
Final word on Mannatech
If you ask me: Is Mannatech a scam? My answer would probably be NO, it's not a scam. Because they pay commissions and have their own products.
The quality of their products is arguable. When it comes to the question based on the company's slogan: "Can Mannatech really transform your life?"
My answer would probably be: "I really doubt about it." I believe MLM is not the best opportunity out there and especially Mannatech is by far not the best one.
I would recommend to start with affiliate marketing that has a much better success rate and my recommended program is free to start. Feel free to ask questions if you have any.
Final glance at Mannatech
Quality products
Been in the business for about 25 years
Support
Lawsuits against Mannatech
You need to be a sales person
Packages are not cheap
Strong focus on recruitment
It was called a "pyramid scheme"
Most people fail with MLMs
Overall rank:

40 out of 100
About the Author: Adam
My name is Adam. I'm the founder of Your Income Advisor. My goal is to help others succeed online, by exposing scams and reviewing top rated products. I can help you start
your own business online