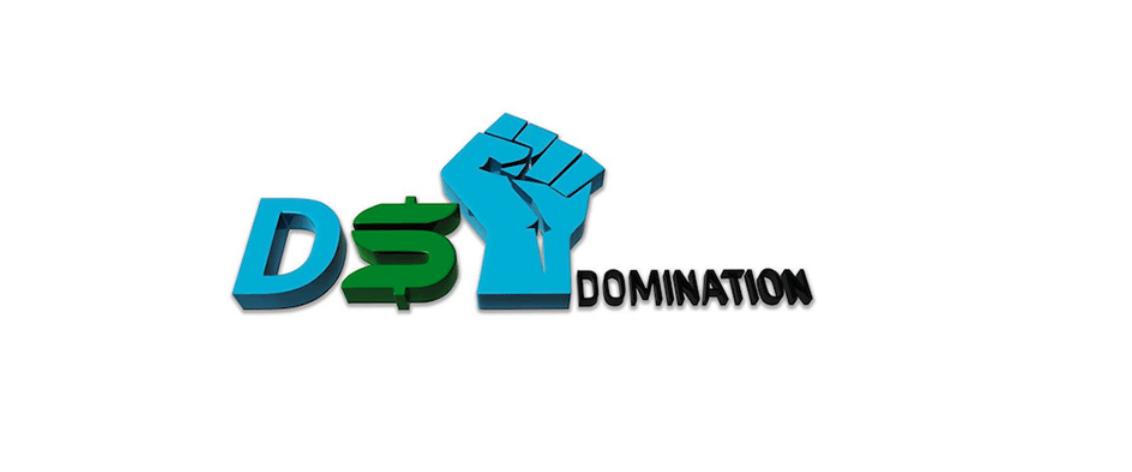 Product name: DS Domination
Website: www.dsdomination.com
Owner: Roger Langille
Price: $19.95/month-$1499/one-time
Overall rank: 50 out of 100
DS Domination is a very interesting program. It's a program that caught my attention and I decided to write my review though there are many other reviews available online.
Some reviewers call it a scam while others claim to make money with the program.
If you are looking for the truth it will be really hard to find it because you can easily get confused.
I did my research and can tell you DS Domination is a very controversial program. It's hard to say it's a scam because some people are making money with it.
Some people are making zero $. Some of the practices Roger teaches in his training are good while some of the practices are bad or illegal.
I will show you all true facts about DS Domination and you will decide if you want to become a member of this program or not.
Read carefully my review and don't leave unthoughtful comment until you read the whole review.
Because some people read only part of the review and leave crazy comments.
Let's find it out: Is DS Domination a Scam OR Can You Really Dominate as a Drop Shipper? Let's do it.
Short review of DS Domination
DS Domination is all about drop shipping which means you buy products at a discounted price and sell at a retail price.
The main issue with DS Domination is that Roger teaches you in Pro package how to find products on Amazon and then sell them on eBay.
This is against Amazon rules. Your account can be terminated as a result of it. Other packages are ok.
Pros of DS Domination
Some people are making money with DS Domination
Training
Cons of DS Domination
Packages are expensive
Refund is 15 days only
Some practices are against Amazon rules
Some complaints
Accounts can be terminated
DS Domination is a very interesting and at the same time very controversial program. Some people love it and some people complain about it. Opinions are totally different. You can try it if you want. Otherwise I recommended my favorite program. It's legit. 7 day free trial is available.
DS Domination review
DS Domination is a relatively new program that teaches you how to earn an income online through a method known as drop shipping. It was launched in 2013.
As I explained above, theoretically drop shipping means you list your products on eBay first. The buyer pays you for your product including shipping fees.
You pay the drop shipper and drop shipper ships the item to your buyer with your company name and address.
Let's say you you found a product on Amazon or Bestbuy or on any other supplier's website. Let's say it costs $40.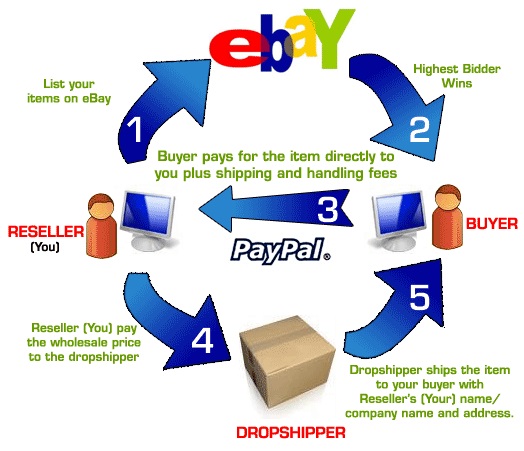 Then you go to eBay and see that this product costs $50. You choose that product and add your description and start selling on eBay for $50. Then someone buys it from you.
Once you've got a sale, you pay Amazon or Bestbuy $40 for the product and give Amazon or Bestbuy your buyer's shipping address.
They send the product to your buyer and you earn $10 profit. You act in this process like a middleman.
Though Roger from DS Domination makes some unrealistic claims like making money on autopilot, part of this can be true.
But before you reach that level you need to do a lot of work, such as going through DS Domination training, learning the ropes. It's not going to be easy.
Prepare for a hard work in the first 5,6 months at least.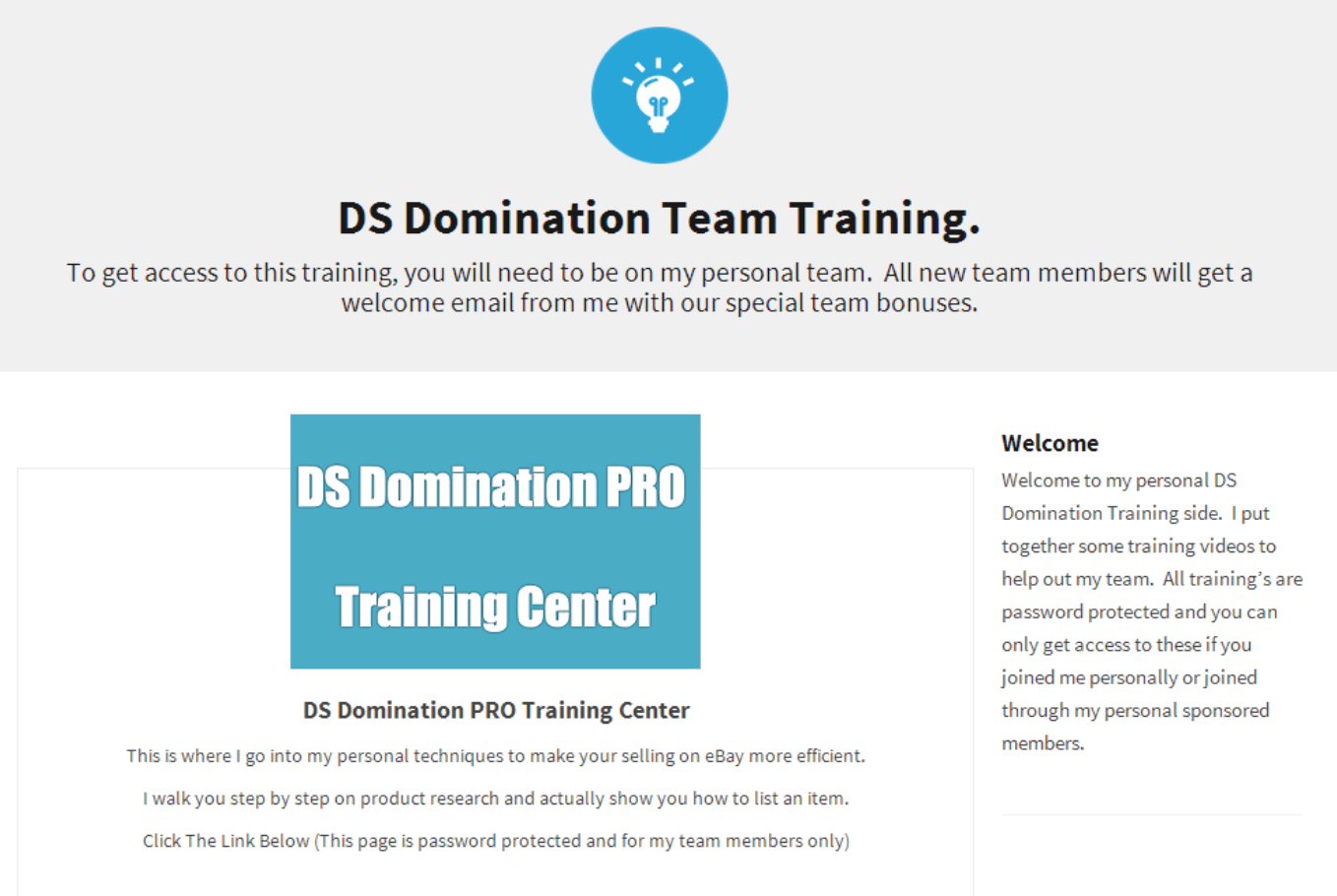 DS Domination drop shipping training consists of several trainings:
DS Domination Pro – $19.95/month
DS Domination Elite – $99.99/month
DS Domination Unleashed – $249.99
DS Domination Monopoly – $499.99
DS Domination Genesis – $1499.99
I think some packages are affordable while others are not. For me personally paying $19.99 per month is acceptable. Paying $99.99 per month is acceptable for me too.
But I'm sure for most people paying $99.99 per month is going to become an issue. Paying $499 for Unleashed or Monopoly is still ok.
But paying $1499 is a big problem for most people. I think starting with $19.99 Pro package is the most appropriate one.
If you can achieve success with this basic training then upgrading to the next level does make sense.
Otherwise, if you can't become successful with the first package then I don't recommend to pay for more expensive packages.
Believe me, I have enough experience in making money online. If you can't get results with the basic package don't listen to those who will try to convince you to upgrade to another package. Because it will be a complete disappointment.
Once you start following the course you will need to create an Amazon and eBay accounts and also some other accounts.
Quality of DS Domination Pro training is not so good. You will be explained what to do and how to do.
They have support and Facebook group where you can ask questions if you get stuck at some point.
I don't know how good or responsive their support is but I do hope it's good. But there are some complaints about their support.
The more expensive the package that you buy from DS Domination the more tools will be available to you.
Also you will get access to more suppliers to work with. More suppliers means more opportunities to make money.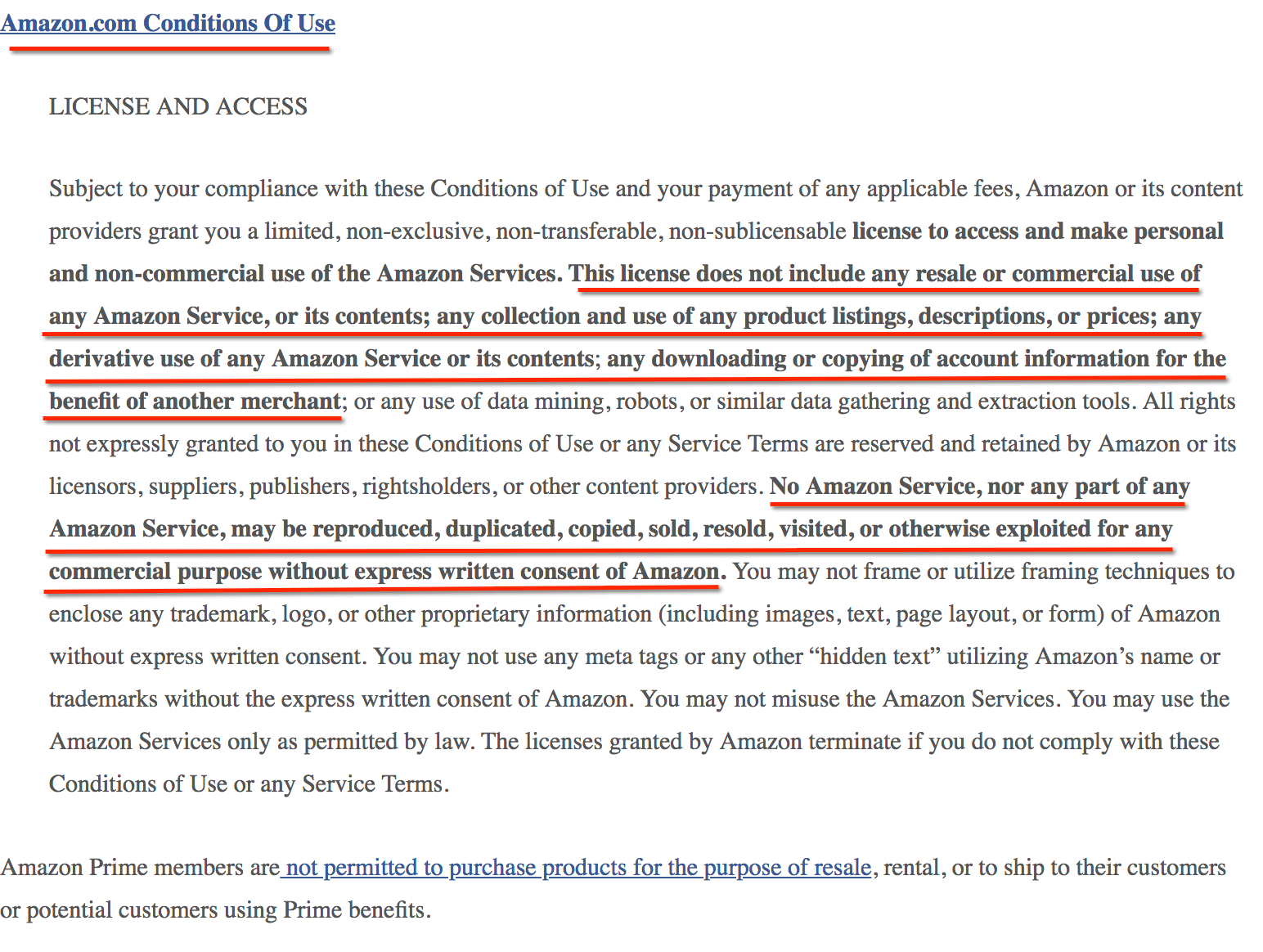 Some bloggers claim that taking product description from Amazon and trying to sell it for a higher price on eBay is against Amazon TOS rules.
Plus it's a kind of cheating of your customer. Others explain it in a different way. They say traders have been doing this for ages and making a lot of money and the rest doesn't matter.
I can agree and disagree with them. There are arguments in favor of each party. When it comes to cheating I don't think so.
It's a customer's problem to do a proper research and find the cheapest product.
If they don't do the research and buy an item on eBay for a higher price as a result of not doing research on Amazon market that's their problem. Do the research and then buy.
If your Amazon account gets shut down as a result of breaking their rules you will lose your business. It's not so good of course.
I know one little trick that can help you make money easier. It's important to choose items on Amazon that cost at least $35.
In this case you will have a free shipping. Otherwise you may not earn any profit because of shipping fees.
Also, remember that eBay will charge you 10% fee for the deal and you can easily lose all your profit. Make sure to sell at the price that will allow you to earn some profit after the sale.
PayPal also charges 3%. Make sure to add it to your sale price to keep your profit in your pocket.
The only way to reduce those fees is to trade on eBay for a long time and become a top rated trader.
If you can achieve it you will be able to reduce eBay and Paypal fees and make more money by making your prices more competitive.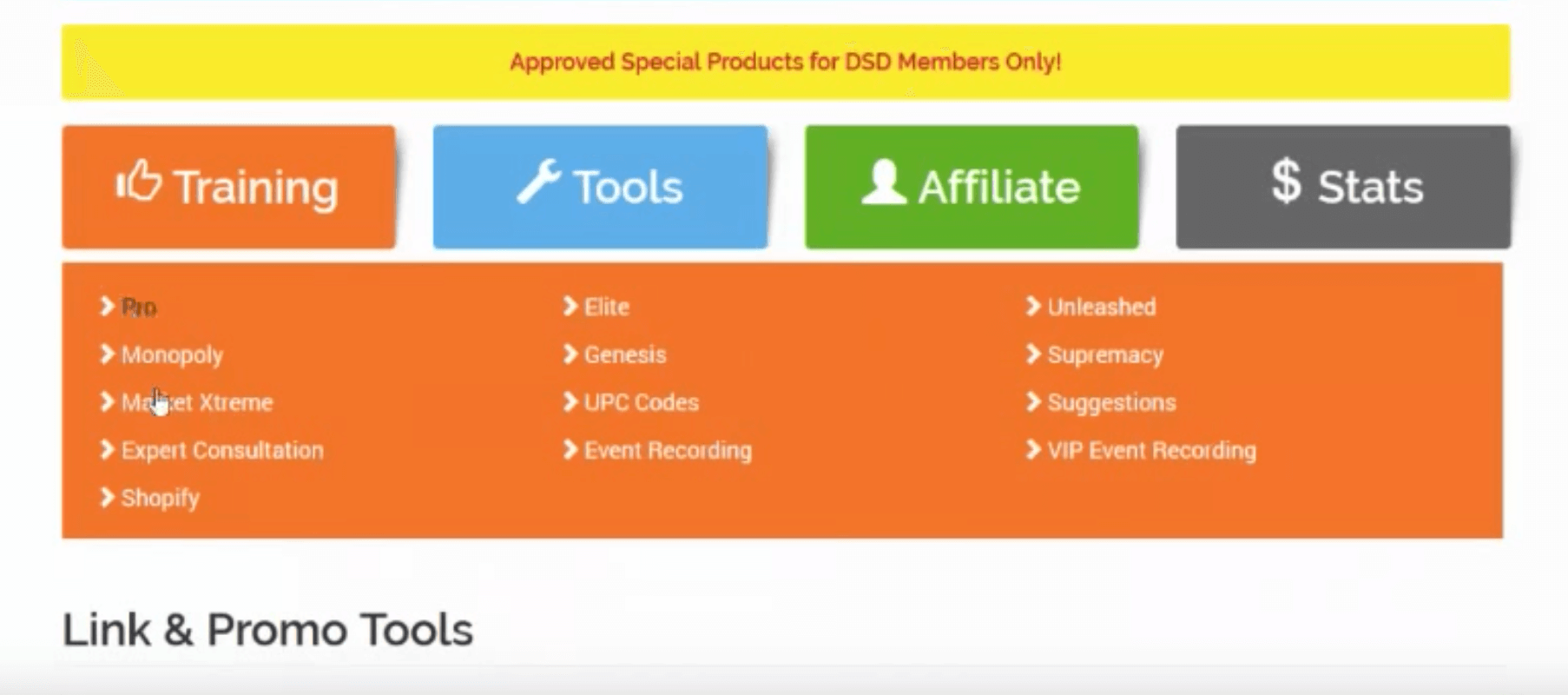 DS Domination memberships
DS Domination Pro – $19.95/month
DS Domination Elite – $99.99/month
DS Domination Unleashed – $249.99
DS Domination Monopoly – $499.99
DS Domination Genesis – $1499.99
Pro teaches you mainly how to drop ship from Amazon. You can earn up to $20 per sale. This package is more focused on retail arbitrage instead of drop shipping.
Your Amazon or eBay accounts can be terminated.
Elite teaches you how to find products from other suppliers and earn even more money, up to $150 per sale.
Unleashed teaches you how to reduce some costs when trading on eBay and using PayPal. You can do it through cash back programs. You can also earn up to $500 per sale.
Monopoly teaches how to sell on Amazon and Amazon as you know is #1 place to sell items. This will allow you to earn way more money.
Genesis teaches you how to find wholesalers in China and sell through AMAZON FBA.
Once you've found them you will send them to Amazon and they will store your items for you.
You sell them on Amazon and Amazon will take care of the shipment. You earn an income.
DS Domination compensation plan
As a DS Domination member you will earn 50% commission on your sales.
10% commission on your second level referrals
5% commission on your 3rd level referrals
3% commission on your 4th level referrals
2% commission on your 5th level referrals
1% commission on your 6th level referrals
The compensation plan is not bad but I personally don't like MLM type of compensation because to earn more you need to buy more expensive packages.
In fact, you're forced to pay more in order to earn more.
What I like about DS Domination
Some people are making money with the program
You don't need to wait for months to get traffic or results.
There is some positive feedback too.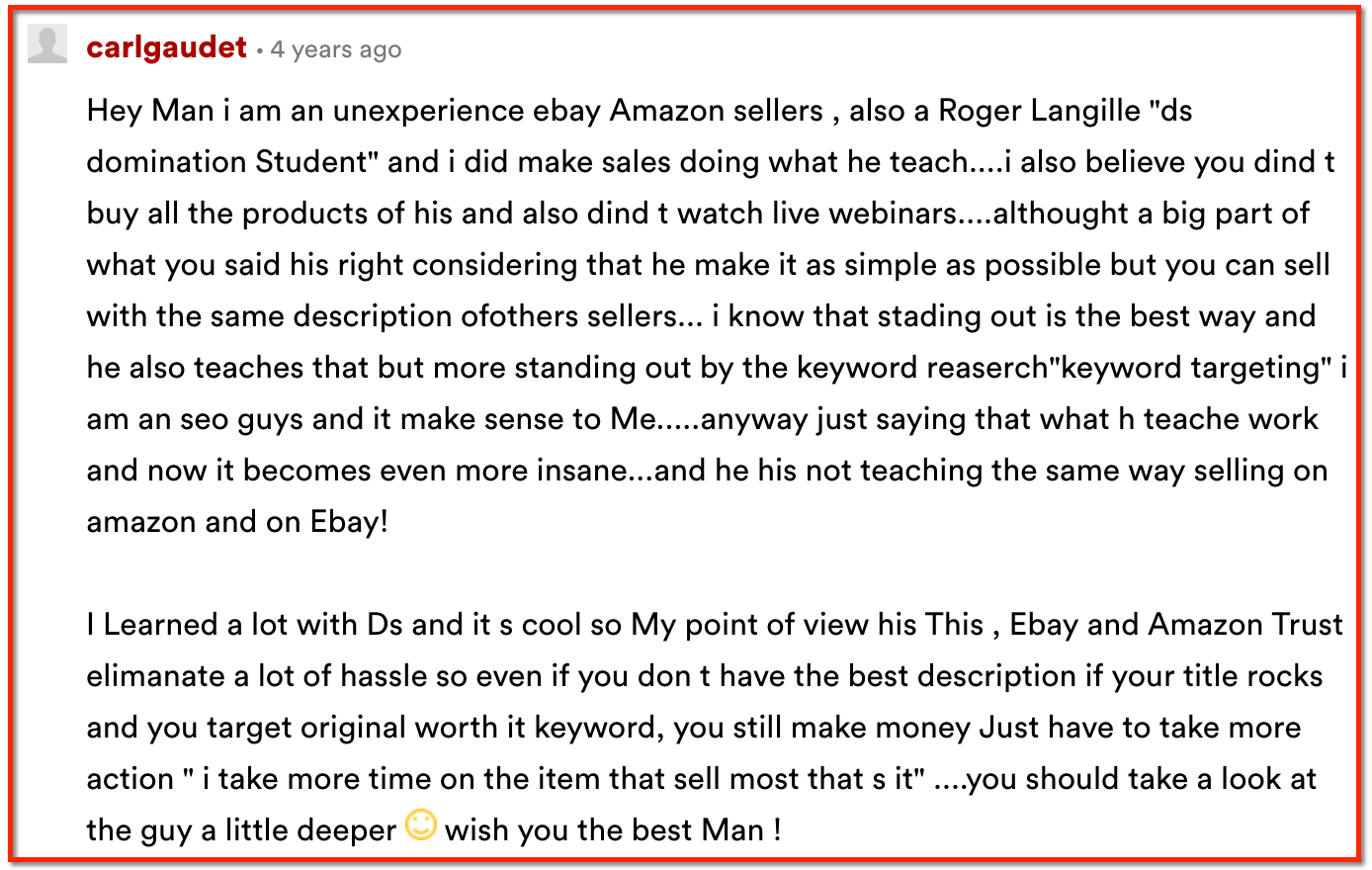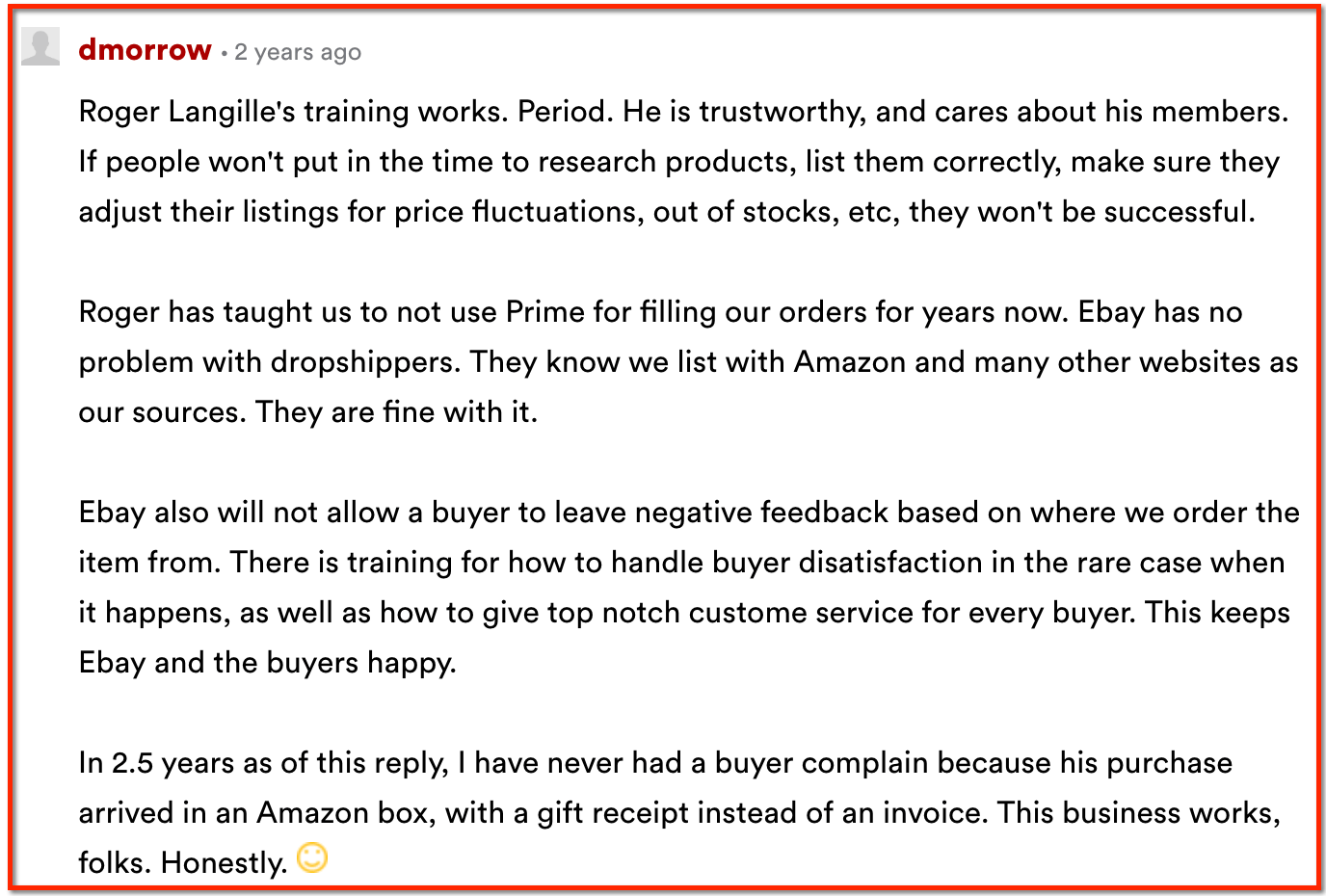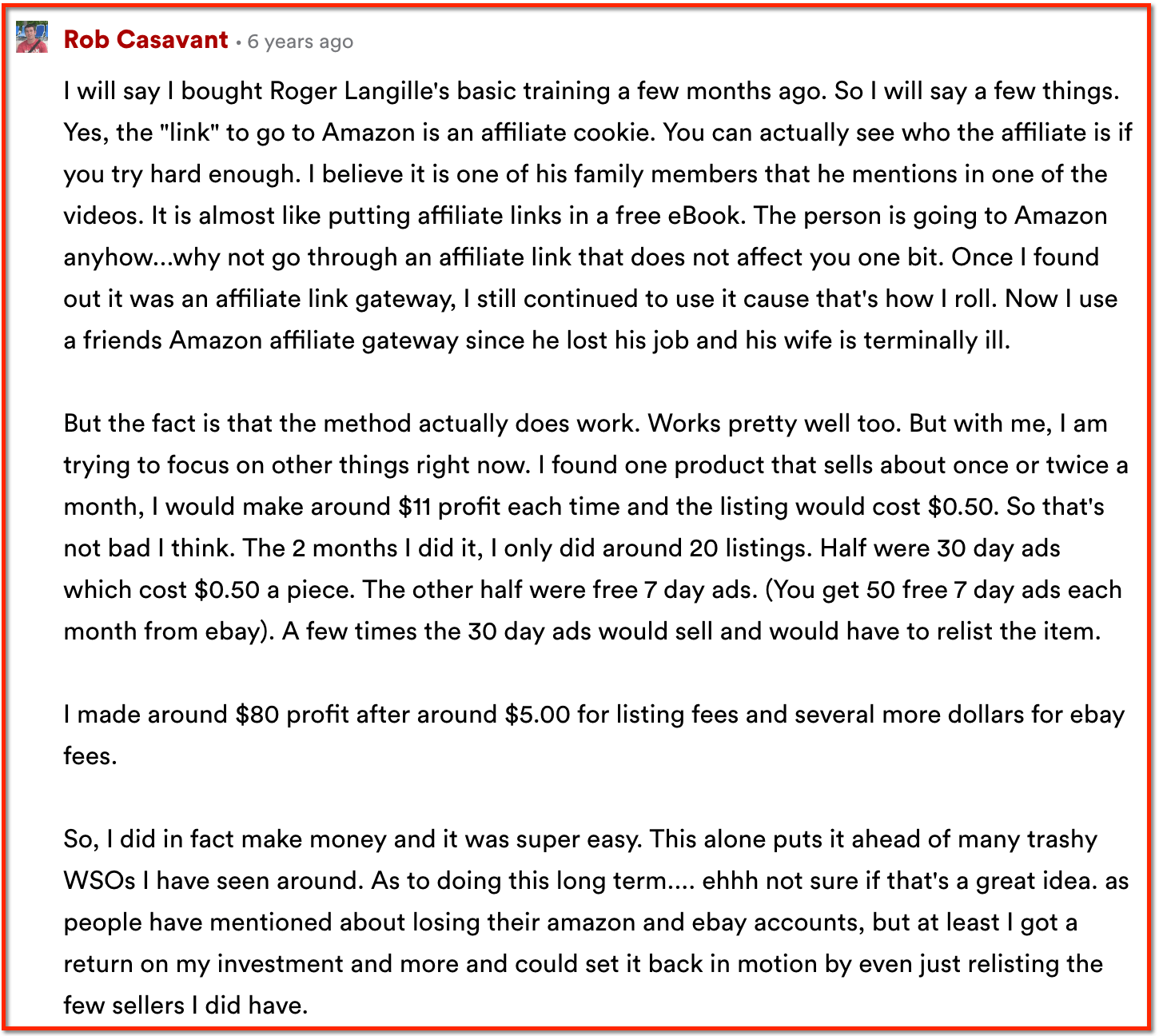 You get support but there are some complaints about the quality of their support.
You don't need to have a product or inventory to make money
DS Domination offers tools that allow you to track your sales, orders and many other important info.
There is a new version released recently, DS Domination 2.0. Some improvements have been added to the program.
What I don't like about DS Domination
I don't like that on DS Domination website above their advertising video there is an invitation to join DS Domination. It's ok with me. What I don't like is that it says: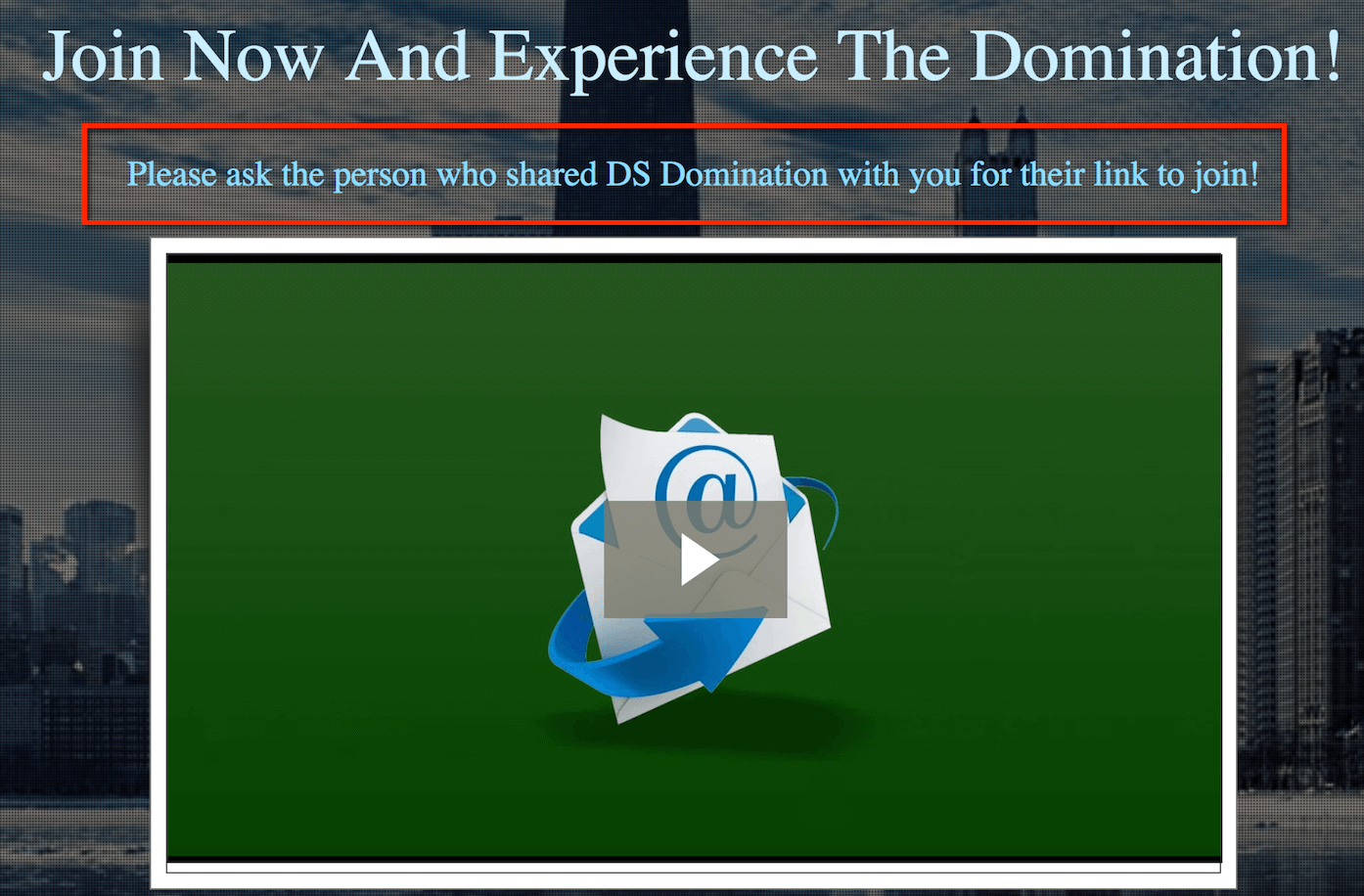 please ask the person who shared DS Domination with you for their link to join. It looks strange to me and reminds of other low quality MLMs or pyramid schemes.
I don't mean it's a pyramid. But why should I look for someone when I want to join DS? I personally don't like this type of approach.
Since many other people will be joining DS Domination it means you will be competing with many other people that will be advertising on eBay.
Of course, everyone will be choosing different products but still there definitely will be a serious competition among DS Domination members.
BTW you can see some screenshots from members of DS Domination that complain of the competition. This to some extent proves my argument.

When you list your products on eBay you will be charged by eBay for listing your products. It's not free to advertise your products on their platform.
There will be several types of charges, such as insertion fee, final value fee. You will be charged for listing the item, then per item once the sale has been made.
PayPal also may hold your PayPal payments from buyers if you are new to eBay. This is their security process to keep their site safe.
If you don't buy your product from a wholesaler and try to sell Amazon's item on eBay you will be competing with many other eBay members for the same product.
It will be extremely hard to make any sale at all. Maybe you can make 1,2 sale but making money consistently will be a big problem.
People even complain about their facebook group where they never get any support. Here is the Youtube video that I came across and I want you to watch it.
This man doesn't promote anything. Just talks about his experience with DS Domination. Do me a favor and watch it.
There is a good amount of complaints about DS Domination though there are positive reviews too.
Some people hate DS Domination and below I provide screenshots from Warrior forum. You can read the complaints to understand why people are unhappy with DS.
I also provide a link to warrior forum where you can read both, positive and negative reviews about DS Domination.
This will help you decide whether you want to join DS Domination or not.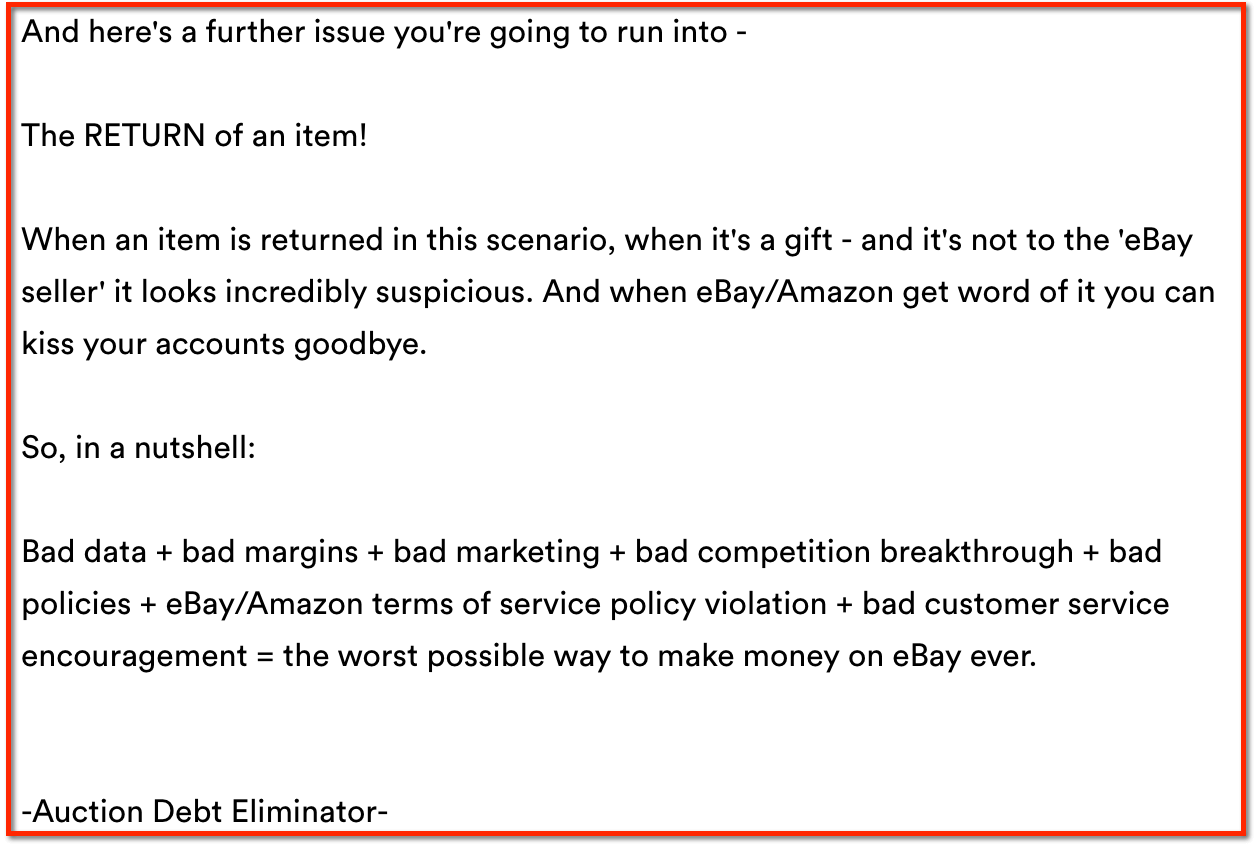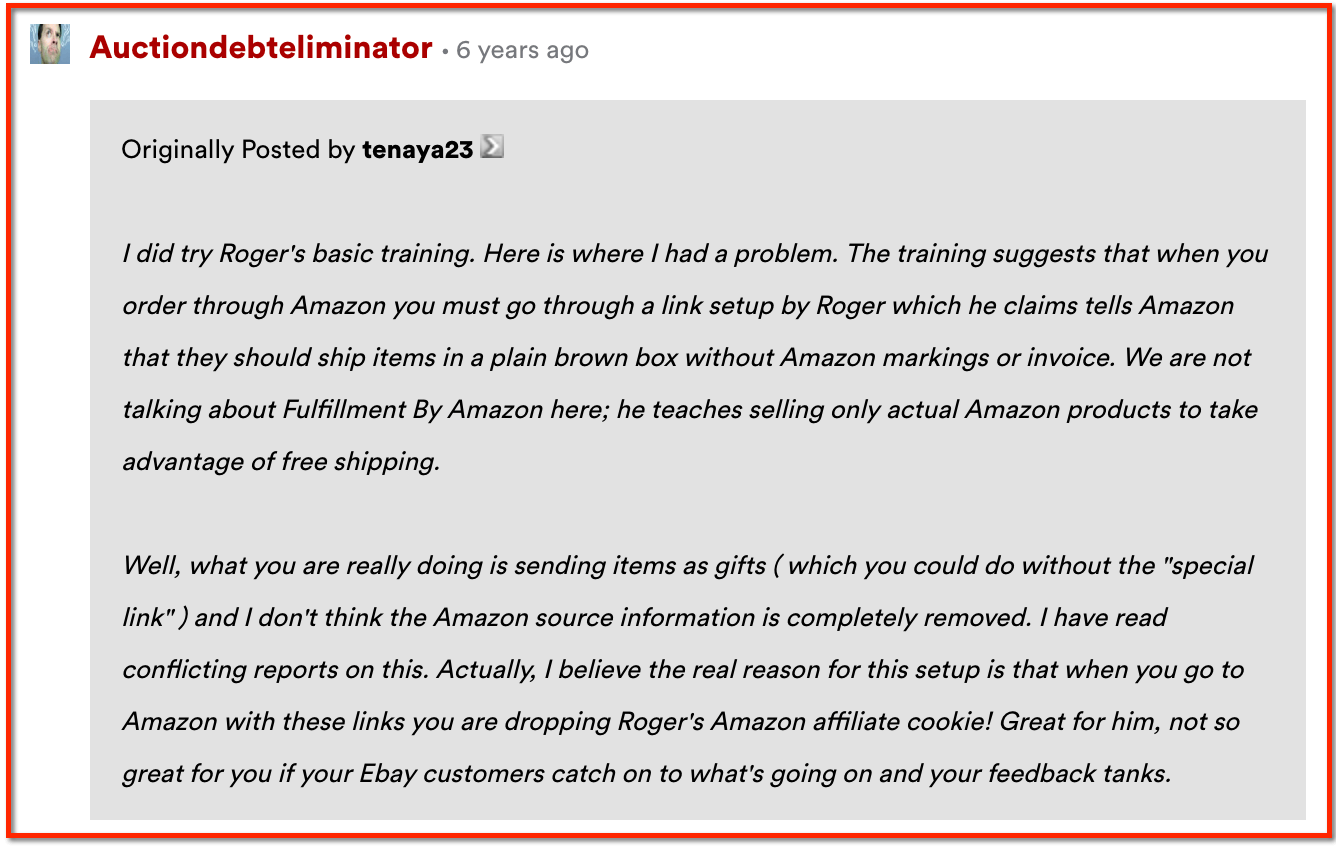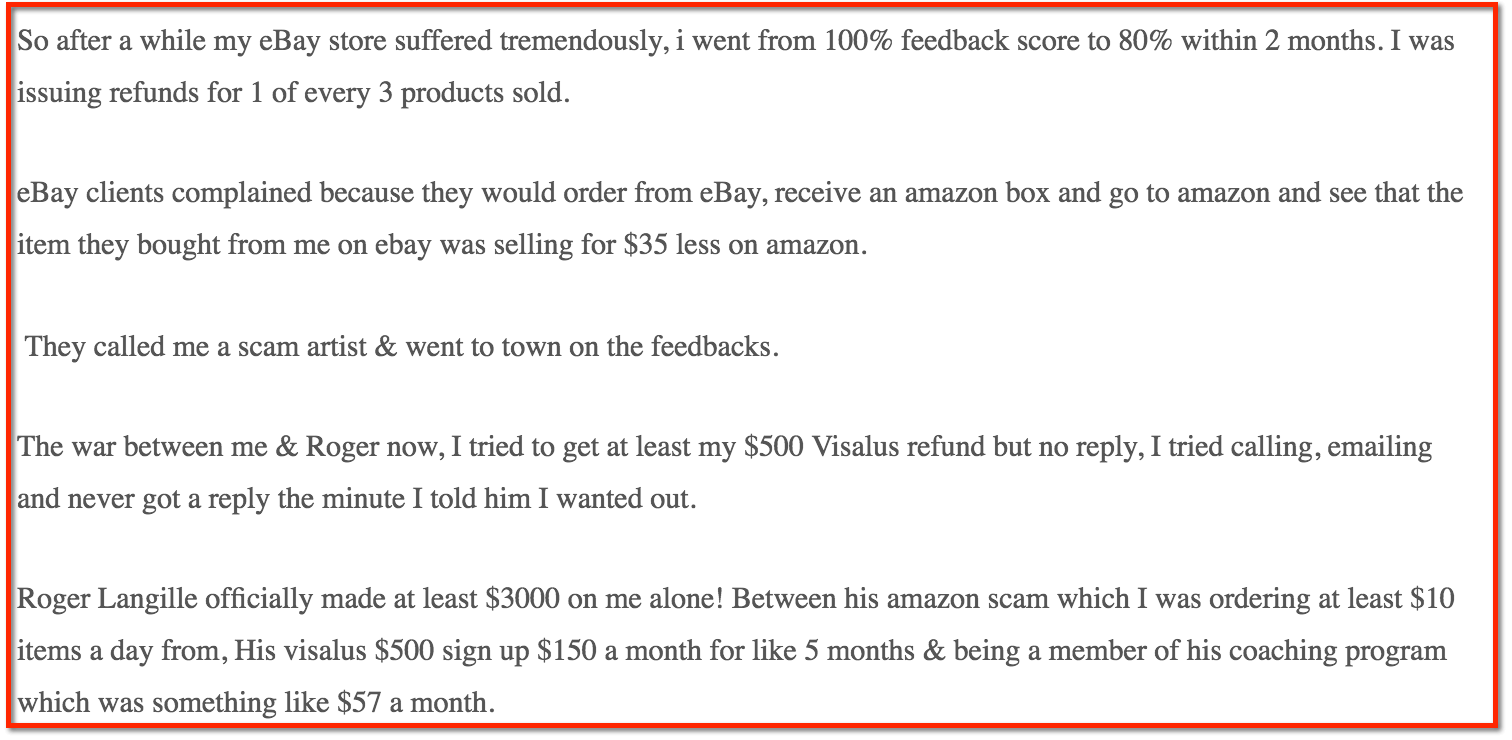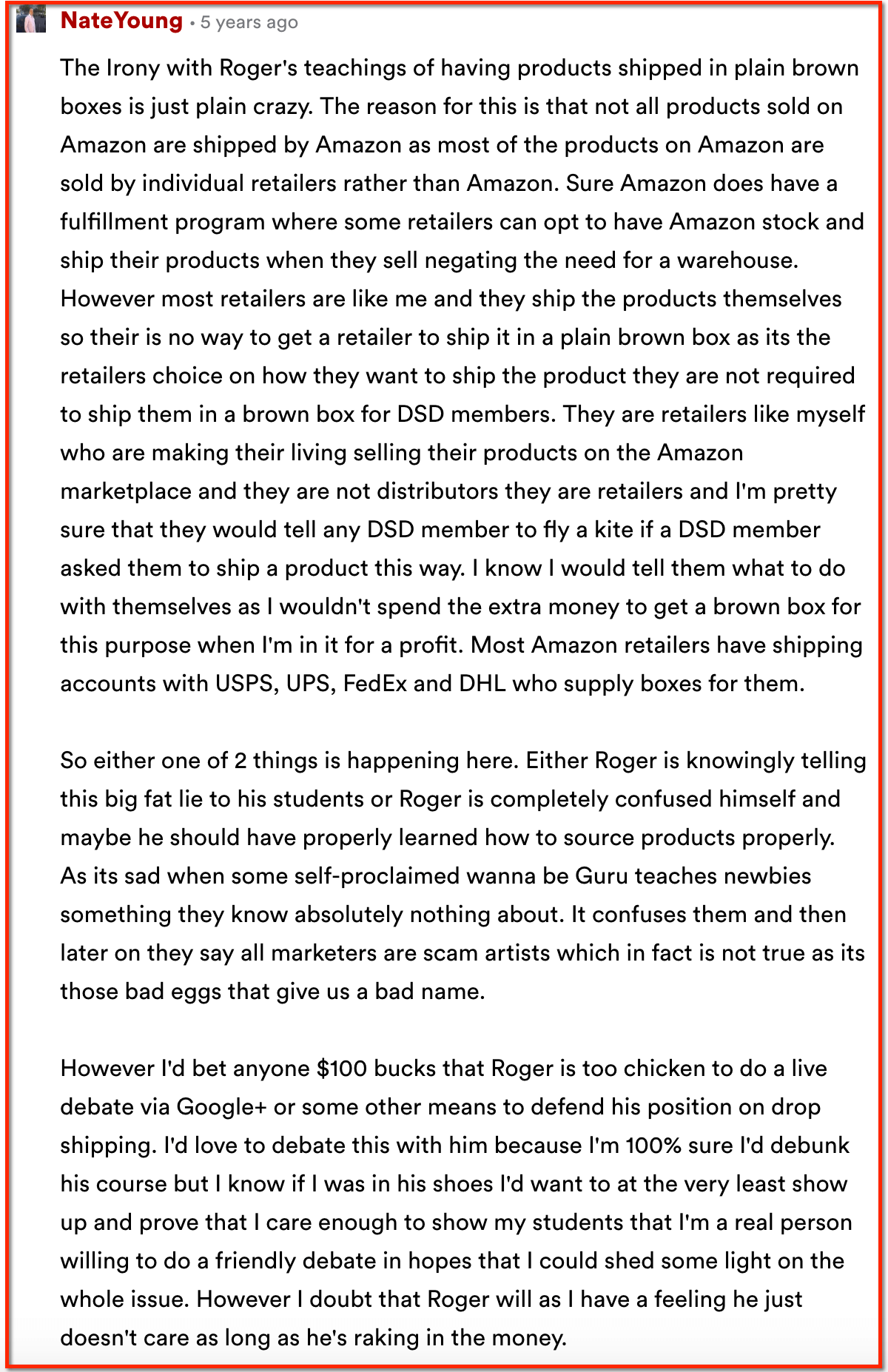 There is a lot of buzz on the internet that Roger teaches people to sell Amazon retail products on eBay for a higher price which is wrong.
Others explain it in a different way that people have been doing it for years and there is nothing wrong here.
I can agree that drop shipping means buying products from wholesalers and then selling them at a retail price. This is how it should be.
But still what DS Domination teaches people in Pro package works for some of them and they are making money. For others it doesn't work at all.
Unfortunately, DS Domination has different courses at a different price tag. I would prefer seeing one course only instead of different courses.
It's because the system is designed to make more money off you. I don't like it but many programs are designed in this way. We can do nothing about that.
DOS Domination offers 15 day refund. To be honest, I don't like it because 15 days is not enough to get some results or get an idea how the system works.
At least it needs to be 30 days. Some people claim that DS Domination doesn't offer refund which is not true.
They offer refund and below you can see the screenshot from their website.

Another thing that I don't like about DS Domination is that you can't promote it as a free member and make money. You need to buy it first and then promote.
It looks more as MLM than affiliate marketing. Because in affiliate marketing you can promote free and earn. In MLMs you can't in most cases.
I also agree with those who tell that trying to sell Amazon items through eBay will be very hard because most people today do their research before purchasing anything and can easily in 2,3 minutes find out that what you try to resell for a higher price on eBay is available at a lower price on Amazon.
You won't get many deals that way though it's absolutely possible to make some money using this method.
Roger also makes a few claims I can't agree with. He claims that making money with the program is super easy, it's fully automated, you don't need to recruit anyone.
In fact, it requires time and effort. It's not automated and you are invited to recruit people to DS Domination to earn money through their affiliate program.
Many people join DS Domination but most of them leave DS Domination. It's clearly seen in DS member's area.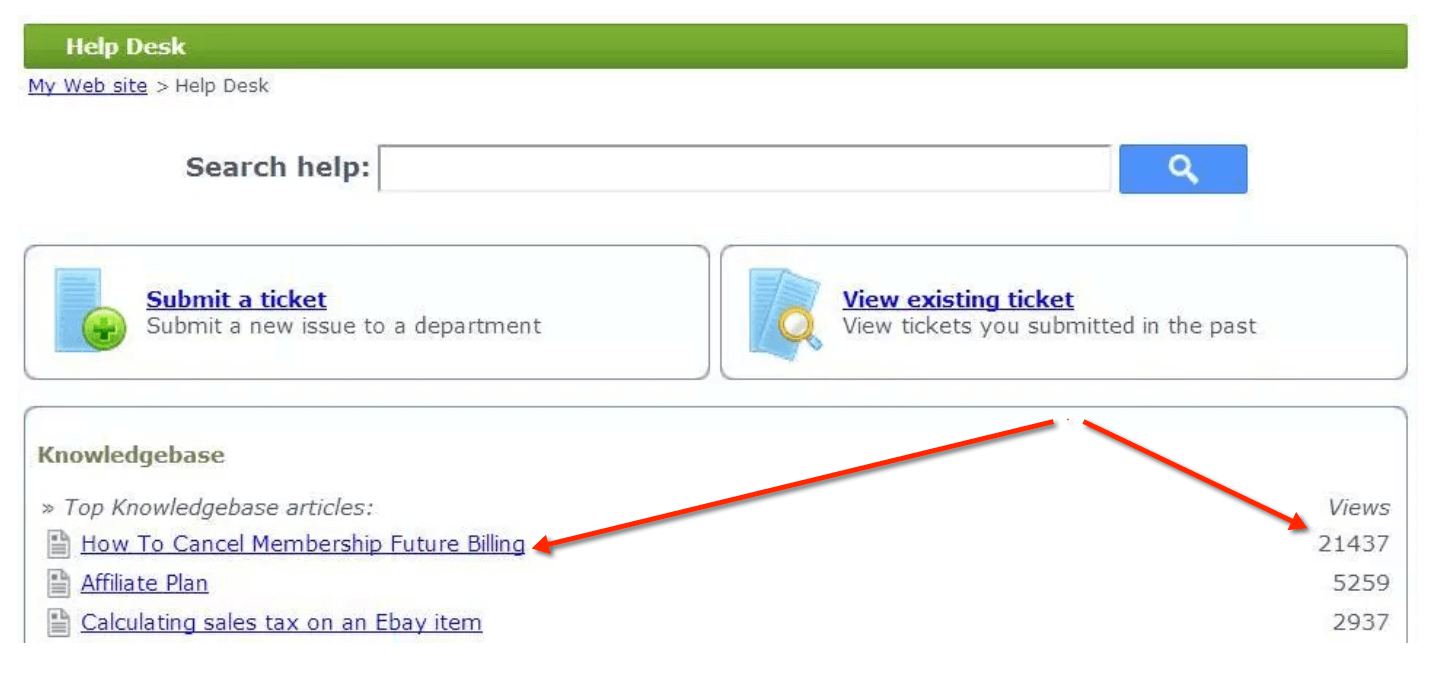 You also need to pay $9.95 monthly to activate your ability to earn as an affiliate. Also DS Domination charges you approx. 2% per sale for using their listing tool.
I don't like the fact that you need to pay $9.95 monthly in order to be able to earn money as an affiliate. Because normally affiliate programs don't charge you for this.
There are also many complaints about DS Domination on YouTube and forums.
Some people complain that DS Domination support team doesn't help or even answer questions. They simply close your support ticket without providing any support.
You are also invited to pay for Market Extreme tool that costs $199 in order to get leads for your deals.
Can you become successful with DS Domination?
That's really a big question and there is a room for discussion. I don't think Roger is a scammer.
He created a course and tries to help his members. Unfortunately, support is not great.
The quality of the training is not bad. Some parts of the training are arguable.
As you can see from the screenshots above, some people are happy while others are not. There are some serious complaints about DS Domination.
Some people report that their eBay and Amazon accounts got shut down as a result of training taught by DS Domination.
I personally wouldn't want to lose my account because there are way more profitable things to do with Amazon using legit methods.
Anyway, it's still possible to make money with DS Domination.
You have to decide if you want to join DS Domination or not. I think you can become successful with DS. The question is what is success for you?
For someone it may be $50 per month while for others at least $1000. You have to decide. I don't know what kind of success you can achieve with DS Domination.
Final word on DS Domination
The overall quality of DS Domination is not bad. There are both positive and negative reports.
I think it's a very controversial program. Is DS Domination a Scam?
No, I don't think so. According to some people that have experienced failure with the program it's a scam. According to others it's not.
I think if you want to make money online through a drop shipping you better look for another program that is legit and has been around for many years.
Alternatively, see my recommended program below.
If you have any experience with DS Domination, good or bad, please leave your comment below and we will continue our discussion.
My review is not perfect but I did my best to do an in-depth review to help you with your decision.
Final review of DS Domination
Some people are making money with DS Domination
Training Packages are expensive
Refund is 15 days only
Some practices are against Amazon rules
Complaints
Overall rank:

50 out of 100
About the Author: Adam
My name is Adam. I'm the founder of Your Income Advisor. My goal is to help others succeed online, by exposing scams and reviewing top rated products. I can help you start
your own business online