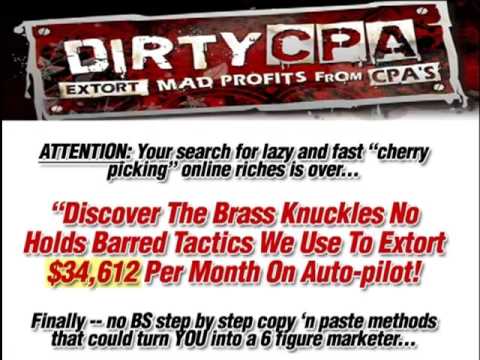 Product name: Dirty CPA
Website: www.dirtycpa.com
Price: $4.95 trial – 7 days and then one time fee – $72
Owner: Steve Iser, John Hostler
Overall rank: 30 out of 100
Verdict: Not recommended
Dirty CPA is a program (training course) that claims to teach you how to make 5 figure income per month through CPA marketing. They even promise that you can make over $23.000 in commission from just 3 hours of work and even $7.000 from only 5 minutes of work.
In short, it's about 5 minutes of work in order to make 5 figure income. Though CPA marketing can be a very profitable business and it's a little easier than affiliate marketing, numbers that they promise you are WAY exaggerated.
It's true that making money through CPA is a real thing, but when it comes to making the amount of money these guys promise you, it's hardly achievable. Only CPA experts can achieve huge numbers which takes years, not weeks.
Anyway, in my review of Dirty CPA I'm going to give you a detailed breakdown of the program and explain why this program is not worth your time and also I will give you a much better option that can help you make a solid income if you put some effort into it.

Pros of Dirty CPA
CPA marketing can be very profitable
Cons of Dirty CPA
False promises about making 5 figure a month
No support
Website is no longer working
Dirty CPA
As I said above, Dirty CPA is about promoting CPA offers, i.e. free offers such as filling out online forms, completing online surveys, playing games, testing out products, downloading trial programs, etc.
You all need to do is just drive traffic to those free offers that require your visitors to complete certain simple actions, submitting email address, zip code, downloading a program, etc.
That's why, CPA is known as cost per action, i.e. your visitor completes an action and you get paid by cpa network such as Maxbounty, Peerfly.
Promoting Dirty CPA offers without a website?
Some reviewers of Dirty CPA claim that Dirty CPA doesn't teach people how to build websites, but it looks like they don't know what they are talking about. Building a website is not necessary for promoting CPA offers.
Promoting cpa offers is normally done through landing pages for which you don't need to write any content. Just a few call to action phrases will do wonders.
Remember that cpa offer is not about selling products. It's about promoting FREE offers. I have an experience in CPA and know what I'm talking about.
Dirty CPA methods
There are many reviews of Dirty CPA and most of them claim that this program is a complete waste of time. I can agree with their opinion for one good reason that I will explain further.
Their main argument is that Dirty CPA training is outdated which is true to a certain point.
The program was popular in 2009 and all their training materials were created years ago which means that not all, but some of their techniques can't be applied today because internet marketing changes like any other field and you always should apply methods that are up-to-date.
In this sense I agree, but it doesn't mean that all methods taught by Dirty CPA are outdated. Because CPA marketing works mainly through paid traffic and is completely in your control vs free SEO traffic that is out of your control.
Paid traffic means you need to create a compelling ad that will attract people and drive traffic to your CPA offers. This principle is simple and works almost equally in all times. That's why I don't think most of the methods that Dirty CPA teaches people are out of date.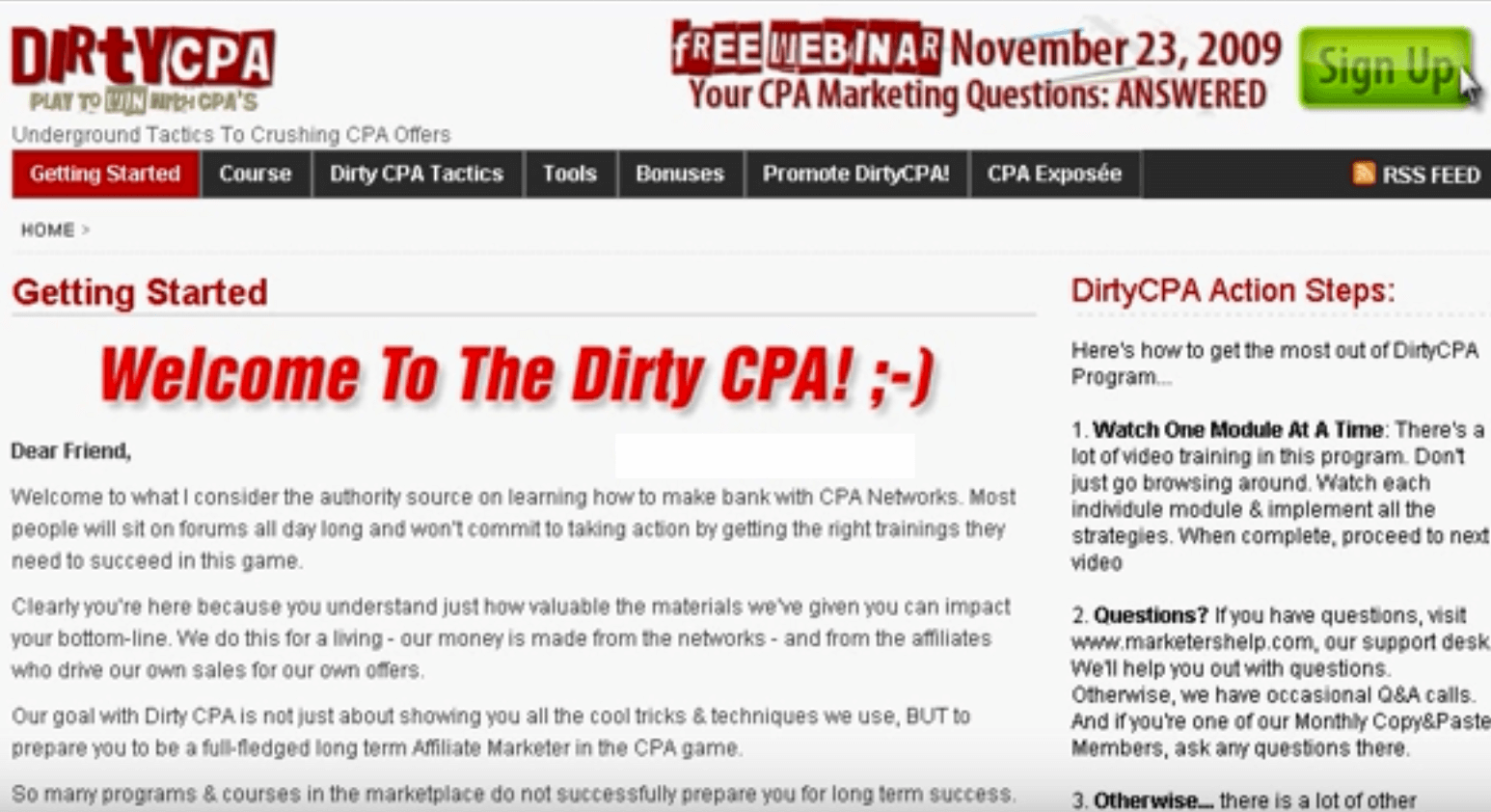 Dirty CPA training
When it comes to Dirty CPA training material, it's not impressive, but it's not so bad either. They have many different training modules, such as:
Explaining how to join CPA networks
Explaining types of CPA offers
Landing pages
Advertising through Facebook
PPV advertising
Yahoo advertising (PPC)
Media buys
Joining CPA networks is not hard, but it's not easy too. You just need to know a few simple rules. Be honest, don't pretend like you are a big expert or making tons of money because CPA affiliate managers are very experienced and know who is lying to them.
Some networks won't accept you, but it's not a big deal because there are networks that will accept you. For example, Maxbounty and Peerfly that are large networks have accepted me.
I'm personally involved in CPA marketing too and achieved some good results.
Dirty CPA guys explain the importance of creating landing pages and it's good because promoting CPA offers through landing pages gives higher conversions than sending people directly to the offer page.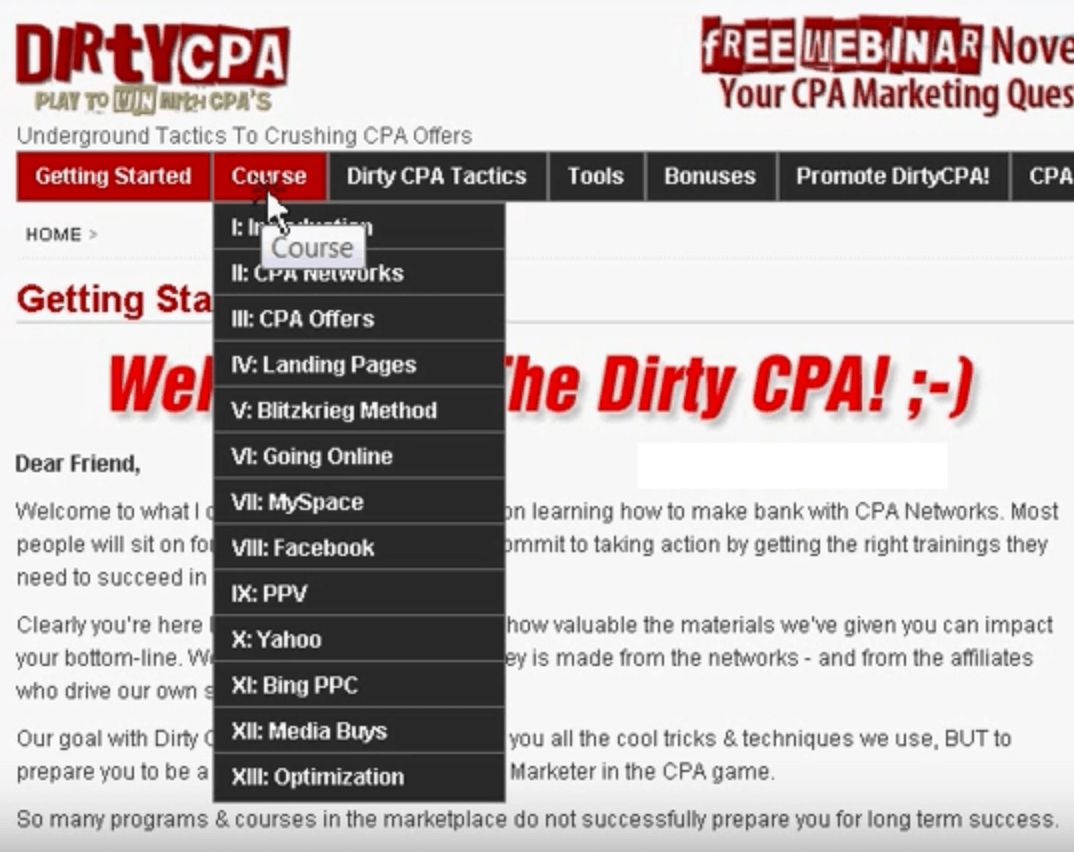 Advertising through Facebook is very effective method especially for promoting CPA offers. Traffic is not so expensive and converts well IF you know how to create an effective landing page and ad.
The same applies to Bing ads (PPC) and media buys.
Unfortunately, there is no much training material on how to create landing pages and ads and make them effective. Info is very basic and not enough for creating highly profitable campaigns.
Fo example, I bought one of the best CPA courses available online by William Souza and in his course he explains how to create ads and make them effective. He also provides all necessary tools for creating landing pages and banners.
All these tools are included in the price I paid him and there is no monthly fees. BTW, he also can help you organize your campaigns and make them profitable. He is very responsive and helpful.
I think it's very important to have such tools at your hand because people that are just starting with CPA, don't know anything about creating landing pages and they have to look for these tools on the internet and pay for them.
In this sense Dirty CPA is definitely not the best program out there. Because you have to struggle on your own.
The good news is that they give you a software called geoCPA that will allow you to hide your IP address when checking CPA offers.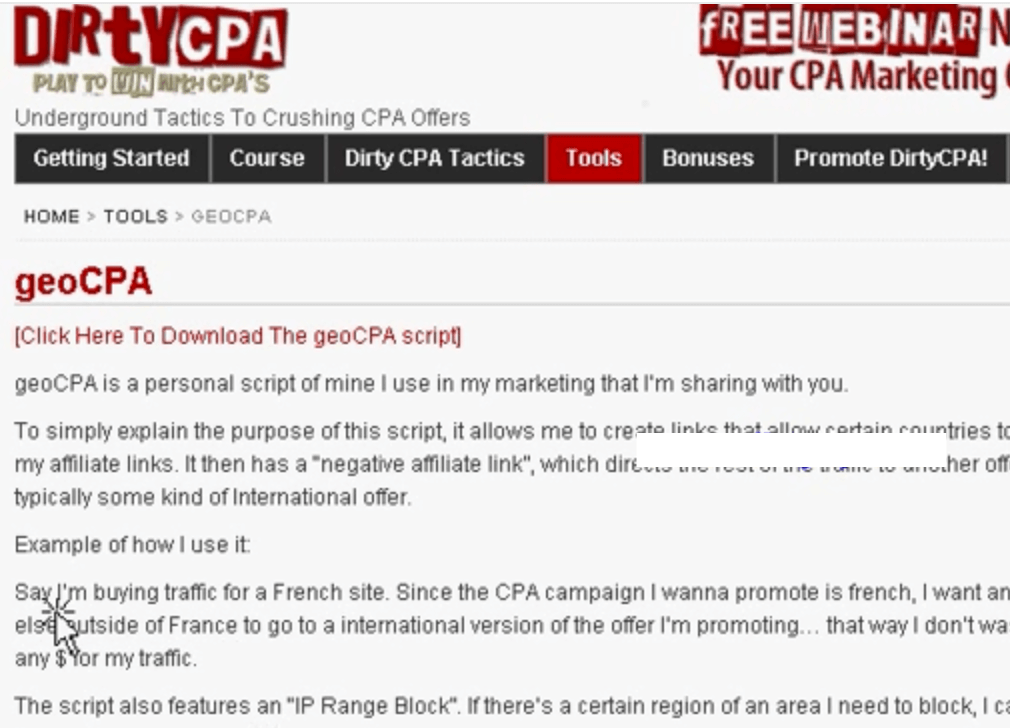 It's important because many offers allow traffic from certain countries which means if you are not in that list you won't be able even to see that offer. Using geoCPA tool you can easily check any offer which is great.
Can you really make money with Dirty CPA?
That's a big question really. As I said above, promoting cpa offers is an easy task in certain sense because you don't really need to sell any stuff. But it doesn't mean that you can make tons of money doing nothing.
But if you choose the right offer that is easy to convert and create an effective ad it will be very easy to make tons of registrations and accordingly earn a solid income. But it requires experience and willingness to put some effort and invest some money, something around $500.
Remember that you are going to pay for traffic which means you need to be careful before launching your campaign.
PPC is one of the best methods to convert CPA offers and if you are looking for quality PPC course, I can recommend you Bing PPC training. I personally bought it and I'm very satisfied with the quality of this training.
Anyway, like I said, making money through CPA marketing is a real thing, but when it comes to Dirty CPA, it's by far not the best program out there. If you are looking for quality CPA training I can recommend you CPA Evolution by William Souza, the same course that I bought myself.
This course by William Souza can teach you how to start making $30 a day by promoting CPA offers within the first two months and once you gain more experience you will be able to make much more money.
At the moment William is not accepting new students, but he will be relaunching his program this year again. For now I can recommend you another program that can make you money too and I'm a member of this program too.
Dirty CPA technical issues
The bad news is that Dirty CPA website is no longer working which means you can't join this program even if you want it badly. This proves again that this program was not successful which caused the owners to take their website down. Otherwise they would be making tons of money.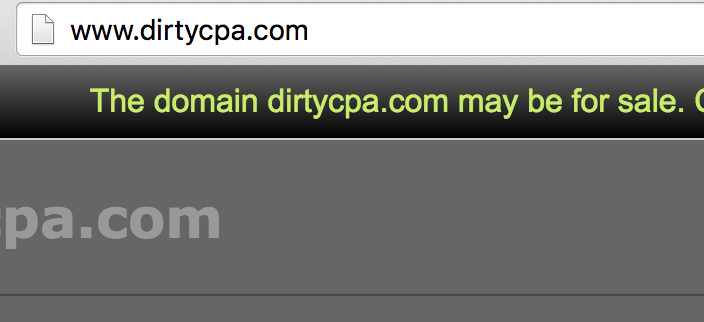 Some additional training material
Inside Dirty CPA members area you can also find some training materials from CPA experts, such as Tom Bell, Mike Hill. The material is mostly motivational, but you can lean a thing or two from these guys too.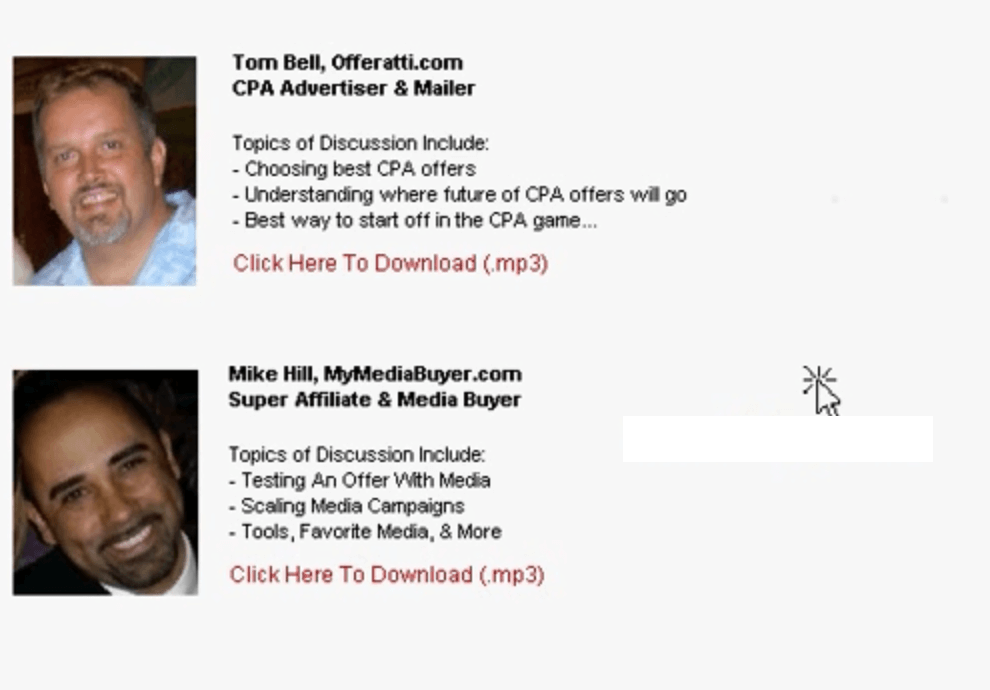 They both have a good experience in advertising. You can also find some bonus material, such as Internet Money Machine, Mark Ling's Traffic Travis and more.
There is also a video that will show how you can promote ringtone offers and make money.
Final glance at Dirty CPA
False promises about making 5 figure a month
No support
Website is no longer working
Overall rank 30 out of 100
Verdict: Not recommended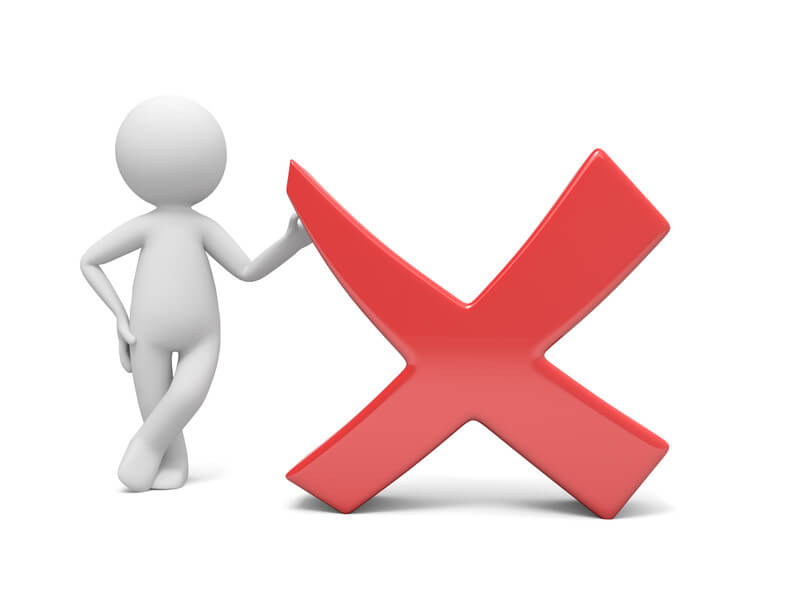 About the Author: Adam
My name is Adam. I'm the founder of Your Income Advisor. My goal is to help others succeed online, by exposing scams and reviewing top rated products. I can help you start
your own business online