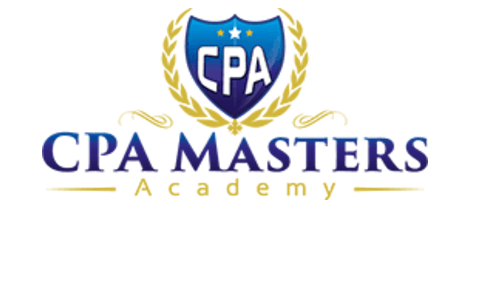 Anyone who has an experience in internet marketing know that success online can be achieved only through creating quality engaging content, building a beautiful website and finally driving quality traffic to your site.
Of course, traffic is not the only thing you need to succeed online, but the truth is that yes, traffic is the key. When you have enough traffic, let's say 500 visits a day you have a good chance to turn your site into a money making machine.
But getting traffic through SEO (search engine optimization) is not easy. For some people it's easy and for some it becomes a real headache. And here PPC traffic comes into play.
Though you are in full control of your website, traffic is out of your control because it completely depends on search engines, Google and Yahoo.
Thankfully there is another method to drive high quality targeted traffic from search engines known as PPC traffic. There are two most popular programs, Google adWords and Bing ads.
Buying traffic from Google is a little expensive while buying it from Yahoo is a good option for people that are just stating to use this method.
In this article I will show you two different high quality Bing PPC advanced trainings that I know because I personally bought them and was very happy with the quality of the materials. Also I will share my experience with Bing ads.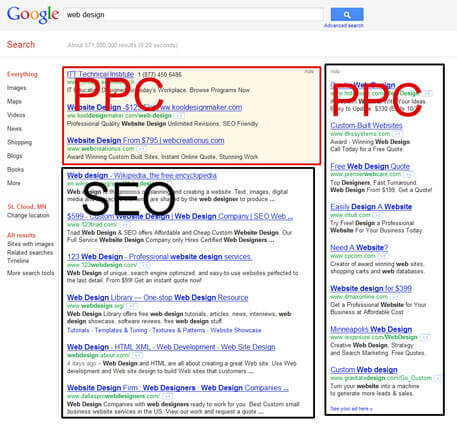 Why you need to start using PPC method
As I said above, you really need to start using PPC method, especially Bing ads because it allows you to drive high quality targeted traffic to your site and start making money.
If you are lucky with Google, then ok. You can do well without PPC traffic. But if you are not so lucky with Google and it doesn't send you as much traffic as you expected then you really need to tap into PPC world, especially Bing ads.
You can start even with $10 which is affordable for anyone wanting to buy traffic. The traffic is highly targeted and converts very well IF you know how to organize your PPC campaign in a profitable way.
Goal # 1
Your main goal is to achieve high CTR in order to pay less for traffic. I personally have some good achievements with Bing ads. My best CTR with Bing ads so far was 8.22% which means I was paying 0.15 cents per click.

Some people can even achieve higher CTR and pay 0.10 cents per click which is really awesome. Imagine if you pay 0.10 cents per click, you can get 10 real visits to your site for $1. And I'm speaking about high quality, super targeted traffic.
Goal # 2
Your second goal is to find a good product that you can promote through PPC. If you promote low quality products you can easily burn all your budget very fast. Finding quality products/programs is really important.
Finding it is not hard at all. You can do it using Google search. Just type top 50 selling Clickbank products or top 50 selling JVZoo products and you will get a list of products that convert very well.
But after finding such a product you need to check the % of refund for the same product. If refund % is high it means the seller uses misleading advertising techniques and most people ask for refund after purchasing it. If refund % is low, it means the product is good and converts well.
If you take a look at the screenshot below you will notice that Azon Affiliate Nutrition Riches has a very low refund % – 0.21. Affiliate Income Secrets refund % is 3.75% which is still not bad.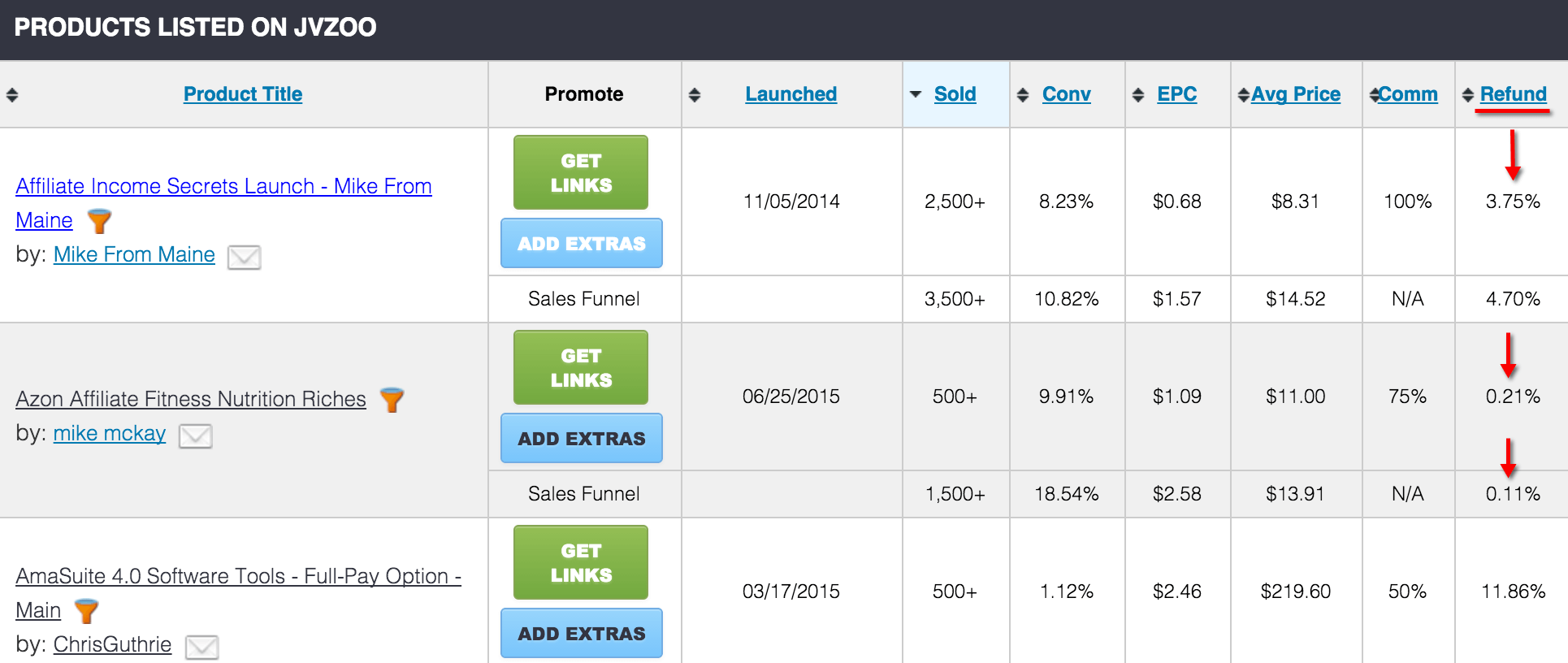 So, keep this in mind when choosing a product to promote through PPC because you are going to pay for your traffic.
Goal # 3
You need to organize your PPC campaign in the best profitable way possible in order to achieve high CTR and pay a few cents for every click. This is possible only through quality education. There are free trainings available online, but they are not so effective.
The best option would be buying ppc course, especially I highly recommend to start with Bing PPC advertising. Bing is a much better option in terms of support and flexibility. That's why I always use Bing ads and recommend it.
PPC trainings
PPC training # 1 (BING ads training) – from CPA Masters Academy
As I said above, Bing ads has several advantages over Google adwords. That's why in my opinion, Google adwords is a good option only for experienced PPC marketers because they don't provide any support.
Bing ads has better prices and they provide support through live chat and email and they are very helpful and responsive. I really enjoy using this source of traffic each time I see how they try to help me maximize my campaign conversions.
One of the best Bing ads trainings that I can honestly recommend is the one that I bought and tried myself.
The name of this course is "10 Cent Clicks with BING PPC for any Niche.. Plus How to Get Over 300% ROI on Any Campaign".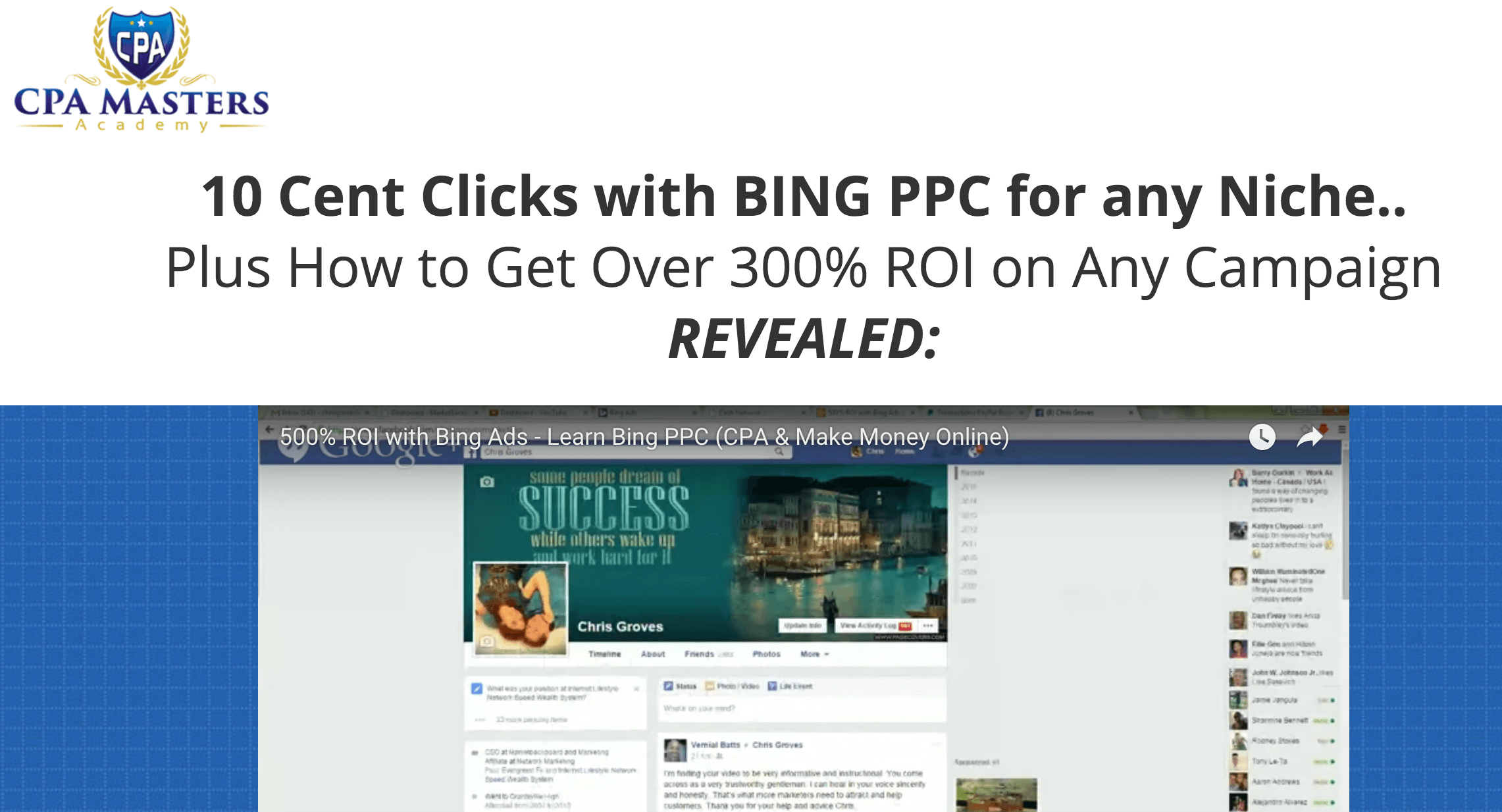 The training is really good and I highly recommend it. And the best part of this training is that the price is very affordable. It's $17. There are no upsells. It's a complete PPC training.
The Bing PPC Training from CPA Masters Academy is really good. I personally went through another PPC course and already had a good experience and to be honest I didn't expect to be excited about this training.
To my surprise I was wrong. The training was really awesome and I learned some really important stuff from Chris Groves.
In the promo video he briefly explains how Bing ads works, how he is making a good income using the same method he wants to teach you.
He shows some of his results in real time, some testimonials. I've seen many videos and can say that this one is not fake. It shows you real evidence and Chris says that there are no upsells, that his course is a complete course on Bing ads. And it's true.
There are no upsells. Once you watch his training you can start applying the knowledge and make money.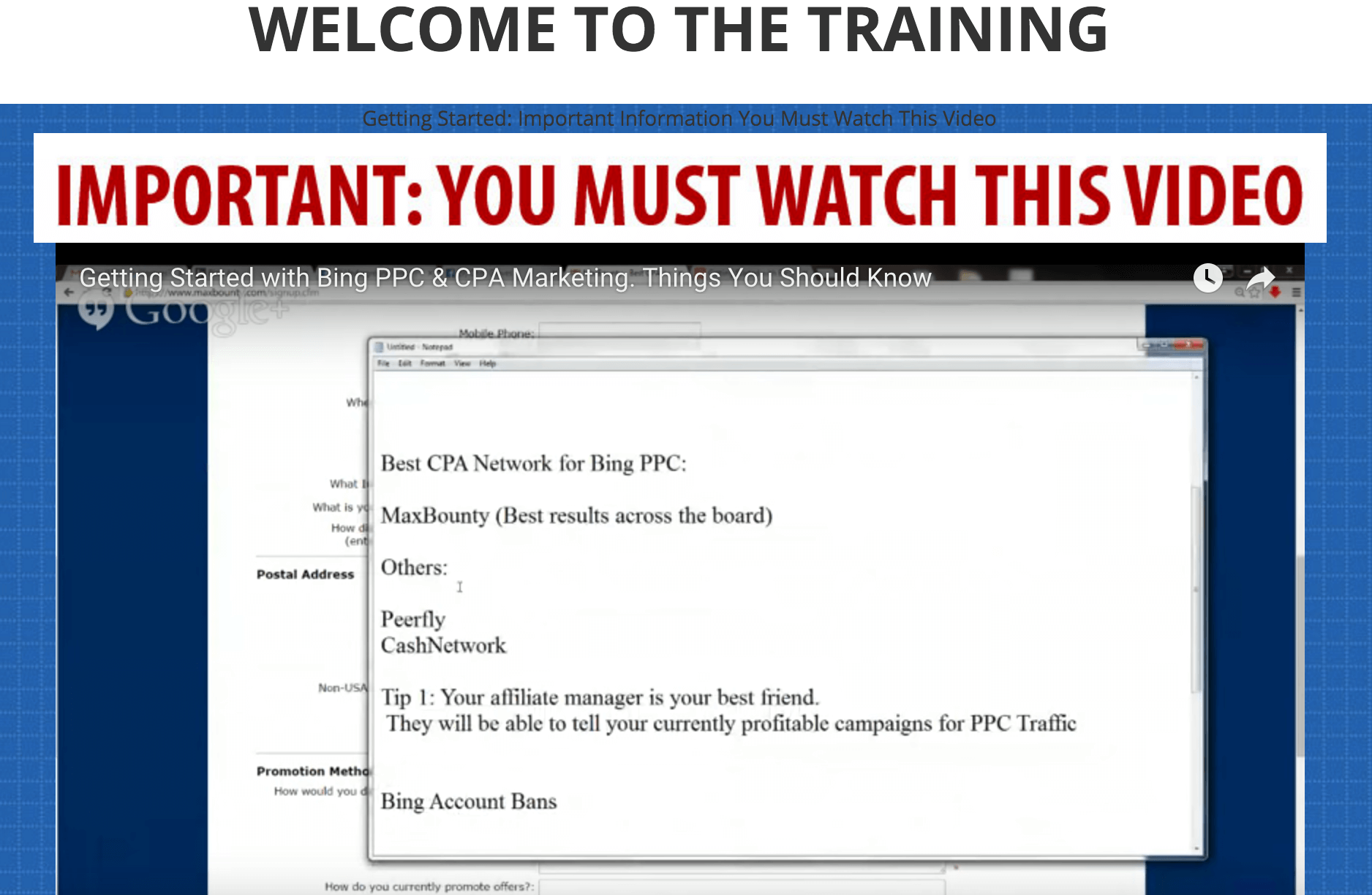 After purchasing his course, once you have got access to the members area you will see 12 training videos:
Getting started with Bing PPC & CPA Marketing. Things You Should Know
Getting Started ( Create Your Bing Ads Account)
Picking Offers (CPA/Clickbank/Your Own Products)
How to Bullet Proof Your Bing PPC Account from Being Banned
Creating Your First Campaign in Bing Ads
Adding Keywords to Your Campaign with Google Keyword Planner
Split Testing Ads ( Create at Least 3 ads Per Campaign)
Understanding Your Campaigns ( CTR, Impressions, Clicks)
Picking the Best CPA/CPL offers
Setting up a Campaign with a CPA or Pay Per Lead Offer
Monetizing Bing Clicks Further ( Selling Traffic)
The training videos are really good. There is no fluff. Just real strategies he is using himself. He will show you everything you need in order to be successful with Bing ads.
He will show you how to create your Bing ads account, how to choose the right products to promote from Clickbank or CPA networks, such as MaxBounty, Peerfly, Cashnetwork. He explains why he prefers working with CPA networks.
It's because CPA offers convert very well compared to selling physical products. When you promote a CPA offer, you in fact don't need to sell anything. You just promote a free offer and get paid for it each time your visitor completes an action, such as submitting their email address or playing a game.
He explains what you need to do before launching your Bing ads campaign so you can avoid getting your bing ads account banned.
Then he shows how to choose the right keywords related to your product which is really important for your bing ads campaign to be successful.
Then he explains how to achieve a high CTR for all your campaigns so you can get maximum number of clicks for your invested money. This part is very important.
He also suggests that you join his Facebook group so you can get support whenever you need it. But from my experience I can say that even without Facebook group, they are very responsive and helpful. I was very happy with the quality of their support.
Then he explains how and why you should mainly focus on promoting CPA/CPL offers. It's because they convert fast and easy.
Finally, he explains how to monetize your knowledge and sell cheap traffic to other people.
To be honest, I've never tried it because I'm very busy with my websites, but I can say that his method is very realistic. You can easily make $1000 per month using this method alone.
Finally, if you are looking for PPC training I can honestly say that Bing PPC Training from CPA Masters Academy is well worth your money, time and effort. And the price is very affordable. It's $17. And this price includes support too.
The last video in the course is an introduction to their Advanced PPC training – Upgrade to CPA Masters Academy. This is optional and will cost you $247.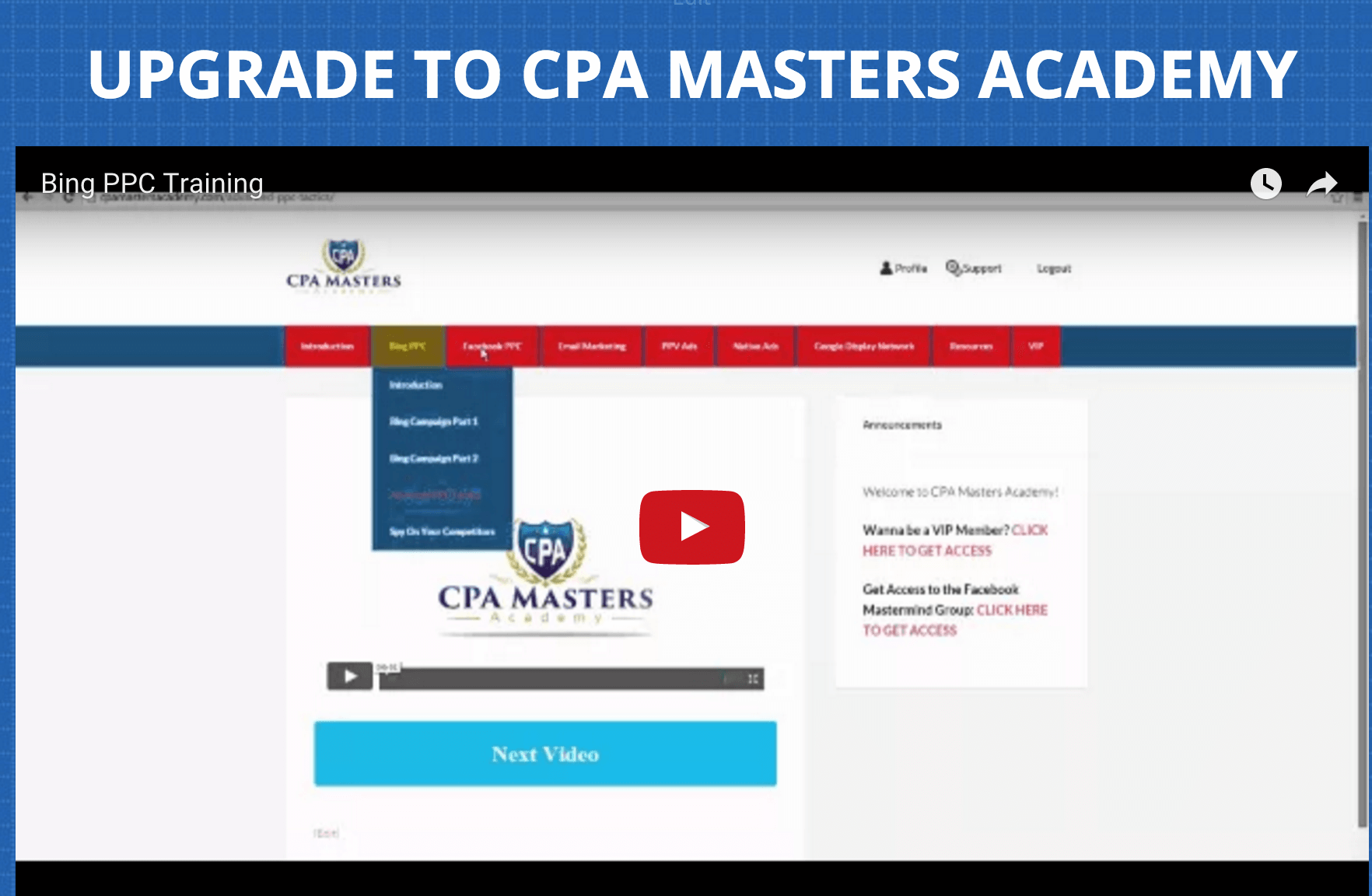 But it will allow you to become an expert in Bing Ads (including tracking your bing ads campaigns), Facebook ads, PPV advertising, Email marketing, Google display networks.
They have over 45 videos. If you are looking for advanced PPC training, I highly recommend it. CPA Masters Academy's products are really good and worth your money and effort.
PPC training # 2 – Bing ads and Google adwords – from Wealthy Affiliate
My second recommended training on Bing ads is from Wealthy Affiliate – online business community that has been around since 2005.
In fact, they offer both an extensive training on affiliate marketing, i.e. how to make money online and also they provide an excellent training on Bing ads and Google adwords.
They have Certification course that consists of 5 phases and Affiliate Bootcamp that consists of 7 phases:

Phases 6 and 7 in Affiliate Bootcamp are: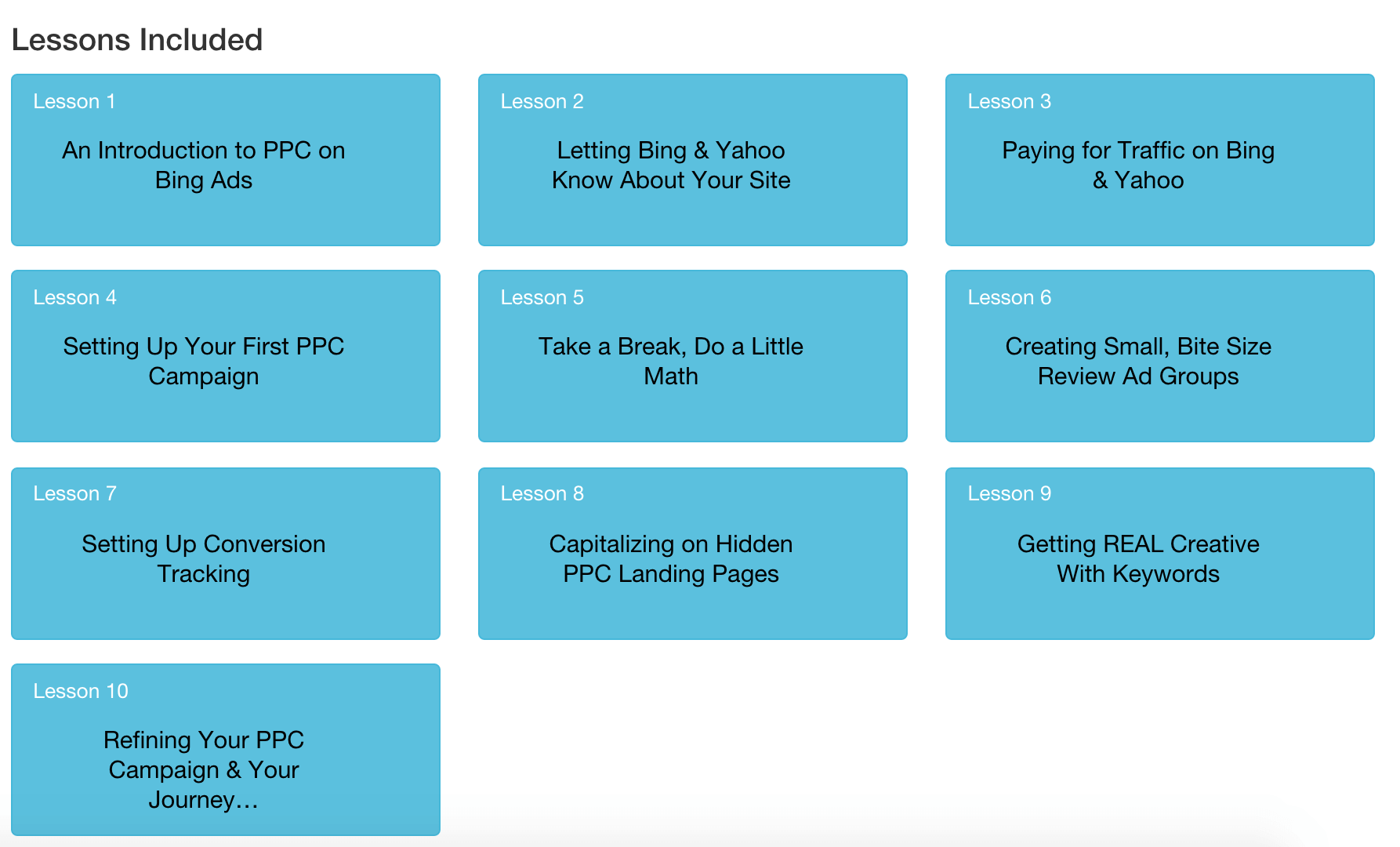 Bing, Yahoo & The Power of PPC ( Phase 6)
How to Scale Successful PPC Campaigns ( Phase 7)
Take a look at Phase 6 modules:
An introduction to PPC on Bing Ads
Letting Bing & Yahoo Know About Your Site
Paying for Traffic on Bing & Yahoo
Setting up Your First PPC Campaign
Take a Break, Do a Little Math
Creating Small, Bite Size Review ad Groups
Setting up Conversion Tracking
Capitalization on Hidden PPC Landing Pages
Getting REAL Creative with Keywords
Refining Your PPC Campaign & Your Journey
And here is Phase 7. Take a look at the image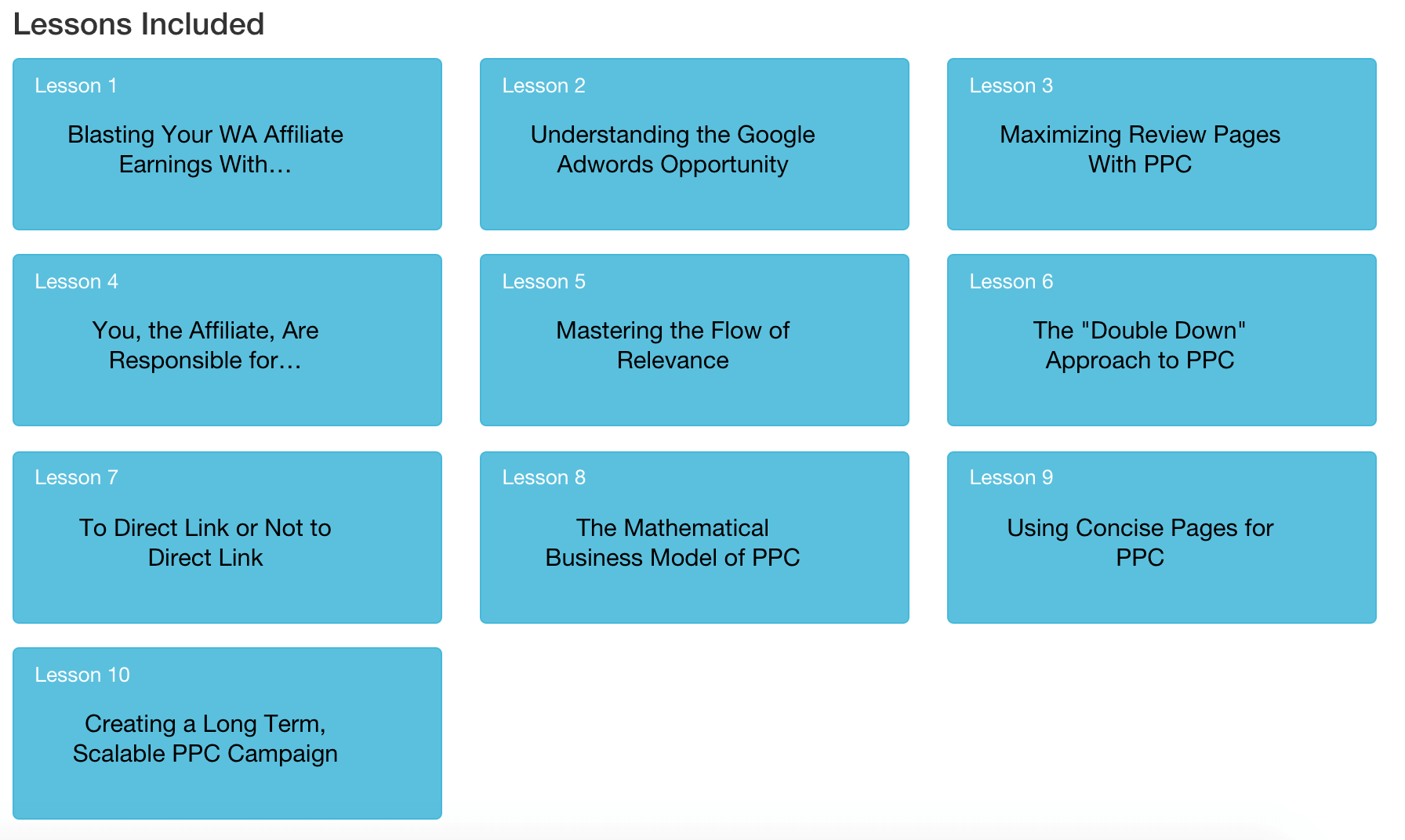 Bing's advanced PPC Training from Wealthy Affiliate is an advanced training and if you are patient with it, you can make a solid income by promoting programs/products using PPC method.
Both ppc training courses from WA, Bing ads and Google adwords are advanced trainings and I personally went through both of them.
In these trainings you will learn all you need in order to organize profitable PPC campaigns, drive highly targeted traffic and monetize it.
Besides PPC traffic, you will get two free websites, 24/7 support and access to WA Certification Course.
The certification course consists of videos and text step-by-step tutorials that will explain to you everything, from building websites, driving free search engine, social and YouTube traffic to making money online.
I went through this course and now I'm getting close to 4000 visits a month for free from Google and Yahoo and yes I'm making money thanks to WA training.
My personal recommendation
Recommendation # 1 – Bing PPC Training from CPA Masters Academy
If you are looking specifically for Bing PPC advertising then Bing PPC Training from CPA Masters Academy is exactly what you are looking for. It shows you real examples and provides high quality training.
If you apply it with patience you definitely can make money with it. The price is affordable and there is quality support. I tried this Bing training and I'm very happy with the quality. I highly recommend it.
Recommendation # 2 – Bing PPC training and Google Adwords training from Wealthy Affiliate
If you are looking for PPC training course both on Bing ads and Google adwords and want to get more for your buck, such as extensive training on affiliate marketing then I highly recommend to create your FREE account at Wealthy Affiliate just to try the program within the first 7 days and then upgrade to a premium account in order to get access to Bing PPC training.
I tried this program and I'm still a member of it and I highly recommend it. If you want to see the proof that I'm making money I recommend to read my review here. If you have any questions, don't hesitate to contact me.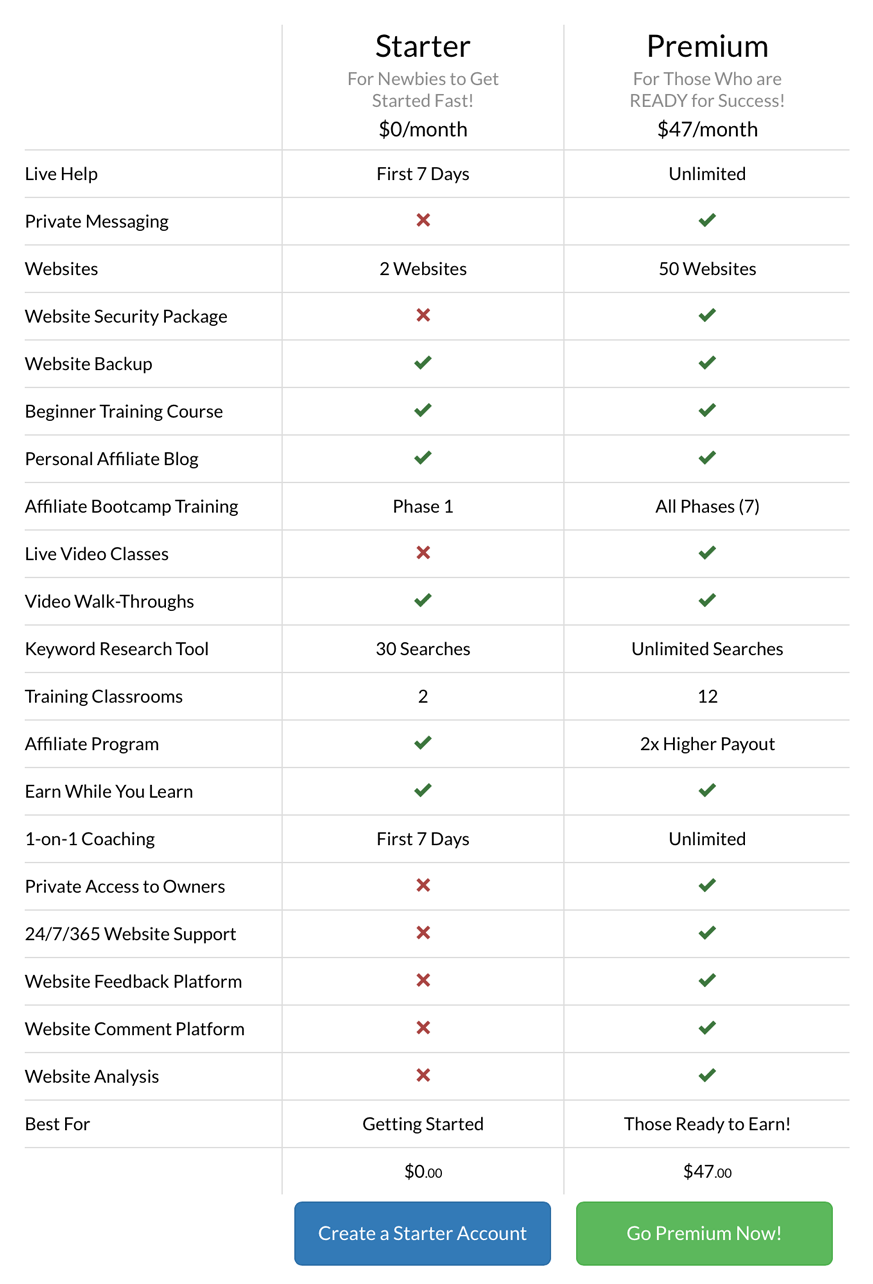 About the Author: Adam
My name is Adam. I'm the founder of Your Income Advisor. My goal is to help others succeed online, by exposing scams and reviewing top rated products. I can help you start
your own business online