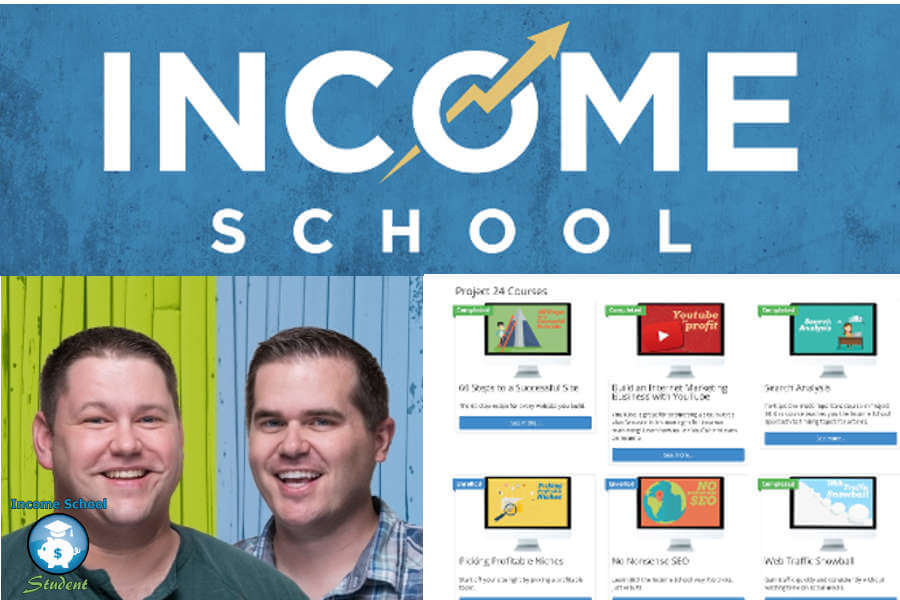 Project 24 by Income School developed Jim Harmer and Ricky Kesler is one of the most popular trainings on affiliate marketing available online.
These guys have been in the business for over 6 years now and are doing very well.
They have a poplar channel on Youtube with 96k subscribers and the number is steadily growing.
I believe if you follow Income School's training you can succeed online and start making money BUT there are a few aspects I want you to know about before you make your decision. This is not a review of Income School.
For review read my previous post here. This is a response post in which I will try to explain what I think about Project 24 and how it can help you.
Proof of purchase
I purchased their program and went through the training and applied the knowledge to one of my existing websites.
If you want to know my opinion about Income School read the rest of my post.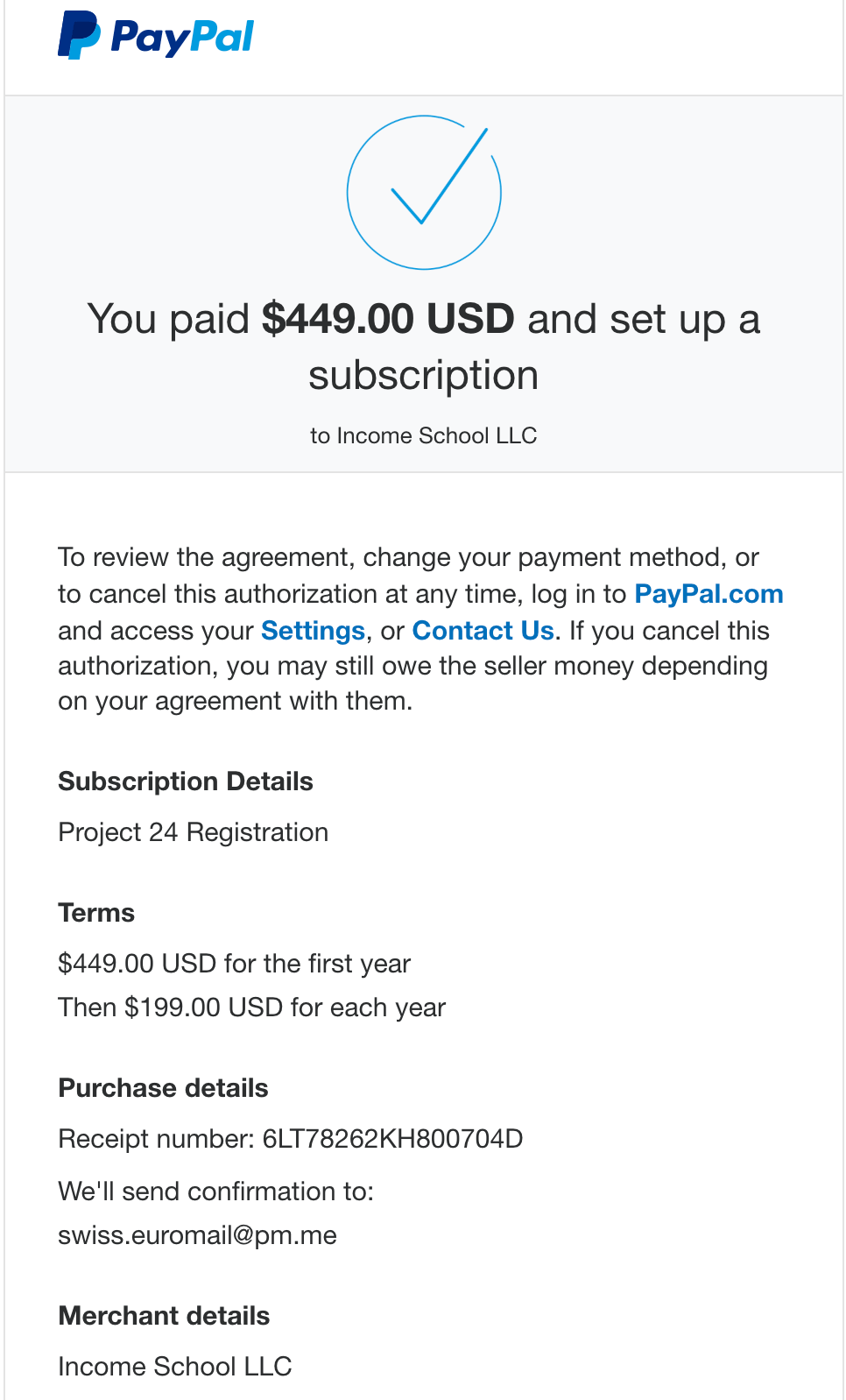 Questions to be answered
What is Income School?
Quality of the training
What is covered in Project 24?
How much time is required to go through Project 24?
Pros of Project 24
Cons of Project 24
How soon can you start making money?
Can you rely on support at Income School?
Does Project 24 work for everyone?
Can you really succeed with Project 24?
What is Income School?
Income School is an online course on affiliate marketing both for beginners and advanced affiliate marketers.
The course covers advanced topics, such as SEO, social marketing, video marketing, niche research, competition research, email marketing, creating info products and monetizing it, monetization through ads and many other important topics.
If you plan to join Income School you are going to get a ton of value in many different ways. But it's not just about theory.
If you plan to take action and apply what they teach you will be able to get decent or significant results depending on how you apply what they teach.
Quality of the training
Project 24 is highly rated on the internet. I already tried many different trainings on affiliate marketing and can tell that Income School is one of the best programs out there.
The approach of Jim Harmer and Ricky Kesler is very unique. In their training they mostly focus on free traffic methods, such as SEO, social, video and email marketing.
When it comes to SEO, they explain it very well, almost every single aspect you need to know.
Not all training modules cover everything in details, such as Pinterest Results or Email Marketing 101.
For this you need some other more advanced trainings.
But main things, such as driving traffic to your website and monetizing it are explained very well.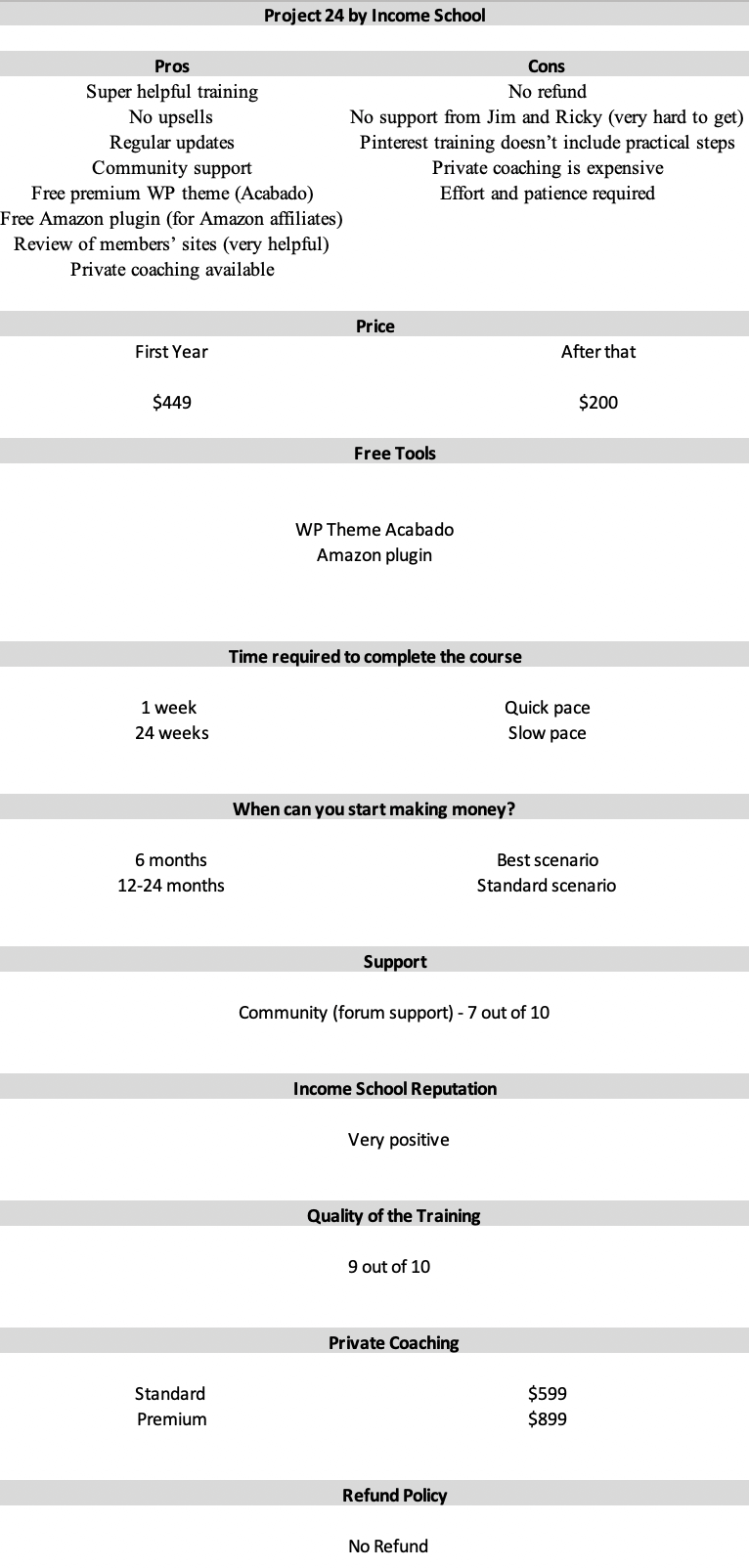 What is covered in Project 24?
Let's now see what is covered in Project 24 by Income School and is it really covered well so you can achieve your online business goals.
Project 24 main course: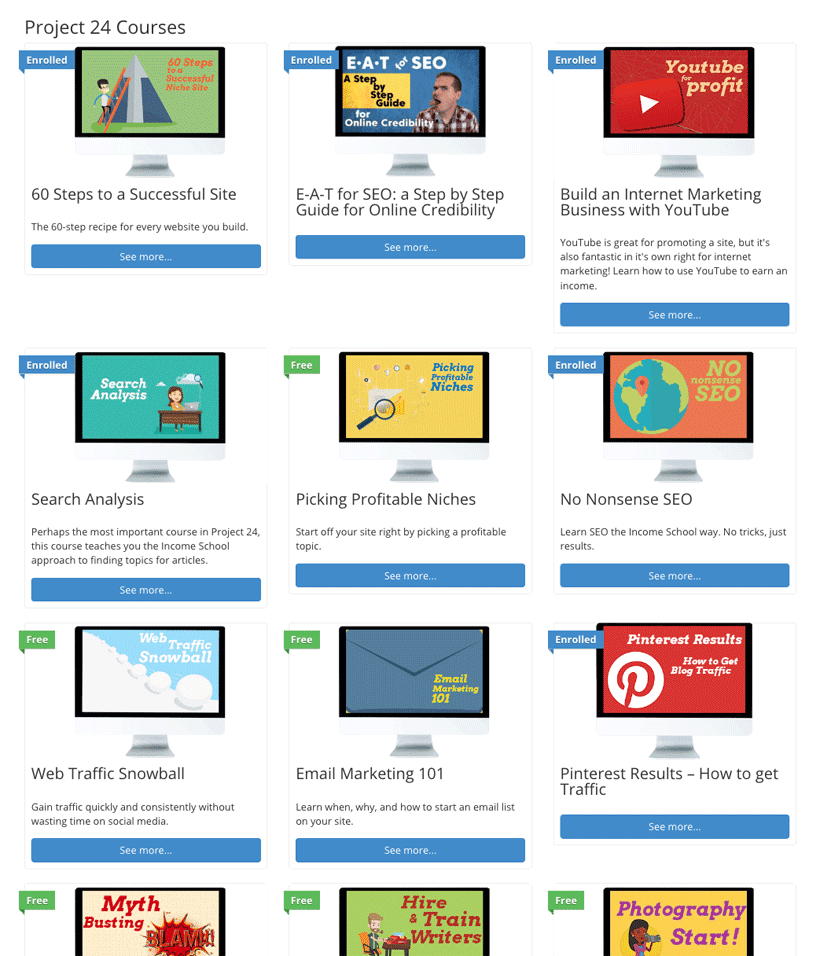 Action 1 – Watch the Video Course on Choosing a Topic
Action 2—Choose Your Topic and Domain
Action 3—Sign up for hosting and install WordPress
Action 4—Get a Logo to Brand your Site
Action 5—Themes and Plugins
Action 6—Wordpress Settings
Action 7—Watch the "No Nonsense SEO" Video Course
Action 8—Search Analysis and the Article Hit List
Action 9—Watch the video on Formatting Posts
Action 10—Write your First Response Post
Action 11—Write a Response Post
Action 12—Write a Response Post
Action 13—Write a Response Post
Action 14—Write a Response Post
Action 15—Write a Response Post
Action 16—Write a Response Post
Action 17—Write a Response Post
Action 18—Write a Response Post
Action 19—Write a Response Post
Action 20—Add legal content to your website
Action 21—Add Images to your Posts
Action 22—Watch a Video about Resource Pages
Action 23—Build the Framework for your Resource Page
Action 24—Build out your first resource category page
Action 25—Build another resource category page
Action 26—Build one more resource category page
Action 27—Site Design and Structure
Action 28—Staple Posts
Action 29—Your Second Staple Posts
Action 30—Write a Third Staple Post
Action 31—Write another Staple Post
Action 32—Write Your Fifth Staple Post
Action 33—Knock out another Staple Post
Action 34—Write another Staple Post
Action 35—Publish a Staple Post
Action 36—Staple Post number 9
Action 37—Write Your Last Staple Post… for now
Action 38—Learn how to promote your site
Action 39—Record your First YouTube Video
Action 40—Record a YouTube Video that Captures your Screen
Action 41—Record a How To Video
Action 42—Record a Video with a Contrary Opinion
Action 43—Record Another YouTube Video (plus audio quality examples)
Action 44—Moving on to Pillar Posts
Action 45—Pillar post number 2
Action 46—Pillar Post!
Action 47—Let's write another Pillar Post
Action 48—Pillar Post Number 5
Action 49—Time for another Pillar Post
Action 50—Write another Pillar Post
Action 51—You've Got This Pillar Post
Action 52—Almost Done with Pillar Posts
Action 53—Your Last Pillar Post!
Action 54—Promote your site on Pinterest
Action 55—Record A Staple Video (with Competitive Analysis)
Action 56—Record a Pillar YouTube Video
Action 57—Record another Pillar YouTube Video
Action 58—Record a video about your Recommended Gear
Action 59—Record your 10th video!
Action 60—Set Up Amazon Associates on your Site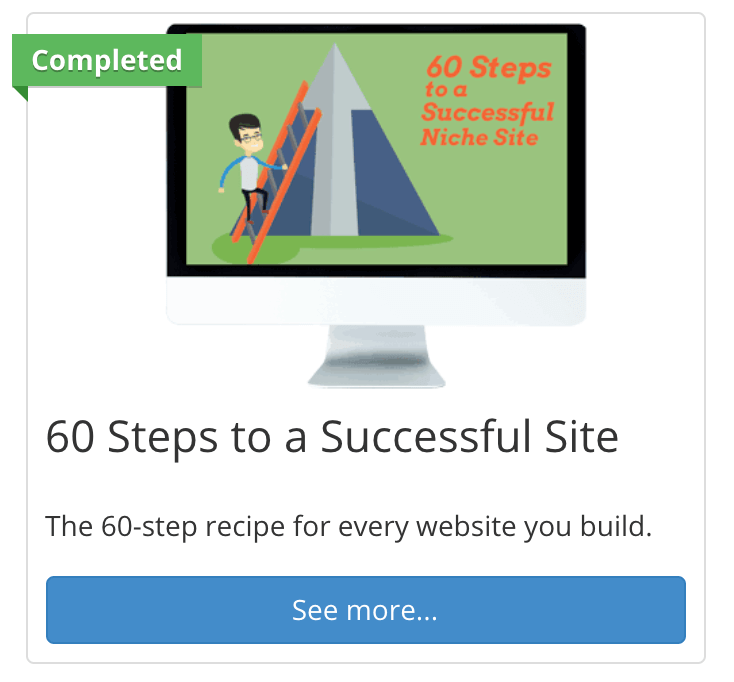 60 Steps to a Successful Site – Action course that explains everything step-by-step and shows what to do in order to succeed online in affiliate marketing.
Steps explain how to choose a domain name for your website and set it up, how to sign up for a hosting and install wordpress, how to get a logo for your website, how to choose a topic for your blog, how to research a niche, how to write a post for your blog, how to create a video for your blog, how to create a resource page for your blog, how to promote your site.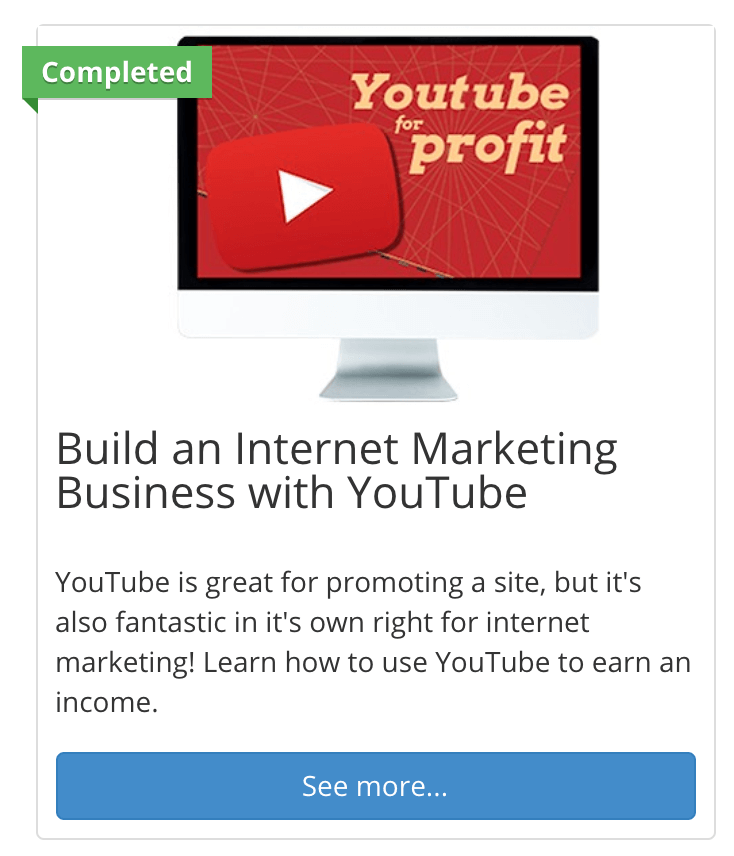 Build an Internet Marketing Business with YouTube – This training module explains how to create and run your YouTube channel as a second main source of traffic for your blog. Everything is explained in details how to create a video, how to understand YouTube ranking algorithm, how to choose the right niche on YouTube, how to monetize your channel.
E-A-T for SEO: a Step by Step Guide for Online Credibility – This module explains how to structure your website for maximum results, how to add SSL feature to your site, adding terms and conditions and privacy pages, getting featured on other sites, getting active on social media, creating a Google my business listing and more. In short, it's all about increasing credibility of your site in the eyes of Google and visitors.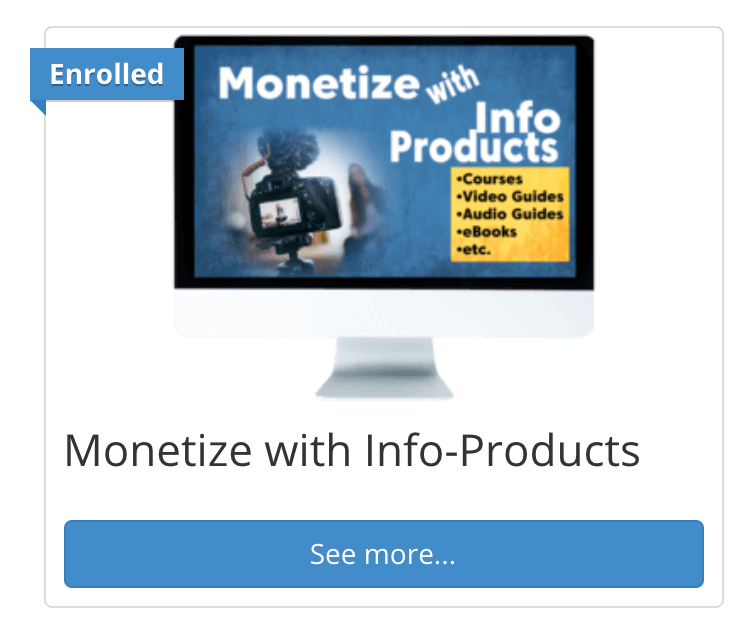 Monetize with Info-Products – This module explains how to create an info product and why you need it. The video is 1 hour long by Nathan Aydelotte. The video is very informative and helpful for anyone wanting to create an info product. It doesn't explain technical things like how to set up your sales page and connect it to a payment processing company like PayPal, Stripe, Square, BitPay, Checkout, BluePay. The video is purely informative and educational to teach you how to create an info product and monetize it through your blog or video channel.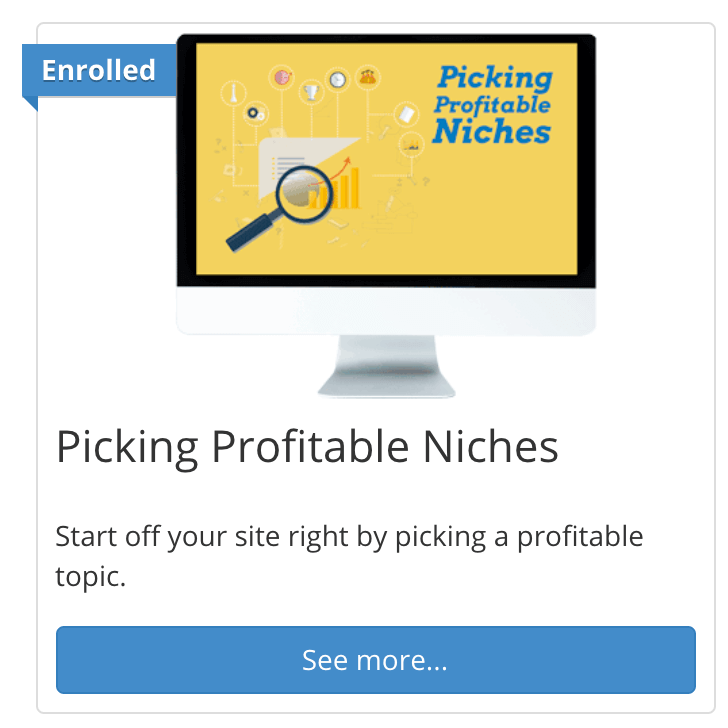 Picking Profitable Niches – You are explained how to choose the right niche and which niche to avoid. Because not all niches are good. Some of them may be a total waste of time because of a high competition. The module explains how to future proof your chosen niche. This training module is really impressive and critical to go through. Because if you choose a wrong niche your online business project will never make a single dollar and you will be totally disappointed. Income School covers this topic exhaustively.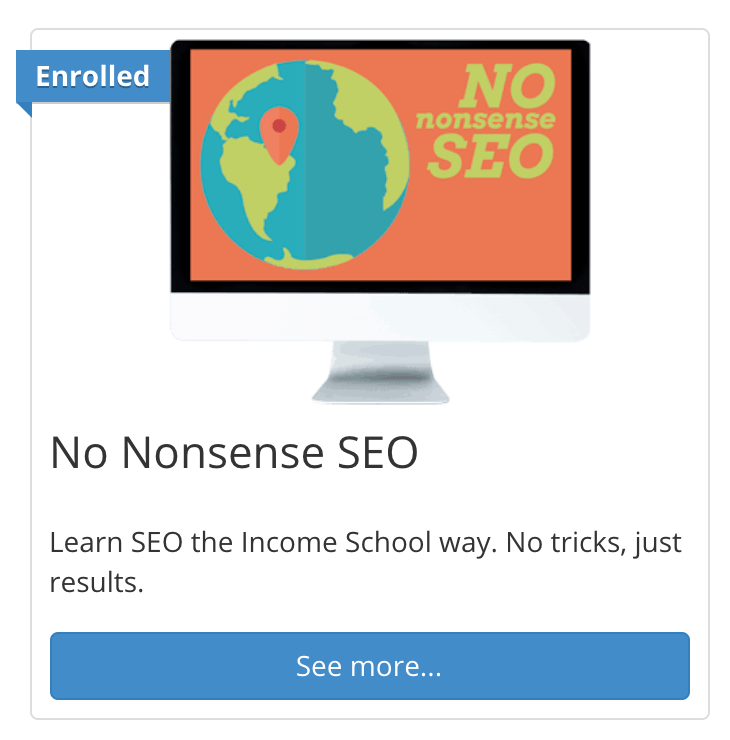 No Nonsense SEO – SEO is an important part of your online business. In fact, organic traffic is the main source of traffic for any blog. You need to learn the right strategies in order to get maximum traffic and avoid doing wrong things for which Google can penalize your website. In this module you will learn everything you need to know about SEO, such as creating content, choosing the right headlines for your content, preparing your content for search engines, winning first positions in search engines.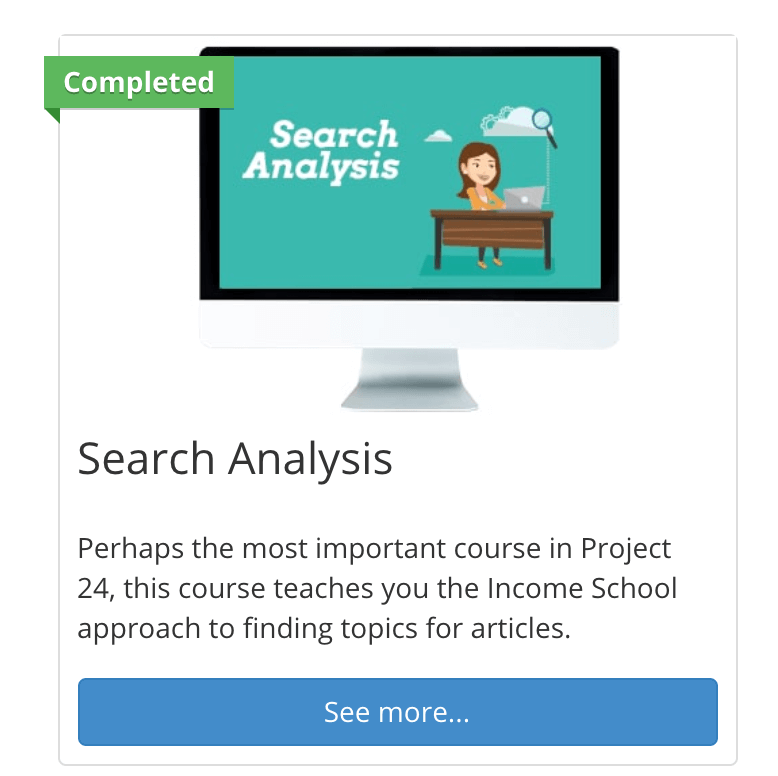 Search Analysis – Doing research in order to create your content plan and choosing the best topics for your blog, for your first 30 articles. This module is important so you understand how to choose the right topics and turn them into blog posts. These are specific topics with a low search volume but they still can bring you a good amount of traffic. Some topics may be a complete waste of time to write because you will never get listed in the first two pages of search results. So, this module will help you make the right decisions for creating your blog content.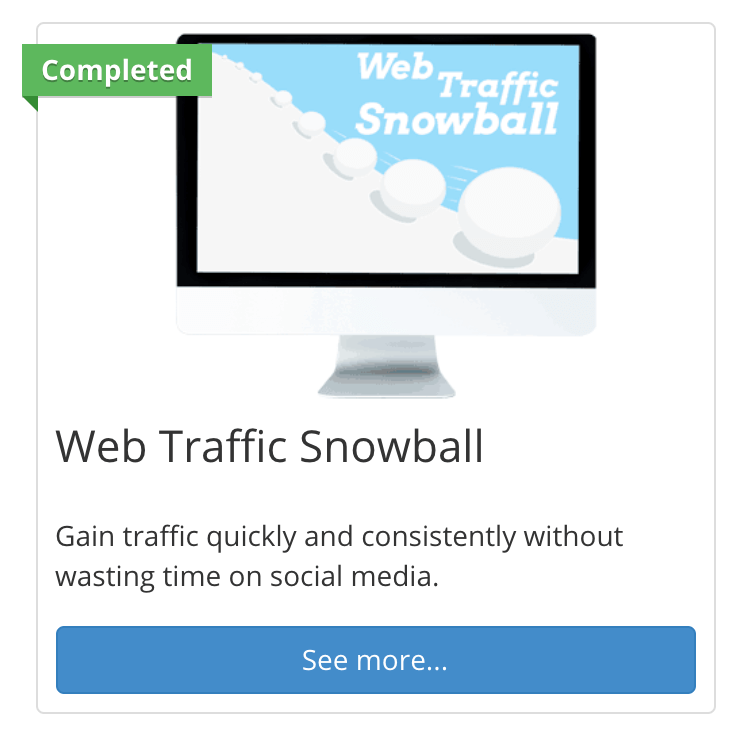 Web Traffic Snowball – This training module will show you how only right traffic methods and avoid ones that will waste your time. Jim and Ricky know what works and what doesn't firsthand. You will learn how to run your YouTube channel in the best way possible for maximum results.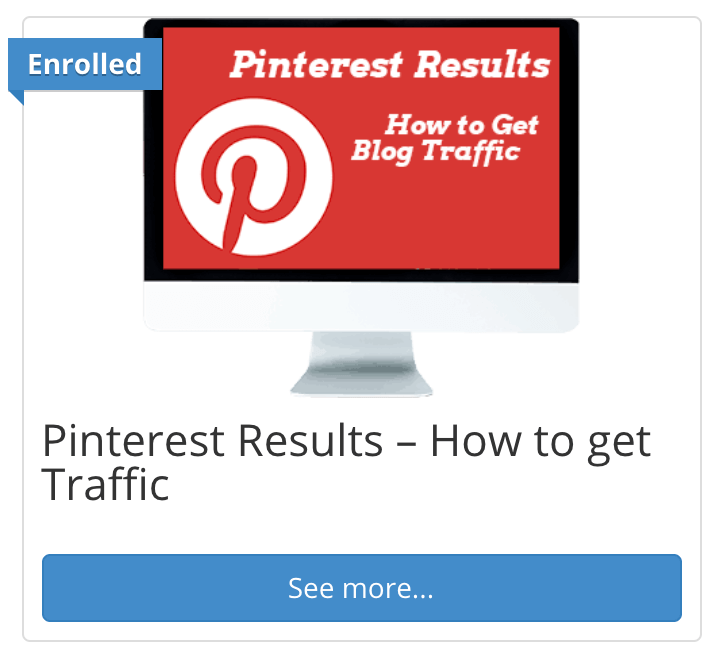 Pinterest Results – How to get Traffic from Pinterest. The training is a collection of interviews with Pinterest experts that know how to drive traffic from Pinterest. By watching these interviews (5 interviews with Jennifer, Tracey, Megan, Caroline, Kristin) you will understand how to take advantage of Pinterest for your blog.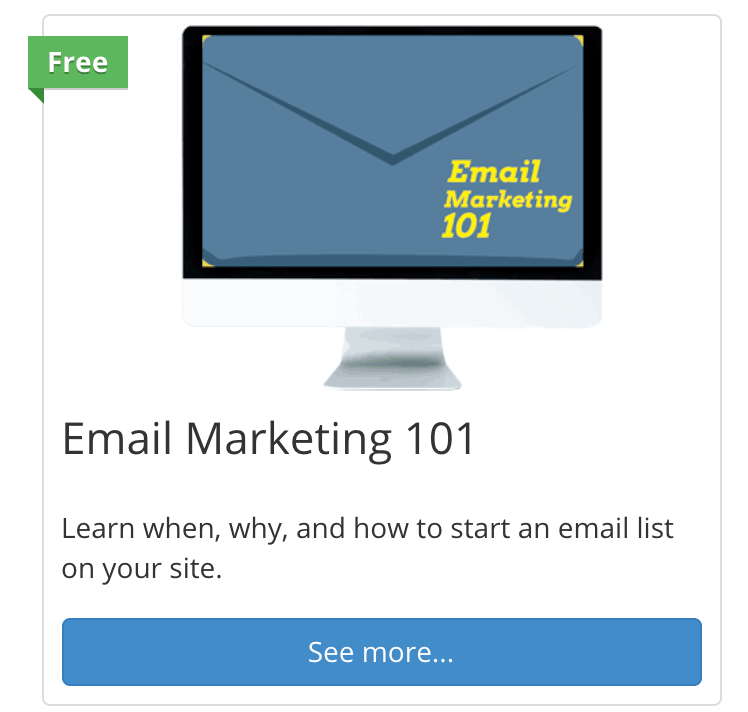 Email Marketing 101 – The email course explains you the objective of the email list, how to start getting sign ups on your blog, how to and when to start collecting email list. If you want to learn how to write your emails to send to your subscribers to monetize your list you need to look for some other trainings.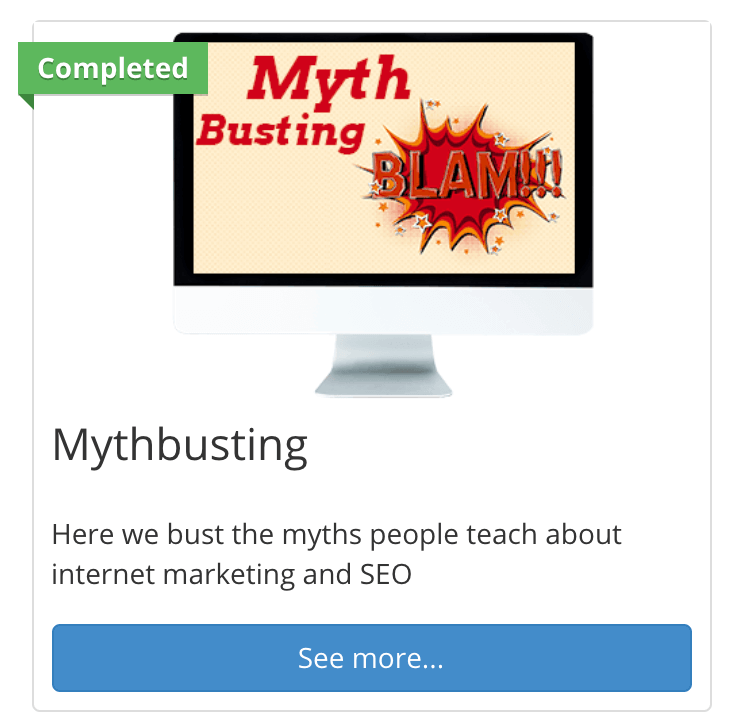 Mythbusting – This training module is probably the most controversial because it actually teaches you to forget about all keyword tools and rely on your own research using Google auto search feature. They teach how to use alphabet search feature using Google search console. The provide a lot of data to prove their stand and I have to agree with them based on my own experience.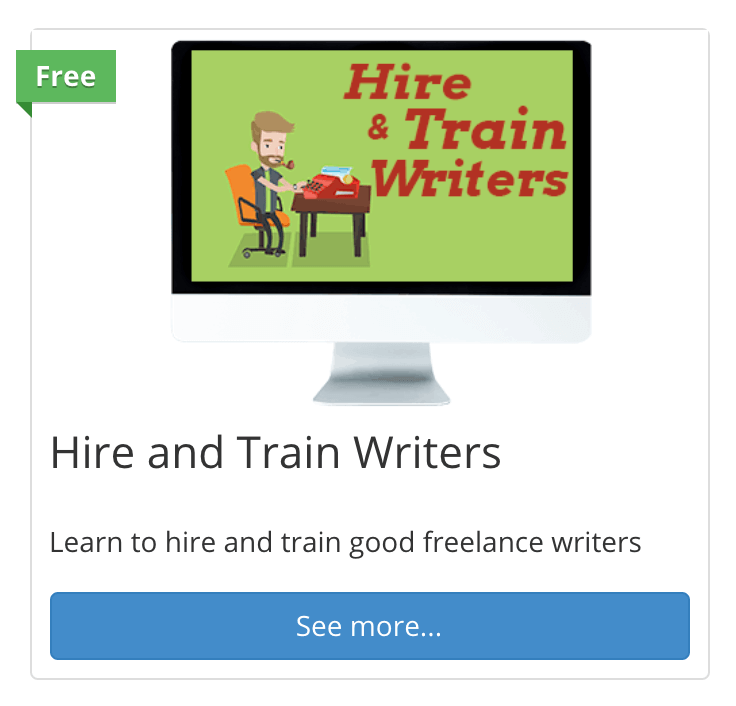 Hire and Train Writers – This module is not so critical and may not be necessary in the first months. This module does make sense only if you start making a significant income and may need to hire writers that will continue to create quality content for your blog. You will learn how to hire the right writers or how to train them so you can get the desired results.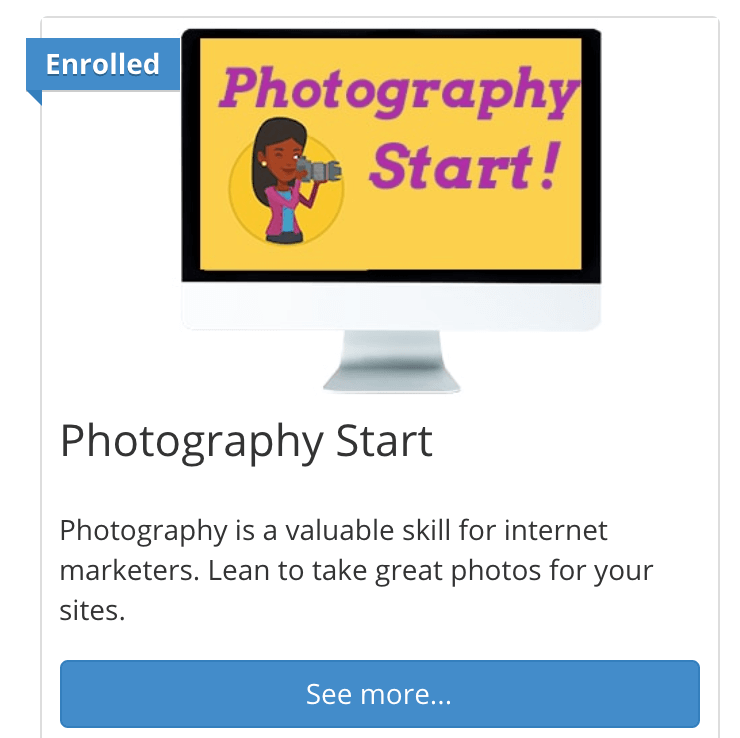 Photography Start – This training is pretty long an includes 22 videos that will teach you how to make beautiful photos for your website as well as videos. The training is quite impressive and important because having beautiful videos or photos mean a lot for your blog authority. Ricky even explains what type of cameras to use, tripods and many more.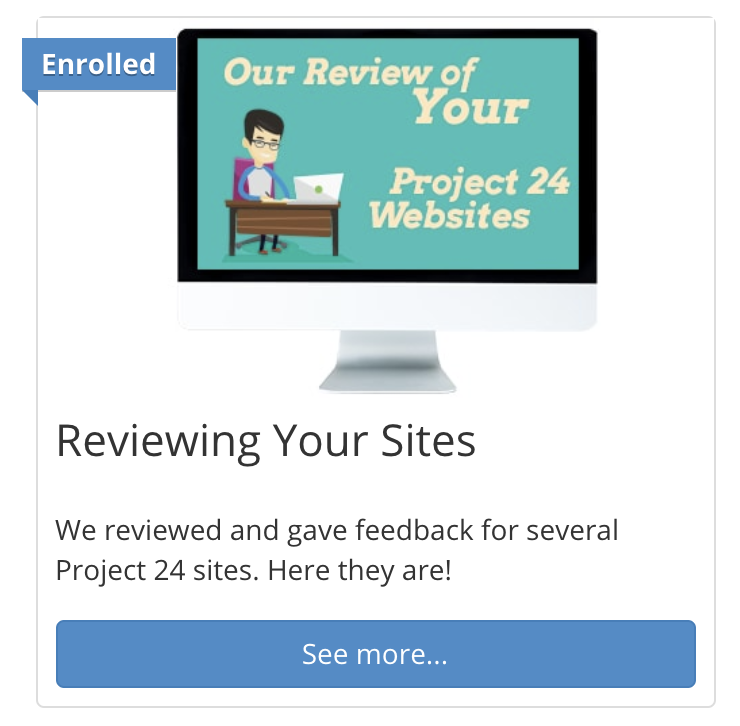 Reviewing Your Sites – In this module Ricky and Jim review 13 sites of Project 24 members to show exactly what they do right and what they do wrong so other members like you and me can learn from their experience. From a practical standpoint this module is very important because it's a reflection of project 24 training material on the example of real sites struggling for success.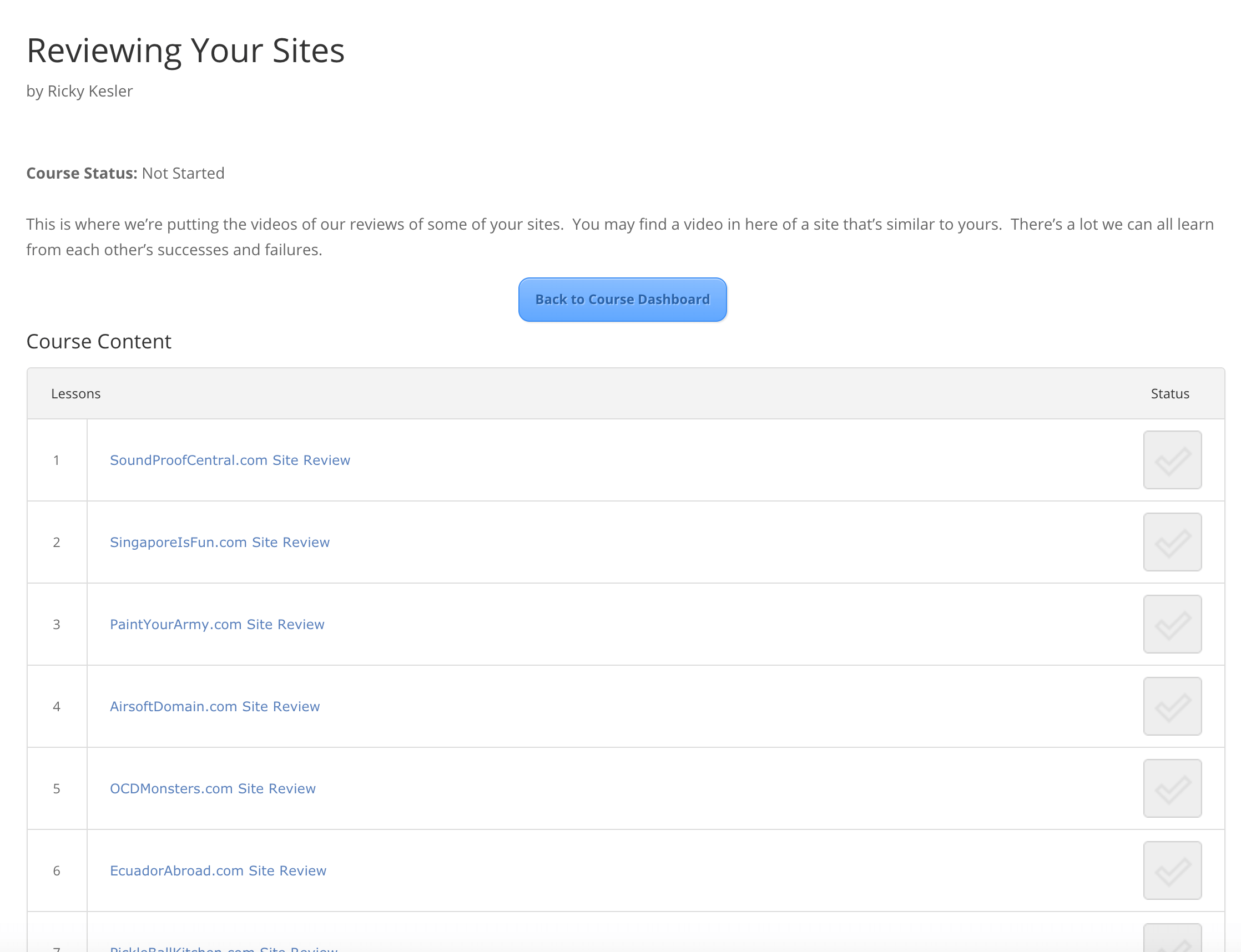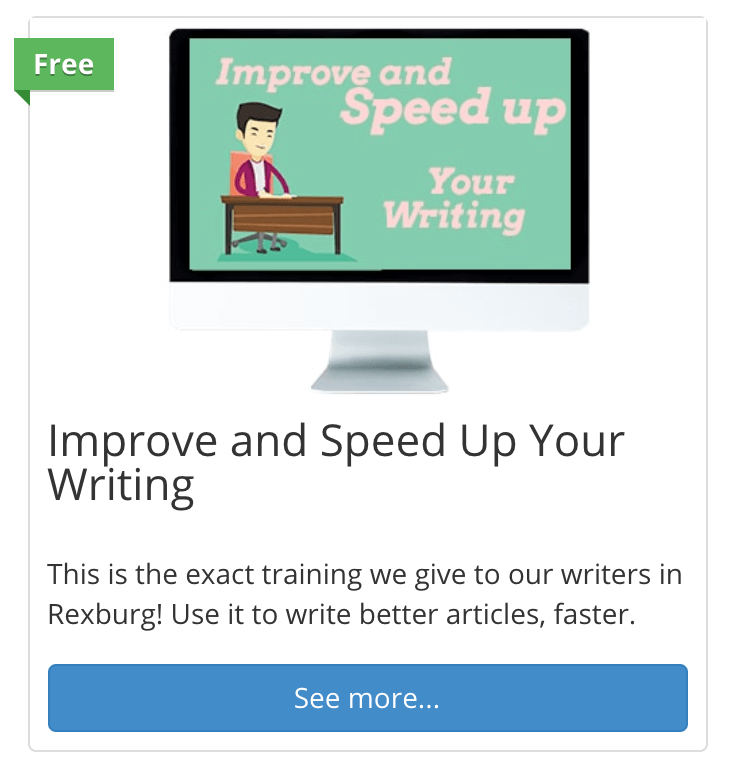 Improve and Speed Up Your Writing – This course teaches you how to research and write a blog post properly, how to structure it, how to write right headings, how to choose the right length for your post, how to get it ranked in top search positions and many more.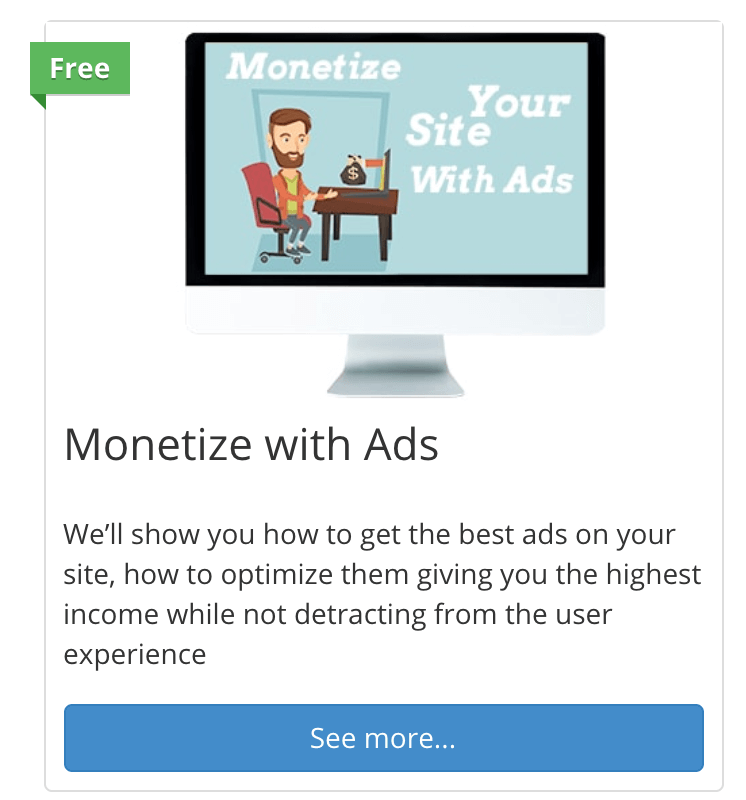 Monetize with Ads – Content is your # 1 focus if you plan to build a long term business online. But there are many others ways available and one them is monetizing your site with ads. If you can bring a lot of traffic to your website you can easily earn a full time income without selling a single product on your website. This can be done with ads which is well explained in this course.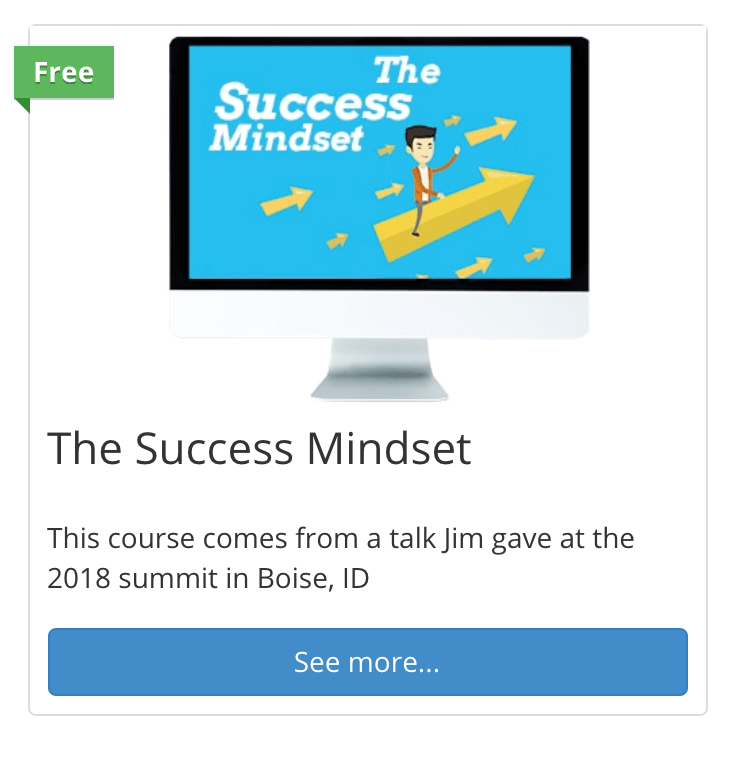 The Success Mindset – This course consists of one video that is highly motivational and instructive. If you are just starting to build your very first website online I highly recommend to watch the video because it can motivate you for the rest of your online journey until you achieve your online business goal.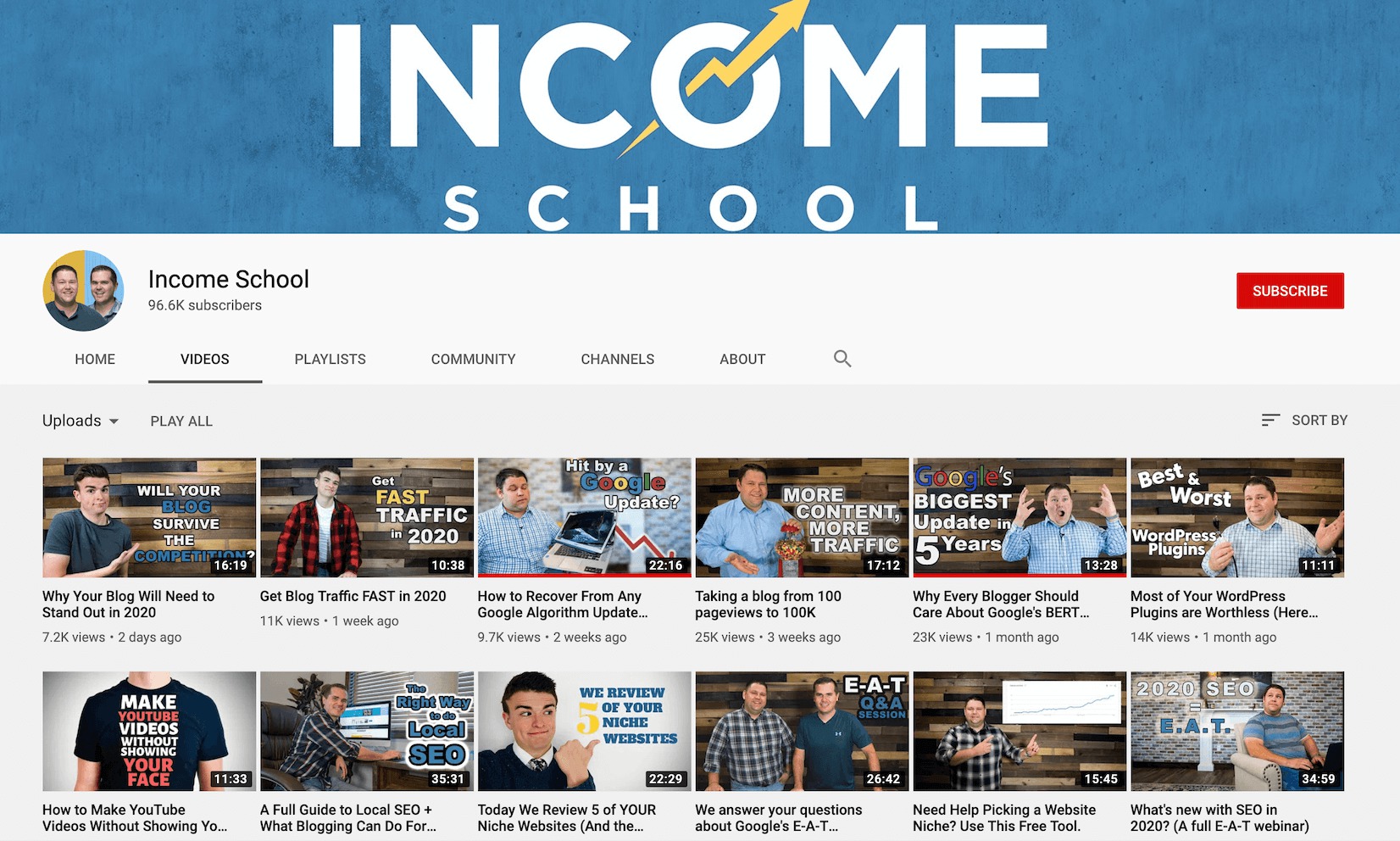 Final thoughts about Project 24 training
In fact, all you need to do is just watch 60 Steps to a Successful Site and take action. All you need to know is there.
Other modules is just a bonus to give a more in-depth knowledge and achieve even better results with your online business.
Some actions in these bonus trainings are taken from the main course ( 60 steps to a successful site).
They are divided into different sections, such as traffic, search analysis, picking a niche, video marketing and etc.
The modules are organized in this way to help you find the info faster and easier. All sections of the project 24 training are important.
But the main course which is "60 Steps to a Successful Site" will be more than enough for you to follow and take action in order to achieve your financial goals.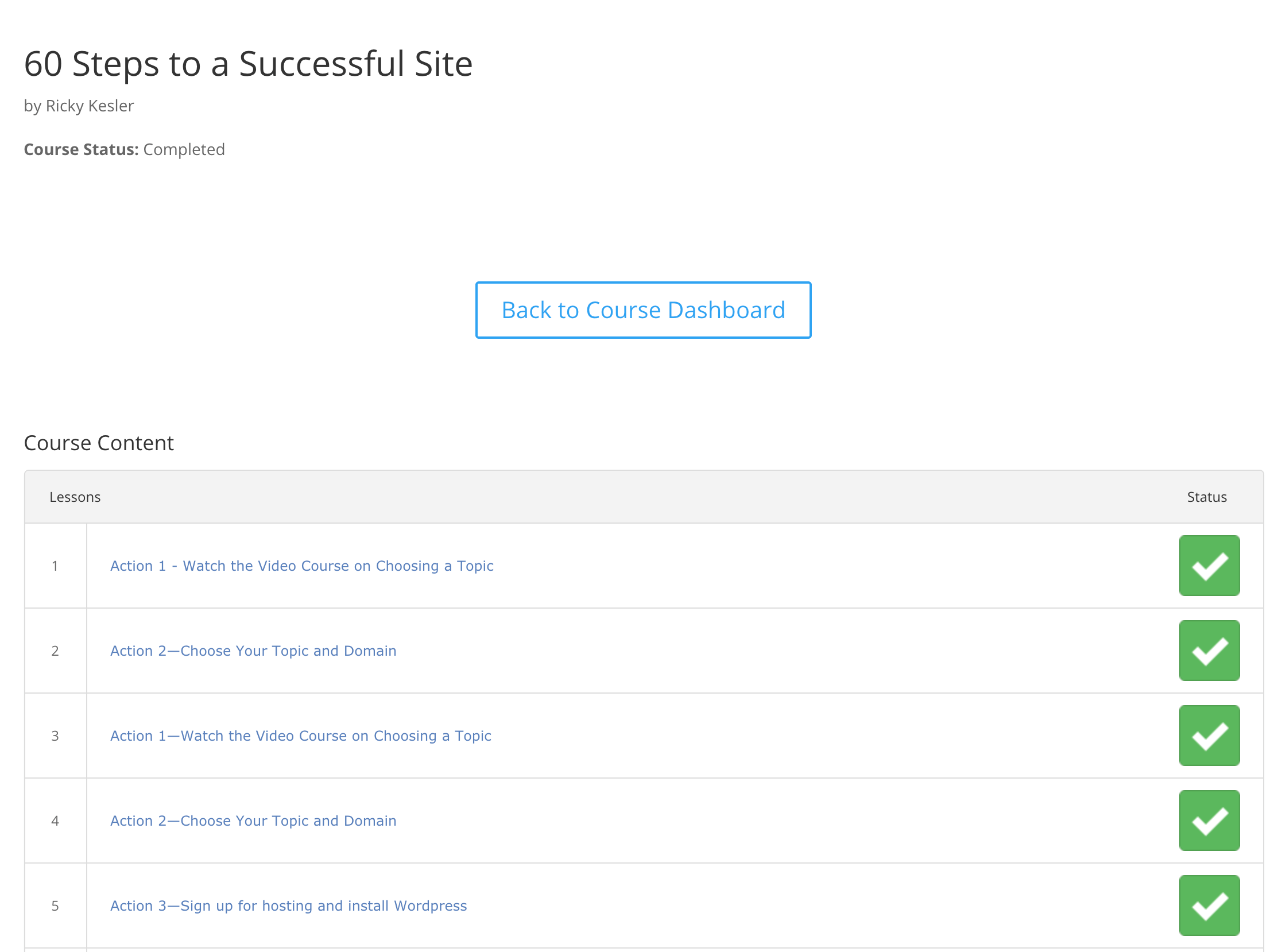 How much time is required to complete Project 24 training?
The time required to complete Project 24 training depends on how you approach it and how mush time you are willing to devote to your education.
There are two types of approaches:
Approach # 1 – you follow the course and complete the tasks as explained in the course.
This will take several months, at least 5,6 months of hard work. For some people it can take even 1 full year.
Approach # 2 – You go through the course without completing the tasks.
Once you're done with the course and understand what needs to be done you start completing the tasks on your own pace.
In that case to complete the course you may need 1 or two weeks. I personally completed the course under two weeks.
So, it really depends on your approach and how much time you are willing to devote to it.

Pros of Project 24
Super helpful training
No upsells
Regular updates
Community support
Free premium WP theme (Acabado)
Free Amazon plugin
Review of members' sites (very helpful)
Cons of Project 24
No refund
No support from Jim and Ricky (very hard to get)
Pinterest training doesn't include practical steps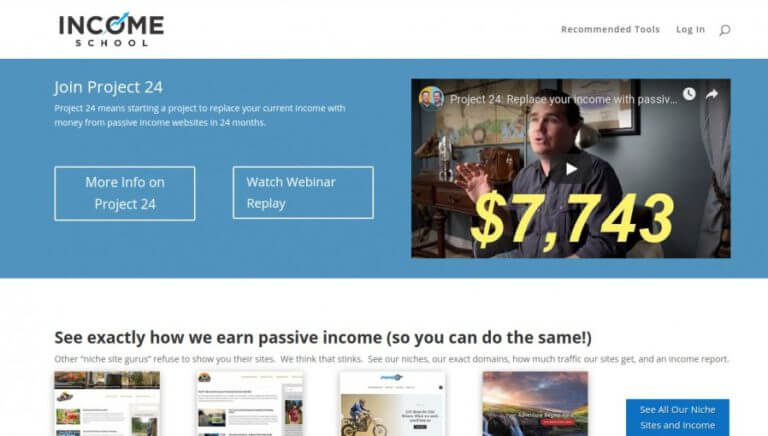 How soon can you start making money?
Officially in the training Jim and Ricky tell about 24 months to get results.
In fact, name of the training is Project 24 which speaks for itself. But in the email list they tell about 60 days of work.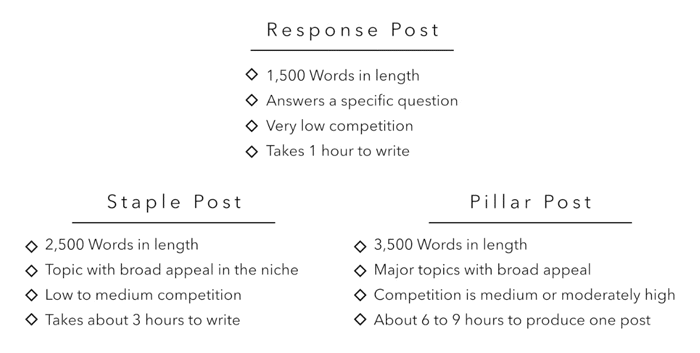 If you go through Project 24 course you will realize that the amount of content (text and video) you need to create is not about 60 days.

At least it's going to take several months of hard work. But creating content is one thing and monetizing it is another thing.
First of all, Jim and Ricky doesn't give any guarantees as to how much and when you can start making money from your website. It's hard to say.
From my personal experience in affiliate marketing since 2013, I believe with the kind of education you get from Income school it's really hard to fail and not make money at all.
If you follow the training you probably need one full year to see your first income. But some members do it in 6 months.
I personally made my first dollar online in 12 months after starting my website.
Unless you are a super clever personality I think on average 12 months is the optimal time frame for starting making money from your website.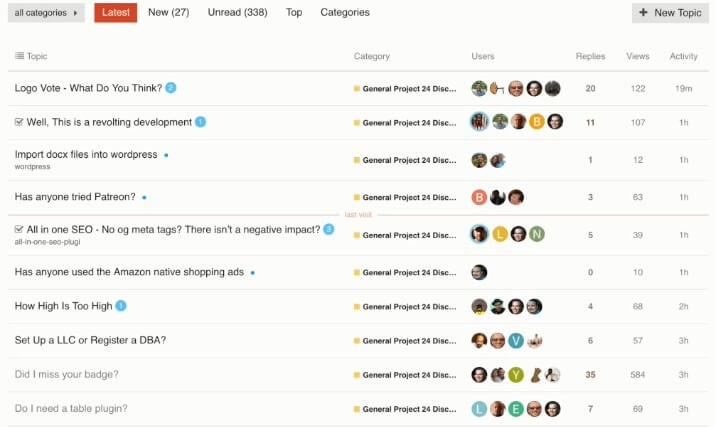 Can you rely on support at Income School?
It's really hard for me to tell what I think about Income School support but I have to.
I think support is the weakest point of any online program and Income School is not an exception.
As a member of Project 24 program you can get support from the community that is pretty active and helpful. I can't deny this fact.
Because Jim and Ricky can't help everyone and answer questions. They are busy and I understand that.
But I'm a member of another program (Wealthy Affiliate) and can write a private message to Kyle or Carson and get support from them at any time.
Sometimes it may need 5,6 days our even 10 days to get a reply from them but they do reply. It's a huge advantage that I can get support from them.
When it comes to Income School it's really hard to get any support from Jim or Ricky.
There are other people from Income School, Freddy and Nathan and theoretically you can get support from them too.
I sent a message to Nathan and have never received any reply from him. In fact, Income School training is very thorough and helpful but still support is important.
I sent an email to Income School and asked if I could send a message to Jim or Ricky and they told I can do it only inside the community.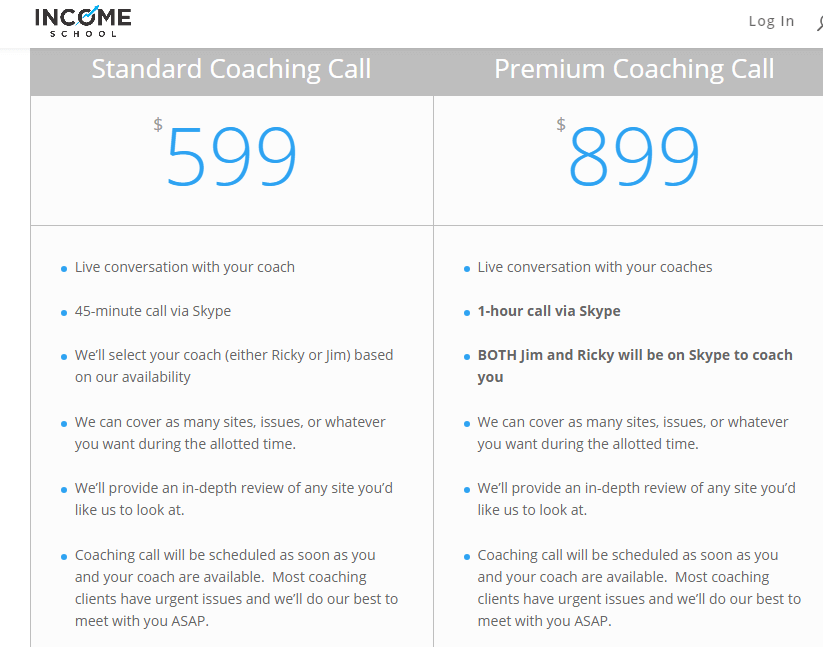 But I found it almost impossible to send a message to any of them. It looks like they provide support only via private coaching which is very expensive.
See the prices below. I think it's too expensive and should be cheaper at least for Project 24 members. You may not agree with me but this is how I see it.

Does Project 24 work for everyone?
This is a very tough question. Jim and Ricky have applied what they teach to many niche sites and proved effectiveness of their training course.
I believe it works for everyone who are willing to put effort into it and the time.
Yes, it's very time consuming to create the type of content they teach but it's going to pay off later. Of course, it's going to work differently for everyone.
If you are not a goal oriented person and looking for a get rich quick program then Project 24 is definitely not for you.
Writing content that wins top positions in Google search is going to take a lot of time and effort. Some people simply hate writing or can't do it.
Some people are not willing to sit in front of a camera and record videos.
They simply don't like it. Some people are not technically savvy and don't want to build a wp site, customize it, get into other technical stuff related to running a niche website.
If it's you then Project 24 is not for you.
Can you really succeed with Project 24?
This is another tough question that I want to discuss here.
As I said above, Project 24 by Income School is a very impressive training that contains a lot of value that you can take advantage of.
I'm sure anyone willing to work hard can succeed with Project 24 team. But let me explain it in more details.
As I said above, Project 24 is NOT for everyone. Your success here depends on many things that I want to explain.
Going through Project 24 training course is one thing while putting it into practice is quite another thing.
But I know that not all Project 24 members are making money.
Some of them are failing because of the lack of effort, others failing because of doing things the wrong way.
Those that are doing things the right way by which I mean they write content exactly as Income School teaches, they get awesome results.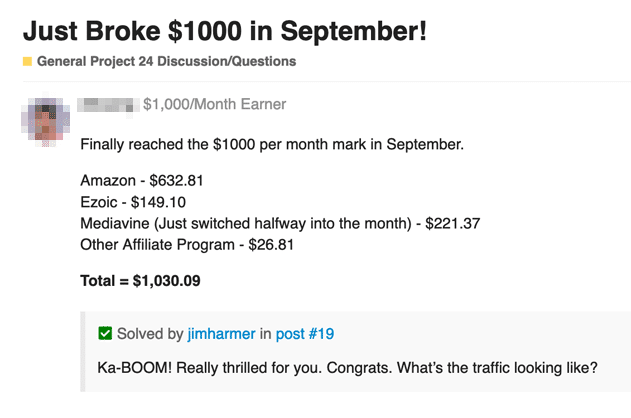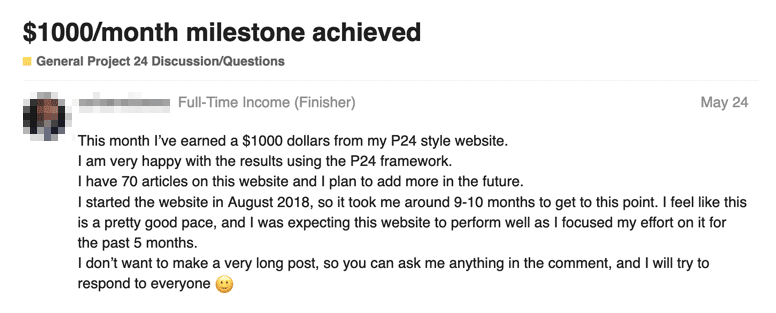 Other members do it too but can't break through. If it was easy to apply what Income School teaches all members of Project 24 would be making lots of money.
Unfortunately, this is not the case. That's why it's really hard to say can you succeed or not with Project 24. But it's absolutely possible.
I currently have two websites, one in MMO niche (highly competitive) 500 articles and the other site in the field of optics (less competitive) 40 articles.
The first site is getting around 50 visitors a day and still making me a solid monthly income. Before it was getting 150 visitors a day.
Second site was built from scratch based on Income School training and is now getting 40 visits a day. The effectiveness of Income School training is obvious.
Some people ask questions regarding link building. Is it really possible to become successful online without link building?
Because Income School doesn't teach link building. Yes, Yes and Yes. It's absolutely possible. Google ranks sites based on their content, not links.
Content is # 1 ranking factor. If you have a great content you can easily outrank other sites without any links.
I know it firsthand. Don't even worry about link building.
If you plan to jump on board and know you are a goal oriented and hard working person then go and get the course.
You will not be disappointed. Like Ricky and Jim tell "Success doesn't happen to people. People themselves have to make it happen".

About the Author: Adam
My name is Adam. I'm the founder of Your Income Advisor. My goal is to help others succeed online, by exposing scams and reviewing top rated products. I can help you start
your own business online