Quality of the Program
2.0/10
Pros
affiliate marketing training
60 day money back guarantee
Cons
Video is totally misleading
Fake millionaire testimonials from Fiverr
No supportive community
Your business depends on 3-d party tools
Website is down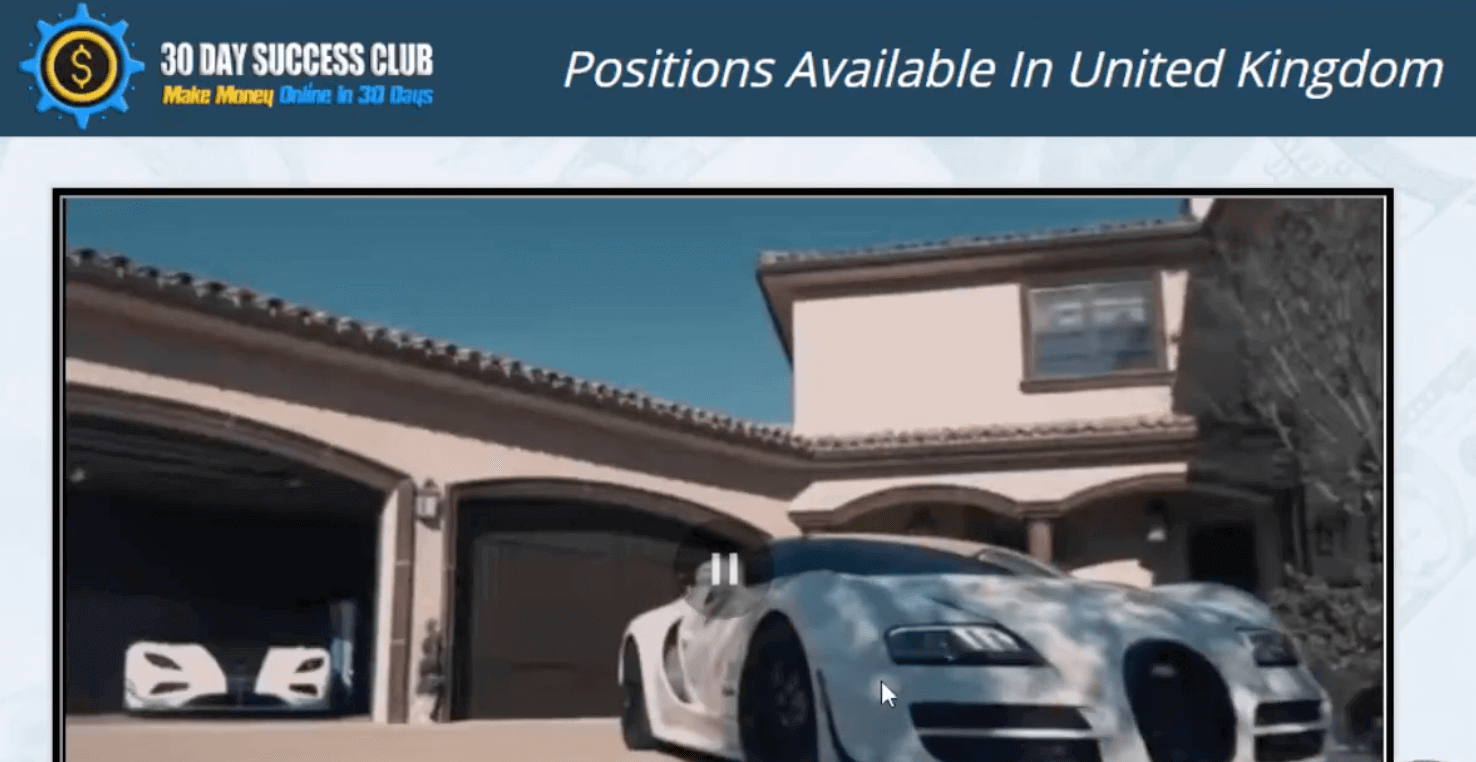 Product name: 30 Day Success Club
Website: 30dayssuccessclub.com
Owner: Debbie Joven
Price: $37 plus upsells up to $165
Overall rank: 2 out of 10
The main idea of 30 Day Success Club is that so called Debbie promises you can start raking in profits in 30 days.
This is what is promised by many online MMO products. In the promo video you are promised to follow the steps and immediately you will start seeing profits.

In 30 days you will be already making a full time income. In this review you will know exactly what you can expect in 30 days from 30 Day Success Club.
Short review of 30 Day Success Club
In short, 30 Days Success Club is an affiliate marketing training that provides very decent quality training and shows steps to follow to start monetization.
It has some value but considering bold claims in the promo video and decent quality of the training, the program is almost useless in my opinion. Plus, the site is no longer active.
Pros
Some sort of affiliate marketing training
60 day money back guarantee
Cons
Video is totally misleading
Unrealistic income claims
Fake millionaire testimonials from Fiverr
No supportive community
Your business depends on 3-d party tools
Website is down
3 Upsells
Looking for legit affiliate marketing training?

Choose one of these two my top recommended programs:
30 Day Success Club upsells:
Initial price: $37
Upsell 1 – Email Compatibility (Email autoresponder service) – $37
Upsell 2 – 3x More Sites (Building more websites) – $47
Upsell 3: – Heatmaps (conversion tracking) – $47
Total budget required for 30 Day Success Club: $165
Like many other low quality programs, 30 Day Success Club wants more money from you.
By paying initial price, $37 your access to the program will be very limited.
Even after paying full amount you still won't be able to come closer to your goals because the program itself is not well-structured for your success.
It's just filled with upsells, very decent quality training and tools.
Affiliate marketing needs way more serious, well-balanced and strategic approach for achieving goals and raking in profits.
When it comes to these upsells, I think as follows:
First upsell doesn't make sense because you have no subscribers. At least you need to get traffic first.
So, it doesn't make any sense to pay for email autoresponder from day 1 of your affiliate marketing business.
Second upsell – it doesn't make sense to build many websites if you can't monetize them.
First, you learn how to monetize your very first website and then build new sites. So, this upsell doesn't make sense as well.
Third upsell – This is for tracking your conversions. This is in itself a good feature but like I said, doesn't make any sense if you have no traffic.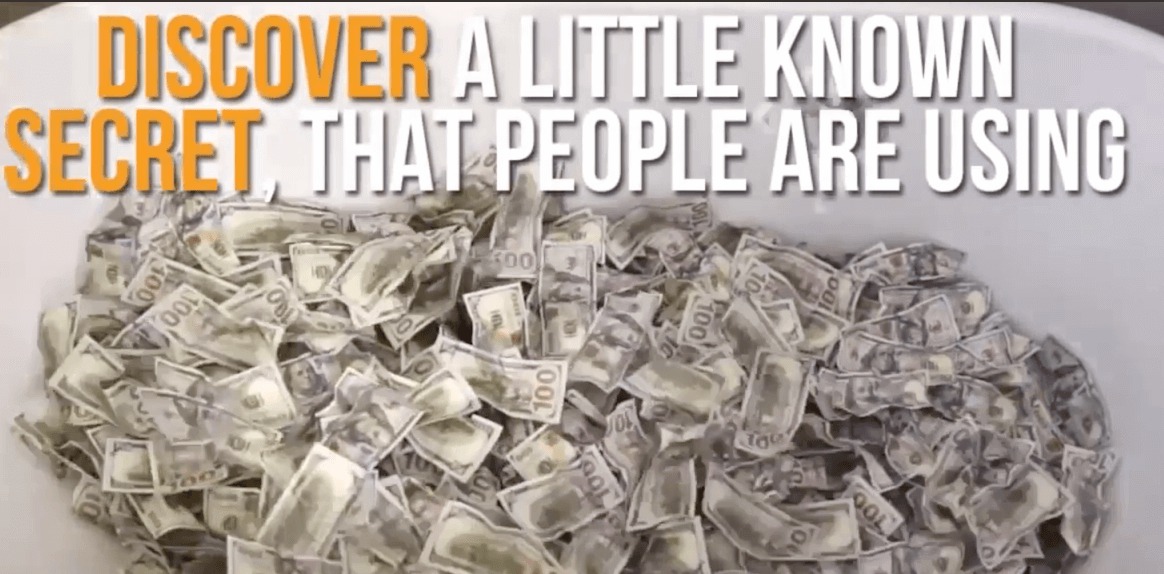 Before you invest $37 in 30 Day Success Club
Like always I do I want to let you know a few things before you invest your hard earned money in 30 Day Success Club.
Many programs like 30 Day Success Club ask you to invest a small amount of money which is good. You don't need to invest a few hundred dollars.
But you need to realize that programs that cost around $20 or $30 are always decent or low quality programs that will never teach you the right methods to make money online.
Things they teach are very primitive and most of the time they use totally misleading strategies.
When it comes to 30 Day Success Club, the potential of this program is very limited for several reasons:
The value of the training is very low
There is no real support
There are upsells
No tools required for your business
Income claims are insane
30 Day Success Club shows misleading things in the promo video, such as jumping from $4 to over $4.000.000 in a few months.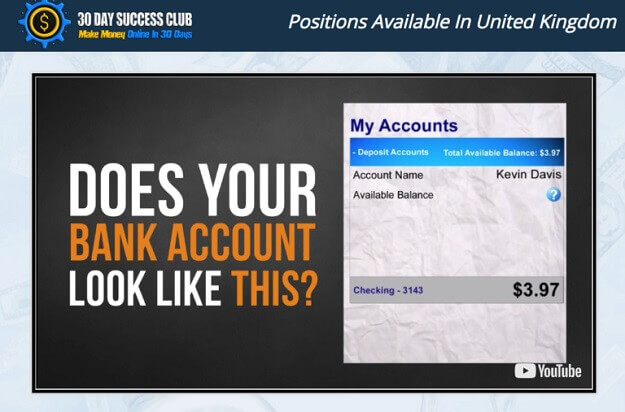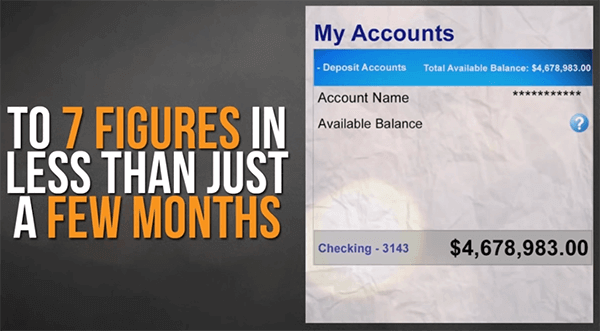 Anyone looking for a way to earn money will definitely get into this trap. I'm here to warn you against it because you will be wasting your time with 30 Day Success Club.
The good thing about 30 Day Success Club is that in the members area you get access to a website builder and can set up your site in easy steps.
The point is that having a website doesn't necessarily mean you will be making money. It includes way more advanced steps and techniques than just setting up a website.
30 Day Success Club is a Clickbank product and as a member of this program one of your main task will be promoting the same program to other people like you.
I'm not sure you will want to do it especially because the site is down and it's no longer a Clickbank product.
Since as a member of 30 Day Success Club you will be using 3-d party tools provided by the program you will not own any part of your so called business.
30 Day Success Club is now down which means if you had a website it would have have been down as well and all your business gone.
The same paid actors who made fake testimonials for Affiliate Cash Club made testimonials for 30 Day Success Club.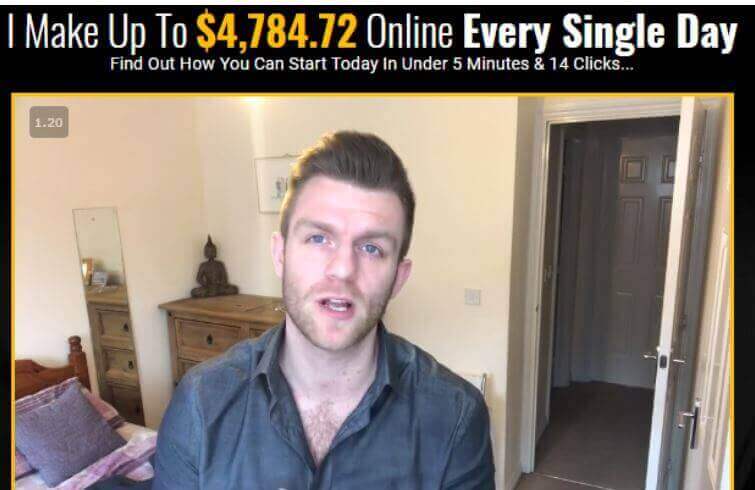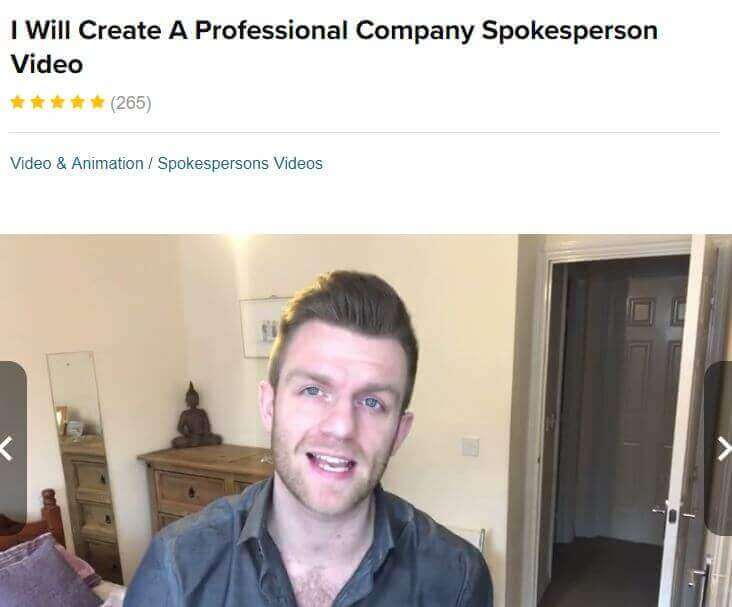 I think these two programs both were created by the same group of people.
Another crazy statement from Debbie is that in 3 months she was getting 40.000 visits per month which means over 1000 visitors a day.

This is what all websites try to achieve but many of them never get even 200 visits a day. This is the reality.
In short, the promo video is full of crazy and bold claims.
30 Day Success Club training
Once you get access to the members area you will start taking steps, such as
Domain setup
Website set up
Choosing a product (website) to promote
Getting traffic to your website
Monetizing your traffic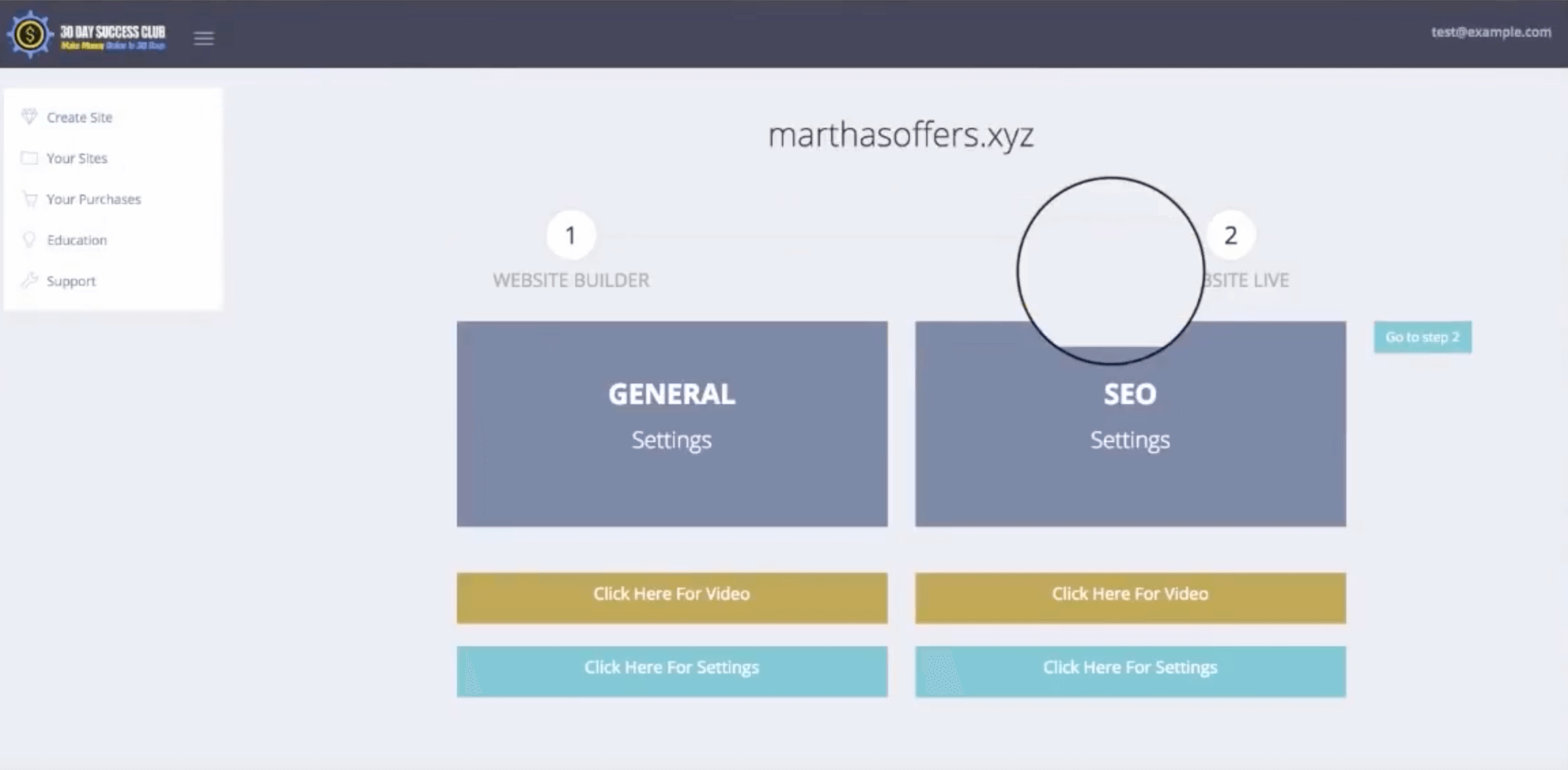 30 Day Success Club will show you how to get the traffic using social media, paid traffic, forum posting, doing guest posting.
Generally speaking, what they teach you is all about spamming the internet with your website link hoping that someone will click on it and visit your site and possibly and hopefully will buy a product or pay for the service you promote.
30 Day Success Club gives you the list of websites (programs) that you can join for free and promote their products, services for affiliate commission.
Here is the list of sites related to following fields:
Arts&Entertainment
Business/Investing
Computers/Internet
E-Business, E-Marketing Education
Fiction
Games
Green Products
Health/Fitness
Home/Garden
Languages
Mobile
Parenting/Families
Politics/Current Events
And more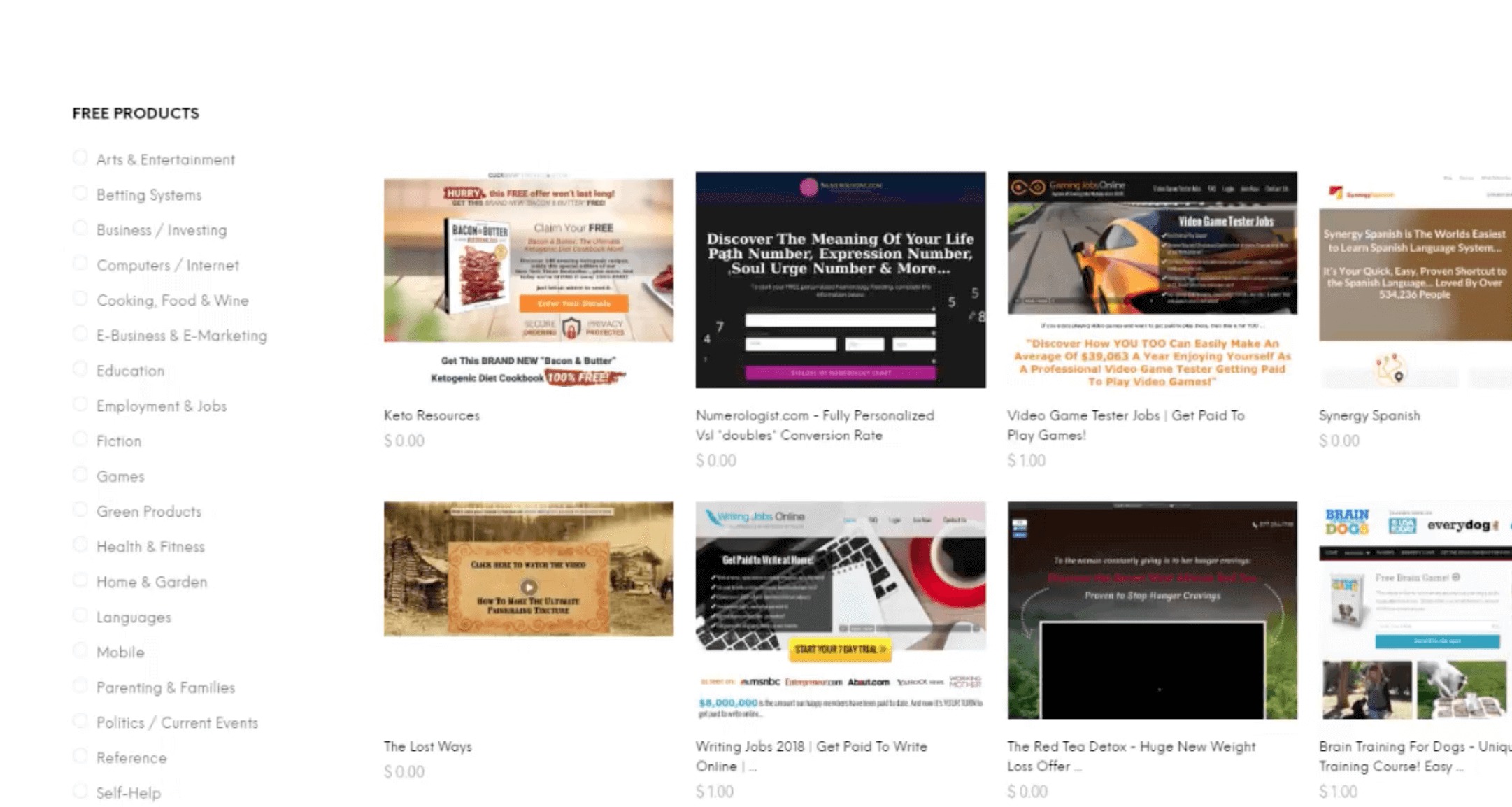 30 day Success Club's members' area contains following modules:
Home
Your Sites
Your Purchases
Your subscribers
Site Statistics
Education
FAQ
Support
If you are completely new to affiliate marketing it may seem very simple and easiest way that anyone can take advantage of and rake in profits.
In fact, it's very different from how 30 Day Success Club tries to describe affiliate marketing.
Many programs that you will find in the members area can be joined free or after paying $1 to try and see the program.
You have no control whatsoever because you will be sending people to those landing pages. You don't even know how those programs convert.
Many of them have very low conversion rate which means you will sending traffic without getting any results.
First, you don't even know how to drive traffic to your business. With the kind of training and support that 30 Day Success Club offers I don't think you can achieve anything in your online business.
You also need to pay and sign up for email autoresponder so you can send your offers to your subscribers. But this makes sense if you have subscribers first.
Since you are new to affiliate marketing you don't have any subscribers. You can have them if you get a massive traffic to your website.
You will not get that traffic because what you will learn from 30 Day Success Club will not get you there.
Is 30 Day Success Club training really helpful?
I believe though 30 day Success Club provides some sort of training it won't get you anywhere close to achieving your online financial goals.
Especially because when visitors come to your so called website it will be filled with multiple programs most of which have a levy low conversion rate.
It's like sending someone to a shop with hundreds of products. Such a strategy have proved to work very bad in terms of conversions, i.e. getting sales.
You can learn some useful stuff from 30 Day Success Club but in terms of a long-term business or a sustainable business that you expect to build it you will NOT get what you expect from this program.

30 Day Success Club and reality
Like many other programs that I've seen over the years, 30 Day Success Club is geared toward making more money off you.
You will be asked to upgrade your account and buy new products (upsells) and invest another $131.
A fundamental program that you probably want to find should teach you things like:
Finding products to promote
Market and competition research
Traffic strategies
Youtube strategy
Email marketing
SEO strategy
All of this requires a fundamental approach and months of efforts in order to get initial decent results and then take it to another advanced level for maximum results.
This is the idea of affiliate marketing to get things to another level when you can earn a significant income and consistently.
This is exactly what you will NOT get if you follow 30 Day Success Club training.
Because the potential of this program is very limited and especially because the program has been removed from Clickbank marketplace.
Why I gave such a low score to 30 Day Success Club ?
Though 30 Day Success Club provides decent quality training and some tools, I decided to give a low score to the program for a number of reasons that you can see below.
Reasons for giving a low score to 30 Day Success Club:
Unrealistic income claims
Fake testimonials from Fiverr
No support or community to get help from
Hidden upsells
The product was removed from Clickbank
You don't own your so called business
Is 30 Day Success Club Legit?
Since 30 Day Success Club website is no longer operating I have to give my verdict that this program is not legit.
Plus it was removed from Clickbank which proves that this product is not worth your time, money or attention. Avoid it!

Final review of 30 Day Success Club
Some sort of affiliate marketing training (Good)
60 day money back guarantee (Good)
Video is totally misleading (Bad)
Unrealistic income claims (Bad)
Fake millionaire testimonials from Fiverr (Bad)
No supportive community (Bad)
Website is down (Bad)
You don't own your so called business (bad)
Overall score: 2 out of 10
Looking for legit affiliate marketing training?

Choose one of these two my top recommended programs:
About the Author: Adam
My name is Adam. I'm the founder of Your Income Advisor. My goal is to help others succeed online, by exposing scams and reviewing top rated products. I can help you start
your own business online