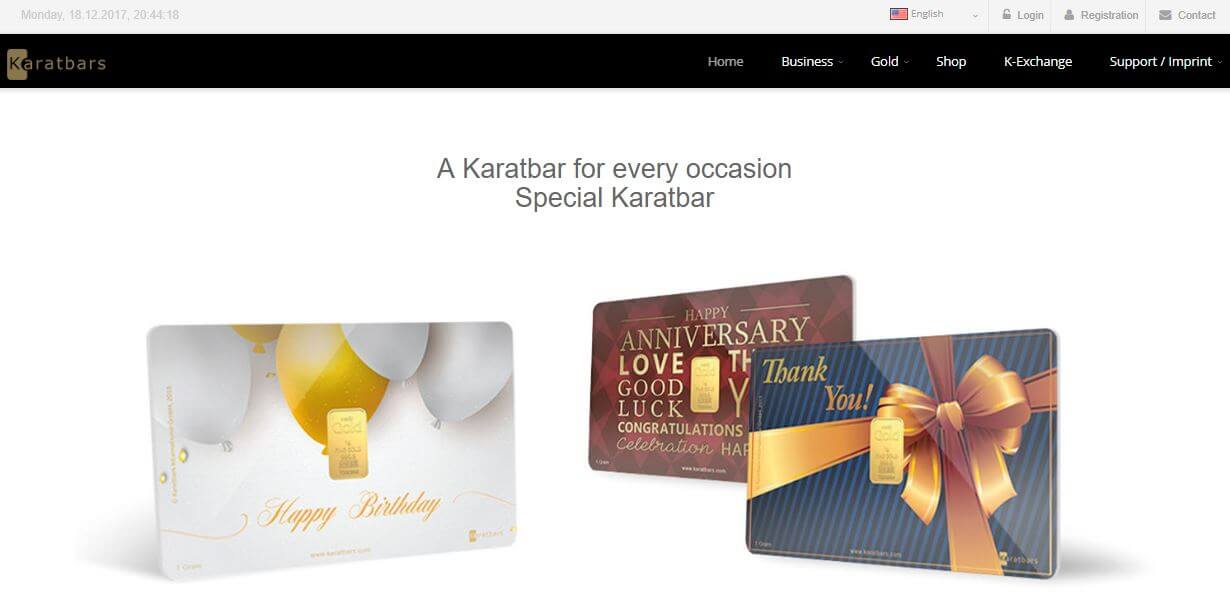 Product name: Karatbars International
Owner: Harald Seiz
Website: Karatbars.com
Price: $135 up to $2172 + shipping
Overall rank: 30 out of 100
Verdict: Not recommended
Today I've come across a very interesting program called Karatbars International and after doing some research decided to write my review because I feel there is some necessity in doing so.
I feel it because based on my research I see there are many people that show interest and search for this opportunity.
If program is good and has many positive reviews then I leave it or sometimes I write my own review.
But when I see that the program is not so good and there are many negative reviews I write my own review to save people from falling for the wrong program.
When it comes to Karatbars International my research shows that this program is not so good.
There is some potential in it to make money but there is WAY more danger in it than good. You can easily lose lots of money in this program.
Let's start our research to find out what is the Karatbars International scam. Is it really a scam or a fantastic opportunity to make a lot of money? let's do it.
Short review of Karatbars International
Karatbars International is a classic mlm (multi–level marketing company) specialized in selling precious metals. But how can you benefit from this opportunity?
You can do it if you decide to buy Karatbars gold bars made in the form of plastic cards.
They actually look like plastic cards. These gold cards are of different size, 1 gr. 2 gr. 3 gr. Prices are different too.
Pros of Karatbars International
Investing in gold is a good idea
Cons of Karatbars International
Complaints about Karatbars
Warnings about Karatbars
Negative reviews about Karatbars
Karatbars gold is highly overpriced
Unrealistic income claims
No refund
Karatbars International is NOT recommended due to highly overpriced products. Let me recommend you another program I've been a member of since 2013. It's FREE to try.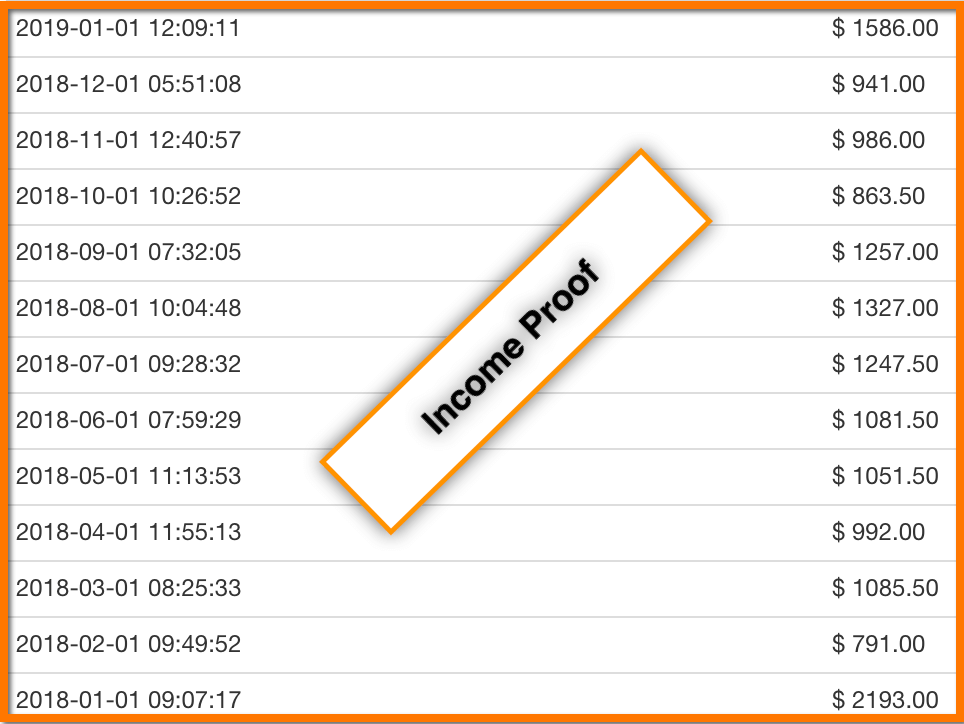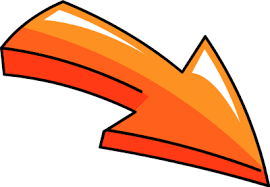 Looking for Affiliate Marketing Programs?

Choose one of these two my top recommended programs: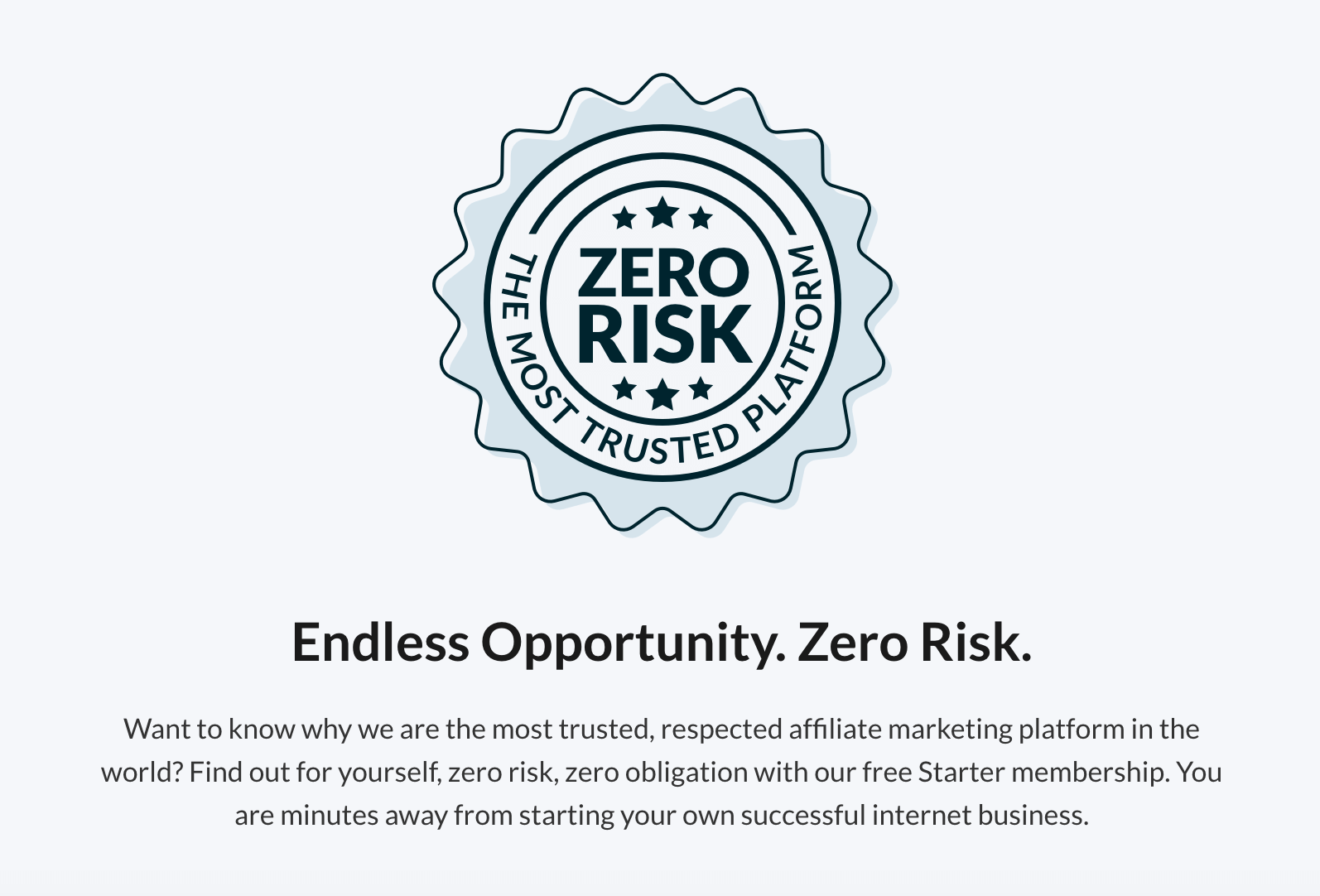 Karatbars International review
First of all I want to let you know that I'm not affiliated with Karatbars in any way.
My review is based on my research and generally speaking my review is my opinion. You can AGREE with it or DISAGREE.
As I said, Karatbars is specialized in selling gold bars in the form of plastic cards.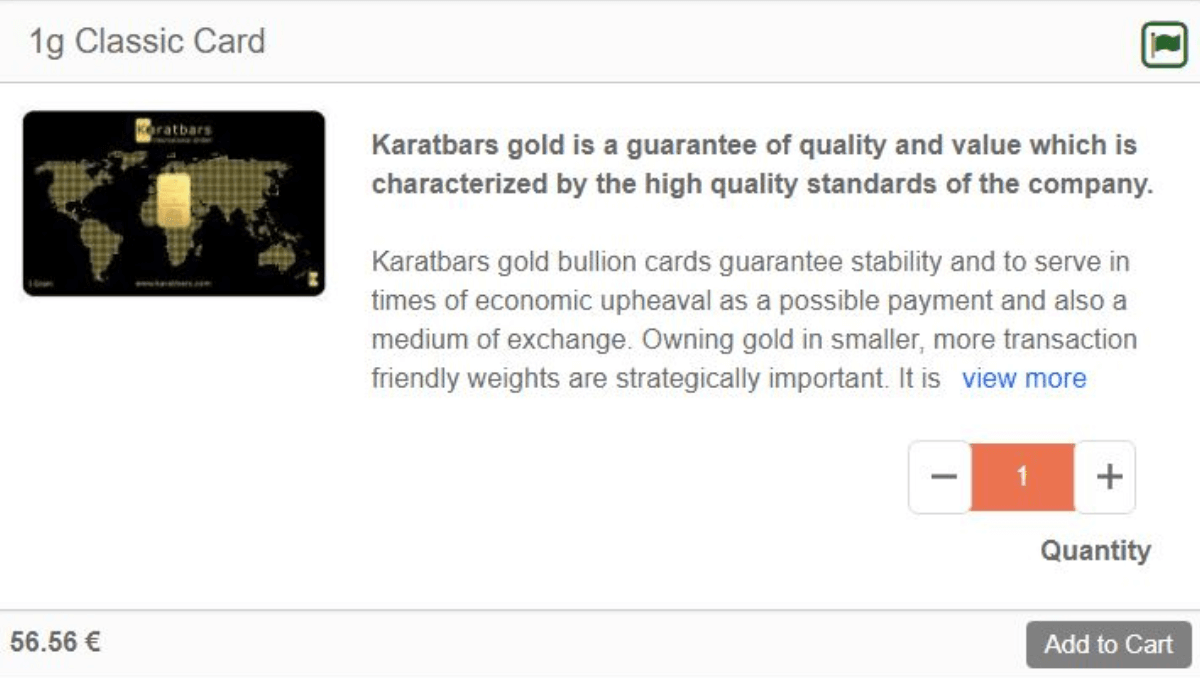 My research shows the company has offices in more than 50 countries.
But I can't check this info if it's true or not. Karatbars also claims that their gold is of superior quality but I can't check if it's true or not.
Like any mlm program Karatbars offers its compensation plan that you can see below:
Gold Manager/9000 points/per month
Silver Manager/6000 points/per month
Bronze Manager/4000 points/per month
Gold Supervisor/2500/per month
Silver Supervisor/1250 points/per month
Bronze Supervisor/500 points/per month
Supervisor/200 points/cumulated Distributor

The main focus of Karatbars Internationalk like with any other mlm is recruiting new members and trying to convince them to buy overpriced gold.
You have to do so for the sake of earning a commission. I don't think it's a good practice though.
Karatbars system is complicated and it's common to almost all MLMs that I've seen so far.
They offer different monetization plans such as:
Unilevel bonus
Direct commission
Generation bonus
Dual team bonus
Karatbars pool
Karatbars gold fund
Package bonus
As a member of Karatbars you will have to buy a certain amount of gold in every x amount of days to keep your membership status active.
They have an auto-purchase function on their site that you can activate.
Also, remember that as an mlm promoter you will have to be super active and promote this opportunity to your family members, friends.
You need to be an aggressive promoter otherwise you won't make any money.
Also, Karatbars is not open to everyone wanting to register at their website. You need to find a sponsor and register through his/her id.
Even after creating your account you'll need to choose and buy one of Karatbars packages.
Karatbars offers different packages:
Bronze – $149 – 5% commissions
Silver – $350 – 10% commissions
Gold – $810 – 15% commissions
VIP -$2172 – 20% commissions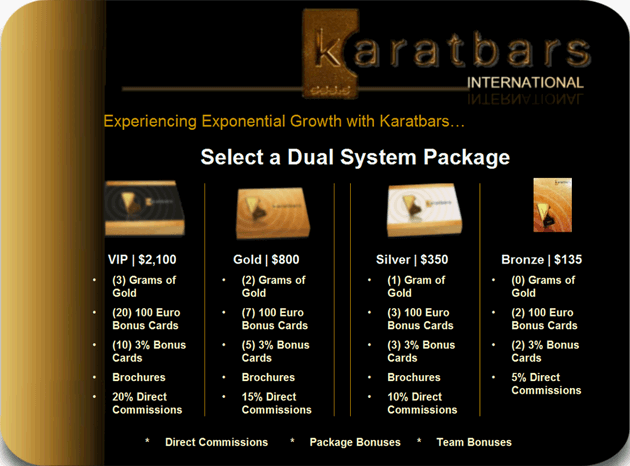 With Bronze package you can earn only 5% commission. If you want to earn more then you need to buy other, more expensive packages.
You also need to make a certain amount of sales per month to get higher rankings and earn more commissions. If you are on the first level, i.e.
Bronze level, you'll need to make 50 sales per month. In short, their compensation system is too confused in my opinion.
But it is very normal for almost all mlm companies.
You also need to be careful when doing research on this company on Google or Youtube.
You can come across some positive reviews or videos that describe Karatbars as a perfect opportunity to make a ton of money with the system.
In fact, it's not true because many of those reviews and videos were written or recorded by affiliates of Karatbars. Most of them don't make any money at all.
They simply want to convince people like you to buy Karatbars gold so they can make money off you.
Also, keep in mind that there is no refund once you've purchased one of Karatbars packages.
Karatbars packages require you to pay extra money for the package though actual price of the package is not what you pay for.
For example, if the cost of the package is let's say $1000 you will pay $2500 instead. You can ask why? I will explain.
You will be paying more for the sake of having the right to earn higher commissions. But where is the guarantee that you will be able to sell Karatbars packages?
And why pay more? Instead you can buy gold somewhere else and sell it yourself without Karatbars.
I believe there are TOO MANY negative aspects in Karatbars and there are too many scam signals here.
I strongly believe avoiding Karatbars is the best you can do if you want to avoid wasting your money.
What I like about Karatbars International
Karatbars International is not a complete scam and there are a few things that I like about this mlm opportunity.
First of all investing money in gold is a good idea. Because gold is gold. It can protect your investment because prices for gold are very stable most of the time.
Most mlm programs provide some kind of training, support and not always but very often assign you your personal mentor.
They pay based on multi–level system.
What I don't like about Karatbars International
There are of course a things that I don't like in Karatbars International. First of all, their prices are very high. I mean they are really high.
If you buy a gold somewhere else you can buy it for a much cheaper price. If you buy it from Karatbars International it's going to cost you a buck.
I don't know why Karatbars International sells its golds for such a high price.
The market price for one gr. of gold is 36$ and the price of Karatbars International is 62$.
I think it's unreasonable to buy gold from Karatbars.
There are complaints and negative reviews about Karatbars International. I put some screenshots here so you can read it before making a decision.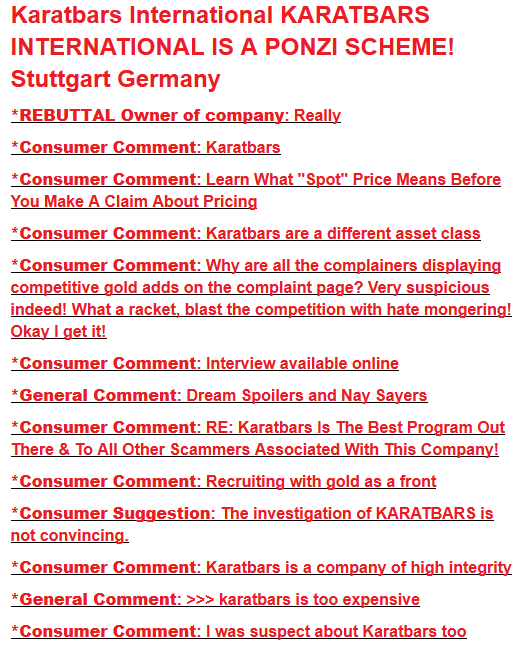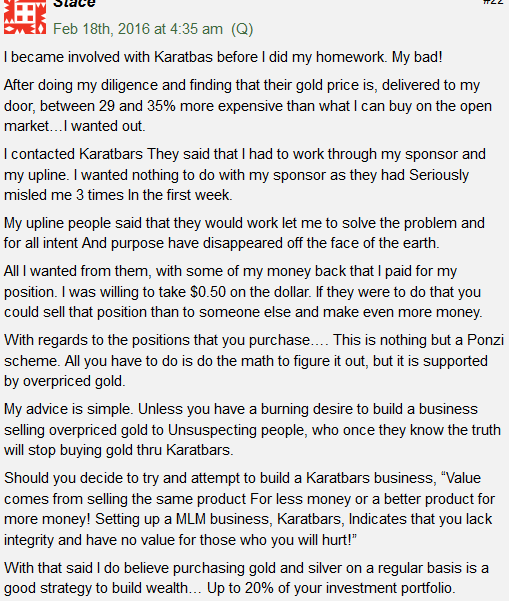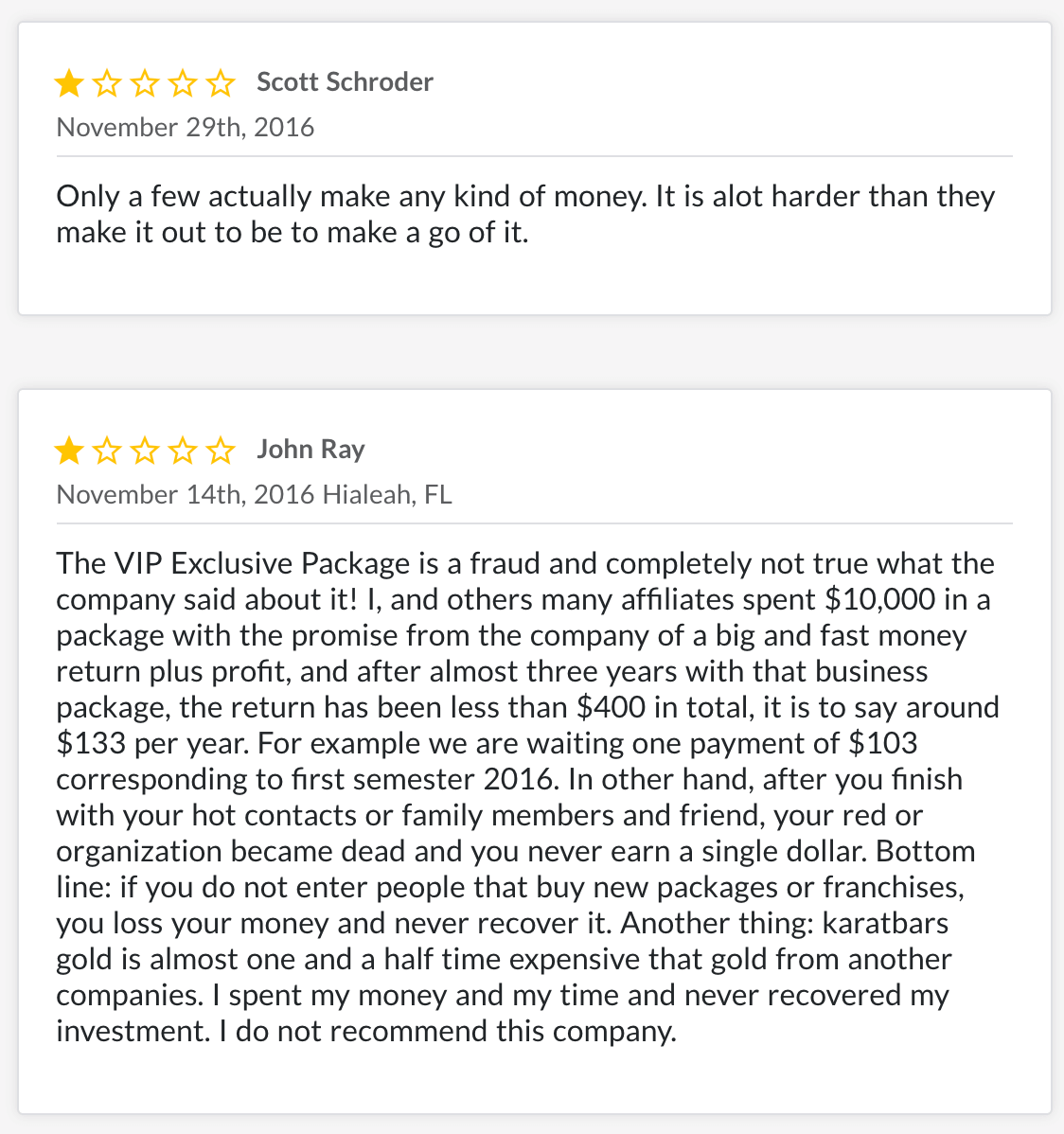 Karatbars opportunity requires a solid investment and to be honest I don't think it's worth that much effort and investment.
Investing money in gold is good but if you buy it from Karatbars for such a high price how are you going to sell it? Who will buy it?
Some members complain about never being paid by Karatbars but I can't prove this fact.
There is also a warning from official Canadian organization AMF against Karatbars.
BTW, you can read the complaint below.
As you can see, the biggest issue with Karatbars is selling overpriced gold to people.
The bad thing about Karatbars is that you can't leave the company without prior meeting with your sponsor
Karatbars makes some unrealistic claims, such as the opportunity to earn between $15.000 – $136.000 per month.
It's also reported by AMF that Karatbars is similar to a pyramid scheme.
My research also shows that many of these warnings have been removed after the fine has been paid by Karatbars.
Can you become successful with Karatbars International?
Achieving success with Karatbars is possible. Theoretically speaking, everything is possible.
But as I said above, will you buy gold for $62 per 1 gr. from Karatbars when you can buy it from other places for $36 per 1 gr? Does it make sense to you?
If you buy from Karatbars it means your gold will be more expensive than gold available on the market.
Will you be able to sell it to other people? Who will buy it from you?
The only way in my opinion is to get other people to join Karatbars through you so you can make money off them.
I believe the idea promoted by Karatbars sounds great but in practice it doesn't work most of the time.
Anyway, if you still want to join Karatbars you can do so. It's up to you. I think chances to become successful with Karatbars are very slim though it's possible.
Final word on Karatbars International
I think Karatbars gold prices are so high because they need to make payouts on their multi–level scheme. This is very normal almost for all mlm programs.
I've seen it before when doing my research of other mlm programs and Karatbars International is not an exception to this rule.
Mlm products and services are overpriced most of the time because they need to pay to its members based on their mlm scheme.
It's true that MLMs pay very generous commissions.
But they pay because they sell overpriced products and services. They do so because otherwise they can't pay generous commissions.
The main issue here is that by becoming a member of such a program like Karatbars or any other MLM you become a promoter of those overpriced products.
It's not easy to sell overpriced products when there are other products available on the market for a much lower price.
As I said above, investing money in gold is ok but buying overpriced gold and then selling it to other people is going to become a serious challenge.
I would stay away from Karatbars International. It's hard to say if it's a scam or not. Avoiding it would be the best decision in my opinion.
Final glance at Karatbars International
Investing in gold is a good idea
Complaints about Karatbars
Warnings about Karatbars
Negative reviews about Karatbars
Karatbars gold is highly overpriced
Unrealistic income claims
No refund
Overall rank: 30 out of 100
Verdict:

Not recommended
About the Author: Adam
My name is Adam. I'm the founder of Your Income Advisor. My goal is to help others succeed online, by exposing scams and reviewing top rated products. I can help you start
your own business online