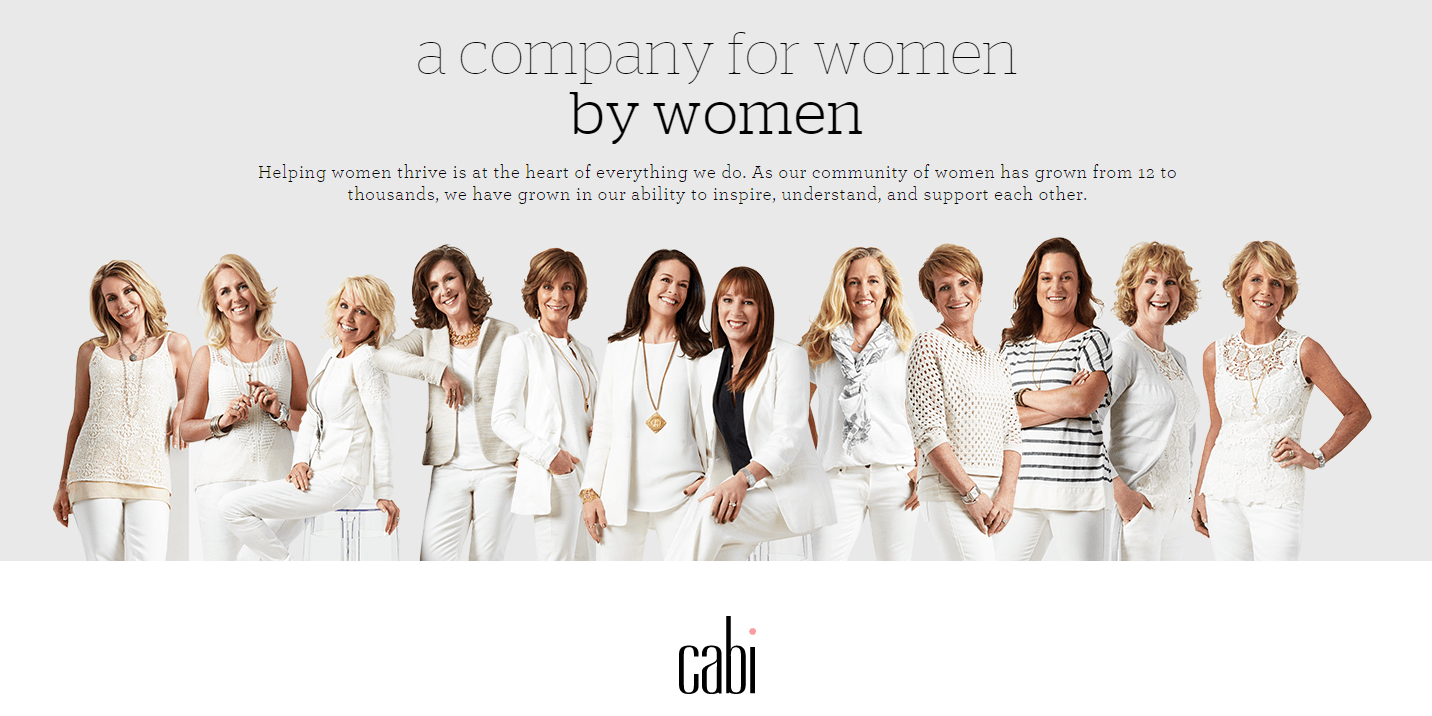 Product name: Cabi
Website: www.cabionline.com
Price: $2,570 business kit
Owner: Carol Anderson
Overall rank: 40 out of 100
Cabi (cabionline.com) is a MLM company for women by women helping women make money from home by promoting Cabi clothing.
Cabi was created by a clothing designer Carol Anderson in 2001 and that's why the company's slogan is (for women by women).
Cabi is a little different from other MLM companies that I've seen so far. Most of them sell health and beauty products, but this one sells clothing and their approach is different too.
The company is not new and has been in the business for many years. But being in the business doesn't mean it's a perfect opportunity to make money from home. Though it's not a scam.
It's legit business but with some flaws I'm going to discuss within my review. Unfortunately, there is good number of complaints about Cabionline which was unexpected to me to find out.
The quality of their products is not so good and their products are expensive. Finally, to join their program requires a serious investment of your hard earned money and effort to make it work for you. Let's see if Cabionline is really a good choice to start a business.
The main idea behind Cabionline
The idea of Cabionline is simple. Cabionline is a MLM company that focuses on style and fashion and promotes its unique product line, such as Cabi tees, blouses, Cabi tanks, sweaters, coats, jeans, jackets, pants, dress and more.
You can either buy their products for your own use IF you're a woman or you can join their team and start promoting their clothes and earn a commission.
Even if you're passionate about promoting clothes in general and Cabi products in particular, this opportunity won't be easy and I'm going to explain it further in my review.
Pros of Cabionline
Simple compensation plan
Support
Cons of Cabionline
You need $2,570 to invest into Cabi products
You need to be a sales person to make a lot of sales monthly
Products are expensive
The quality of Cabi products is not so good
Complaints
Cabi (Cabionline) is a MLM company designed primarily for women by women. It's legit. But does it necessarily mean I recommend it? No, I can't recommend it to everyone. WHY? Because when it comes to making money online, Cabi is by far not the best program out there. First, it's for women only. Second, it requires an investment of $2,570 just to start out. If you are looking for a genuine and simple (step-by-step) money making program, no matter what your gender is, allow me to help you and recommend a program I've been a premium member of since 2013. It's FREE to join. No credit card required.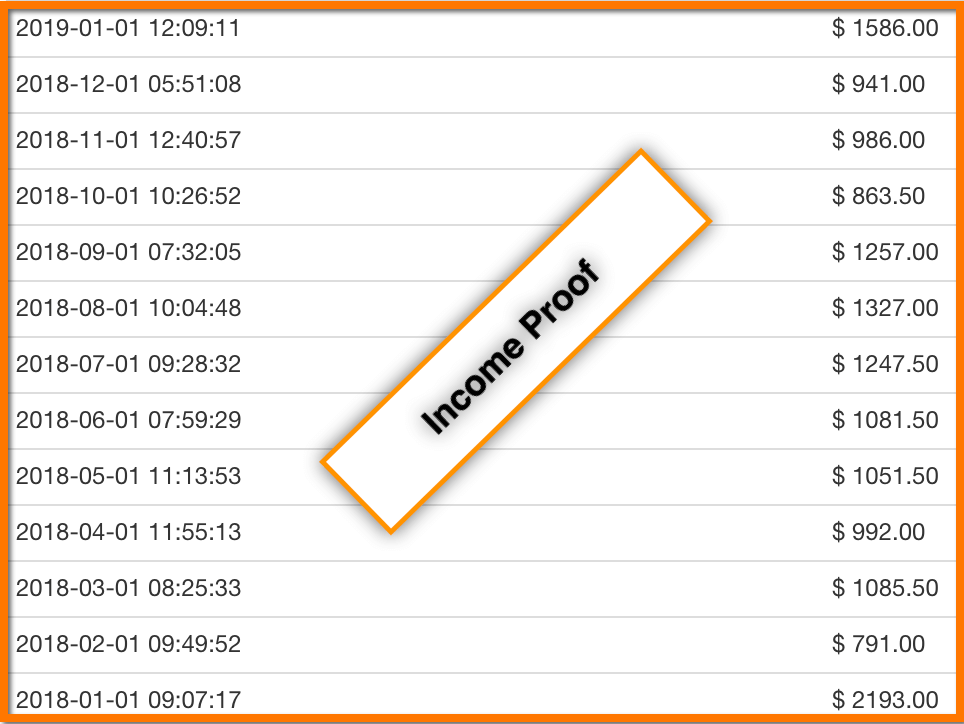 Cabi MLM opportunity overview
Cabi opportunity in itself is not bad. If you are a woman and are passionate about clothes and have free time and money to invest, then you maybe can make some money with Cabi MLM company.
The good part of Cabionline is that their products are unique and there is definitely a huge demand on the market especially when it comes to women. They buy clothes very often compared to men.
All MLMs have a strong focus on organizing home parties and if you plan to join Cabi and you feel you are very social person, then this opportunity is may be for you. You can organize home parties with your friends and possibly promote Cabi products.
When women gather at some place and spend time with each other, there is a good chance that you can make some sales. But it has some issues too.
First, you have to love what you are going to do and avoid being an annoying pushy person. People don't like when you try to push them something even if it's a good thing, when they don't need it at all. That's a problem with most MLMs.
Because they teach you how to become an aggressive promoter of their products. If not then you can hardly make any sales and commissions accordingly. Some people involved in MLMs are so annoying that they even lose their friends.
If you don't believe me, read the comment below from a member of another MLM company. As you can see from his comment, people didn't want to pick up the phone when he called his friends.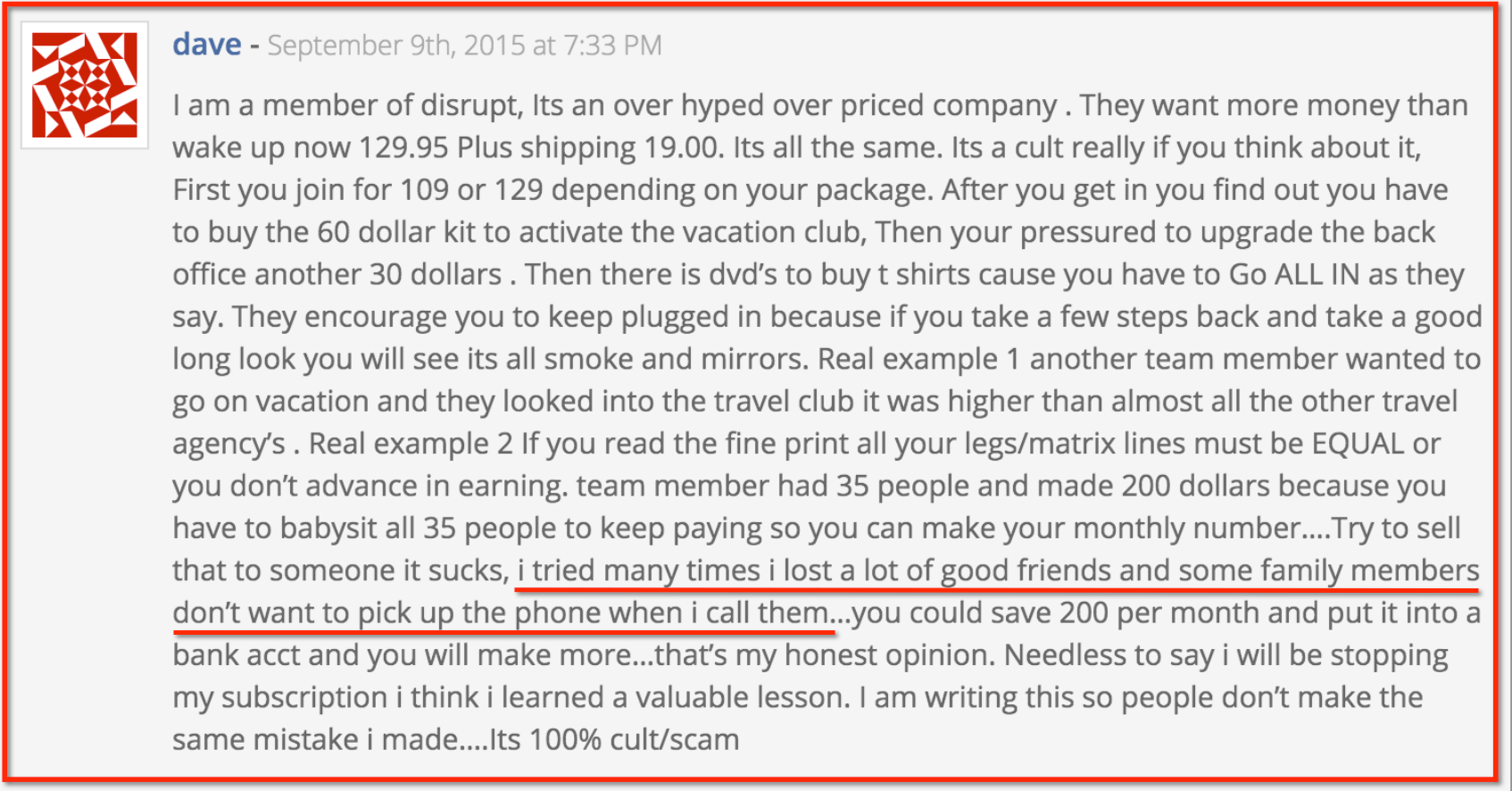 This is very normal when it comes to MLMs due to cold calling people out of the phone book. BTW, my ant has been involved in MLM company for many years and to be honest I try to avoid her because she always takes an opportunity to push something when I see her.
That's the nature of most MLM promoters. The bad part of Cabi is that their products are not cheap. Most of their products are over $70 which is a bit pricy. I think for the same price you can buy clothes from a well known brands.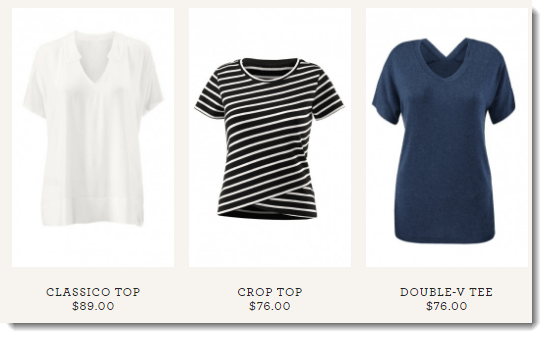 This means promoting Cabi clothes won't be easy. Also, they have limited sizes of their clothes which is going to seriously restrict your selling efforts. Finally, you have to pay your hard earned money for the Cabi business kit which will cost you $2.570.
With this kit you will get:
80–120 pieces of cabi products
Some marketing materials and guides
If you attend Cabi trainings twice a year you will have more to spend to cover your travel and hotel. They also organize weekly trainings to guide and support you in your business.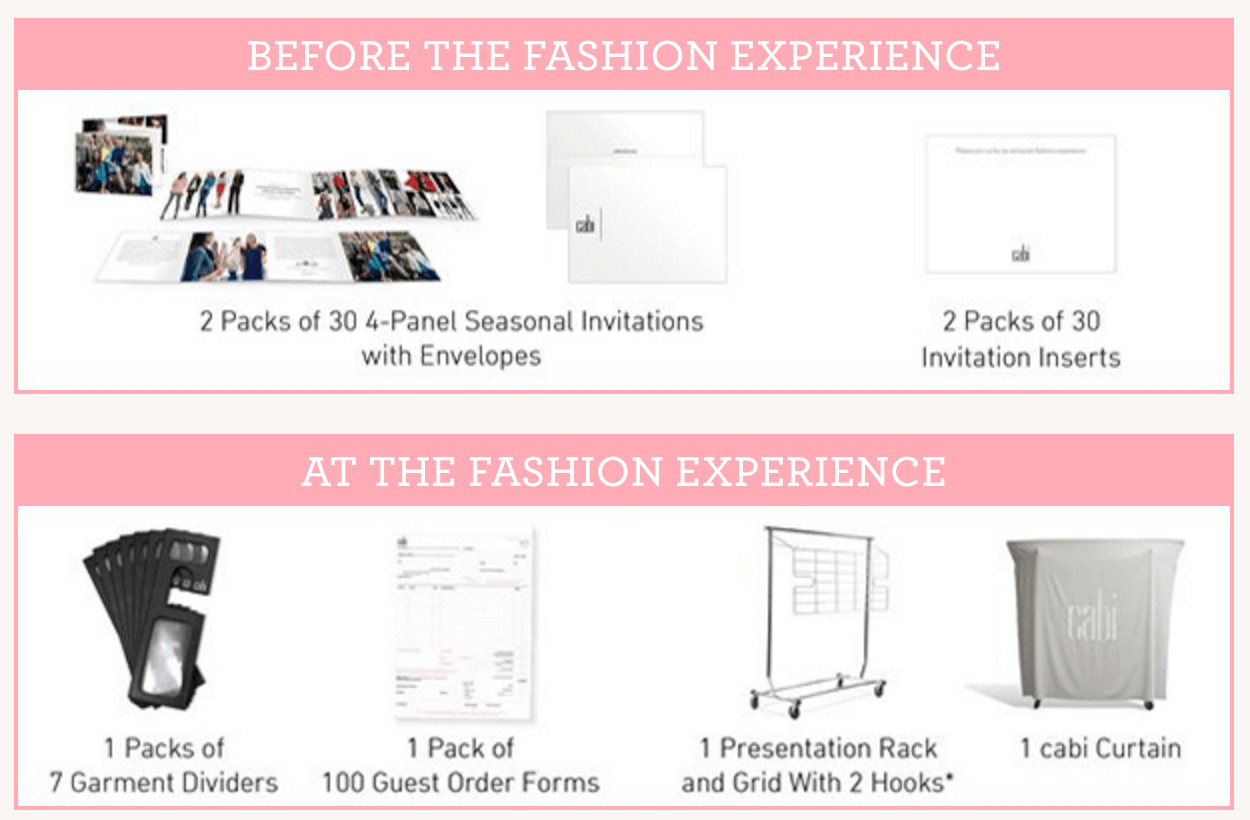 They have also a free starter kit that includes some marketing tools, such as a Cabi curtain, garment dividers, rack, order forms, invitations and envelopes, and invitation Inserts.
They also give you a personalized website that people can visit to see Cabi Collection, learn about the latest styling tips. While providing you with a site, Cabi puts some restrictions on your activity. They don't allow you to promote their products via websites like eBay or Amazon.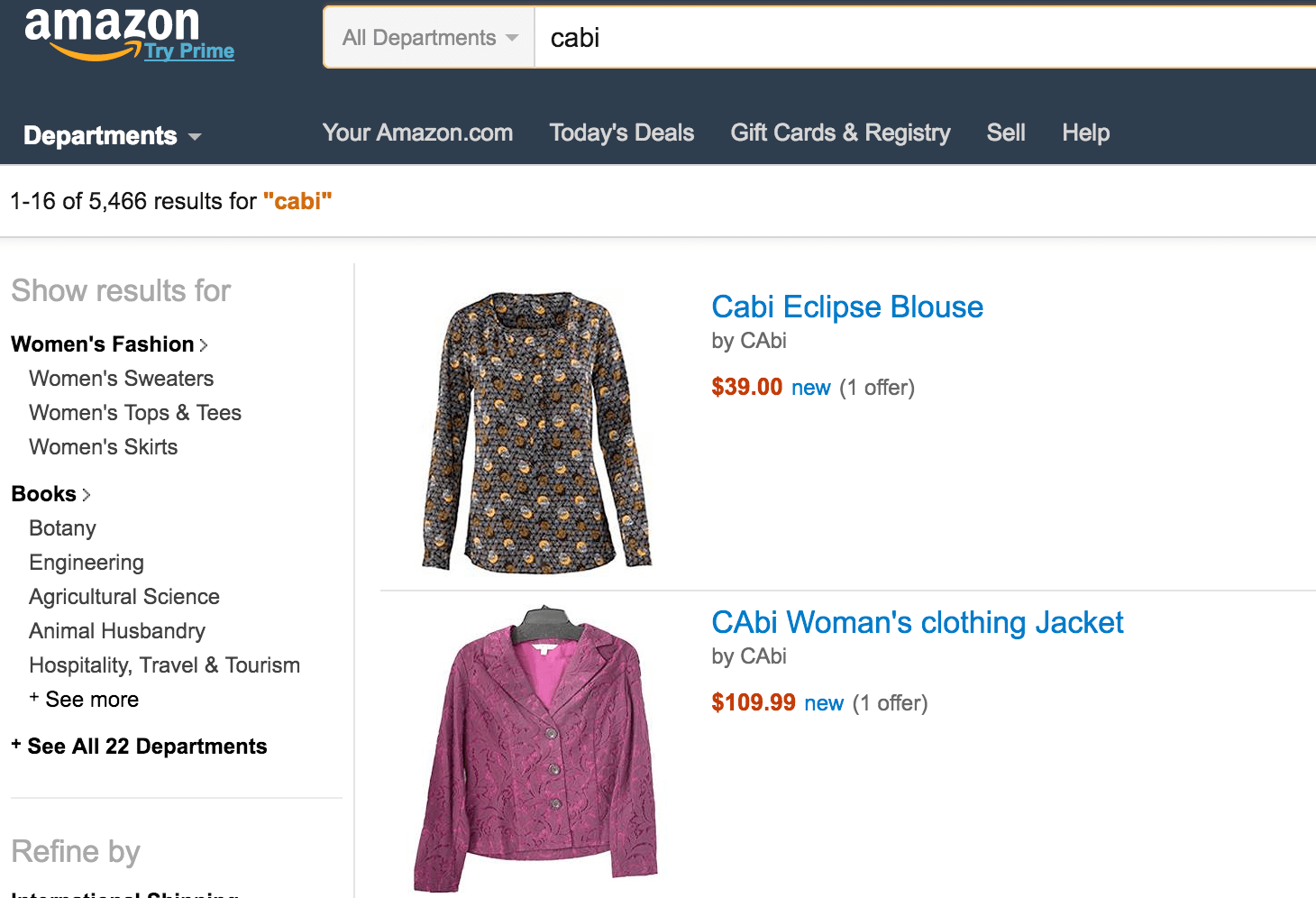 An interesting fact is that if you visit those sites you still can find Cabi products there. Anyway with these restrictions it will be really hard to sell Cabi products. I think the fact that they give you a website is not a big deal because what are going to do with that website?
Do you know how to promote it in online space, how to drive traffic (visitors) to your website and how to convert them into buying customers? Do you know?
If not and I guess you don't, there is no much sense in giving you this so called website. Plus, Cabi team doesn't teach you how to promote a website in online space and you have to find some other programs that will teach you how to do it and you have to pay for it.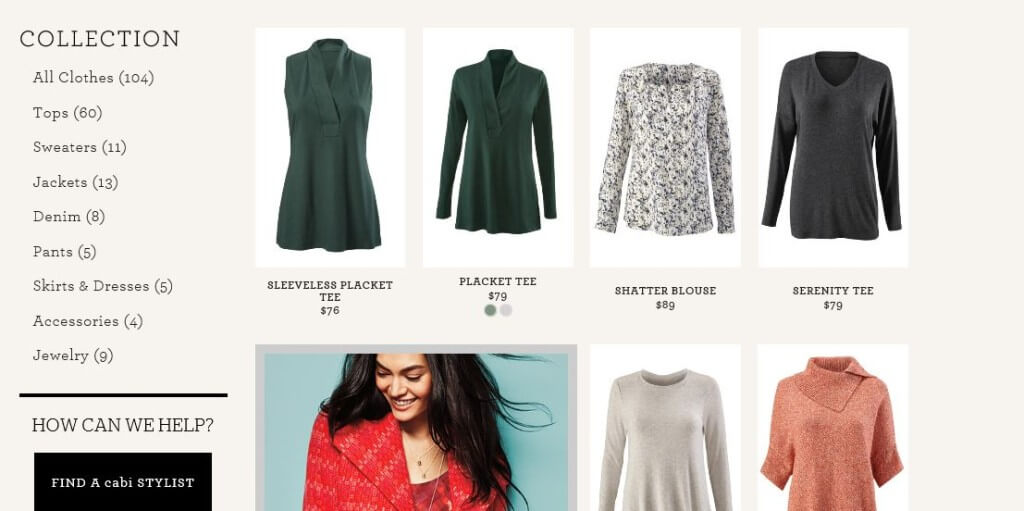 Cabi products:
Cabi Tees, Cabi Blouses, Cabi Tanks, Pullovers
Cabi Sweaters
Cabi coats
Cabi Jeans
Cabi Pants
Cabi Dress
Cabi Accessories
Cabi Necklaces
Cabi Bracelets
Cabi Jackets
Cabionline compensation plan
As a Cabi consultant you earn from 25% up to 33% on all Cabi products that you will be lucky to sell. There is no strong focus on your downline compared to many other MLMs which is pretty refreshing.
If you make $2500 monthly sales you will earn an extra 5% bonus commission in the first season. Then you need to make at least $3500 in sales to keep 5% bonus. 33% commission can be achieved only if you and your team can make $24.000 in sales per month.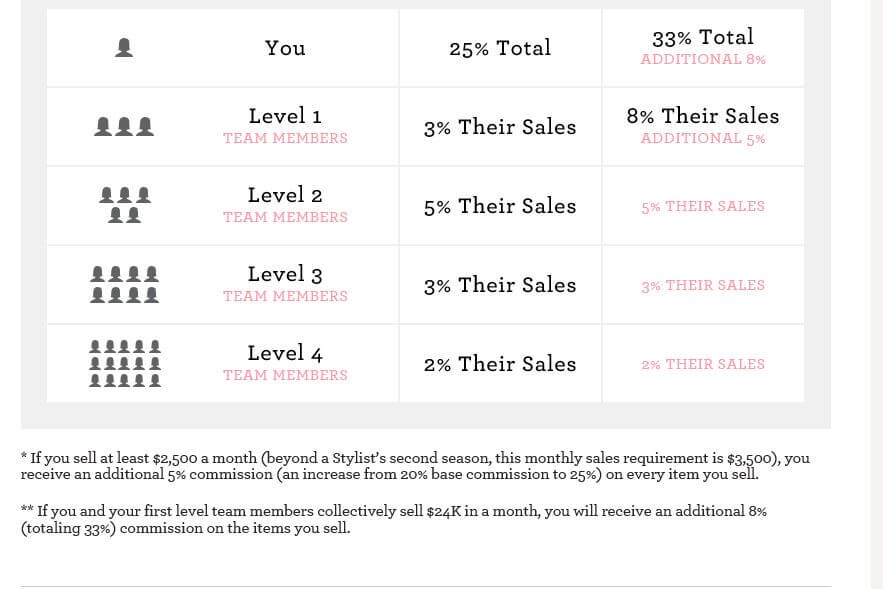 This means you have to recruit other people into the program and help them. As you understand, being successful with Cabi involves a lot of hard work and money investment. Making a few sales is possible, but making sales on a monthly basis is very hard.
It's pretty much like any other job that you can find elsewhere without spending any money. For example, compared to Cabi MLM opportunity, I have my own website and run my business completely from my home.
I don't buy any products, I don't organize home parties, I don't push any stuff to anyone. I just do some research, write my articles, put them on my website and when someone makes a purchase from my site I earn a commission.
I have 350–400 daily visits to my site and this allows me to earn a good monthly income.
There are also 4 levels within Cabi compensation plan and depending on the level you will earn a bonus commission of your downline sales, from 2% up to 5%.
Finally and in short you can benefit from Cabi compensation plan in three different ways:
1) You can organize home parties and persuade others to buy Cabi products. Is it easy to persuade others? You have to decide if you can do it or not. Make sales and earn from 25% up to 33%.
2) You can recruit other people into the programs and earn an additional bonus commission from your downline (team sales)
3) You can sell Cabi products at the end of the season for 50% off. If you can do it which is pretty challenging and sell 70% of your stock, you'll earn $3,000+.
Cabi complaints
After 5 minutes of research I've found some complaints about Cabi company and their products.
I think you really need to read them before you make your decision because there are some serious issues with this company regarding quality of Cabi products, refund etc.
Please read them carefully before investing your time and money into the program.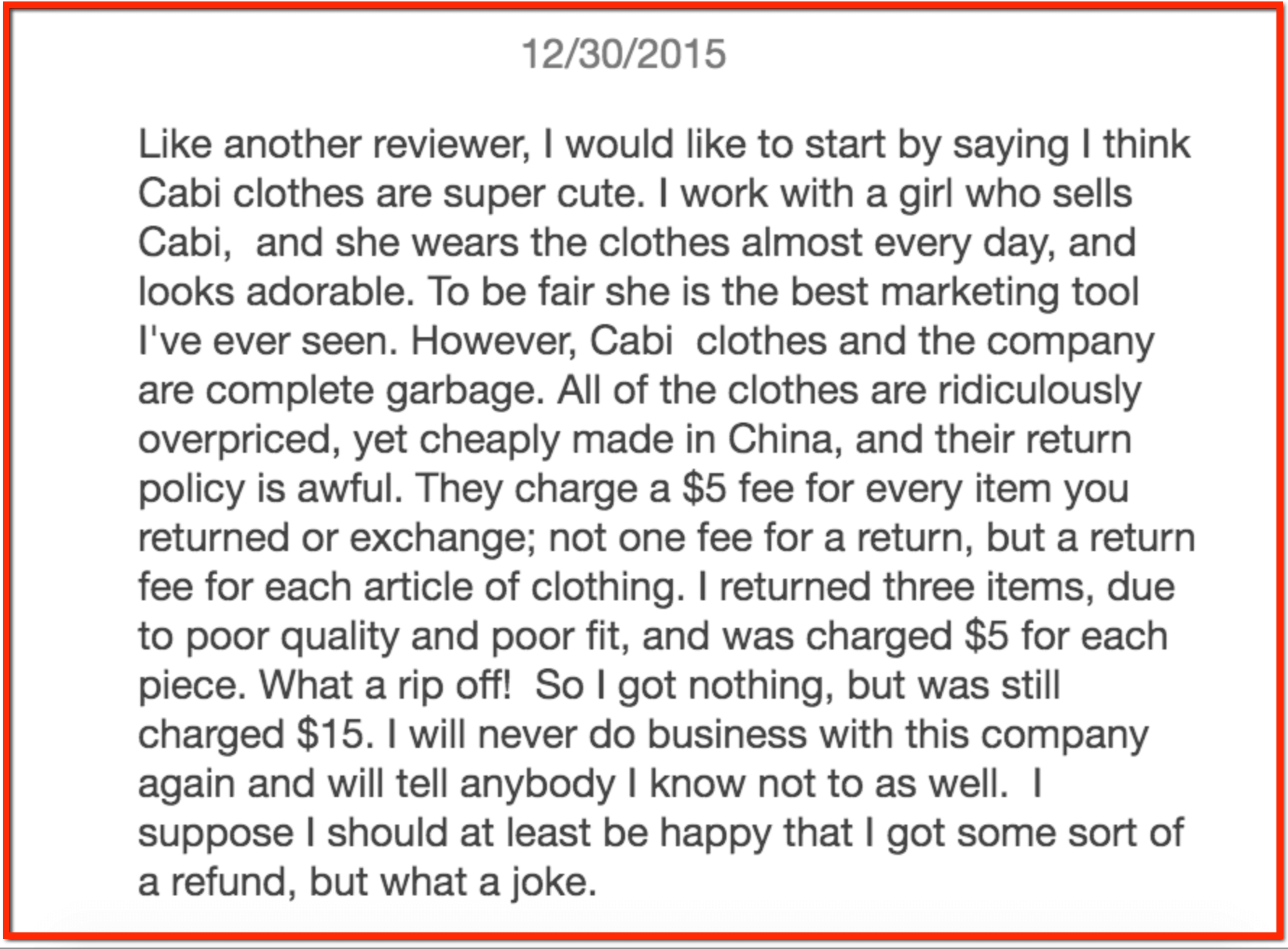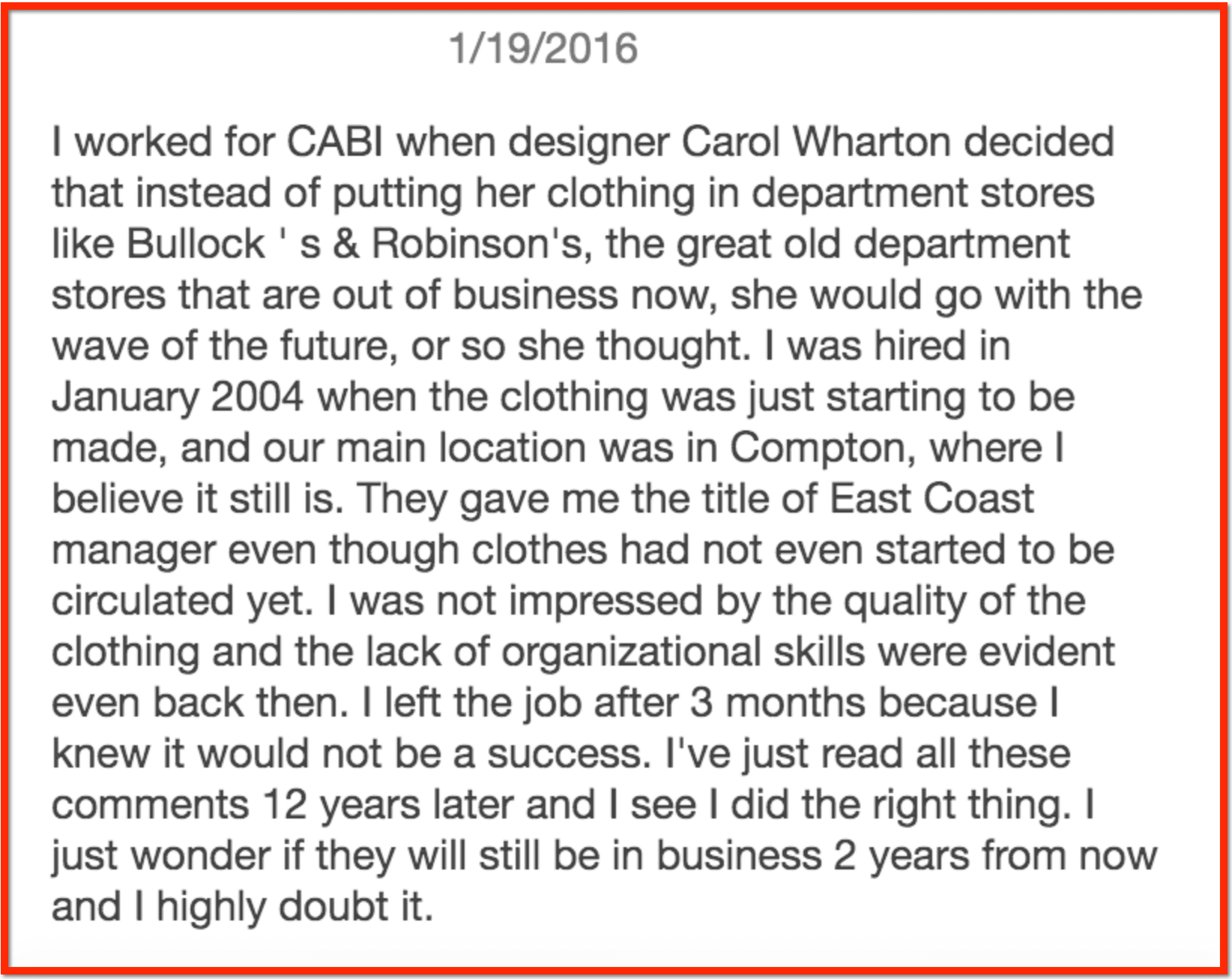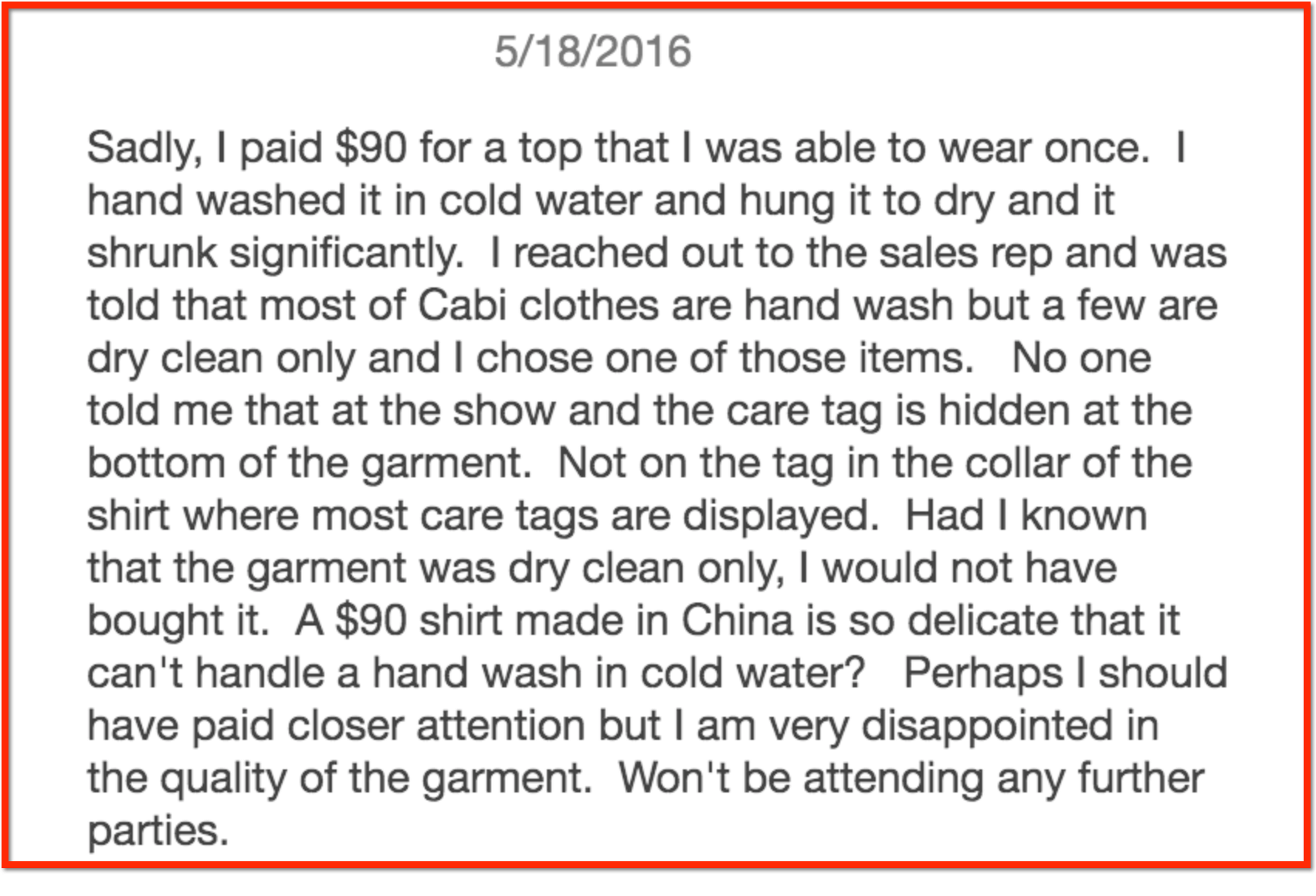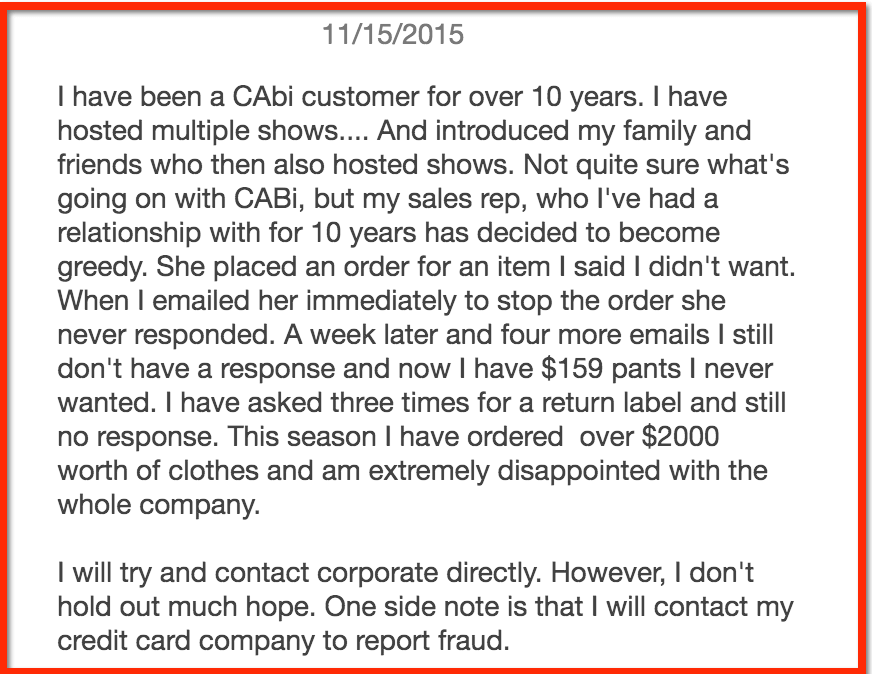 Can you really be successful with Cabi?
When it comes to MLMs, my standard answer pretty much the same – yes and no. Of course, you can be successful with Cabi like with any other company out there. But in case with Cabionline you have to keep in mind several aspects. In order to make a lot of sales you have to have strong selling skills.
If you have previous experience or a gifted person when it comes to the ability to persuade others and you are not shy to push products then go and join Cabi. I believe you can achieve a certain level of success.
You also need to keep in mind that you have to recruit other people into the program to make more money and benefit from Cabi compensation plan in the best way possible.
You need to have $2.570 to buy Cabi business kit and then sell all Cabi products in order to be profitable.
Cabi products are not cheap, their quality is not so good. There are some complaints.
And finally, in order to promote Cabi products you have to spend money while there are programs that allow you to make money by promoting anything you are passionate about (not just clothes) and make money without buying any products.
This is called affiliate marketing. You have to decide if Cabi is a good choice for you or not.
Final word on Cabionline
Cabi is not a bad program to be honest. It's a little different from other MLM companies. They pay from 20% to 33% in commission which is good and they don't allow your income to depend hugely on your downline.
But you still need to recruit other people into the program in order to make more money with Cabi. The opportunity is very limited in its nature because it's mainly focused on women who have money to spend.
Plus, to start with Cabi you need a solid budget, $2,570 in order to be able to buy Cabi Business Kit. That's a huge number really and not everyone can afford it. In fact, you're going to buy Cabi clothes with an intention to sell them. Cabi products are not cheap.
Are you really sure you can sell them? If yes, then you can definitely make money with Cabi. Go and join their team and I wish you all the best in your future business. If you are not sure, then don't do it because there is no money refund as I know.
There are also some challenges when it comes to Cabi business opportunity. As you can see from my review, there are some complaints that I've found after 5 minutes of research.
I think there are way more complaints. You really need to be careful and think twice before you decide to join Cabi.
I personally think this opportunity is not so great and you can spend your money in a much better way. There are programs out there that require much less investment while providing WAY more value, support and
ways to make money. Especially, if you are not a sales person, you should avoid programs like Cabi. You don't actually need to buy anything in order to promote it and make a commission. Instead companies are willing to pay you if you can sell their products.
And you can do it without having selling skills. You don't even need to talk to people. You can do it through your website. If you want to learn how to do it, feel free to join my recommended program at the end of my review. It's free to join.
Final glance at Cabionline
Simple compensation plan
Support
You need $2,570 to invest into Cabi products
You need to be a sales person to make a lot of sales monthly
Products are expensive
The quality of Cabi products is not so good
Complaints
Overall rank: 40 out of 100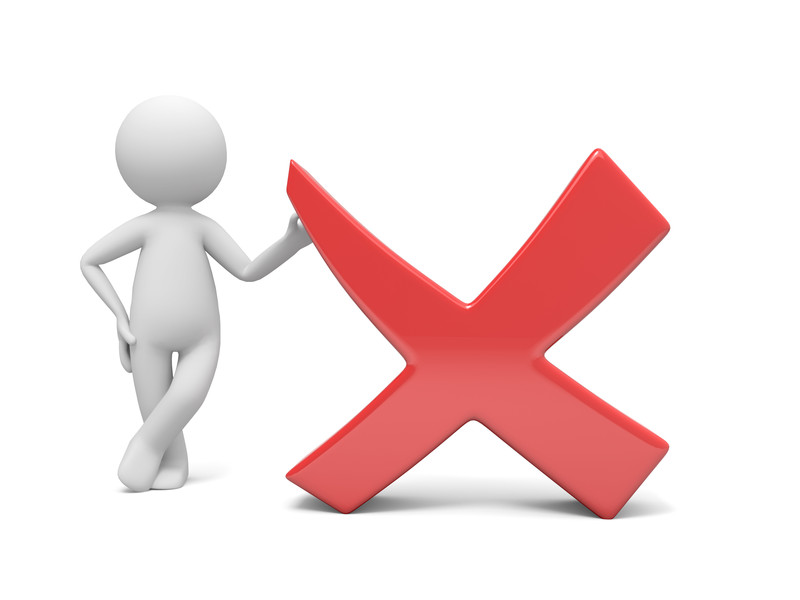 About the Author: Adam
My name is Adam. I'm the founder of Your Income Advisor. My goal is to help others succeed online, by exposing scams and reviewing top rated products. I can help you start
your own business online