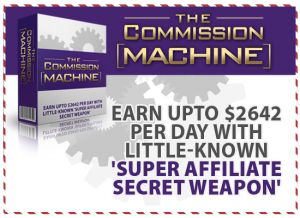 Product name: The Commission Machine
Product owner: Michael Cheney
Website: commissionmachine.net
Price: $37 + upsells $97, $197
Verdict: Legit
The Commission Machine is a program that helps you make money from your website through teaching you some proven methods in internet marketing. Once you land on the Commission Machine home page you will watch a promotional video from Michael Cheney.
What I like about his approach is that right from the start he tries to be honest with you by explaining some true facts about affiliate marketing.
He explains that making money online is not easy as many people think it's. If you have some experience in internet marketing you will understand what Michael is talking about. The fact is very often you get visitors to your site, but they don't take any action and that's really frustrating.
Michael promises to show you some proven methods how you can improve the situation by following his recommendations. He doesn't promise you money on autopilot in his video and that's really good because most of the programs that I review almost every day don't deliver on their promises. Let's take a closer look at Michael's Commission Machine.
The Commission Machine is legit. You can try it if you want. But allow me to recommend another legit program I've been a member of since 2013. It's way better than Commission Machine. And I forgot to mention that it's FREE to try. Please see the comparison table.
The main idea behind the Commission Machine
The Commission Machine is a video course that teaches you how to use email marketing to grow your business exponentially. Once you learn how to use it effectively you will be able to promote your affiliate offers much faster and easier.
The overall quality of the training is good and you can learn some proven and legit methods. Michael has some proven conversion strategies which if you use, can save you time in testing all this stuff yourself.
Pros of the Commission Machine
The idea of the training course is legit
30 days money back guarantee
Cons of the Commission Machine
Some deceptive marketing tricks
Some false promises
There are better alternatives to CM
Inside the program
1. As I told above, the overall quality of the training is really good. The same I can say about quality of the videos. When you watch his videos you feel that this guy knows what he is talking about.
Each video includes a powerpoint presentation and also each video is a over-the-shoulder experience which is very helpful when it comes to learning things you have no clue about.
The price is $37 and it's affordable to most people and in my opinion the Commission Machine is well worth the money you pay for it.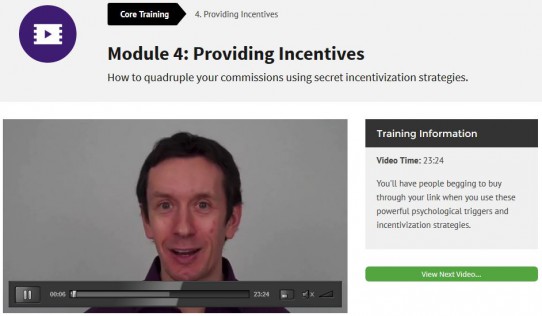 2. Inside the members area you will get access to the following modules:
Module 1: introduction
Module 2: research (finding profitable affiliate products that convert well)
Module 3: angle (writing an effective promotional message)
Module 4: Providing Incentives (Incentivization strategies in order to get your visitors to take action)
Module 5: Messages ( Writing short yet effective messages to increase click-through rate)
Module 6: Deploy ( Affiliate promotions)
Module 7: No List Method (building a list and monetizing it via social media -Facebook)
Though the Commission Machine is worth the money you pay for it, some of the videos are really short and instead of showing you the exact steps you need to follow or take, Michael gives you general recommendations which is not so practical. That's why, you shouldn't expect to get answers to all your questions if you rely solely on this course.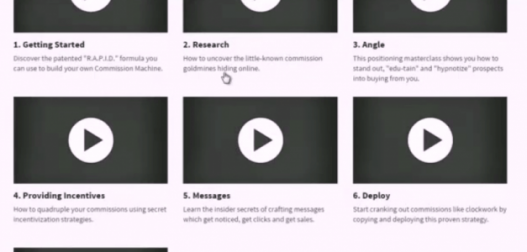 3. Compared to Autoresponder Madness (the best email course on the web that I know), Michael is mainly focusing on teaching you how to find a product (affiliate offer) and then write an effective email to promote your product and get the sales.
He doesn't explain anything about building a list (getting subscribers) or how to drive traffic to your website which is really bad.
This is bad because before promoting a product to your readers you must know HOW to build that list (subscribers), HOW to build relationships with them, HOW to gain their trust and then and ONLY then you can send them your promotional offers from time to time and possibly make money.
Without traffic you simply can't build a serious business online because traffic is the key. Traffic means visitors to your site that come to read your content or subscribe to your email list.
If you don't know how to drive traffic to your site or advertised offers then it means you are wasting your time.  This means though Michael Cheney's training is good  you can't make any money with it because he doesn't explain how to drive traffic to your website.
4. Michael doesn't explain how to set up a website or a squeeze page and add an opt-in form or how to use an autoresponder on your site which is very important. Without this information you are going to look for some other courses on the side and probably pay money again.
5. Another thing that I don't like is that once you've created your account and submitted your email to Michael, you are going to receive tons of emails every day with different promotions and the main idea is to push more products (upsells) on you.
I personally don't like such spammy methods and I think you too. To be honest, it's annoying and if you continue receiving all his emails you will end up either unsubscribing or buying one of his upsells.
6.Throughout all his training material Michael shows you examples of his own successful campaigns which is a bit misleading in my opinion.
If you are new to internet marketing, you MUST understand that if Michael or someone else shows you their bank checks with 5,6 or 7 figures and tells that once you follow their recommendations, you will make 7 figures too, it doesn't mean that you will make any money at all. This is not true!
Just as an example, two websites in the same niche with similar content and similar offers can convert very differently. There is no guarantee that you will make money at all.
It's true that if you follow the right program, the right training and apply steps properly, you will be making money. BUT how much? That is another question and there is no guarantees.
7. Another thing that I don't like about Commission Machine is that once you are inside the members area, Michael is going to throw another his product on you which will cost another $200. Then, you will be offered to buy a product called iPro. Also, you will be offered to buy another product for $197.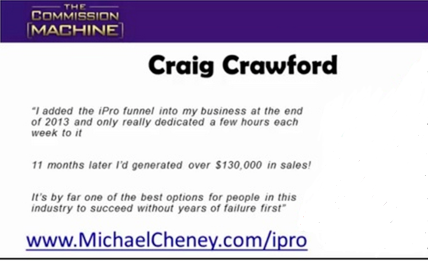 To be honest, I don't like the idea of done-for-you-money-making-machine or everything done for you using Michael's proven formula type of products simply because it's not going work or happen. If it was so easy then everyone would be making money instead of working 9–5 job.


8. Another thing that I don't like about Commission Machine is that the whole course consists of videos only. Michael doesn't offer any text guides. The disadvantage of this method is that if I need something I have to take some notes instead of just bookmarking the info. This seems to be a bit annoying.
Final word on the Commission Machine
Despite all the flaws Michael's Commission Machine has, I can say that the overall quality of the program is really good. It's a good fit for anyone looking for an email marketing course and wanting to get better conversions on their websites.
But there are some upsells inside the members area and I don't like it. Also, there is a much better alternative to the Commission Machine, such as Autoresponder Madness.
He doesn't teach you how to drive visitors to your site which is a major con of his program. He doesn't show how to build squeeze pages etc. I think though the Commission Machine is legit it's incomplete. It's not a newbie friendly.
Some with no experience in making money online can definitely learn a thing or two from Michael Cheney but making money with this product may be hard due to some cons that I've described above.
If you are completely new to internet marketing and want to learn how to start legit business online and make money, there is no better place than Wealthy Affiliate. They have the training in place, the tools, live chat, 24/7 support and many more.
And the best part of it is that you can try the program for free within 7–10 days. Inside the members area at WA you will find tons of materials on literally any topic, such as generating traffic, PPC, email marketing, affiliate marketing etc.
This program has helped me build my very own business online and that's why I can honestly recommend this program to anyone starting online. And the owners of WA never make false promises to anyone! You can read my review below or if you have any questions, feel free to contact me and I will be happy to help you out.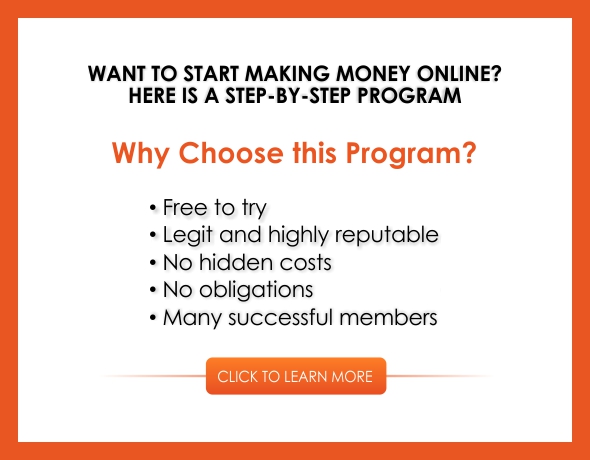 About the Author: Adam
My name is Adam. I'm the founder of Your Income Advisor. My goal is to help others succeed online, by exposing scams and reviewing top rated products. I can help you start
your own business online