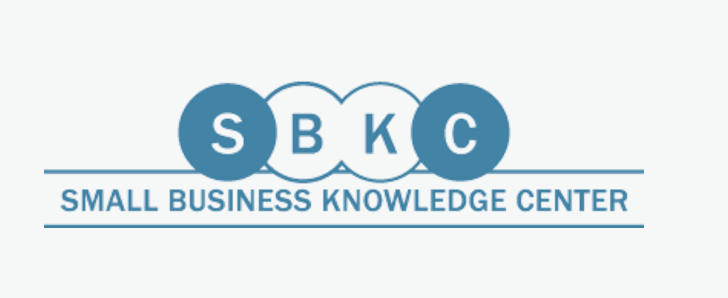 Product name: SBKC
Website: www.sbkcenter.com
Overall rank: 40 out of 100
Verdict: Legit
Over the past 2 years I wrote close to 400 reviews on different programs and sometimes I think I know about all programs available on the market and yet it looks like I don't. Some programs surprise me and one of such programs is SBKC ( Small Business Knowledge Center).
The program is not new and it's been around since 1992 which means it's legit and you don't have to worry about getting scammed again. Plus the program is absolutely free to join and there is no membership fee whatsoever.
In this sense SBKC is a good opportunity and I can confidently recommend it. But on the other hand, I can't confidently recommend it due to some other reasons that I'm going to explain in details further in my SBKC review. Keep reading because I think you will like what I'm about to reveal.
The main idea behind SBKC
As I said above, SBKC is one of those programs that surprised me compared to all other programs that I've seen so far.
Would you believe me if I say that there is a company that can pay you for sending them junk mail or email? Yes, that's true.
SBKC will pay you if you are willing to complete this simple task. It doesn't take much time and you're free to do it whenever you have some free time.

Pros of SBKC
Extra "income" opportunity
Cons of SBKC
Some complaints
Decent opportunity
You can't earn cash
SBKC overview
Surprisingly SBKC is willing to pay you for the material that you can send them. The company pays for direct mail and emails of many types.
You can join the program as producer or as a consumer. Most of us are consumers. For consumers their email address is consumers@sbkcenter.com and for producers is producers@sbkcenter.com.
Producers are mainly insurance agents and financial advisers. If you're a Certified Financial Planner, Investment/Retirement Income Advisor, you then can join SBKC as a producer and send them insurance and financial materials including Insurance, Annuities, Accidental Death, Auto, Critical Illness, Dental, Disability, Group/Individual Health, Investments, Life (VUL, Term, etc.), Long Term Care, P&C, Worksite Marketing etc.
Or if you're a consumer then you choose anything from the list below:
Insurance: Health Insurance, Life Insurance, Auto/Property Insurance, etc.
Investments/Annuities: IRA/Rollovers, Mutual Funds, 401(k), Pensions, etc.
Mortgage & Loans: Auto, Home Equity, Mortgage, Personal Loan, etc.
Banking: Checking, Savings, Money Market, Certificates of Deposit, Rewards or Loyalty Programs, etc.
Credit Cards: General Use Credit Cards & Charge Cards, Retail/Department Store Cards, Affinity/Rewards Cards such as Airline, Hotel, Alumni, Club/Association Cards, etc.
Telecommunication: Wireless (network providers such as Verizon, AT&T or manufacturers such as Samsung or Motorola), Wire-Line (Landline/Home Phone), TV/Cable, Satellite, Internet, IP/Internet Phone.
Travel & Leisure: Hotels, Cruise Lines, Airlines, Car Rental Services
As you can see, they don't need any useless stuff and you have to meet a certain criteria in order to earn SBKC rewards.
How does SBKC work? Let me explain
In fact, SBKC is a research company that studies how direct mailing affects consumers and in order to understand the effectiveness of direct mailing marketing.
They receive junk mail and emails from people like you and me and do their research. It may seem like a wast of time to most of us, but it looks like there are some important reasons to do this type of research. Basically you can earn rewards in 3 ways.
You can send them junk mail using pre-paid postage envelopes sent to you by SBKC. Each time you send junk mail you earn points that you can redeem later.
You can forward junk emails to SBKC email address to earn SBKC points. You should also keep in mind that SBKC asks you to send them recently received materials only!
They also have consumer surveys for which you can earn points too. I would say this is the most common way to make some extra income, but unfortunately, compared to other reward sites, SBKC allows you to redeem your points for gift cards only.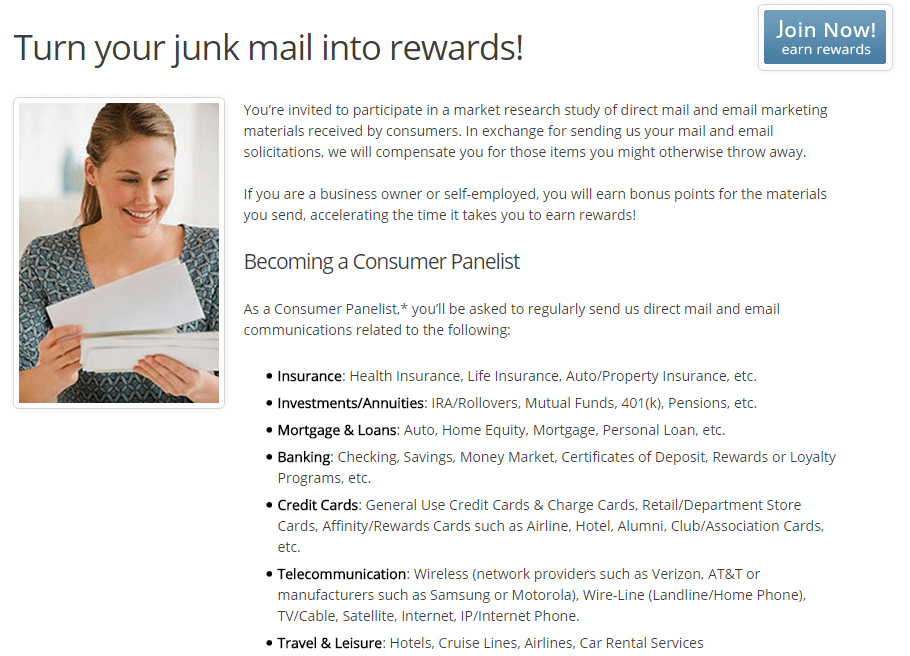 How much can you earn with SBKC?
Your earnings are limited to SBKC points only which you then can redeem for gift cards.
Around the 15th of each month you will be notified by SBKC team about how much is your balance with SBKC and how you can redeem your points.
In order to redeem points you need to reach at least 2000 points which takes time. 2000 points can be redeemed for a $20 gift card.
You can also earn 50 points for referring other people to their site.
For completing surveys you can earn 100 – 150 points.
Upon joining SBKC you will earn 50 points.
Complaints about SBKC
I did some research on the internet and all I can say compared to other similar sites, SBKC is absolutely legit. I found only one complaint and since the program has been around since 1992 I think it's awesome. You can read the complaint below that I took from BBB.org.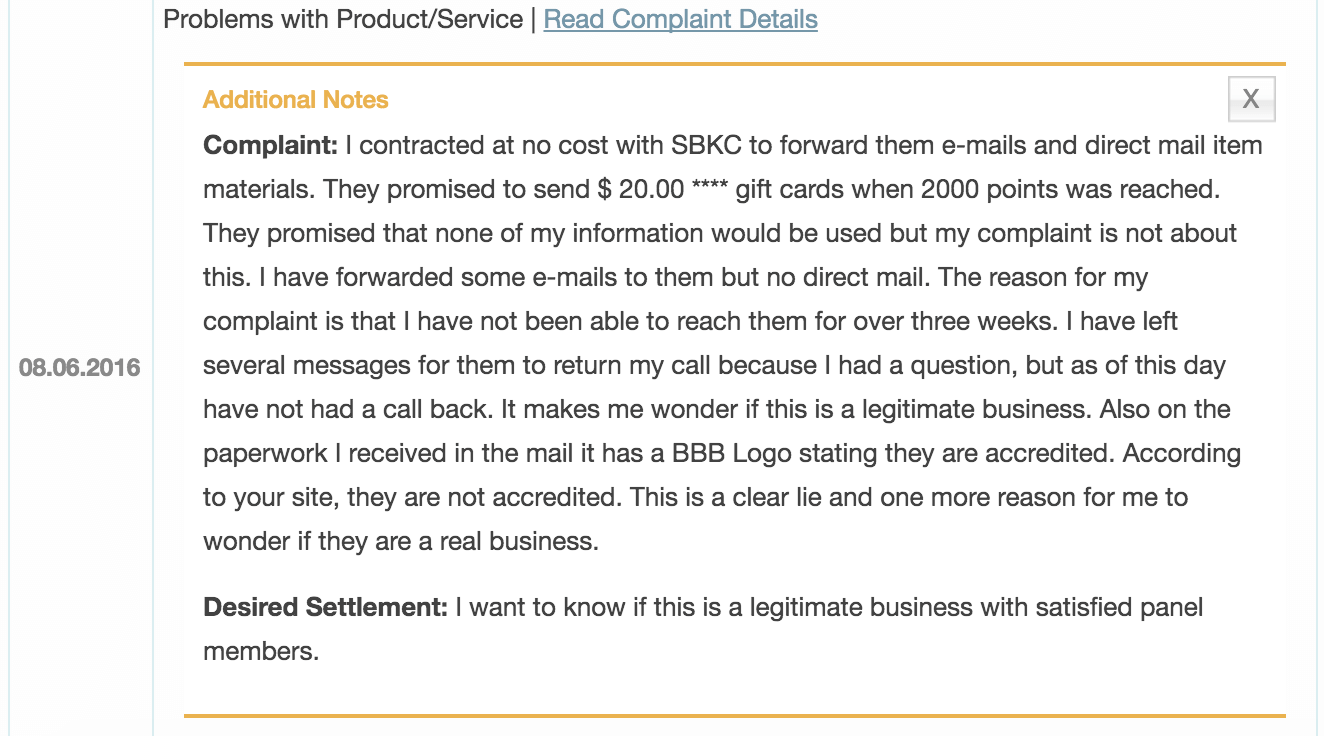 I think it shouldn't stop you from joining SBKC if you plan to do so because one complaint since 1992 doesn't mean anything at all. The only complainе that most people may have is regarding not getting paid in cash. And this is my major issue with SBKC too.
But if you have the right expectations as to how much and what you can earn from SBKC, this opportunity can be very appealing.
Who can participate in SBKC program?
Unfortunately, only U.S. residents can participate in this junk mail program which is not so good in my opinion. But keeping in mind the fact that they don't pay cash, I think SBKC is not a big deal.
Can you become rich with SBKC?
As I said, SBKC doesn't pay cash which is a major con of this program because the truth is that most people prefer cash and this is a fact. Gift cards is not the best way to get paid which means SBKC is a very limited opportunity.
I personally never use gift cards and I'm not going to waste my time because I know that I can earn cash by doing some other things related to my online business.
SBKC won't help you become rich and if you're happy with their reward system, feel free to join SBKC.
Final word on SBKC
Whenever I review programs like SBKC, i.e. reward sites, I have pretty standard verdict. My verdict on SBKC is that it's legit. My criteria is simple. If a program allows you to earn cash or get some sort of a gift card and it's free to join, the program is legit. Because you have nothing to lose.
I think it's fair enough. But from the perspective of earning a full time income or even a decent income, SBKC is not something I would recommend. My main issue with the program is that you can't earn cash here which is the major con of SBKC.
The best you can get from this company is gift cards. As you probably know, gift cards may be used at restaurants, hotels, department stores, spas and more! So, they are not useless.
I personally don't use them and that's why this opportunity is not my cup of tea. Another major con of this program is that only U.S. residents can benefit from SBKC.
I think it's because of their reward system which is through gift cards only. Anyway, I can't confidently recommend SBKC to everyone, but anyone can try it.
Final glance at SBKC
Extra "income" opportunity
Some complaints
Decent opportunity
You can't earn cash
Overall rank:

40 out of 100

Verdict: Legit
About the Author: Adam
My name is Adam. I'm the founder of Your Income Advisor. My goal is to help others succeed online, by exposing scams and reviewing top rated products. I can help you start
your own business online