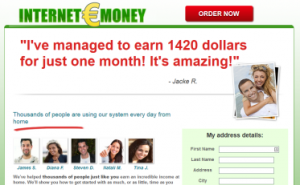 Product name: Online Salary Solution
Website: www.onlinesalarysolution.com
Price: €39
Verdict: Scam
Online salary solution is relatively new program, promising to teach you how to make money online from the comfort of your home. Theoretically, the idea is great because it offers a solution to a problem for those who have lost their job and are looking for home-based business opportunity.
Unfortunately, reality as always is different and I am going to look into this program to see if it really does offer any real opportunity to earn money at home.
The main problem with Online Salary Solution and all other similar programs is that they don't explain what you are expected to do to make money. They explain what the program is not, i.e. it is not making money with eBay, not taking surveys, BUT it is an income at home opportunity and anyone can do it without any previous experience. So, no clear explanation.
The owners of the program are trying to make you believe that thousands of people are happy using their system and they have even put the images of some of those "happy customers" on their website but there is one little problem with all this stupid advertising. They forgot to show real proofs of their statements.
And it doesn't stop there. According to some testimonials on their website, their "happy" customers are making $3500/4000 per month.
According to some sources, their program includes: Google adsense, Facebook marketing, pay per click, blogging and some secret resources 🙂  I can say that there is nothing special about it.
First of all, you should know that before you start your first Google adsense campaign you need to have your own website and steady traffic if you want to make your campaign profitable.
The same applies to Facebook networking. Pay per click is a different story. You need to try and fail many times before you master that art. If you really want to master PPC art read my Traffic blackbook review. Blogging is about creating a blog with unique content, driving traffic to that blog and making money.
This will require time, hard work and patience. If you want to learn that art, then I can honestly recommend you the best place on the web. Read my WA review.
The price for this program is €39 which is quite affordable but it is not so much about the price you should care at this point. The problem is that they don't give any details about their program. From my experience, I can say with full confidence that it is the first red flag to stay away from it or any other similar program.
Many complaints and low trust rating
There are many complaints about this program across the web. I checked their website at SCAMADVISER and here is the result I've got.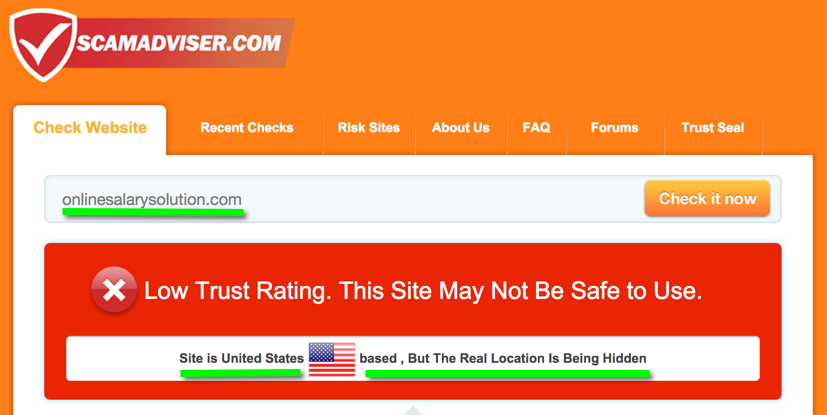 Pros of the program
I appreciate their desire to help people who have lost their jobs.
Cons of the program
No mention of what the program is and what you are expected to learn or do
There is no mention of how much it will cost you, until you give them your personal information
False claims of high earnings with no proofs
Many complaints from "happy" customers
No opportunity to ask a question via their contact form before you buy their "awesome" product
It seems that their "great" offer is valid for people living in UK only. According to some sources they provide 90 days money back guarantee but I haven't been able to find any confirmation to that.
And even if they provide this guarantee, it doesn't mean that you can get refund like with many other similar shady programs. Most probably you will not and the reason is that there are many complaints from their "happy" customers.
My final word on Online Salary Solution
Finally, I can say with full confidence, that you should stay away from Online salary solution due to the many negative sides of the program and complaints that I've mentioned above, and I can't find a single strong argument in favour of this program.
If you are interested in building a real business online I can honestly recommend you the best program on the web known for its best training, tools and support in the world. And the best part of it is that you can join that program absolutely for free.
And it is not the end of the story. You can go through first 10 lessons of their certification course for free. Actually they helped me to build my business and this very website.
If you decide to stay at WA and get unlimited help and support you can upgrade your free account to a premium (highly recommended).
For more information read my review of the WA below. If you have any questions, feel free to contact me and I will reply shortly. Or leave your comments below and we will discuss it further.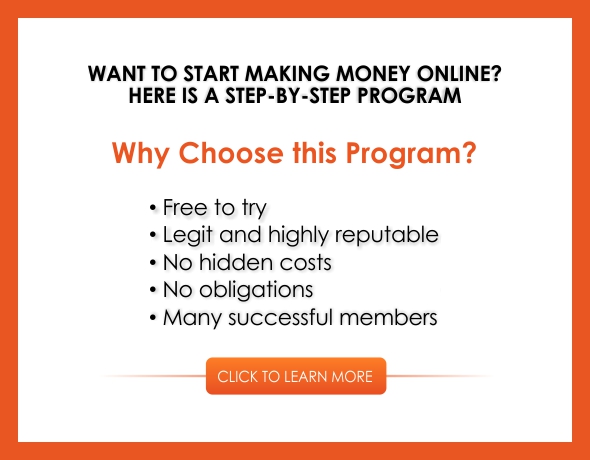 About the Author: Adam
My name is Adam. I'm the founder of Your Income Advisor. My goal is to help others succeed online, by exposing scams and reviewing top rated products. I can help you start
your own business online