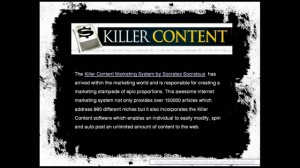 Website: www.killercontent.com
Price: $47/$37
Verdict: Legit but not recommended
Killer content system is a program that not only I, but most successful internet marketers that know how internet marketing works, hate due to the way it is presented.
In my view, anyone who owns a program and TEACHES people how to make money online, should follow ethical guidelines first, and be very accurate in regards to the techniques explained in his training material.
As I said, I hate the way it is presented and if you visit their website you can easily notice that it absolutely doesn't make an impression of a serious program. The problem with this program is that it promises to build a website for you within a few minutes and you will start making money immediately.
Please be aware that it is not true because you need to learn certain skills to be able to make money online. The owner of the program Socrates Socratous tells in his promotional video that he was poor and then invented a perfect system that allowed him to make millions and he finally decided to give out his money making secrets to the rest of the world.
Sounds really great! But not convincing enough, I think. Socrates promises you quick automated profit system that will work for you while you will be enjoying your lifestyle.
So, generally speaking, it is one of those many get rich quick, automated and easy money schemes available on the internet I advise you stay away from. Let us get into details of the program, and see what it actually does offer.
The good part of Killer content system
The good part of the program is that the price is cheap and very affordable to most people looking for magic money making formulas.
It offers a lot of video training materials that will help you get started.
It offers some tools that you may need to start your online business.
The bad part of Killer content system
The bad part of the program is that it does offer too many options and if you are new to internet marketing you can literally get confused easily.
Support is the weak point of the program.
There is no community with active members who can help you when you get stuck.
No free trial to be able to try the program before you buy it.
The tactics and strategies outlined in the training material are not as easy to implement as they are advertised in the video that promises easy money and automated money making system designed to work for you.
The training and tools
In regards to the tools and training, the Killer Content System offers the following:
How to easily use and profit from PLR (duplicate) content using article spinner – (an outdated technique)
How to get thousands of subscribers within a few hours – (it is absolutely not as easy as you may think)
How to double your profit from your email list – (again, it is absolutely not an easy way to start with. To be able to profit from your email list you need to learn some skills and get more experience and knowledge).
How to find a niche – ok
How to find multiple keywords fast – ok
As for PLR content it is bad and an outdated technique because of a duplicate content. Using duplicate content is not recommended at all and is not going to be effective in terms of getting high rankings for your website on Google and other search engines. Duplicate content can only hurt your site seriously.
Article spinner is the tool that helps you change content and use it as if it was your "own content". This kind of technique is not good though still used by some internet marketers.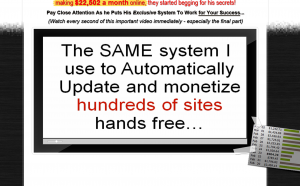 Google is a multi billion dollar company that always works towards improving its ranking algorithms. I don't think using PLR content is a good idea if you want to build a strong presence online.
Do you really think Google can't define original from PLR content? PLR content will always get lower rankings if at all, compared to hand written original content. Using spun content is considered as a black hat SEO practice and should be avoided.
Support at Killer content system
In regards to support at Killer content system, it is not a strong point of the program. You can submit a support ticket and then wait… they are not so fast to reply. That is why think well before you join the program.
Remember that to be successful online you need to join a program like Wealthy Affiliate that has a community you can get help from whenever you get stuck. Killer content system is not going to provide you with that kind of support.
Final word on Killer content System
Finally, I would like to stress again that Killer content system is not a scam because it really does help people build a successful business online. But some strategies outlined above that they use can seriously hurt your website and even destroy your entire business.
As I said, the system was designed to help you find a niche, find PLR content and publish it on your website by changing some words and phrases to make look it original.
This is going to create a serious problem for you, and your website can be even penalized by Google. The program actually fails in delivering you an automated money making system, because there is no such system existing in the world. But the system works and if you are on a very low budget you can buy it because the price is affordable.
But there are many other programs that offer more value though they are not cheap. I can't recommend you Killer Content System because it is by far not the best program on the internet.
As for the best one, I can honestly recommend you the best program that I know and that helped me and thousands of other people to build a successful online business. Read my honest review of Wealthy Affiliate below and let me know if you have any questions.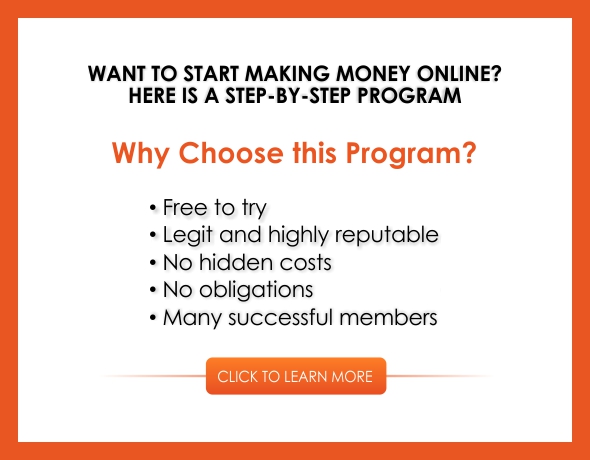 About the Author: Adam
My name is Adam. I'm the founder of Your Income Advisor. My goal is to help others succeed online, by exposing scams and reviewing top rated products. I can help you start
your own business online