Shopify
$29 - Basic package
Pros
Easy payment and shipping solutions
Many store templates
24 hours support
Integration with dropshipping
Multiple sales methods
Cons
More features will cost more money
Transaction fees
Shopify and Shopify Advanced are pricey
Not all features included in the basic package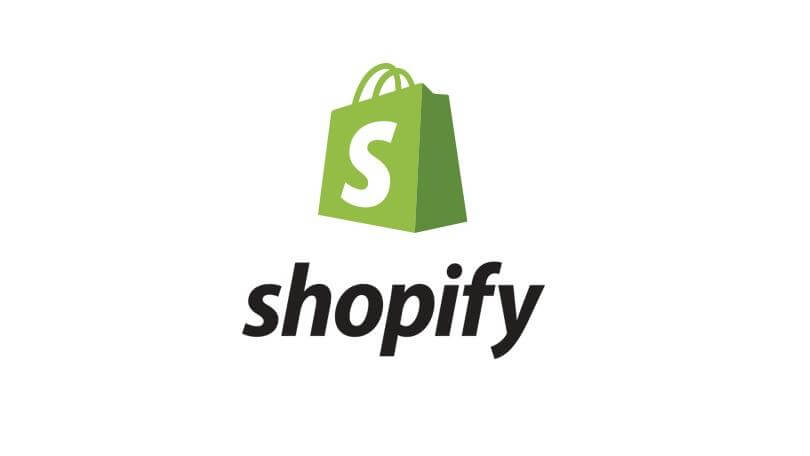 Product name: Shopify
Website: Shopify.com
Price:$29-$299, 14 days free trial
Verdict: Legit
Overall score: 9 out of 10
Shopify is one of the most popular platforms for anyone wanting to build an ecommerce business and sell products through their own website.
Shopify allows you to easily start, run and grow your business. It's a little different from affiliate site model.
I personally prefer promoting affiliate products without messing with products, drop shipping issues.
But some people prefer ecommerce model and Shopify is one of the best if not the best platform available on the market.
They have award-winning support, Shopify app store where you can buy add-on and improve functionality of your ecommerce website.
But the question is: Is Shopify worth it? Is it worth investing money in their platform?
In my Shopify review I will try to answer this and many other questions so you can decide what to do.
Shopify short review
For anyone planning to start an online store and sell products. Shopify offers several payment options and 14 days free trial.
If you are new to all this then Shopify can make your life easier thanks to offering complete turnkey solutions for your business.
Pros of Shopify
Easy payment and shipping solutions
Many store templates
Content marketing included
24 hours support
Ability to sell offline
Integration with dropshipping
Various payment plans
Blogging and SEO included
Multiple sales methods
Multiple languages
Accept credit cards Visa, Mastercard, Discover, and American Express
Automatic taxes calculation
Customer refund feature available
Digital product download available
Cons of Shopify
More features will cost more money
Transaction fees
Multilingual store will cost money
Not all features included in the basic package
Shopify and Shopify Advanced are pricey
Shopify review
Shopify is not the only ecommerce platform available on the market. There are platforms, such as WooCommerce, BigCommerce, Wix, Volusion.
As I know, Shopify is the best platform in terms of their service and support and the price is not much different from other platforms.
There are close to 800,000 active Shopify stores online. But of course, not all of them are actually profitable.
Some are just starting, others are making money. Shopify can also help you sell via Amazon, eBay or Facebook.
Shopify offers 3 payment plans:
Basic Shopify – $29 per month
Shopify – $79
Advanced Shopify – $299
Below you can see what each plan includes.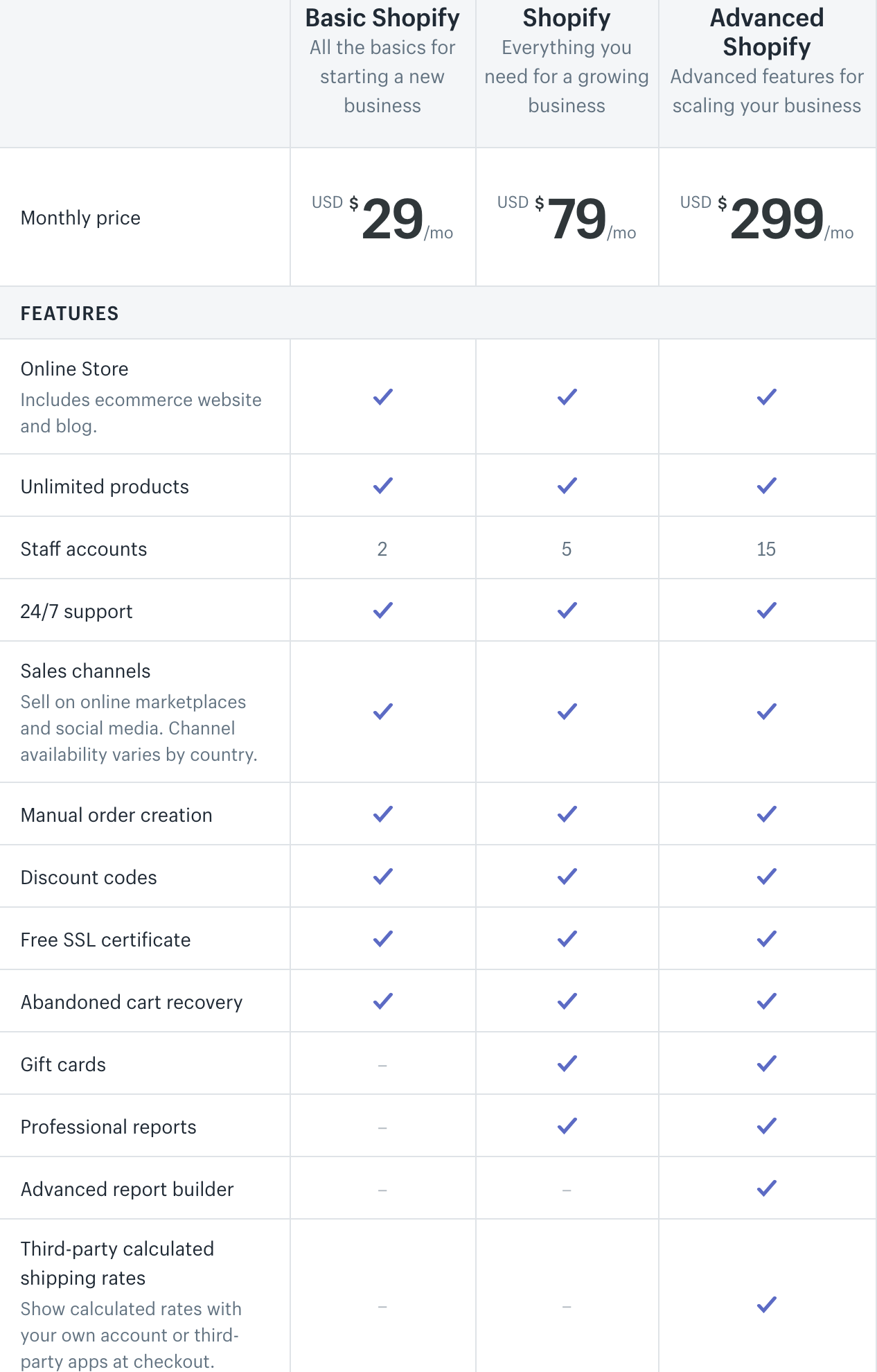 Note, two features, such as advanced report builder and third party calculated shipping rates are available only in Advanced Shopify package for $299.
Shopify also offers Shopify Plus and Shopify Lite plans.
Shopify Plus is for large businesses and Shopify Lite is for Facebook advertisers and accepting credit card payments.
Lite plan will cost additional $9 per month.
Shopify Plus will cost at least $2000 per month. If you want to avoid charges for transactions then you better use Shopify payment system.
But it's available in the following countries: USA, Canada, UK, Puerto Rico, Ireland, Australia, New Zealand, and Singapore.
As you can from the price plan above, Shopify is not cheap. It may not be for everyone. But it's worth the money you invest.
If you are new and don't want to get lost you better start with Shopify. They are leaders in e-commerce business.
Shopify ease of use and functionality – 4,5 out of 5
70+ professional themes (10 free) – 4,8 out of 5
SEO features – 4,5 out of 5
Product presentation – 5 out of 5
Ratings and feedback – 5 out of 5
Full blogging platform – 5 out of 5
Payment methods – 5 out of 5
Secure transactions (SSL) – 5 out of 5
Shipping rates and tax settings – 5 out of 5
Email notification – 4,5 out of 5
Import/export product data – 4,5 out of 5
Total score – 4,8 out of 5
Setting up a Shopify store is easy but there are some challenges and learning curve. If you are not ready for this then you better not invest money in the platform at all. On the other hand Shopify offers 14 days free trial.
There are many templates you can choose from. Some SEO features are also included so you can get search engine traffic.
With Shopify you can set up your store according to your needs. Create categories for your products, sizes, colors etc.)
Shopify also has a feature called "Abandoned cart recovery" which means you can remind your customers to complete their order if they have products in their shopping cart. I think it's a great feature because with just one gentle reminder you can complete a number of sales that otherwise would never be completed.
Ratings left by customers also play a major role in the decision making of new customers.
Shopify offers various payment options, such as PayPal, Authorize.net plus many other payment options.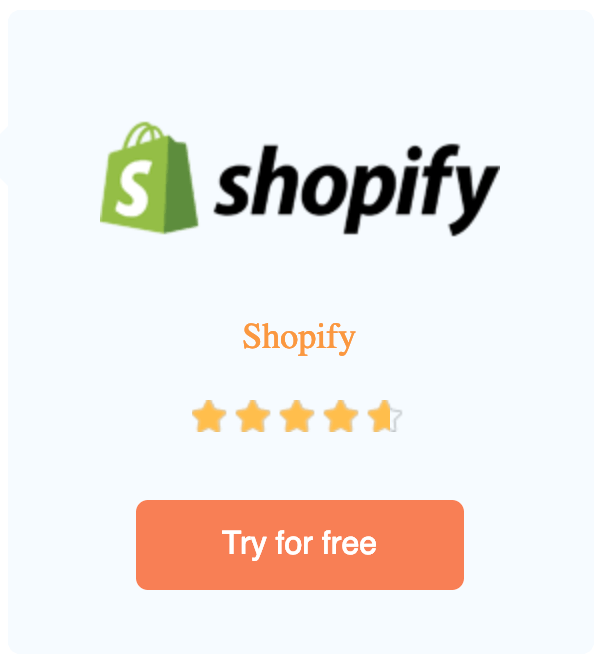 Is Shopify easy to use platform?
It's hard to say really. I don't know if you have any previous experience working with online stores or at least wordpress websites.
If you have some experience it will be easy for you to do the same with Shopify. If you have zero previous experience then there is some learning curve for you.
They have video tutorials that will make the process easier. But still you need to do the work. I think you can accomplish it within 2,3 days.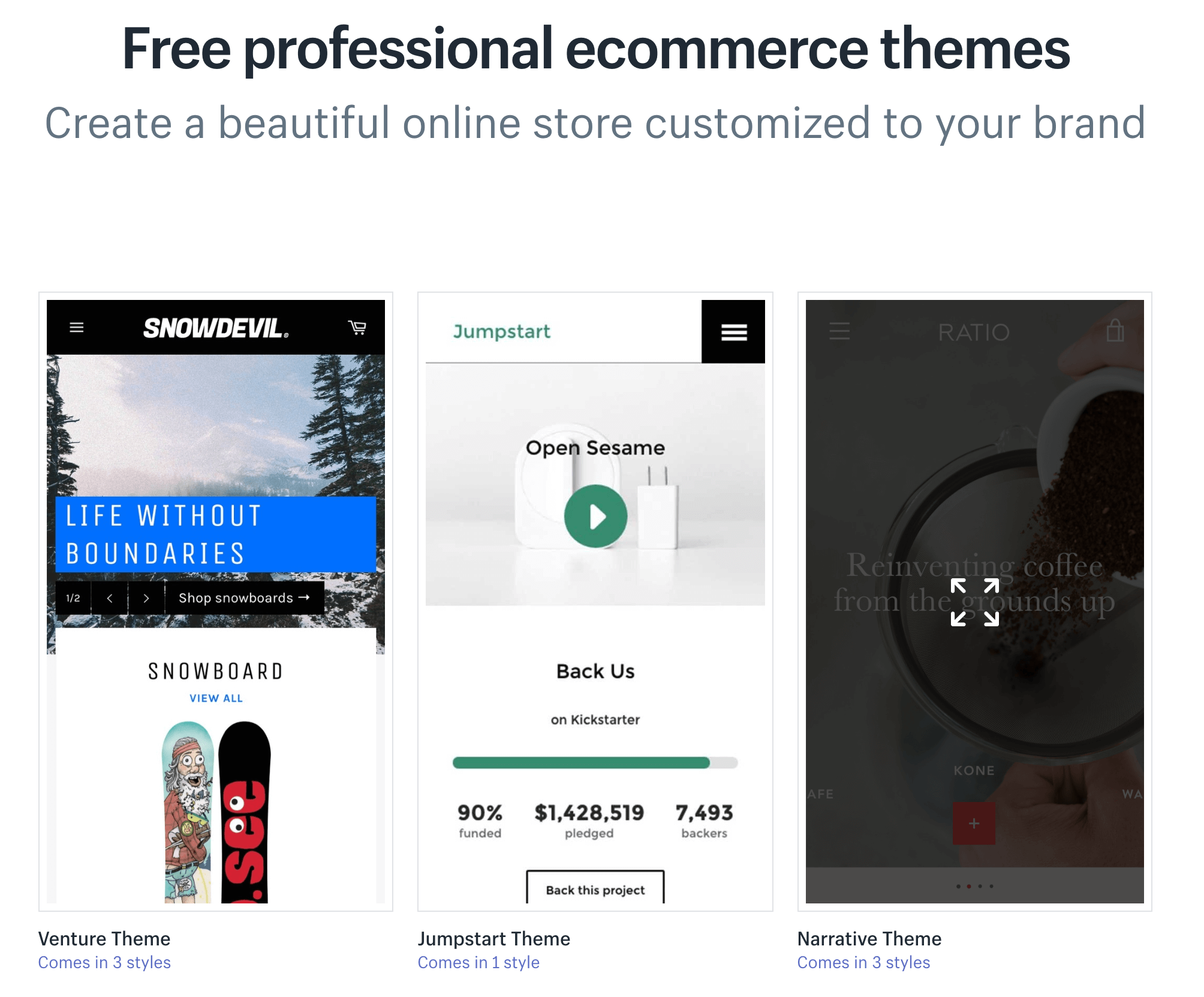 But if you have some specific needs then it will probably take one week or so. They have many templates but not all of them are free.
You can add your products or import them through CSV file. Also, you can add quantity, description, images, price or even video.
If you want to add different variations of the same product you can add only 3 of them. You can also sell digital products through your online store.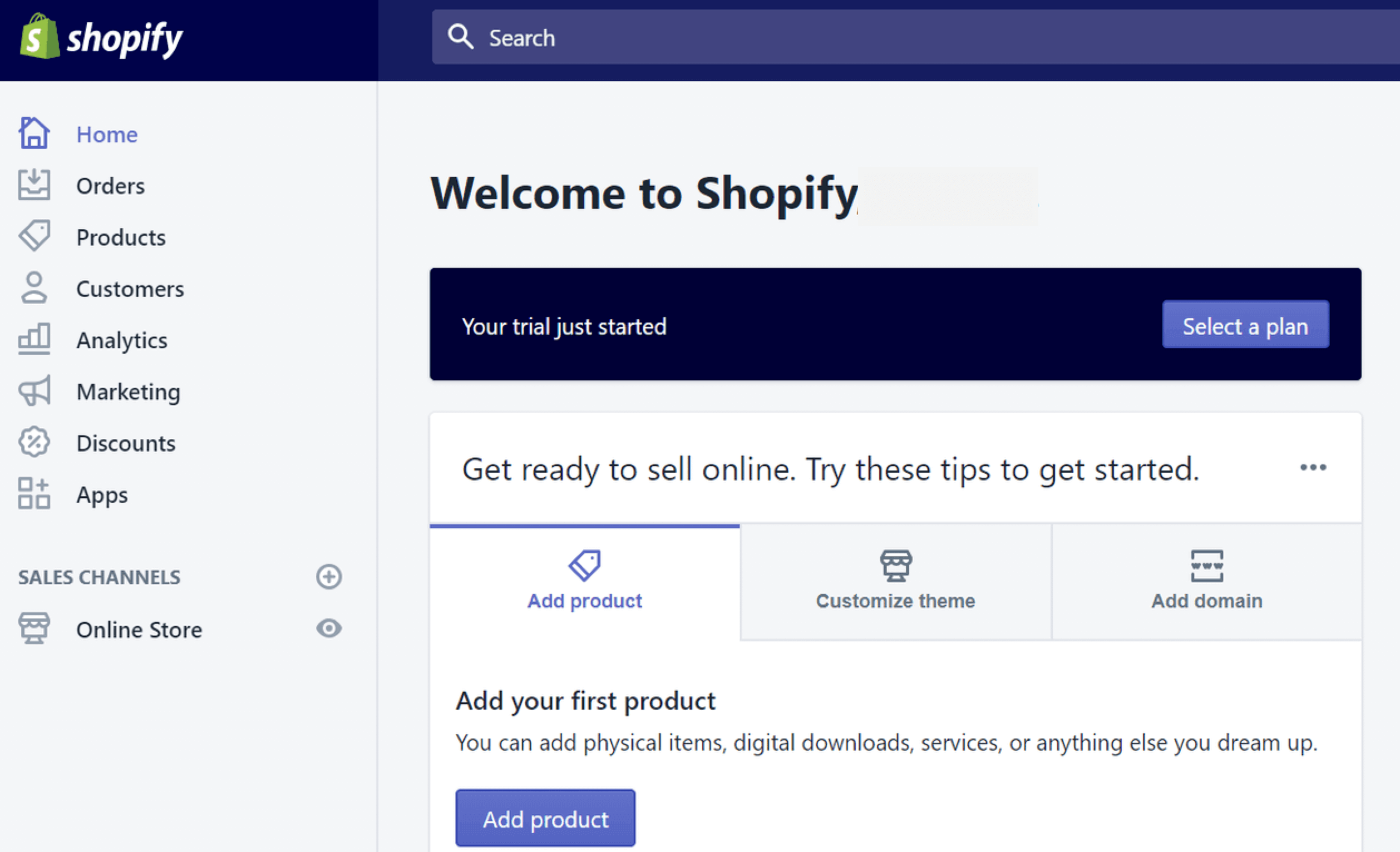 Shopify payment system
With Shopify you can integrate different payment methods including credit cards.
You can integrate Stripe, 2checkout, Authorize.net, Checkout.com, IATS payments, PayPal, Cash on Delivery and many methods.
But if you use a system other than Shopify then Shopify will charge you from 0,5% up to 2%.
That's why it's recommended to use Shopify payment system. Unfortunately, not all countries can use it.
Only these countries: USA, Canada, UK, Puerto Rico, Ireland, Australia, New Zealand, and Singapore.
Shopify shipping
When you start your ecommerce business you can't accomplish this task without shipping and Shopify is the best to help you with that.
One thing is to get the order and another thing is to be able to ship it.
Thanks to Shopify partnerships with major shipping companies you can get your orders shipped by USPS, UPS, DHL, FedEx etc.
If you plan to do drop shipping Shopify can help you with it too. Dropshipping service will be provided by Rakuten, Amazon Fulfillment or Shipwire.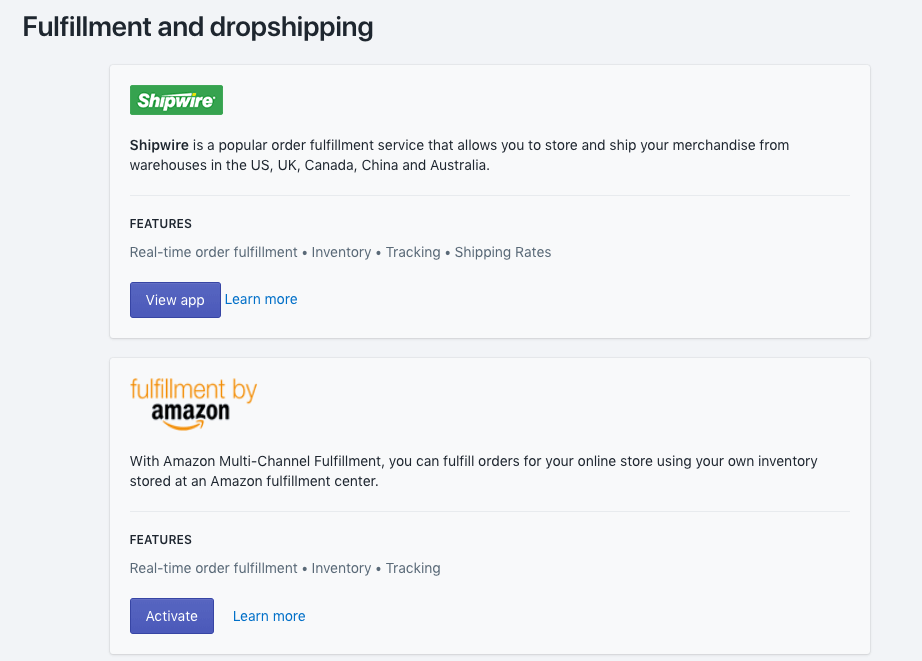 Haw can Shopify help you sell your products?
As I already said above, Shopify is a leader in commerce business. There are different ways to promote products and make money.
Shopify will help you sell products through your Facebook page, Instagram, Pinterest or Amazon, eBay, BuzzFeed, Curate, Houzz, Google Shopping.
Shopify also helps you make more sales by integrating some other features, such as discount codes.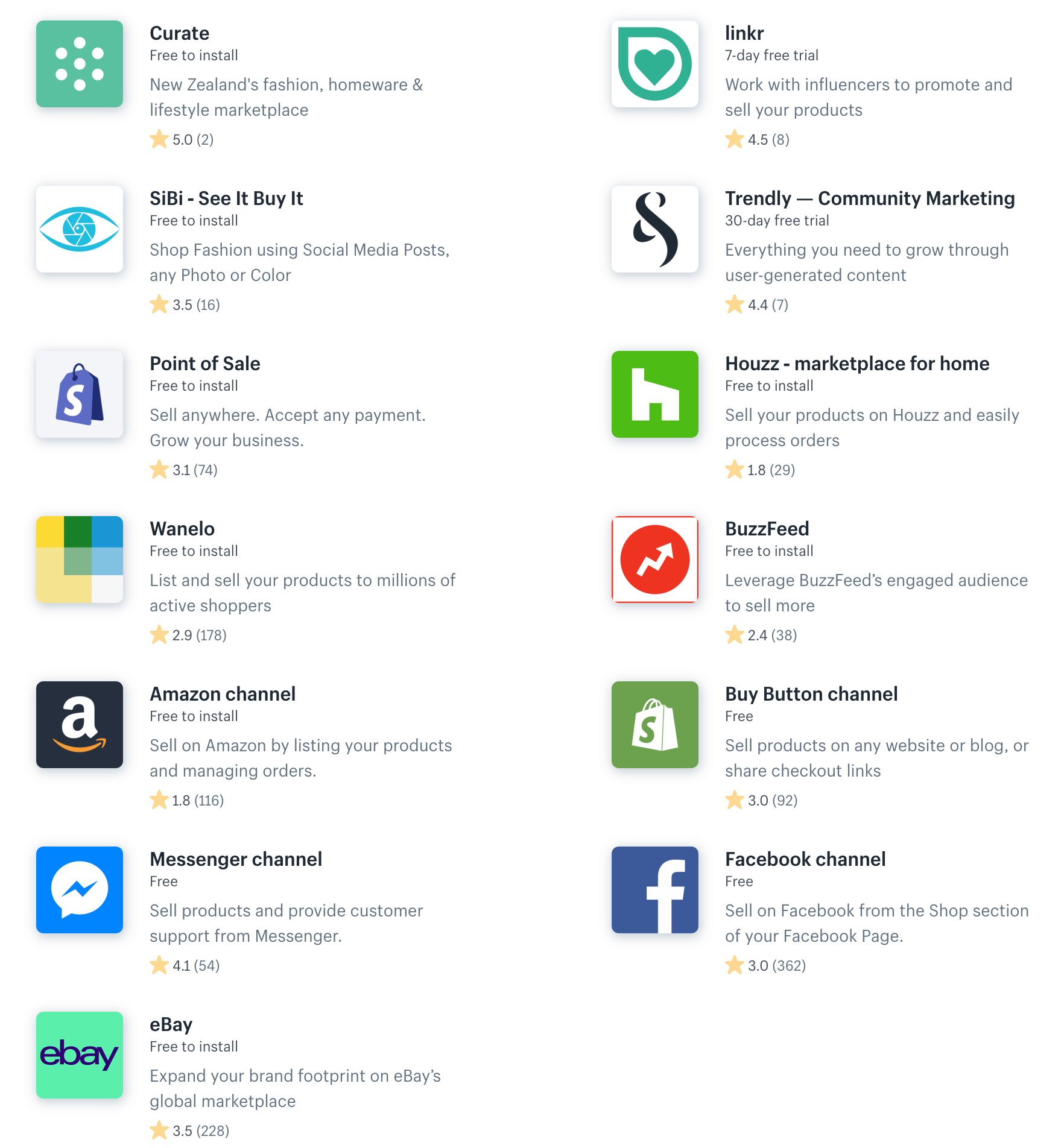 How to make even more sales with Shopify?
According to statistics close to 70% of your store visitors will not complete their purchase even after adding products to their shopping cart.
It happens to any online store, even to Amazon. I don't know maybe it's less with Amazon because it's N. 1 place in the world where people do shopping.
This strategy definitely works. You can even find bloggers on the internet who share their experience with abandoned carts and report of generating thousands of dollars thanks to this strategy.
Now you can do the same with Shopify and possibly increase your sales.
This is done by sending emails to your customers that have not completed their purchase. Some of them will definitely complete their order after receiving an email reminder.

Shopify and SEO strategy
When you start your online store with Shopify you need to focus on free methods to generate traffic to your website.
Having a great website with a ton of products is one thing. Being able to drive traffic to it is totally different.
Because without traffic your store is going to be useless. Of course, product review site is easier to rank on Google because it mainly focuses on high quality content.
Online store is less SEO friendly in my opinion and ranking it is not going to be easy. But Shopify is a leader in the field and can help you with SEO too.
With Shopify you can:
Optimize your website structure
Find the best keywords
Mobile-friendly site
Build link profile
Rank your site
With all these optimization steps you will be able to get better rankings in search engines.
Over time when you get more feedback from your visitors, interaction and comments your site will gain more trust thus improving your overall SEO positions in search engines.
SEO traffic is still one of the best traffic sources for most websites online. Though I believe blog type of sites is much easier to tank because their main focus is delivering value through quality content.
High quality content always get higher rankings that just a short description or a bunch of keywords that you add to your commerce page.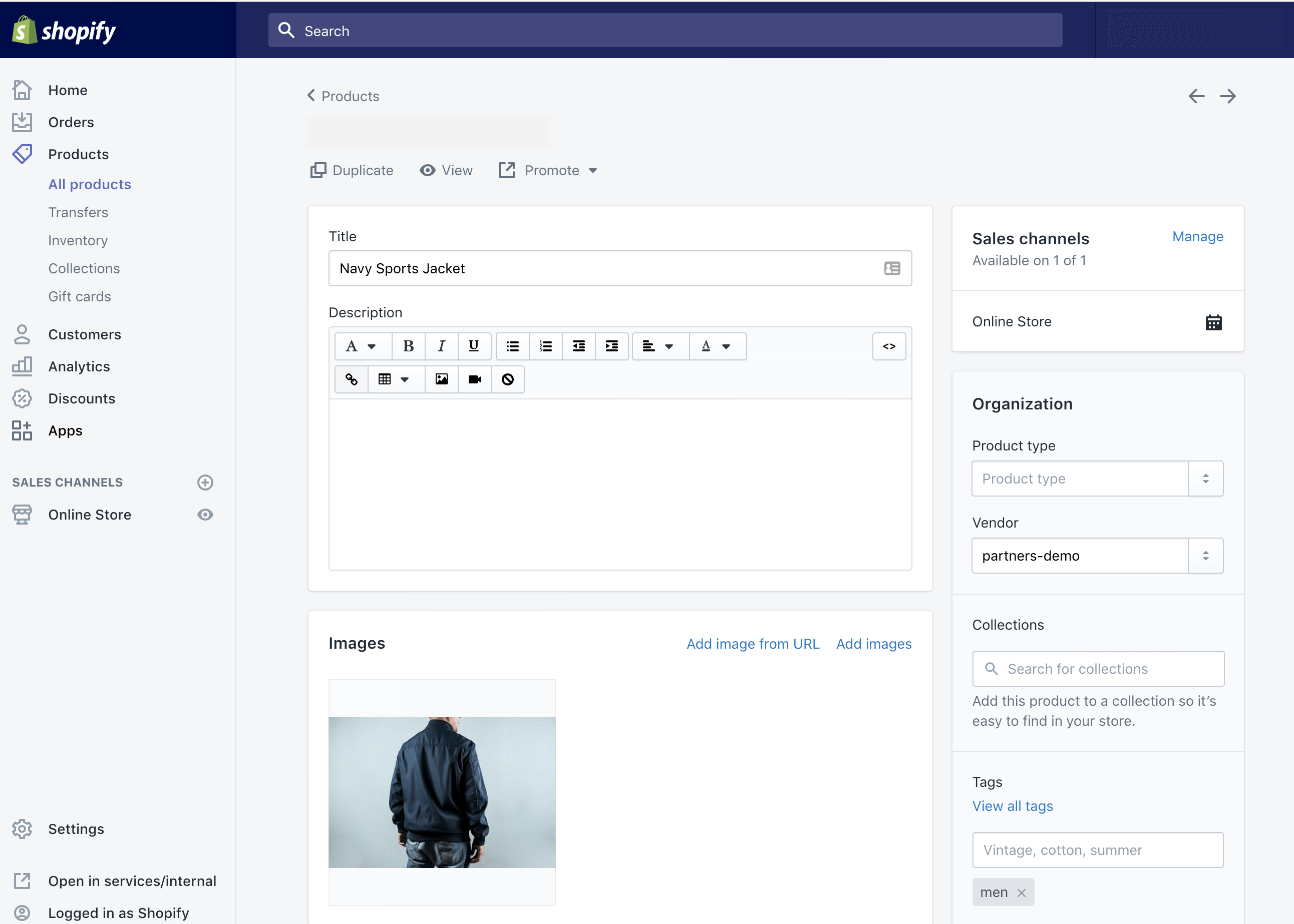 I believe blog tend to tank higher unless your online store is super popular.
Again, like I said, you should put your main focus on free traffic methods because when you start your online store you won't get many sales.
If you spend too much money on paid traffic without getting sales you will soon run out of money because you won't be able to compete with big online stores that invest thousands of dollars in paid traffic.
Your best method would be focusing on free methods through delivering more value to your audience.
An overall score for Shopify SEO is high but it still has some drawbacks, such as URL structure is not fully customizable, creating sub-categories can be an issue, content ability is limited.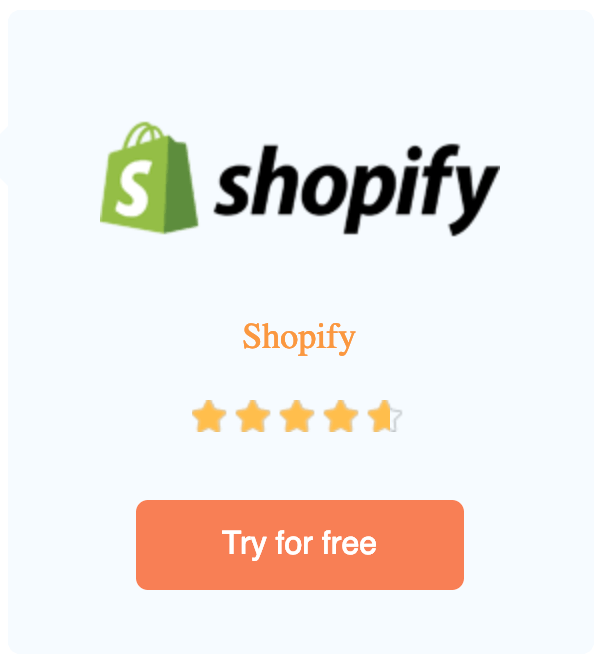 Shopify blogging system
Talking again about content strategy that is much better with WordPress sites I want to tell a few words about Shopify as well.
Shopify allows you to set up a blog and write some content for your website to get more high positions in search engines.
You can set up your SEP parameters, such as keywords, description, title.
But it comes with some limitations as well, such as editing ability, blog flexibility limitation.
The worst thing is that you can't add products to your blog posts.
But still despite of some limitations Shopify is still one of the best ecommerce platforms available online.
Shopify Analytics
Analytics is another important feature to see how your site performs and Shopify gives you most of the reports you need for that, such as acquisition report, customer report, sales report, finance report, real time report, traffic report, referral report and more.
Shopify App Store
If you have some specific needs you can get some extensions on Shopify App Store. The selection of extensions is huge. Unfortunately, only some are free.
For most of them you have to pay. The worst thing is that you have to pay monthly for those apps. At least Shopify offers a solution which is great.
If you are making money from your ecommerce store then paying $100, $200 per month is not a big issue.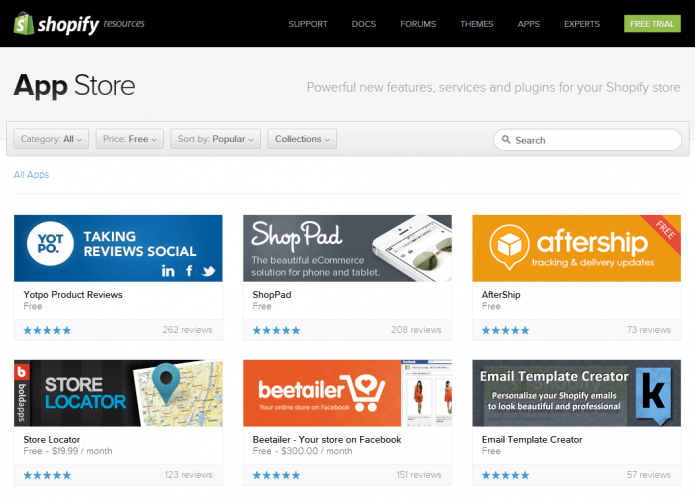 Shopify support
Support at Shopify is great. It's available 24 hours. You can contact Shopify team by email, phone or live chat, discussion forum, Shopify experts.
Compared to other ecommerce platforms Shopify is one of the best, if not the best platform.
I think before contacting Shopify team you better find answer to your question through their tutorials.
There are also some complaints about Shopify support. I don't know how true they are but there are both positive and negative comments.

Shopify Multilingual feature
If you want to have your store in different languages you can choose Langify app from Shopify App Store.
This will cost you $17.50 per month. 7-day free trial available too. It's not cheap but at least you can do it.

Is Shopify worth it?
Yes, definitely Shopify is worth it. Many users find Shopify more friendly to use than any other ecommerce platforms.
They have a huge selection of extensions that will make your business more flexible, profitable and easier. Support is fantastic. Basic package is affordable.
Despite some cons Shopify is one of the best ecommerce platforms recommended to anyone wanting to build their online store.
You are not going to make money in a day or two but you will definitely achieve your goals if you take a continuous action.
About the Author: Adam
My name is Adam. I'm the founder of Your Income Advisor. My goal is to help others succeed online, by exposing scams and reviewing top rated products. I can help you start
your own business online