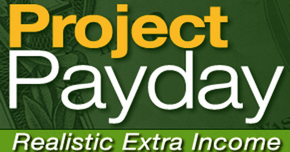 Product name: Project Payday
Product owners: Jeff Walker and Monika St. John
Websites:
projectpayday.com/home.cgi
trafficbrokers.com
Price: $4.95 – 7-day trial and $49.95 per month after trial period
Overall rank: 30 out of 100
Verdict: Recommended? Yes and No
I finally decided to write my own review of Project Payday and to be honest it was not easy at all. I spent over 4 hours only to understand what this program is all about because internet is full of controversial reviews.
Some people call PPD a scam while others say it's a legit program and you can really get confused if you decide to find out the truth about this opportunity. Jeff Walker promises that you can easily make tons of money and to prove it he shows you his real earnings in a short video on his website.
In my opinion, it doesn't mean anything because it's misleading. Most people don't even realize that Jeff spent months in order to reach those numbers. Though he claims that his secret formula is a step-by-step system that will allow you to start making money it's not as easy as most people think it is.
Keep reading because I'm going to explain exactly what PPD is all about and if it's worth your time and money.
The main idea behind Project Payday
I don't like Jeff's approach because on his website he doesn't explain what you are going to do to make money. It's a typical approach and whenever I see it I understand right away that something must be wrong.
In fact, there is no any secret in this opportunity and all you have to do is complete the tasks or refer other people to PPD in order to make money.
Once you get access to the Project Payday members area you will be able to complete trial offers and get paid for them or you can get other people to complete those offers and get paid too for referring them to the system.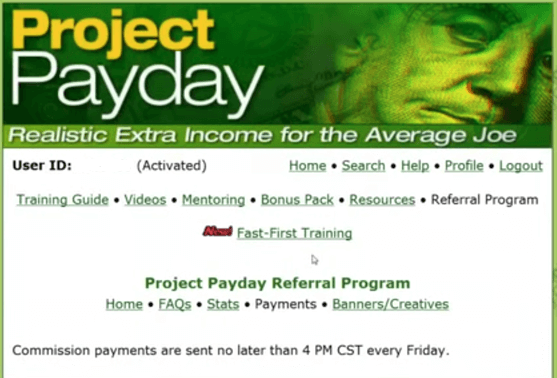 Very few offers are free and most of them are paid, i.e. you have to pay for them in order to complete them and then get paid. By offers I mean CPA offers, i.e. cost per action offers.
But since most of the offers you will find are not free I really can't call them CPA offers. CPA is very popular because you can actually get paid for taking action such as filling out a form, testing software, not actual sale. In this case the bad news is that most of them are paid.
Pros of Project Payday
Theoretically you can make money
Earnings are way exaggerated
Cons of Project Payday
Most of the offers are paid
Many complaints
Monthly fee
Tons of spam emails
Inside the program
1. First off, in order to complete offers you need to pay for them which is not always acceptable to most people and most of the companies will require your billing info, email address, phone number etc.
Two of my friends have tried PPD offers and both ended up getting tons of emails every single day. I think it's not a good sign if you receive tons of spam from a company that claims to be legitimate.
2. There are different type of offers. It may be buying a domain name and hosting, testing a device or a set of knives. A set of knives may cost you around $60 plus $10 for shipping.
Sometimes you may want to get your first set and then cancel the subscription and will find that you can't cancel it and the only way to do it is call the company.
It can really be annoying and time consuming. One of my friends after 7 days of hard work ended up earning $22.72, he got over 1500 spam emails and his credit card was charged for $68 without any notification.
That's why you need to be very careful because if you forget to cancel your trial subscription your card will be charged automatically.
3. The bad news is that project payday site is now redirected to trafficbrokers.com and their rules have changed too. You need to pay $4.95 for 7-day trial and then $49.95 per month. It's not affordable for an average internet user keeping in mind that you still have to pay for trial offers.

BTW, I tried to create a free account at projectpayday.com/home.cgi and here is what I've got on my screen. It seems it's open for people living in US only.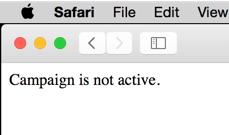 4. There are many empty promises on project payday site about the opportunity to make easy money and they show snapshots with unrealistic earnings which I think is a bit misleading and I will explain why.
It's true that PPD pays $1.50 for every person you refer to their site but in order to make a lot of money you need to send a lot of people to their site which is not easy at all.
You have to spend hours on social media sites every day in order to find someone interested in that offer. Or you have to buy traffic through PPC (paid advertising) which requires money and experience. Or you need to create a lot of content to get your pages ranked in search engines which takes time and effort.
Or finally you have to create videos and put them on YouTube in order to drive traffic to your offer. It doesn't matter how great your offer is because if you can't drive a massive and free daily traffic to your offer you are not going to make serious money. As simple as that. All this means that making money online is not easy at all.
5. While doing research on the internet I found out that some people had a problem trying to cancel their subscription to Project Payday after 7-day trial. They had to call PPD customer service and explain that they didn't want to continue with PPD and only after that their subscription was cancelled.
6. Also, keep in mind that you're not going to be paid a huge amount of money for completing offers while they are a bit time consuming. The only way to make real money is promote PPD aggressively here and there in order to bring tons of people to their site. It's possible only if you know how to drive a massive and targeted traffic to your promotional offers.

7. The truth is that some people are making money with Project Payday and those that are making a lot have been in the business for many years and if you think you can join PPD and start making thousands of dollars then I'm going to disappoint you.
Most probably it won't happen. To start making thousands of $ requires time, dedication and motivation and sticking with the right program.
8. I did some research on the internet and found many complaints about Project Payday and though I can't call PPD a scam, these complaints stop me from recommending PPD to anyone. Sure, it's up to you to join PPD or not but after reading all these complaints I really think Project Payday is not the best option out there.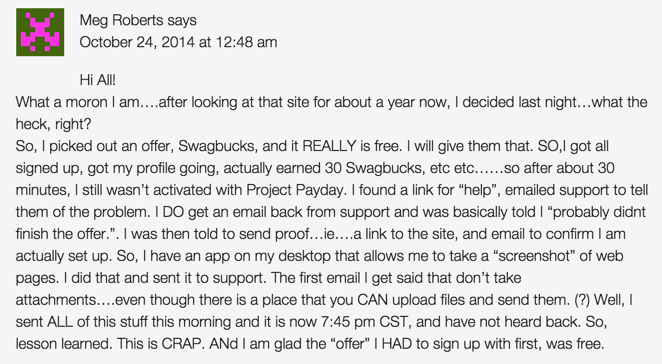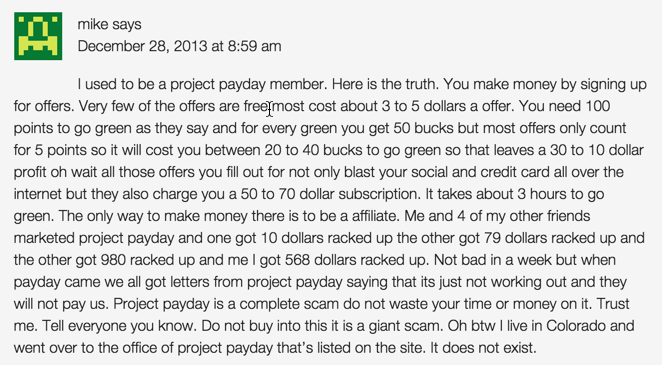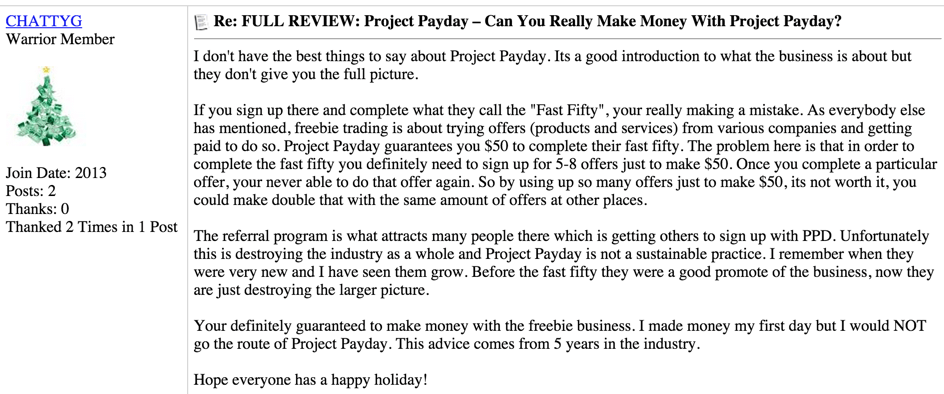 9. In fact, since most of the offers provided by Project Payday system are not free I don't think there is a good chance to make serious money here.
There are many other large CPA networks available such as maxbounty.com or neverblueads.com and many other networks and they have tons of different free CPA offers and you don't need to pay anyone for completing those offers.
Just complete them and get paid or get other people to complete those offers and you will be paid generously. For some CPA offers you can get paid as much as $20/$30 per offer. I think it's a much better alternative to a Project Payday.
10. Besides that, any affiliate or a CPA marketer knows that the only way to make serious money with CPA offers is through creating landing pages for each offer, filling it with content and driving traffic to those pages.
Finally, it all boils down to having a website and learning affiliate marketing because large CPA networks accept only experienced affiliate marketers that have a website and steady daily traffic.
The best program that can teach you affiliate marketing, i.e. making money online is Wealthy Affiliate. It's been my favourite program since 2013 and I'm still part of this program.
Final word on Project Payday
The program is not a scam though there are some red flags here. I think you should be careful and think twice before you join it. I recommend you to read my article below about my favourite program which I think can be a much better alternative to a Project Payday.
Remember that you can join it for free and still make money if you are willing to go through the training and work hard towards your success.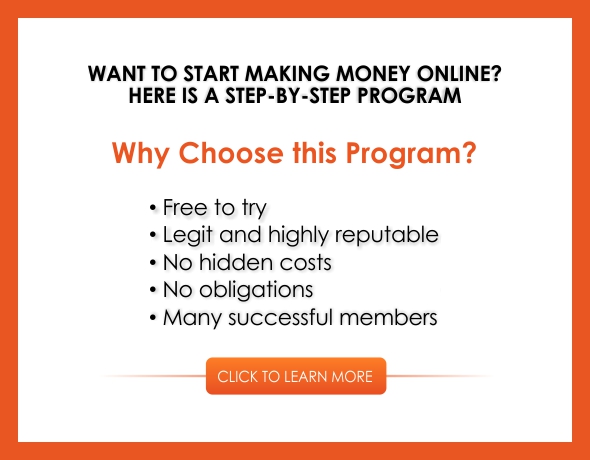 About the Author: Adam
My name is Adam. I'm the founder of Your Income Advisor. My goal is to help others succeed online, by exposing scams and reviewing top rated products. I can help you start
your own business online