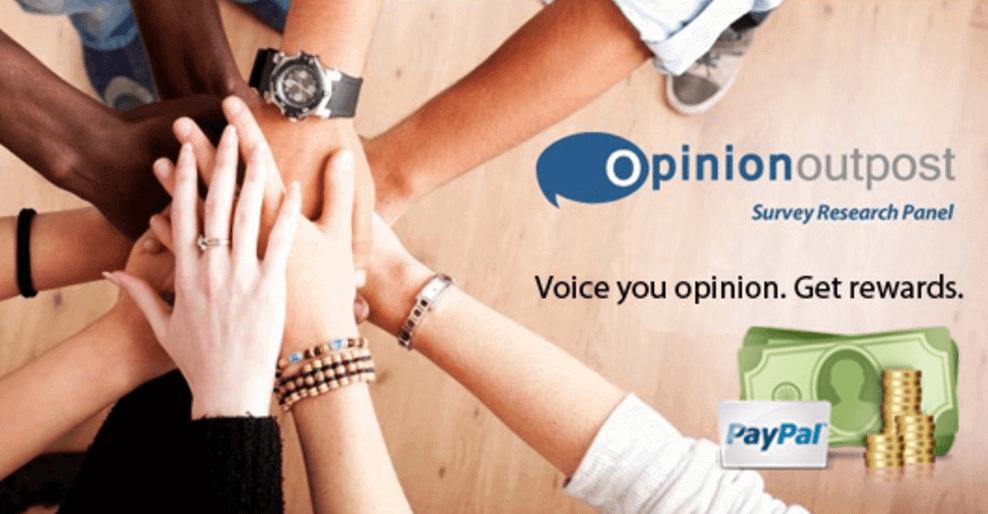 Product name: Opinion Outpost
Website: opinionoutpost.com
Price: Free
Verdict: Legit
Opinion Outpost is one of those companies you can trust and make money by completing surveys. The idea of making money by completing online surveys has been popular for some time now and though the opportunity is completely legit some people still have some doubts about it.
Those who have doubts have a good reason for that and it's because not every online survey opportunity is legit. In fact, there are thousands of them, small and big. Some of them pay for your online efforts while others don't pay at all.
Though completing surveys may seem easy and simple it's not always the case. It takes time to complete surveys, some may takes 2,3 minutes and some may take up to an hour to complete. And no one wants to waste their precious time and effort.
That's why it's really important to find out if a program is legit or not before completing surveys and in this particular case I can definitely say that Opinion Outpost is legit online survey opportunity.
But let's take a closer look at this opportunity to find out how much money you can make with it and if your effort is worth it.
Pros of Opinion Outpost
You can make some extra cash
Cons of Opinion Outpost
It may take some time to complete surveys
You can't make the amount of money you dream about
Sometimes joining Opinion Outpost is not easy
You may not qualify for some surveys
You can earn a commission for referring only five people to Opinion Outpost
Inside the program
Should you join Opinion Outpost?
You might be asking yourself: Should I join Opinion Outpost or not? My answer is yes and no at the same time. Because it all depends on your goals and expectations.
I don't know how much you want to make online, I don't know how much time and effort you're ready to invest online.
If you want to make it your main job and earn a full time income in order to quit your regular job then Opinion Outpost is not for you. If you want to allocate some of your spare time in order to make some extra cash then it's for you.


Sorry, you are not qualified
You may not qualify for all types of surveys which is very bad because you miss on many of them. The surveys that you need to qualify for are those that require from you an experience and knowledge in specific field that you may not have.
Before survey companies decide whether you qualify or not you need to answer their questions which takes time and the worst part is that you won't get paid for the time spent answering their questions. Unfortunately, this applies to Opinion Outpost too.
Number of surveys is limited
Another problem is that the number of surveys is very limited and that's why you can't complete tons of surveys in order to make a desired amount of money.
The number of surveys for which you can be paid as much as $20-$30 per survey is even more limited and you need to have certain skills in order to qualify for them. This creates the problem that doesn't allow you to make enough money by completing surveys.
Time needed to complete surveys
Some surveys are short and may take a couple minutes to complete while some surveys may take more than 30 minutes and the main problem with most surveys is that you can't make a lot of money with this opportunity.
How much you can make
In most cases you get paid a few cents, up to $1 per survey. Just imagine how many surveys you should complete in order to make $10. And another problem with surveys is that in many cases you have to wait until you reach a certain threshold in order to be able to take your cash.
Sign up invitation
When you sign up for Opinion Outpost you get an invitation letter sent to your email address which you need to confirm to complete sign up process.
There are some complaints from people that can't receive such confirmation letter and they have to contact Opinion Outpost support to complete registration process. I didn't have such problems to be honest, but some people report about it.

Not everyone can participate in Opinion Outpost surveys
Another thing worth mentioning is that not all countries are eligible to complete Opinion Outpost surveys.
When to cash out
When you complete Opinion Outpost surveys you accumulate points. When you reach 10 points you earn $1. So, it takes time before you accumulate 100 points and then cash it out through your Paypal account.
In order to not lose your accumulated points you must actively participate in Opinion Outpost surveys, at least once in 3 months.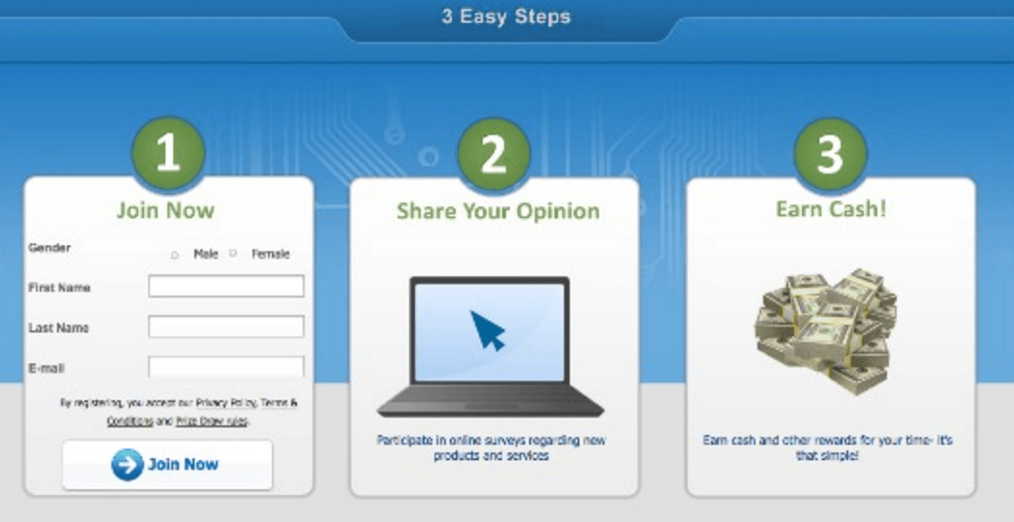 Some other alternatives to Opinion Outpost
As I mentioned above, you have to qualify for some surveys including with Opinion Outpost though some survey companies don't need you to qualify which makes the process much easier for you because you don't have to waste your time answering useless questions. Here is a list of other 25 top survey companies you can register with.
Opinion Outpost referral program
Many survey companies allow you to earn points from other people you refer to survey companies which is great. When it comes to Opinion Outpost you can refer maximum five people which of course is not good at all. I think it's unfair or at least very limited opportunity in terms of making money.
Some other benefits
I'm not sure if you need it but there are also some other benefits within Opinion Outpost, such as Amazon claim codes, iTunes gift cards. If you accumulate 50 points you can get $5 value Amazon e-gift code or get iTunes gift card.
Which surveys to complete
Another thing to keep in mind is the type of survey you should complete and one you shouldn't complete at all.
Those that are available within Opinion Outpost members area don't have much value and you don't even know how many points you are going to earn by wasting your time on them.
The best way to not waste your time is complete only those surveys you are notified by Opinion Outpost by email. This way you will save yourself from wasting your time.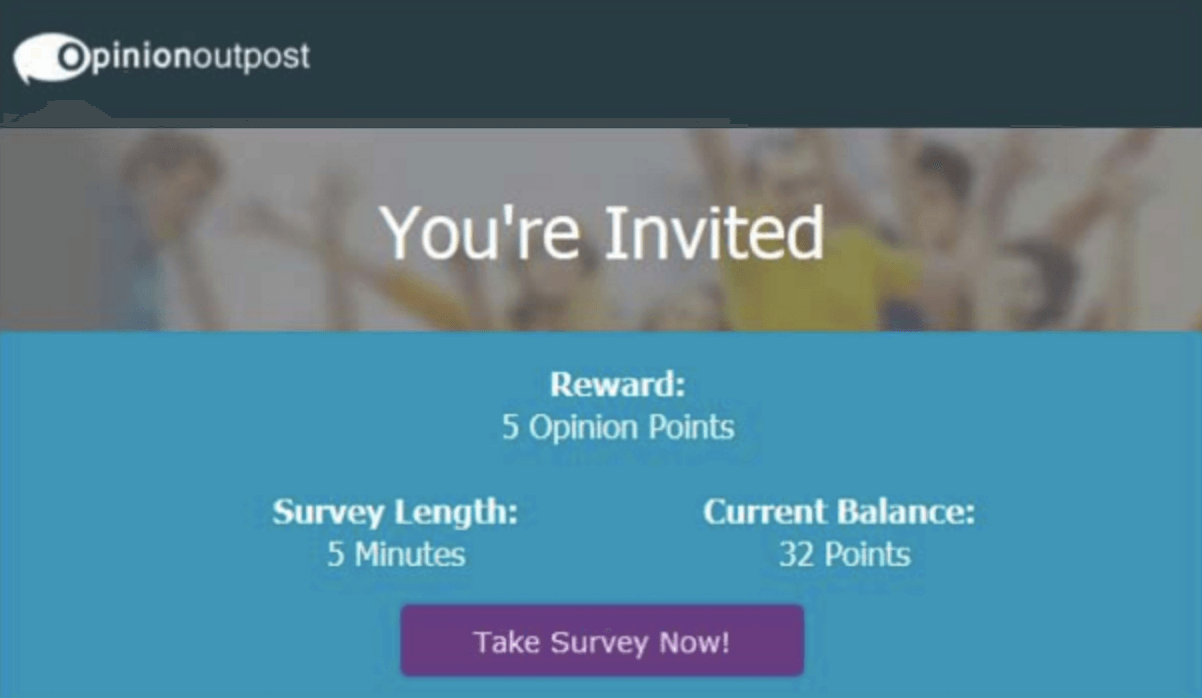 Final word on Opinion Outpost
Opinion Outpost is absolutely legit survey company and if you have some spare time and want to make some extra cash you can try it. As I said above, it depends on your financial goals and expectations.
To be honest, I wouldn't waste my time by completing surveys for the sake of making a few bucks. It's too time consuming and poorly paid opportunity.
If you want to spend your time doing things that will pay off in a much better way and will allow you to make a full time income I recommend you to try for free my top recommended program to make money online.
I think it's a much better opportunity instead of wasting your time for pennies. It has been my top recommended program over the past two years and I'm actually recommending you what I've been using since 2013.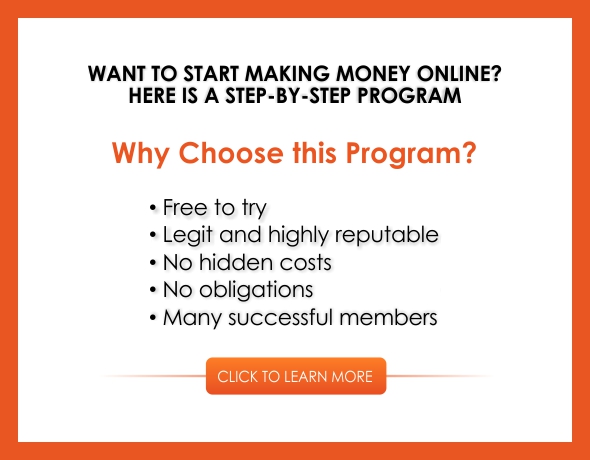 About the Author: Adam
My name is Adam. I'm the founder of Your Income Advisor. My goal is to help others succeed online, by exposing scams and reviewing top rated products. I can help you start
your own business online