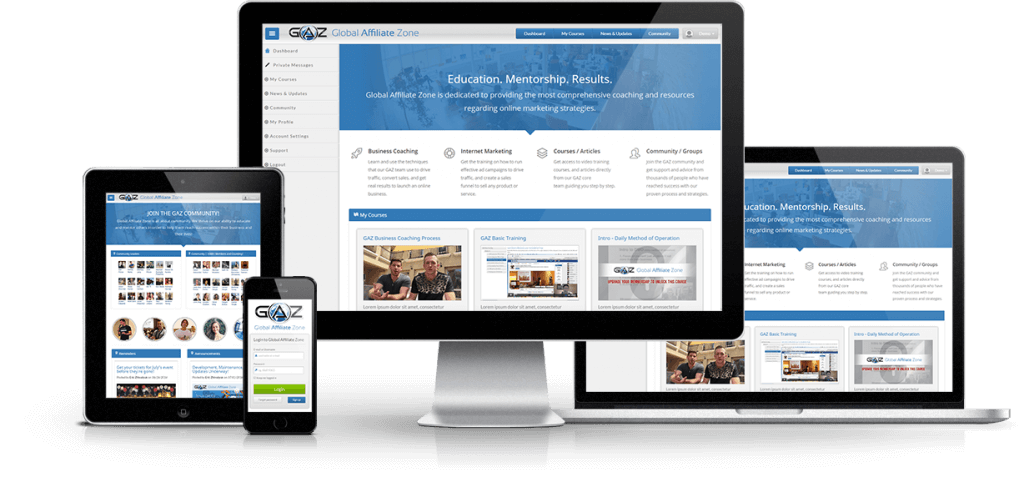 Product name: Global Affiliate Zone
Product owner: Julian Sherman, Mathieu Jang, Kameron George
Website: https://globalaffiliatezone.com
Price: $99/month+many upsells up to $5000
Overall rank: 40 out of 100
Global Affiliate Zone is one of those programs that leave me on the fence about it.
The program is very controversial because their approach is different from those program that are in my recommended list.
Plus there are totally different views on this program on the internet from different bloggers.
I did an in-depth research so you don't need to do it again. Just read my review and you will take the right decision. Because I have all the facts in one place here.
The only thing I can say is that the program is not the worst one and far from being perfect.
In my Global Affiliate Zone review I'm going to reveal the facts so you can decide what to do. Let's find it out.
Short review of Global Affiliate Zone
The program is a combination of affiliate marketing and MLM.
The quality of the training is good BUT there are many upsells which means creators of this program are mainly focused on making more money off you instead of helping.
Plus they promise to make 90% of the work for you which is not true.
Pros of Global Affiliate Zone
Cons of Global Affiliate Zone
MANY UPSELLS
A lot of investment required
Exaggerated promises and claims
Many negative reviews on the internet
14 days money back guarantee
In short, Global Affiliate Zone is not in my recommended list. Not because training is bad but because the program is overpriced for what they offer. Instead try my favorite program FREE with no obligations.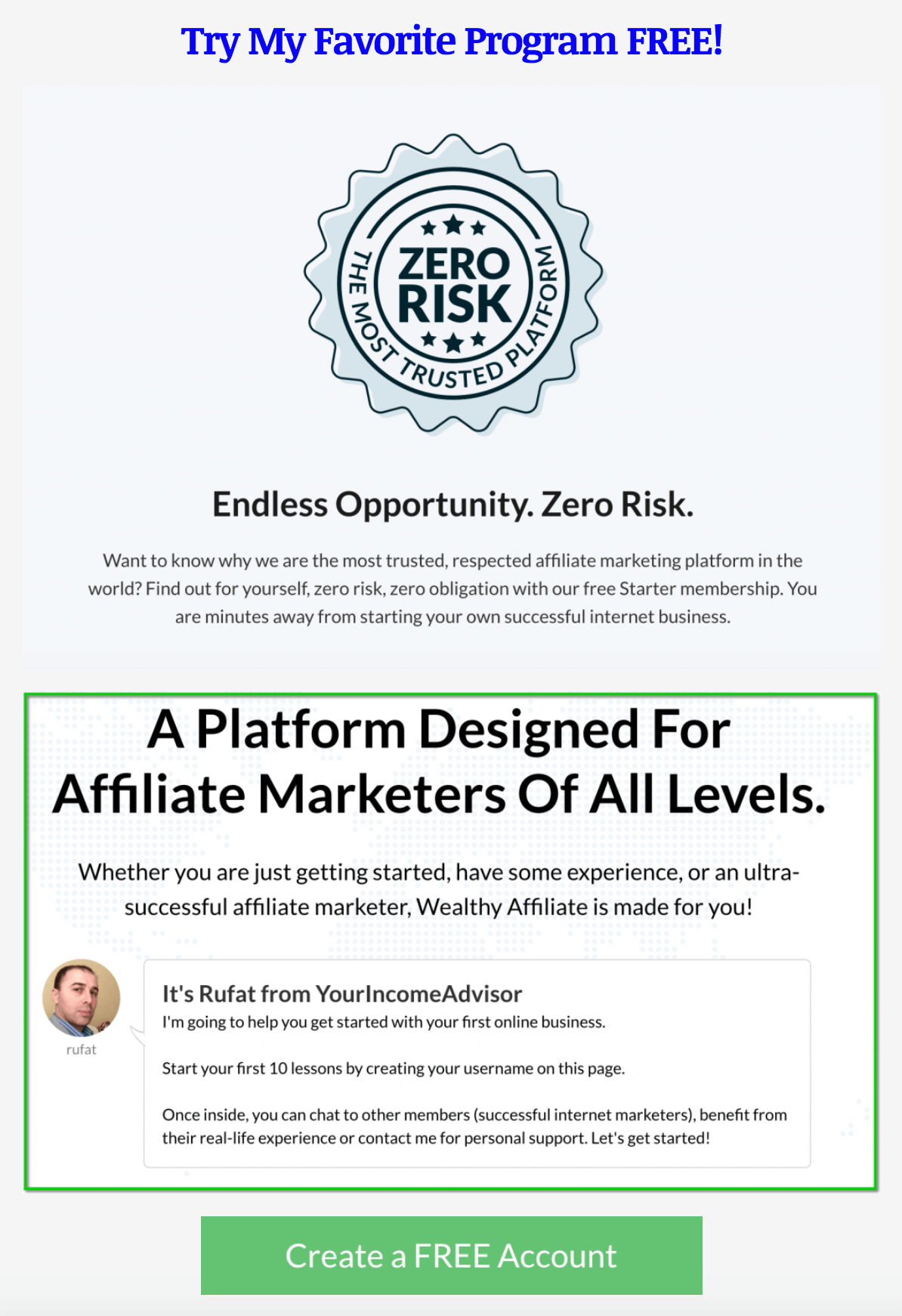 Global Affiliate Zone Review
Let's start our review of the Global Affiliate Zone. First of all I want to say that I will do my best to stay objective while writing my review but I'm not perfect.
There are may be some mistakes of course.
Global Affiliate Zone was founded in 2015. They have 4000 members. So, it's relatively a new program.
The main issue with Global Affiliate Zone is that these guys promise to do 90% of the work for you and you need to do only 10% of the work to become successful with their system. This type of claims are not new at all.
I've seen before and I know what they mean. Believe me.
I'm very sorry but if you are so naive to believe that they will do it and you take the profit I have to disappoint you. This is not going to happen.
This didn't happen in the past and this will not happen for you as well. If you don't do the work you will NOT make money.

Inside Global Affiliate Zone you will find this:
Business coaching – 1 on 1 coaching with GAZ experts
Internet marketing – affiliate marketing training
Courses/articles – Access to video tutorials
Exclusive community – GAZ members to support you in your business. This part is very important for any business
For $99 per month you will get this:
High converting offer
Capture pages
Email leads
Autoresponder
Coaching calls
Sales presentations/webinars
Close sales for you
Sales team/sales funnels
Live workshops and webinars
Live events&meetups
And bonuses:
Half-hour coaching call
3-hour coaching mentor training
Team group chats weekly trainings
Continued mentorship to build a successful business
Facebook ads membership site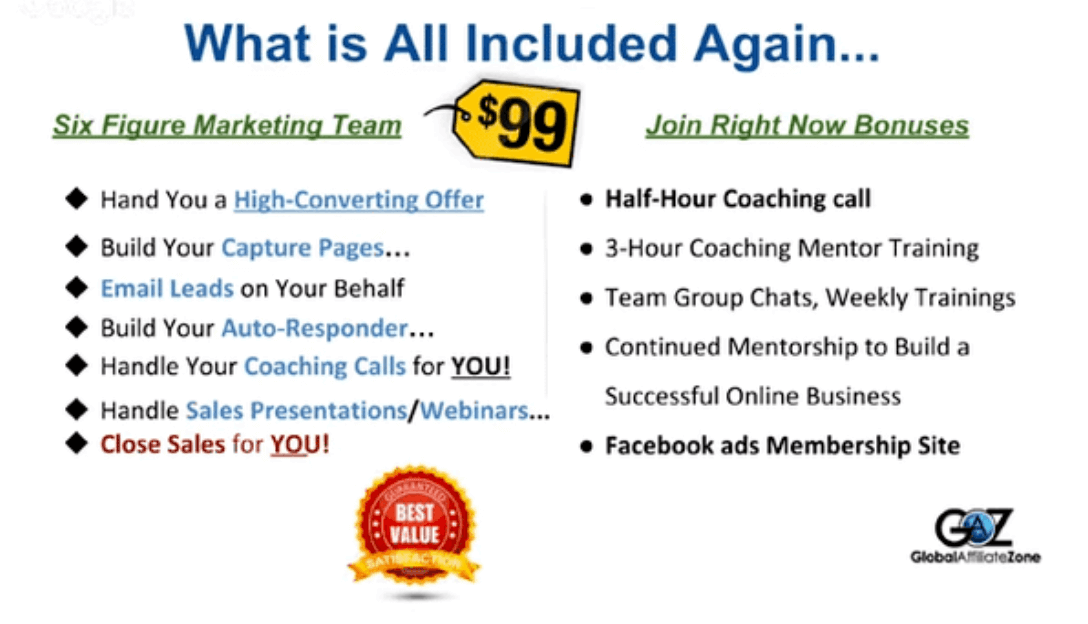 I personally think paying $99 per month is too high. But the truth is that they give you a lot of things.
I mean it's a lot considering that you still need to do a lot of work and plus buy traffic for your website or capture pages.
Also keep in mind that all these benefits that you will get from Kameron will be focused on promoting his own program, i.e. Global Affiliate Zone.
I'm not sure if you are interested in promoting it. Just keep that in mind.
You still need to drive a lot of traffic top your business. You can do it free or buy traffic. No one is going to do it for you. Even if they promise don't trust them.
Traffic is expensive. You will be taught to buy it from Bing, Google or Facebook. I know it firsthand. All this will cost you a lot of money.
You will be spending hundreds of dollars per month and not getting any sales. You will be in fact wasting your money.
Ultimately you will quit. Believe me I know what I'm talking about.
Also, I want to let you know that one of their promotions is called Enagic (MLM company).
They want you to join it and buy their product that will cost you $5.000. You need to buy in order to be able to promote it. Remember that refund policy for this product is 7 days only.
You will also learn how to ran Facebook ad campaigns. This is good and bad at the same time. It's good in terms of driving additional traffic to your business.
It's bad in terms of spending a lot of money while getting no results. Facebook ads is not cheap. To make your campaign successful is extremely hard on Facebook.
The price per click fluctuates a lot and to keep your campaign active and getting results from it for a log time is a big challenge.
Once you start getting results someone starts copying your campaign and your results go down.
You have to launch a new campaign again and so on and on. At the end of the day you will be spending a lot of money struggling to make your campaign profitable.
What I like about Global Affiliate Zone
They provide quality training and give you necessary tools for your affiliate marketing business.
You also can promote Global Affiliate Zone and earn $29.70 (30% commission) per sale.
When you recruit new members and they stay there you will be earning a commission from them each and every month.
To become an affiliate of Global Affiliate Zone you must have have a valid Social Security Number or Federal Tax ID Number if you leave in the United States.
Affiliates receive their commissions twice per month.
On their site you can get more info about their executive team that consists of 13 members and also leadership board that consists of 8 people.
The company looks pretty solid. And finally 3 Co-Founders that have a good experience in affiliate and network marketing.
What I don't like about Global Affiliate Zone
The first thing that I want to mention here is that Global Affiliate Zone is not that great though it's definitely is NOT a scam.
The creator of this program Kameron George is also founder of another program called Awol Academy. This program got not so high rating on my website.
Reasons are same. It requires a lot of money. Kameron guarantees you to make $10.000 in 3 months and there are many upsells in the program.
As you can see, the same approach is here in Global Affiliate Zone.
The only key point is different is that instead of promising you to make $10.000 in 3 months he promises to do 90% of the work for you. Awol also starts from $99 and goes up to $9.997.
The main issue with Global Affiliate Zone is that they promise to do 90% of the work for you and even close deals/sales for you.
I can tell you I know many other programs that promise the same. For example, Six Figure Mentors do the same.
A friend of mine joined them and spent $7000 and made zero $ back. Finally he left SFM and here is the message I received from him.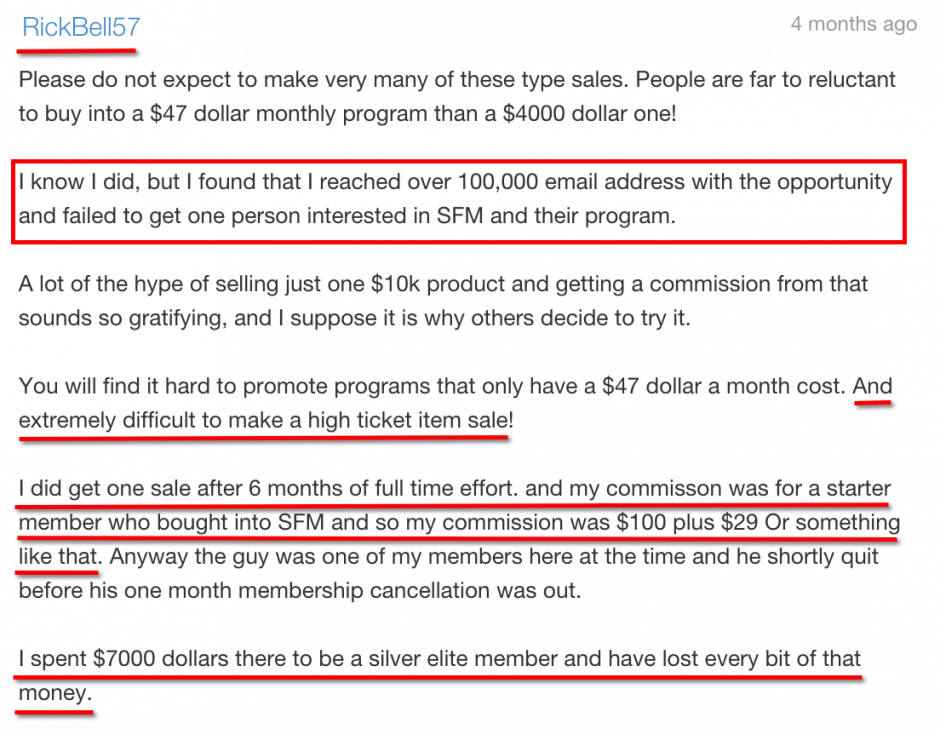 Read it carefully and keep in mind that this can happen to you as well if you believe that someone can build a business for you and you only take the profit.
Global Affiliate Zone resembles MLM company because they mainly teach you how to recruit new members. It's not necessarily bad.
The reason why I don't like this type of approach is because their packages are very expensive and that's why they put much emphasis on recruiting so the company can make more money and pay to their affiliates.
I know many other programs that give you an alternative option, a choice to promote their program and earn a commission.
But Global Affiliate Zone put too much emphasis on recruiting which is not so good in my opinion. Because people pay a lot of money and then lose all of their money.
If you read the complaint below you will realize that She complaints of the upsells that I don't like. So, I'm not the only person who doesn't like upsells.
No one likes to be upselled. Especially when the cost of that is $495 then $2475 then $5000.

Everyone wants a final and complete product with one fixed price.
Charging them too much is wrong because those who are involved in internet marketing know very well that most people who pay a lot of money for upsells will not be able to earn even half of it back.
By all this I mean if you plan to join Global Affiliate Zone and pay only $99 per month then it's ok. If you plan to pay for the upsells I recommend to be very careful.
Another issue with the program is that by taking Kameron's done for you business you will be competing with many other people that will get the same stuff from him. In my opinion it is not so good.
By taking this approach you will not be different from others.
Forget about Kameron's promise regarding automation of your business. Things like that never work.

Kameron offers 14 days money back guarantee. I don't like at all because this period is not enough for someone with zero experience to understand how the whole thing works. It's not a great refund policy at all.
Can you become successful with Global Affiliate Zone?
I believe the most important thing about affiliate marketing comes down to teaching people how to get free targeted traffic to their business.
This will lead to earning revenue sooner or later without big monetary investment.
Since Global Affiliate Zone puts much emphasis on paid sources of traffic and expensive upsells your success will hugely depend on your ability to pay for all this stuff and justify your spending while making enough money to become successful.
It's totally achievable BUT very very difficult in my opinion.
Final word on Global Affiliate Zone
If you ask me why I don't recommend Global Affiliate Zone it's because their packages are very expensive.
The basic package is ok. It's $99 per month and you get a lot of value. But all other packages are very expensive.
I don't like programs like this one.
Because I've seen so many people that wasted their money on other similar programs and of them is a friend of mine that I've mentioned above. He lost $7000.
I think we should learn from his experience. When it comes to the quality of Global Affiliate Zone training and tools it's good.
I have no issues with that.  Another issue is about buying traffic which is going to cost you a lot of money.
Finally they promise to automate your business and do 90% of the work for you. I can't agree with this type of approach at all.
Final review of Global Affiliate Zone
Good training
MANY UPSELLS
14 days money back guarantee
A lot of investment required
Exaggerated promises and claims
Many negative reviews on the internet
Overall rank:

40 out of 100
About the Author: Adam
My name is Adam. I'm the founder of Your Income Advisor. My goal is to help others succeed online, by exposing scams and reviewing top rated products. I can help you start
your own business online