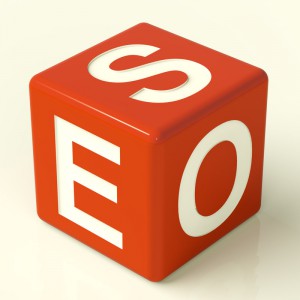 My first experience with SEO
Many people today are keen to start an online business but not all of them know that building a website is the #1 task to be accomplished on that way. But building a website is not enough to be successful online.
There are many websites out there on the web, and no one knows about their existence. To make it known or popular you need to bring traffic to your website.
Many website owners have as low traffic as just a few people a day if any at all. To solve the problem they search the web trying to understand what is wrong with their websites and why they can't get traffic.
And here they come across many search engine optimization and submission companies that promise to optimize any website and submit it to search engines within a few days.
My first experience with search engine optimization and submission companies was in 2001 when I had my first website for hotel reservations. www.abouttrip.com. It doesn't belong to me anymore though. Like many other people who had a website, I wanted to have my own website optimized and submitted to search engines.
I didn't know that to optimize my site for search engines, or get it top ranked on search engines, I actually didn't need search engine optimization services.
So, I found one of those companies (www.submittoday.com) and made annual payment but I have never got my site ranked on Google. Actually I had no any idea on how to get top rankings for my site and the content that I had was a duplicate.
Unfortunately, that company didn't even explain to me that having a duplicate content was a serious problem for my site. Finally, my site was ranked on MSN, Yahoo and other search engines but never on Google and it was ranked under few keywords that brought me very decent traffic.
So, it's taken me some time to realize that to get a website ranked on search engines, I actually didn't need any services except having a quality content.
Do you really need SEO services?
So, I had some experience in internet marketing, but it was nothing compared to what I learned later at Wealthy Affiliate University and that became a turning point in my online career. On that time, SEO companies scammed many folks out of their money.
The most important thing I would like to note here is that if you don't know exactly what to do to get your website indexed and ranked on search engines or if you don't have the right knowledge then it is very easy to fall into SEO companies' trap.
The truth is that if you have an original content on your website then to have your site indexed by search engines is a matter of a few days. As for rankings, it can take up to 6 months. You actually don't need any SEO company to help you in indexing your site.
Before a WordPress release in 2003, there was some demand for SEO companies because if you had a website without any knowledge of Html, then you needed someone to optimize your site for search engines.
After release of this awesome open source platform, no need for that kind of services left at all. A website built on a WordPress platform is fully optimized for search engines and to do that you don't need to have any programming skills or the knowledge of Html. To learn a WordPress and build a website you may need a few hours or a day or two.
But the most interesting part of SEO companies is about a guarantee that some of these companies offer. They promise to optimize your website and get top rankings for it within a short time. There are still some SEO companies that guarantee you to get top rankings for your website in major search engines such as Google, Yahoo and Bing!
It is really amazing how they can guarantee this, if it is the search engine that decides whether to rank a particular website or not. It is a combination of many factors that helps a website to get top rankings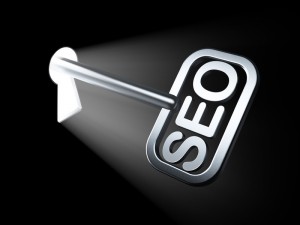 But to be honest, not all SEO companies make false promises. Some of them give real promises. They just promise to optimize a website and submit to search engines.
But keep in mind that no one is going to care about your website as you do it, and that's why if you want to have your website get ranked then YOU are the only one who can do it the right way.
I personally know how it works, and will never entrust my website optimization to any SEO company.
The key factor in getting top rankings for a website is the content. You may have a 100 or even more pages of content, but before publishing it on your website you need to check your content to make sure that there is no keyword stuffing within your content.
If you hire any SEO company for a website optimization and they have many customers just like you, I am sure that their specialists aren't going to read all your content. It doesn't sound real.
There are many other factors that contribute to your website ranking, such as creating quality backlinks to your website, updating website on a weekly basis (writing fresh, new content), engaging on social network sites (Google plus, Facebook, Twitter, YouTube) etc.
No SEO company is going to do it for you. That's why if any SEO company offers you a guarantee that your website will get top rankings in major search engines, such as Google, Yahoo or Bing, then you'd better stay away from that company.
Another important issue I would like to note here is that some SEO companies offer a guarantee that they can get top rankings on major search engines for any website. Yes, they can if you choose a low competitive keyword that will bring you very decent traffic, about 200 visitors a month. Is this a lot? With such number of visitors you are not going to make any sales.
If you choose a highly competitive keyword that can bring you 2000/3000 visitors per month then you will not be able to get the same guarantee.
Any website's growth in rankings and traffic depends on many factors, such as having an original content, updating content on a daily basis, engaging on social media (Google plus, Twitter, Facebook etc.), creating videos on YouTube. All this comes over time and needs a hard work and patience.
If you want to succeed online you should never buy a service such as building back links package, because to get back links from other quality sites requires time and patience. It can't be done at the push of a button. You shouldn't overdo submitting your articles to article directories.
It is an outdated tactic and doesn't help your site anymore. If you buy back links package, Facebook likes or Twitter tweets then you should know that all these techniques will destroy your business.
Those who use those outdated methods and try to play with search engine algorithm will definitely fail. Even if you get some good rankings you will lose them very soon.
Some search engine optimization companies charge up to $5000 for their fake SEO services. Some of them while offering search engine optimization services can't even get their own sites listed in search engines.
Fake and true SEO services
An example of a company that provides fake SEO services is http://automatedsocialnetworking.com/intermediate/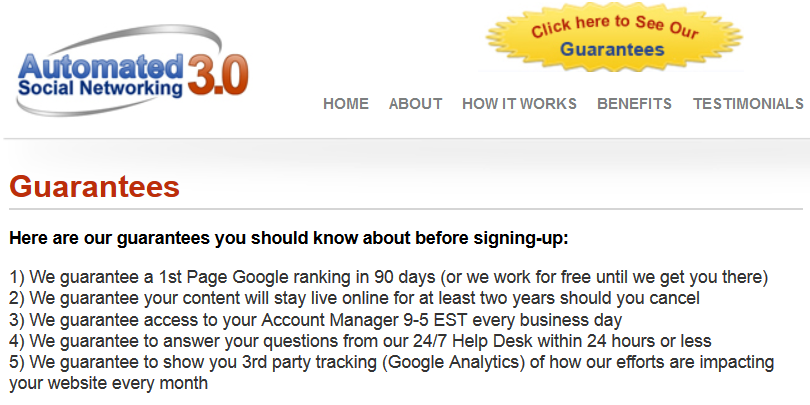 It's not an advertisement
It is not hard to understand, if you look at their guarantee, which says that they guarantee a 1-st page ranking on Google, that they provide fake SEO services. It is not true because no one can give that kind of guarantee.
Even if you follow all Google guidelines you never know which page of your site will get ranked. Their other claim is even more ridiculous. They claim that if they can't get your page ranked on Google they will work for you for free!
Their price scheme is far from being affordable for an average Internet user.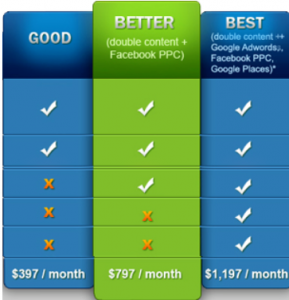 If you spend so much money on SEO instead of doing it yourself for free then you will never succeed online. And the last thing is that they don't provide a money back guarantee.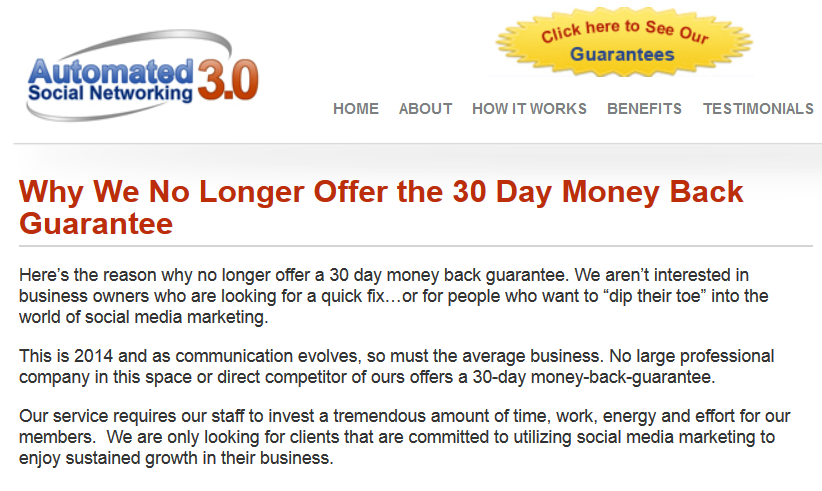 I believe, it is a kind of a company you should stay away from. The right way to do SEO for your website is to do it yourself. The first step is to join the right program such as Wealthy Affiliate. It is the best program on the entire Internet that teaches the basics of Internet marketing, provides the best tools and the best support.
With this program you literally can't fail or in other words you can fail only if you are not willing to learn and work hard. But if you still are willing to hire someone else for SEO services then I can recommend you a reliable SEO company www.nerbels.com
Nerbels delivers what it promises to their customers. The company provides SEO services, web design and helps its customers build online presence. They use only legit techniques because applying wrong techniques ("Black Hat" SEO) can damage your website's rankings. Besides that they provide article writing, blogging services, keyword research and many more.
Finally, I honestly advise you to do all SEO yourself because if you plan to build a business online you should learn all ins and outs of online "game" to be able to build a strong online presence. The place to learn is the Wealthy Affiliate – #1 online business community in the world. Read my review of WA below.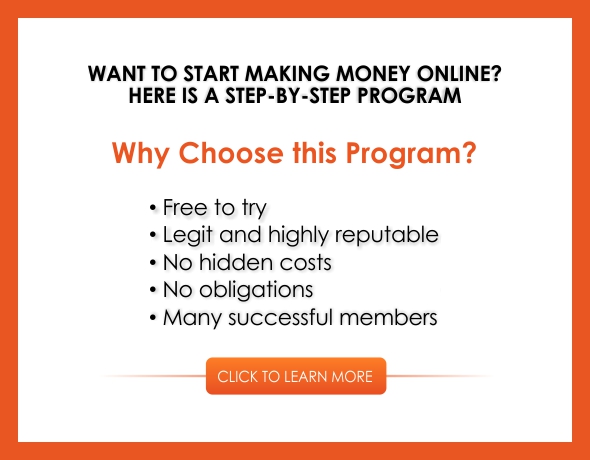 About the Author: Adam
My name is Adam. I'm the founder of Your Income Advisor. My goal is to help others succeed online, by exposing scams and reviewing top rated products. I can help you start
your own business online