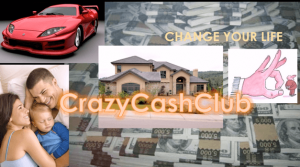 Product name: Crazy Cash Club
Product owner: Martin Morse and Roger McEntyre
Website: crazycashclub.com
Price: Free and Paid
Verdict: Not recommended
Crazy Cash Club is a program that can make you go crazy once you visit their home page. Right from the start they want to make sure that you are ready to change your life forever. They want you to take action because what they will tell you is going to give you unlimited opportunities to grow financially and become another success story.
They claim that Crazy Cash Club is your once in a lifetime opportunity and that's why you must take action fast. They promise that in the first day you are going to make $16.000 and $120.000 in the first year, and $1.200.000 in the second year.
I don't know about you, but I'm already going crazy about this program and I'm going to join it immediately because I need money, I need $16.000 urgently 🙂 But before joining this crazy club, let's take a closer look to know if it's a real deal or just another empty promise.

The main idea behind Crazy Cash Club
The main idea behind Crazy Cash Club is pretty simple. It's an MLM program, not much different from many other similar programs out there. And like with many other similar programs, they don't explain anything on their website on how you are going to make money with their program. The only info you have is that you can make $16.000 in the first day after joining the program.
Pros of Crazy Cash Club
Right from the start you know that it's an MLM
Cons of Crazy Cash Club
False promises
Exaggerated earnings
No training
Many upsells
Inside the program
1. What I don't like the most about Crazy Cash Club is that right from the start they are lying to you. They make bold claims as to teach you how to make a ridiculous amount of money and the amount is so big that even if someone is completely new to internet marketing they can easily understand that it's not going to happen that fast. Can you really believe that you can make $16.000 in the first day?
To be honest, I can't believe that there are some naive people who can believe them and go crazy about their crazy offer. As an experienced internet marketer, I can tell you that you won't make even $5 in the first day and most probably you won't make even $12.000 in the first year either.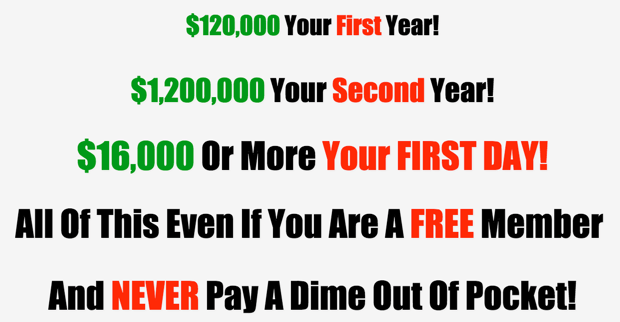 Yes, I'm not wrong. From my real life experience and from the experience of other successful internet marketers that I know, I can tell you that if you get trained in the right make money program and work hard, you can start making $500 to $1000 per month by the end of your first year.
It's real, it's not unrealistic. Anything more than that can be achieved too, but it's really not easy. The main reason is because most people quit very fast before they start to see real results.
Internet marketing is very rewarding, but you must be patient and self-motivated in the first few months without making even a penny and most people are not ready for that. That's why, what Martin and Roger promise you is not realistic and they are simply lying to you.

2. The main issue with Crazy Cash Club is that like I said above, it's all about MLM pyramid scheme, i.e. recruiting other people into the system.
You won't learn any internet marketing skills or basics and your only occupation is going to be finding other people and making them believe that once they join Crazy Club they will be making tons of money like you.
And there is no information about that occupation. You don't even know what exactly you are going to sell or promote, what type of product or service. But you will be making tons of money 🙂 That's it.

3. I reviewed many MLM programs and can tell you with full confidence that all MLMs have a bad reputation on the internet and I'm pretty much sure that Crazy Cash Club is not an exception.
4. They don't have any training on how to build a website, how to promote a product to be able to make as much money as they promise. Without proper training you won't be able to understand how internet marketing works or how to drive traffic to your affiliate offers using legit methods.
5. If you join Crazy Cash Club, stay there as a free member and make money, you won't be able to get that money until you become a paid member. They have a few packages: Bronze, Silver, Gold and Platinum.
6. There is no money back guarantee and you should be very careful before you pay.
7. Crazy Cash Club offers you 6×3 Forced Matrix compensation plan. On a Bronze level, if you fill 258 positions of your matrix plan then you will make $2.300 per month.
On a Platinum level, if you fill 258 positions of your matrix plan then you can make $17.200 per month.
Of course, it's nothing more than just an empty promise. If only it was so easy then I would be the first one to join their crazy club.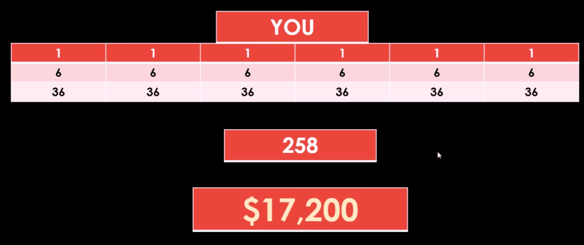 8. They offer a few products, such as:
Monster Cash Mini Webinar System ( mini webinar system for recruiting people into Crazy Cash Club) – $177
CrazySplash Click Thru Pages ( landing pages for promoting their system) $147
5,000 Laser Targeted Visitors ( They promise to send you targeted visitors which is a very shady offer) You don't even know where this traffic comes from – $17
20,000 Laser Targeted Visitors ( same offer) – $57
All these products are of poor quality and they will cost you money. As you can see, you are going to spend money and there is no guarantee that you will make any money at all.
9. If you ask me whether you can make money with Crazy Cash Club or not, I will say yes and no. Probably you can make a few bucks, but speaking about a few thousands of $ it's an exaggeration.
I'm sure, you won't make much money simply because their training program is very poor and won't teach you the basics of internet marketing, not to mention advanced level.
Without proper education you will not make as much money as you want. It's been proven over the years. Poor training program produces poor results. Plain and simple.
Final word on Crazy Cash Club
Based on my experience, I can tell you honestly that Crazy Cash Club is really not the best option out there. Most probably you won't achieve any real success with it.
But if you are looking for a legit program that can provide you with all you need to build a successful online business, I can recommend you a program that wins my top recommendation for a few years in a row because that program produces awesome results while making no false promises to anyone.
You can learn more about this program by clicking on the image below. Feel free to ask questions if you have any.
About the Author: Adam
My name is Adam. I'm the founder of Your Income Advisor. My goal is to help others succeed online, by exposing scams and reviewing top rated products. I can help you start
your own business online