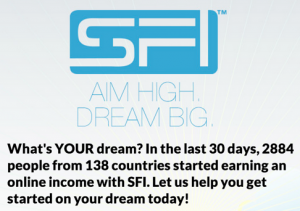 Product Name: SFI Internet Income
Website: https://www.sfimg.com/
Price: Free
Verdict: Not recommended
SFI is another pyramid scheme that promises people to make them rich fast. If someone wants to know if SFI program is a scam or not it will be a bit difficult because it requires some research. On the internet you will find both positive and negative reviews in regards to this company.
And before making a decision about SFI one must have some basic knowledge on how internet marketing works. I've been involved in internet marketing for some time and trust me, I know what I'm talking about. So, today I'm going to take a closer look at SFI to clarify as to what the SFI is about.
You can join the program for free which is really great. If you can try a product before you buy it, it is great, BUT if you can't benefit from it afterwards, then what is the use of trying it for free? Anyway, SFI is not a scam.

What Does SFI promise you?
So, once you join the program, you'll become an Executive Affiliate
Once you become an Executive Affiliate you must recruit 5 other affiliates
You must teach those five affiliates how to apply the same steps and recruit others
The name of the company is (Strong Future International) which means that the owners of the program promise people that through applying 3 simple steps they will be able to build a strong future for themselves. Is this true? No, I don't think so.
Pros of the program:
You can join it for free and
Theoretically start making money though later you're going to realize that it's not as simple as you might have been thinking.
Cons of the program:
After becoming an Executive Affiliate you will be provided with a website for marketing SFI products and for each sale you'll get a commission.
Like in all other pyramid schemes you need to move up and recruit all your friends, and family members. This is the nature of any pyramid scheme, otherwise you'll not make any money.
A lot of complaints about SFI program
There is no real quality training you can benefit from though they have some training modules.
You need to spend money buying gift cards to distribute them among your friends, plus you can easily spend more money for your membership instead of making them.
The navigation on their website is really complicated. For an average user who has no experience in internet marketing it would be really hard to understand what SFI has to offer.
How can you make money with SFI?
There are different ways and I'm going to show you:
Theoretically you can make money with SFI by accumulating Versapoints. But how can you accumulate those points? When you join SFI you start completing tasks within the program and even may be asked to buy some products. Once you reach certain amount of versa points (1500) you can start getting your share.
You can make money with TripleClicks if you join their affiliate program. Once you become an affiliate, you can start selling their products and each time you refer someone to TripleClicks you'll earn Versapoints.
You can make money by recruiting others. So, you invite other people to join the program and once they join, they start doing same things as you do. Your versapoints go up.
Extra income streams. You can refer other sellers to TripleClick and increase your points. Also, you can participate in the SFI Pay-Per-Action program.
Can you really become rich with SFI?
SFI promises that once you join their program, you can start making money within minutes. Is this true? If you don't have any experience in internet marketing you can easily believe them. Trust me, reality is absolutely different. To start making money online requires certain skills and knowledge. You need to learn the basics of internet marketing first.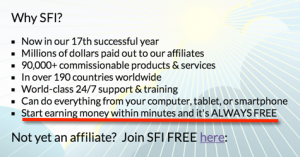 I can't say that the program is a pure scam but what I know exactly is that you will not make thousands of dollars, not to mention six figures. When you join the program like this one, i.e. pyramid scheme, you start at the bottom and then you need to move up by recruiting more and more people under you and only few can do it. And keep in mind that to earn versapoints you need to spend money within the program.

Final word on SFI
There are many complaints about SFI and that proves that even if the program is not a pure scam according to some reviews, anyway it's not recommended because:
There are many complaints
There are some obvious cons
The program is an MLM scheme and many MLMs have a bad reputation
The program is BY FAR not the best one on the web
As for the complaints, you can easily find many at Ripoff Report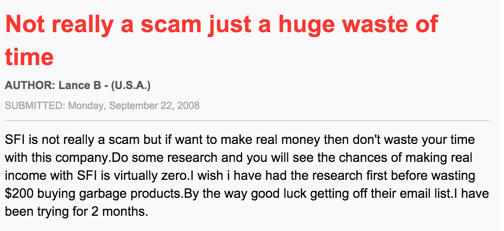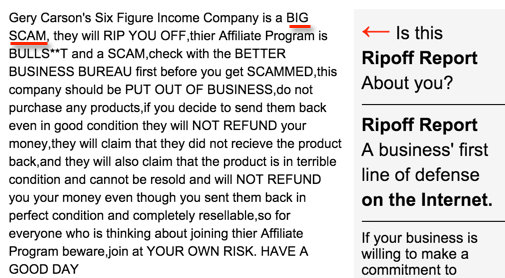 If you read my article "Scam review" you'll find that SFI has a couple signs of being a scam though it's not a scam. Remember that if a program promises that you can make six figures or start making money within minutes it's not true. Anyway, SFI is NOT a scam.
Building a serious business online or offline takes time, 1 to 2 years at least. Anyway, due to the facts I mentioned above I really can't recommend SFI to you.
There is a much better option, such as Wealthy Affiliate – online business community where you can get trained and build your real business online.
I built my site and my business thanks to WA and the most important fact is that you can hardly find any complaints about WA on the web. And the owners of WA, Kyle and Carson never promise anyone that they will be making six figures in minutes.
WA can give you all you need to build a successful business online BUT will you make an money or not completely depends on you. If you follow the training at WA and apply what they teach you, you will be make money like many other successful members of WA that I know personally.
Actually, WA is the best program out there that I highly recommend to join. Please read my review of the WA and if you have any question don't hesitate to contact me.