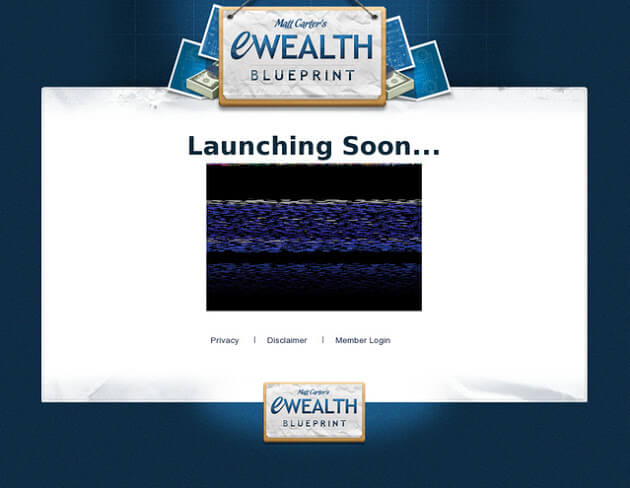 Product name: e Wealth Blueprint
Website: www.eWealthBlueprint.com
Owner: Matt Carter
Overall rank 15 out of 100
Verdict: Borderline Scam
Matt Carter is an internet marketer who created many different products, some are good and some are very mediocre. In my opinion, he is a very controversial personality because some people love him and all his products while others pass them altogether.
I came across his recent product called e Wealth Blueprint and decided to see if it's really a good blueprint or just another crap. I can't say that it's a total crap, but it's definitely not a blueprint you want to buy.
It's reported that his fantastic blueprint should help you become successful through building low traffic websites. The concept is new and was not tested in any laboratory to prove its effectiveness.
In my review I'm going to take a look at this program and I will explain why I think you should pass it.

Pros of e Wealth Blueprint
Cons of e Wealth Blueprint
No support
Some complaints
The system doesn't work as it is promised by Matt
Unrealistic promises about making lots of money
Website domain is no longer working

About E Wealth Blueprint
There has been a lot of buzz recently about his fantastic system called E Wealth Blueprint designed for marketers and website owners looking to increase their revenue.
He also created another product in the past called Rapid Profits Formula.
The idea of his new product is about building websites that can generate some decent traffic in order to collect leads and allow you to make tons of money.
By leads I mean people that visit your website on which you have an email capture form and they will submit their personal info, such as email address, phone number etc. Once you have this info, you will be able to sell this info to other business owners.
So, the idea is pretty simple and not new at all. In theory everything may sound great, but it's quite another story when it comes to applying your knowledge to practice. The same applies to e Wealth Blueprint.
What to do with your leads?
It's true that collecting leads is important because any internet marketer knows that money is in the list. The more people, subscribers you have on your list the better for you and your business.
But it's not only about collecting leads. It may be a waste of time if you don't know what to do with that list. If you don't build relations with your list it means your list is not responsive to your emails.
And if your list is not responsive it becomes useless. By this I mean, Matt tries to sell you a system that you can use to collect leads, but he doesn't teach what to do with that list.
He doesn't give any step-by-step instructions on how to sell that list or how to approach business owners. So, it's not going to be easy at all.
Money Magnet website
In his training Matt talks about Money Magnet WordPress theme that is going to do wonders for your business. He claims that his unique wordpress theme will avoid all Google updates, Panda or Penguin.
By this Matt wants you to believe that your website is going to be Google proof which is absolutely ridiculous. Google is a multi-billon dollar company and trust me they know how to identify if your site is good or bad.
There is no way to deceive Google using Matt's system. BTW, later it was reported that Matt didn't accept new members anymore. I think it probably because of many negative reviews about his system that failed to prove its effectiveness.
Can you really be successful without traffic?
The main problem of Matt's e Wealth Blueprint is that he doesn't teach you how to generate massive traffic to your website.
And this is really a HUGE problem because without massive traffic you won't be able to build a list, i.e. get enough leads in order to sell them later.
He claims that you can build that list by building low traffic websites (Money Magnet WordPress) websites which is unrealistic idea.
There is no such a thing as Money Magnet or Traffic Magnet website. You can generate massive traffic to your website through hard work and patience only.
There is no shortcut to building traffic to your site. And the truth is that without massive traffic you will never be able to get as many leads as you need in order to make a good income.
How to sell leads
Matt also gives you an email template you can use to send it to business owners. i.e. approach them in order to sell your leads.
There is no guarantee that they will respond to your email or will want to buy your leads. It's not easy at all to sell those leads.
At the end of the day all you will have with Matt's Money Magnet websites is a tiny list of prospects. That's it.
And then you will face another problem how to sell those leads to other people. In my opinion, it's a waste of time and money.
Can you really make $2000 with 30 visitors a day to your website?
When it comes to teaching you how to generate traffic to your Money Magnet websites your teacher is going to be Eric Lancheres.
He claims to be an expert in search engine optimization, but to be honest, based on what I know about SEO, he doesn't look like an expert at all.
SEO is a big science and trust me it's not easy at all to drive traffic to your website. It may take months or even years to get massive traffic to your website without which your business will never grow.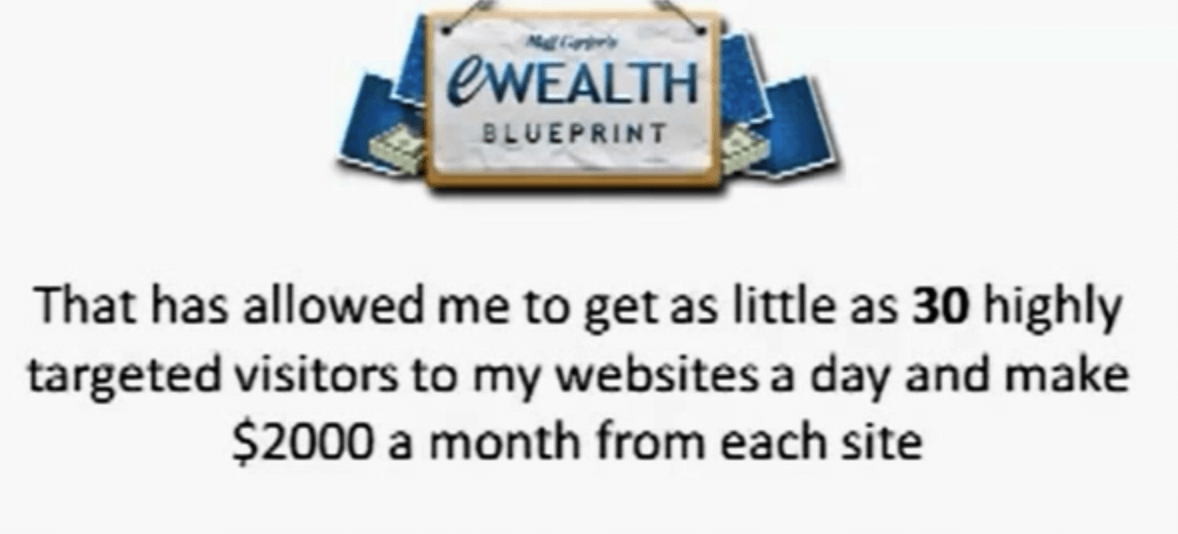 This is a cold hard truth of SEO world and online business. BTW, Matt says in his promo video that he gets 30 highly targeted visitors a day and makes $2000 per month.
If you don't have any experience in online marketing or SEO you probably can believe him. But I'm 100% sure that he is lying to you.
It's simply impossible to make such an amount of money with such a low traffic. BTW, you van find his promo video on YouTube.
Building authority
He also talks about getting quality backlink from authority websites to boost your website rankings. The truth of this matter is that getting quality backlinks may improve your website rankings.
But it may be that it won't improve your rankings. You should be ready for any scenario. There is no any Google rule that says that if you get a certain number of backlinks they will boost your website rankings or send you more traffic. No guarantees whatsoever in this regard.
Trust me, I know what I'm talking about. I have over 2 years of experience in SEO and have some good achievements in this field. I have over 100 pages ranked in Google's top 10.
No quality training
Another major problem is that they don't teach you how to do a proper keyword research which is extremely important before even choosing a niche or creating content based on the keyword competition data.
So, it's really sad that they fail to deliver quality training on this important part of your online success.
Without understanding how to do a proper keyword research you will simply get stuck at some and won't be able to drive even a decent amount of traffic to your so called Money Magnet websites. A total failure in my opinion.
Complaints about Matt's e Wealth Blueprint
Although some people, especially on Warrior forum praise Matt's product for a reason I don't know, the truth is that his e Wealth Blueprint doesn't deliver what Matt does promise to people and the truth is that there are some complaints about his fantastic system.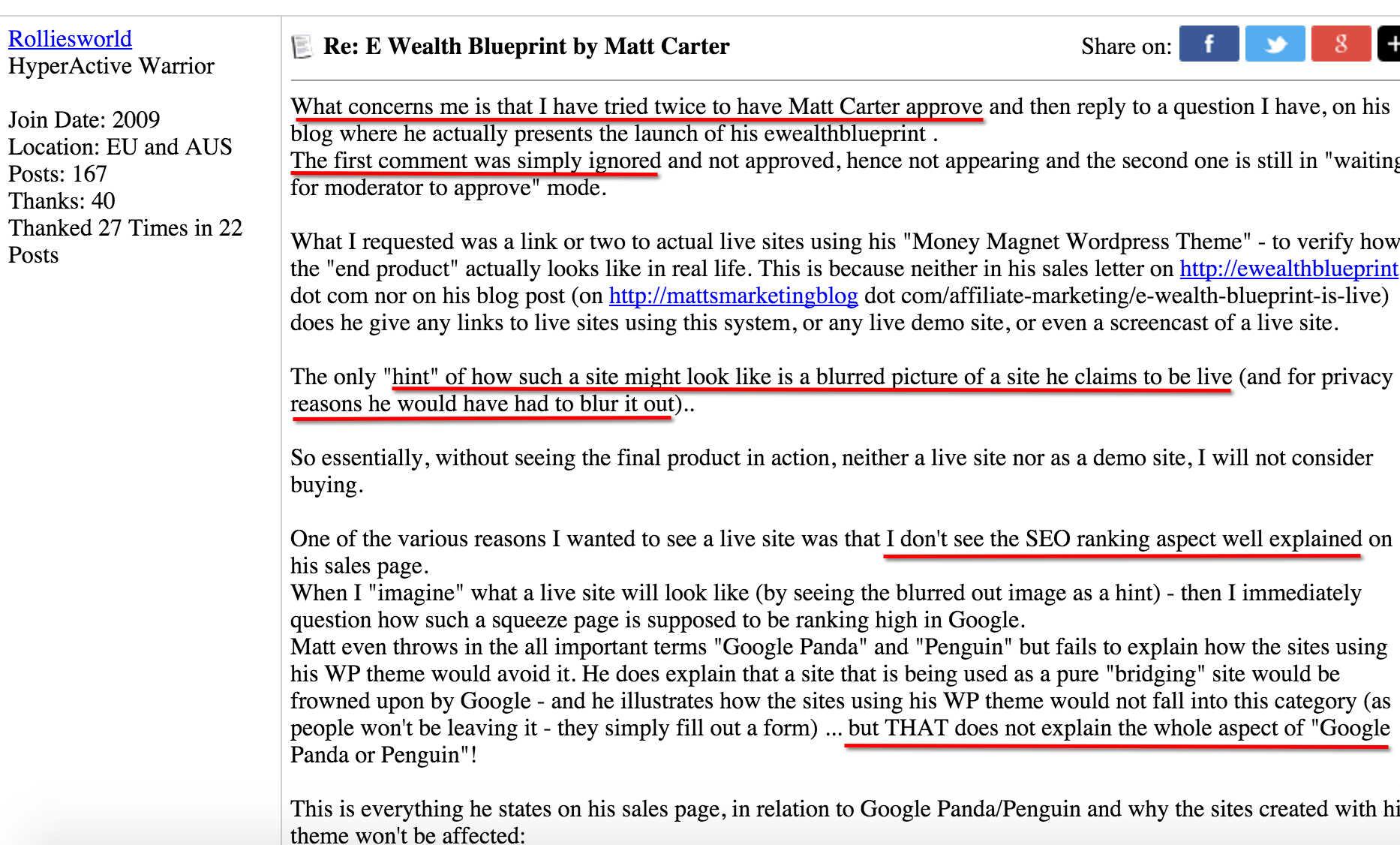 I suggest that you take a look at the complaint I came across on the same forum. As you can see, complaint is very serious and the complainer is not happy with Matt's approach to people.
He doesn't reply, he deletes comments on his blog etc. Really very sad. I personally wouldn't buy anything from such a marketer.
e Wealth blueprint.com – This domain may be for sale!
I did some search and came across Matt's blog and found his post about e Wealth Blueprint on his website. It says that e Wealth Blueprint is live! I clicked the link and got this.
This domain maybe for sale! It means that Matt doesn't even care about what is going on his blog. Can you trust him after all this?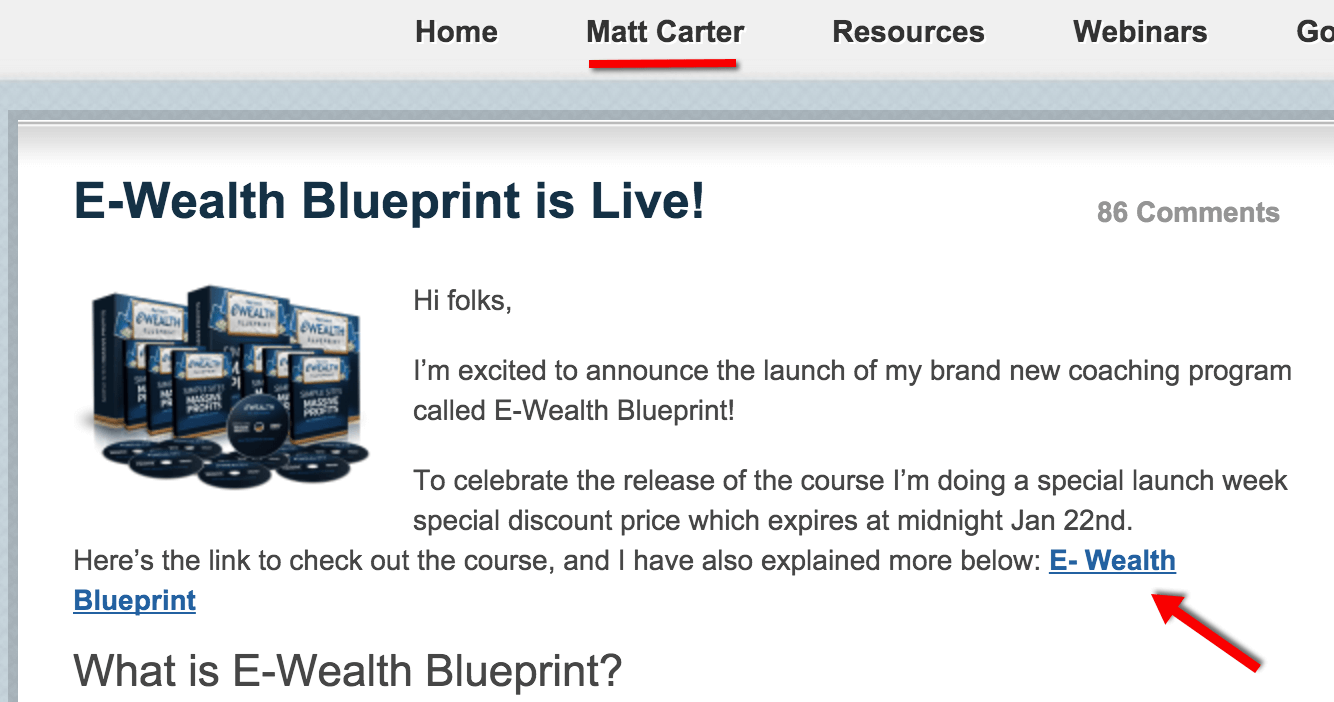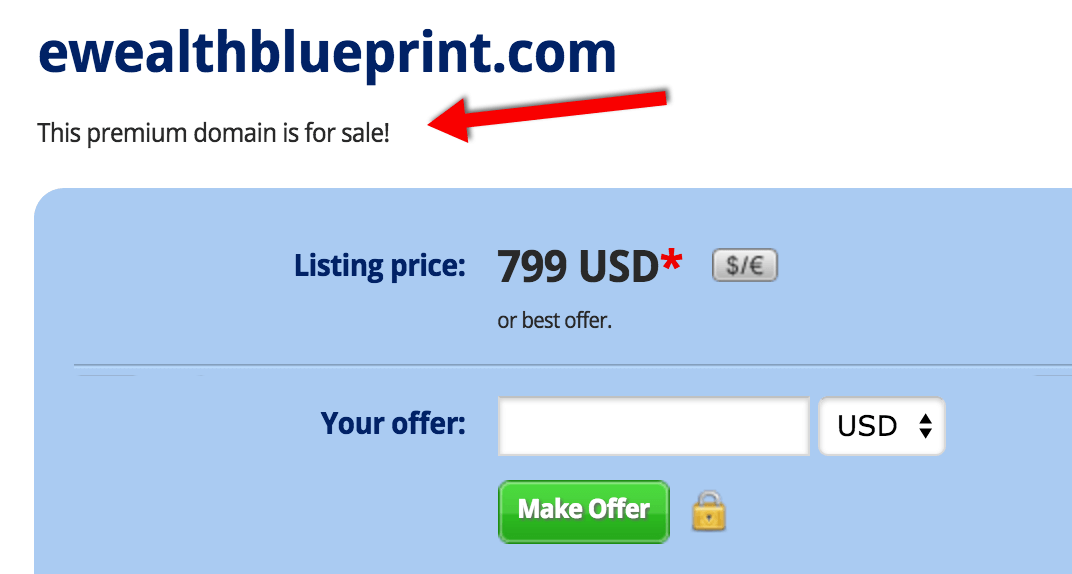 Final word about e Wealth Blueprint
To be honest, I'm not in a position to call anyone's product a scam and I don't want to hurt anyone's feelings. Just I try to be honest and explain what I think of any given product.
I don't know Matt Carter personally and can't say that he is a scammer. Never. I just see that his product is not great at all and as an experienced internet marketer I can say that this product is not going to make you a big buck.
Maybe if you spend a good amount of time and work REALLY HARD maybe then you will be able to make some money using Matt's strategies.
For now, I can say with full confidence that the method he is trying to teach you is very limited and if you are just starting out online this program is definitely not for you. You would better look for some other alternative.
Final glance at e Wealth Blueprint
No support
Some complaints
The system doesn't work as it is promised by Matt
Unrealistic promises about making lots of money
Website domain is no longer working
Overall rank 15 out of 100
Verdict: Borderline Scam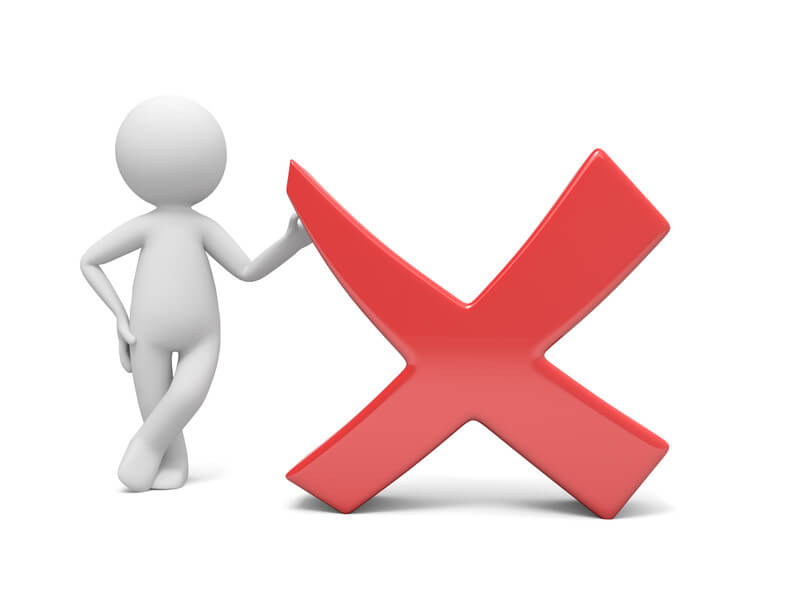 About the Author: Adam
My name is Adam. I'm the founder of Your Income Advisor. My goal is to help others succeed online, by exposing scams and reviewing top rated products. I can help you start
your own business online