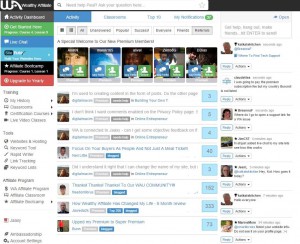 I have a few reviews of Wealthy Affiliate, each from different angle and this time I decided to write from a different perspective and talk about complaints to find out if people are really happy with Wealthy Affiliate.
Also, I will explain why some people are not happy with WA and find out if Wealthy Affiliate does provide people with all they may need to be happy with WA and become successful online.
First off, I would like to say that there is no perfect product/program in the world and there is always someone who might not be happy.
In that case a proper research should be done to find out if a particular complaint comes from a real frustrated person or if it's just a nature of that person to always complain of something or blame people for his own failures.
Also, I would like you to know that I've been a premium member of Wealthy Affiliate for almost 2 years now which means I know a thing or two about what I'm talking about.
It's true that there are some complaints about Wealthy Affiliate but those are very few out of thousands of happy members.
Types of complaints:
Write access
Losing "write access" within Wealthy Affiliate. What does it mean? It means you lose your right to ask questions, post comments or interact with WA community in any form.
Note that all members have write access, free and paid members, i.e. premium members and you must keep in mind that the founders of Wealthy Affiliate, Kyle and Carson are very generous for giving write access to even free members.
As you probably understand there will always be some people, most of the time among free members who will try to abuse the system and if it happens Kyle and Carson MUST revoke their write access to allow other members to interact in a healthy and friendly atmosphere.
It doesn't really happen often and most of the time if it does it's for those that are rude or try to spam within the community. BTW, a distinguishing feature of Wealthy Affiliate is that promotions are not allowed within it and it's really great compared to many other online business communities.
You will never find someone who will try to sell you something within the community because they will be stopped immediately. Wealthy Affiliate is a friendly, warm place of like-minded people working towards their success and helping each other to achieve the same.
Here is one complaint filed against WA at BBB.org As you can see that member was revoked write access for a reason and it was resolved.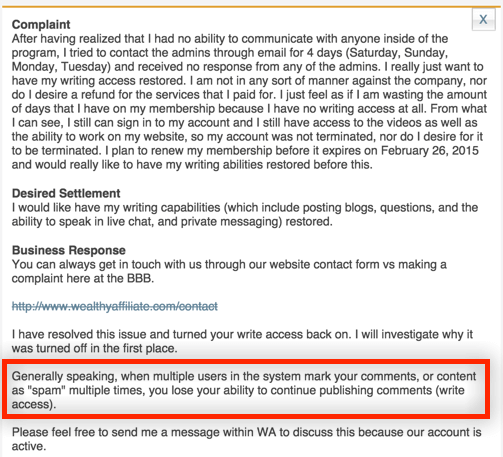 Billing issues
Billing issues do happen always and everywhere including Wealthy Affiliate and before we come to the right conclusion we must do some investigation. There are two types of membership at WA, free (7 day free access) and premium ($19 first month and then $47 per month or $359 per year, i.e. $29 per month).
WA was founded in 2005 and for 10 years of having been online they had only 2 billing complaints. It's a ridiculously small amount compared to many other similar programs (major players) in the make money industry. FYI there are currently 315,427 members within WA and this number is still growing.
According to the terms of service that all WA members accept upon joining, billing is recurring on a monthly basis and you are in full control of your membership. You as a premium (paying member) can cancel your membership at any time through your account settings.
If you aren't computer savvy and can't cancel it you can always write to Kyle or Carson and they will be happy to help you.
From my personal experience and contact with Kyle I know that he is very generous and polite man. My main business is actually writing reviews about MMO products that are mostly scams and then pointing people in the right direction, i.e. send them to Wealthy Affiliate because it's highly reputable and legit program that has helped thousands of people build a successful online business and quit their job.
I owe to WA for having my site up and running and making me money. One of my referrals that joined Wealthy Affiliate through my site once asked Kyle for refund after the payment has been done and Kyle refunded his payment.
Here is a proof


Anyway, you are free to cancel your membership at any time and I believe even if you forget to cancel it for some reason Kyle will stop billing your account if you ask him.
If it was bad I wouldn't recommend it
In fact Wealthy Affiliate allows folks to try their service for free so they can make an informed decision while they are free members.
The fact is that there are tons of positive reviews about Wealthy Affiliate on the internet and I've been a premium member of this awesome community for almost 2 years now and if it was bad I would never recommend it to anyone, not mention stay in the community.
As I said above, there is no perfect company in the world and there will always be some that are not happy but the fact is that Wealthy Affiliate is one of the best programs that I know and can vouch for it.
When writing this review I searched for Wealthy Affiliate in Google and found a very long thread at scam.com and spent some time reading what other people were saying about Wealthy Affiliate and all I can say is that WA is NOT A SCAM.
To prove that I'm honest with you here is a direct link to Wealthy Affiliate where you can read real testimonials left by real WA members in response to Kyle's request to leave honest reviews. I think it's the best proof that overwhelming majority of WA members are happy Wealthy Affiliate.
The question now is: Are people really that happy with Wealthy Affiliate and does Wealthy Affiliate provide folks with all they need to become successful online? And finally what makes Wealthy Affiliate different from many other programs out there?
You need a few things to be successful online:
Training
You need a top-notch training on how to make money online that is easy to follow, grasp and then apply the knowledge in practice. Does WA provide this type of training? Yes, the training is really very good, in-depth and in fact it's a step-by-step course.
It includes both text tutorials and video lessons, certification course – 50 lessons and affiliate bootcamp – 70 lessons. After creating your free account you will get access to 10 lessons absolutely for free. It may sound too good to be true but it's true.
You will also learn how to build a business based on your passion. You will get access to a website builder and a keyword research tool and you will be explained how to use them properly to start making money from your website. If you need assistance you'll get it and you will never be alone once you are inside Wealthy Affiliate.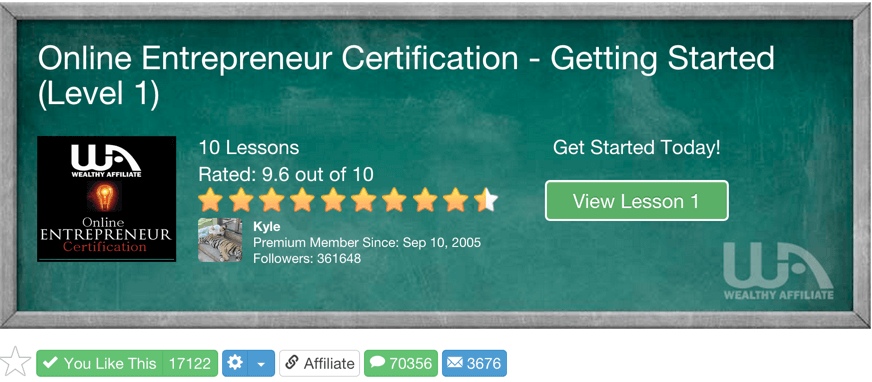 Support
You need supreme, 24/7 support, to be able to ask as many questions as you may need and get answers to your questions because when you're starting online you're going to have many questions and if you don't get timely support you will get stuck at some point.
Most people fail online because most programs provide a decent training and then leave people alone in the darkness without offering any support.
Fortunately, Wealthy Affiliate offers various ways to ask a question: through posting a question inside the community, through PM (private message), live chat or finally you can contact founders of WA, Kyle and Carson.
They are available via live chat almost every day and always reply to private messages. This fact alone makes Wealthy Affiliate different from many other programs out there.
Real life experience
There are many successful members inside Wealthy Affiliate that are already making money and once you are inside you will be able to contact them ask their advice and benefit from their real life experience. You can also contact me or Kyle and Carson.
Kyle and Carson care about you
They are consistently working on improving WA training and the platform adding new features while membership price never increases. All this is done to help WA members achieve success faster and make the whole process easier. This is also something that makes Wealthy Affiliate different from many other programs out there.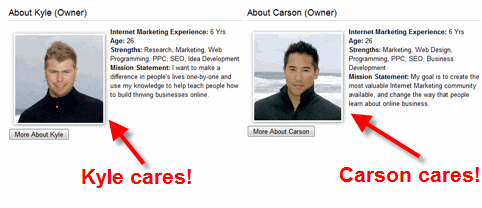 No upsells
Another thing that makes Wealthy Affiliate different from many other programs out there is that once you are inside you will get access to EVERYTHING. There are no more annoying upsells that you have probably seen in other programs.
Summary of what you will get inside Wealthy Affiliate
Once you have your site up and running and learn how to drive a free traffic to your site you will start making money each time any of your visitors clicks on the ads and links you will have on your site by that time. It's that simple.
Why I recommend Wealthy Affiliate
There are many programs in the make money industry and one that I recommend is one of the best programs out there. Remember that all programs in this industry teach people the same thing:
Choose your interest
Build your website
Attract visitors
Earn revenue
The whole make money industry is based on this simple formula.


If you want to quit your daily 9–5 job some day you should start taking action today or otherwise it will never happen. I recommend you to click on the green button below and start going through the first free 10 lessons crafted for people like you that have no any experience in making money online.
This green button that you will see inside Wealthy Affiliate has changed lives of many people including me. Now it's your turn. Please don't take my words as a guarantee of earnings.
About the Author: Adam
My name is Adam. I'm the founder of Your Income Advisor. My goal is to help others succeed online, by exposing scams and reviewing top rated products. I can help you start
your own business online