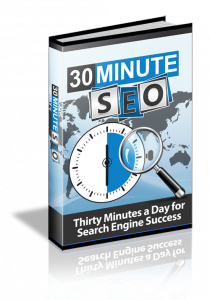 Product name: 30 Minute SEO
Product owner: Stuart Avis
Websites: 30-minute-seo.com/live/sales
onlinemarketingwithstuart.com
Price: $13.95 + 2 upsells
Verdict: Recommended? Yes and No
Stuart Avis is a young internet marketer who has created a 30 minute SEO to help folks build an online business through getting to top 10 in Google and other major search engines, such as Bing and Yahoo.
Stuart claims that his product contains a simple solution to getting your site on page #1 of Google and to achieve it you don't actually need to spend hours on your computer.
Also, Stuart claims that it takes 30 minutes of work a day to get high rankings in Google and drive flood of traffic to your site. Since all internet marketers know that the secret to online success is traffic, Stuart claims that with his product all your problems are going to be solved immediately.
It's true that search engine traffic is the best solution for any website and though there are some other traffic methods, such as social media, YouTube etc, search engines (Google, Bing, Yahoo) send much more traffic than any other site or network does. And the best part of search engine traffic is that it's highly targeted.
Stuart's product is a 61-page PDF guide, a SEO course that will teach you how to get your site ranked in Google top 10 and drive traffic to your site.
Stuart's guide contains some valuable information though this product is not the best one available on the internet and in my review I'm going to explain what I think about 30 minute SEO guide.
Pros of 30 Minute SEO
Contains useful info on how to rank in Google top 10
Price is affordable
Money back guarantee
Cons of 30 Minute SEO
The info is very basic
Two upsells
No real support
30 minutes is not enough for high rankings
Inside the product
1. Stuart's product contains valuable information on how to optimise your site which includes a comprehensive knowledge of SEO topics, such as meta tags, keywords, backlinks and more. Though the info is valuable it's very basic and if you're just staring online I think it's not enough.
I think the most missing part of this guide is a keyword research topic. Stuart talks about keyword research but it's not enough to understand how to find keywords that can drive a lot of traffic to your site. It's extremely important because we don't need to chase after any keyword that is useless.
We need only keywords that have the least competition and enough monthly searches. When you start a blog Google won't rank your site high because it's new and if you want to get high rankings you need to do a proper research to find keywords that are easy to rank for.
2. Once you get access to the members area you will find 2 ebooks there, one is actually the product itself, i.e. 30 minute SEO and the other one that consists of 2 pages. All other products are actually upsells you need to buy, Advanced and Elite.
I always say in all my reviews that I don't like the idea of upsells because it means that your product is incomplete and you need to buy some other packages to be able to achieve the goal described in the main product, i.e. in this case in 30 minute SEO.

3. BTW, the worksheets Stuart informs you about in his promo is actually an upsell called 30 minute SEO Advanced designed to help you apply what you have learned to your website. The idea is good but it will cost you extra money, $10.
4. The good thing is that Stuart talks about black hat SEO because you must know what to avoid to get high rankings in Google and be safe from Google penalty which is very hard to recover from.
In general, black hat SEO means trying to find some loopholes in Google ranking algorithm to get rankings faster because traditional methods take much longer time.
Black hat SEO is bad because even if you get some rankings and traffic you will lose it all some day and keeping in mind that Google becomes smarter with each update you don't have any real chances to keep your rankings if you have done it through black hat methods.
5. Unfortunately, Stuart doesn't tell anything about keyword stuffing which is very important to know before creating content for your site. Fail to know this info and you can be easily penalized by Google.
6. Another missing part of Stuart's product is that he doesn't tell anything about niche research which is very important for understanding SEO.
If you plan to build a site you need to choose a topic, a niche you are going to write your content around and to do it properly you need to know how to find the right keywords related to your niche. Niche and a keyword research should be done jointly, not separately.
7. Support is unfortunately another missing part of Stuart's product. The only way to contact him is via email which is not so good when it comes to internet marketing and SEO. You are not the only one who is going to email Stuart with numerous questions and I don't think he can answer all emails in a timely manner giving detailed explanation on each topic.
8. The idea of 30 minute for successful SEO is absolutely wrong and misleading. I have enough experience in SEO and many pages of my site are in top 10 of Google which means I know what I'm talking about.

To prove you I can give you a few examples. Type "Walter Green's money system" or "secret success machine" in Google and you will find my site in top 10. I can show you more examples but I hope these two will be enough.


The truth is that if you want to get top rankings in Google search you need to work on your site for several months, up to 6 months for decent results and 1 year for good results. Stuart claims that you don't need to spend hours to get top rankings and I say that it's not true.
In order to get top rankings you must learn how to write your content properly and you need to write consistently, not just one or two articles and then sit and wait for traffic. It's just not going to happen.
I spend 5,6 hours to write an article, over 1000 words at least because the longer and more detailed your article is the more chances that you will get to top 10. If you don't write consistently you will simply start losing your rankings.
9. Comments are starting to play a huge role in getting high rankings in search engines and if you write content and don't get enough comments to prove Google that you have enough engagement on your site you won't have high rankings and the massive traffic accordingly. This is what Stuart can't help you with.
Final word on 30 minute SEO and my recommendation
I think Stuart's 30 minute SEO is not bad, it contains some valuable info and the price is affordable. You can buy it if you want and my verdict is that it's not a scam, it's an ethical product. But keeping in mind all critical aspects that I've mentioned above I at the same time can't recommend it. So, it's up to you.
If you want to learn SEO the proper way, plus how to make money online, get access to all necessary tools such as keyword research etc, get 24/7 support and more I can honestly recommend you one of the best programs on the web – Wealthy Affiliate. I've been a member of it for almost 2 years and I'm happy with it. Read my review and let me know if you have any questions.
About the Author: Adam
My name is Adam. I'm the founder of Your Income Advisor. My goal is to help others succeed online, by exposing scams and reviewing top rated products. I can help you start
your own business online