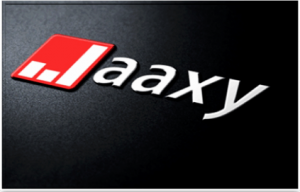 Product name: Jaaxy
Product owner: Kyle&Carson
Website: jaaxy.com
Price: $19 per month, Free Trial Available
Verdict: Legit and highly recommended
All internet marketers are struggling online for better rankings because better rankings mean more traffic to your site which is really critical in order to be successful online.
If traffic is the foundation of your online business, the right keyword is the foundation of your traffic. If you create a lot of content, that's really good because content is even more important than traffic.
It's the content that leads to traffic and the more content you have, the more traffic you can expect. But if you write without proper keyword research, it's the same as if you were writing without having an audience which of course makes your efforts useless and there is nothing worse than writing when you know that no one is going to read your material.
And here keyword research tools come into play and we must use them if we want to achieve our goals. There are many different keyword tools out there like Wordtracker, Google AdWords Keyword Planner, SEMRush, etc.
Each of them is great and has some advantages and many of them offer different options, but when it comes to CRITICAL metrics, such as "exact monthly searches" "estimated traffic" and "QSR" (competition), most of these tools fail to provide an exact data or any data at all.
The best keyword tool that I found to be very easy when it comes to using it and understanding its metrics is the Jaaxy. It does really provide an exact data you can rely on and to be honest, I'm not planning to use any other tool in the near future.
So, in my Jaaxy review I'm going to explain why it's so great and why you need it if you want to increase traffic to your site.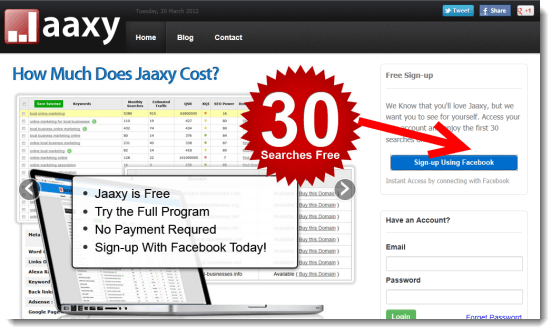 The Jaaxy Pro Package
First off, I would like to point out that before choosing the Pro package with unlimited access to Jaaxy, which will cost you $19 per month, you can create a free trial account and perform 30 searches before you make your final decision. I think that's really great and you have nothing to lose.
I think the price is pretty affordable to most people and if you are really active at writing content for your site, I highly recommend it and I'm sure once you try it you will love it.
But I understand that paying $19 per month is not always the best option. I can tell you my little secret 🙂
You don't need to pay every month for the access. You can pay for one month and once you get a 30 day access, you can create a list of keywords you're planning to write around in the next few months, do all your keyword researches and then pay next time only when you need the tool again.
The training
Once you get access to Jaaxy members area, you will see the menu at the top and the "training" option. This is a video training on how to make a keyword research, which metrics to look at, how to understand those metrics and finally which keywords to choose.

The training is vey detailed and I'm sure after watching it, you won't have any questions as to how to use this keyword tool. But if for any reason you will have some questions, don't hesitate to ask me and I will be happy to help you out.

Site rank
There is an option "Site rank" which is very helpful if you want to know how your website ranks on Google. You enter your desired keyword, your current page URL for the same keyword and hit the search button. You will get an exact data about that specific page of your site and its position on Google.

That's really a cool function of Jaaxy tool. You will also see a small green or red arrow which shows you whether your page rank went up or down. If it's red that means it went down and if it's green that means it went up.

In fact, you can check your rankings in Google through your browser's incognito mode, but Jaaxy makes this process much easier and faster because in case of using Jaaxy, the whole process becomes automated and you can check your website rankings for multiple keywords within minutes.
So, this function will make your life easier.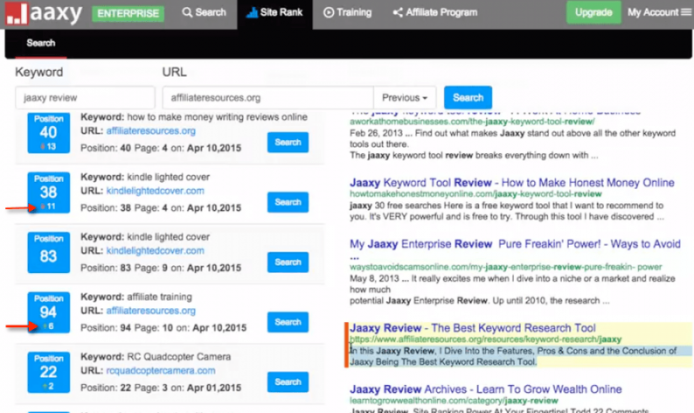 Jaaxy Affiliate program and some other cool options
You can also sign up for the Jaaxy affiliate program, promote Jaaxy and make some money. That's really great because not every program gives you such opportunity.
And there is also a training inside the Jaaxy members area on how to create your affiliate account and get your affiliate link.

There are some other good options, such as "Saved lists" and "Search History". Saved lists means if you have done your keyword research, it allows you to save your keyword list to return to it whenever you need.
So, you don't need to do the search again. Search history keeps all your searches which can also be very helpful in some cases.
Another great feature of Jaaxy tool is that it allows you to do keyword research through alphabet soup technique.
That means if your targeted keyword is "make money online", you then enter "make money online" phrase into the Jaaxy search box and add "a" letter and it will give you a few options of keyword phrases you may want to write about.
Then, you can repeat the process and add "b" letter and so on. So, Jaaxy allows you to find unlimited number of keywords that you can use to create content for your website. Remember, more keywords means more traffic.

 
The best part of Jaaxy
The most important and impressive part of Jaaxy is that it gives you info on metrics you can easily understand and the data, such as monthly searches for specific keyword and its competition which is extremely important before creating content.
Because without those metrics you don't know what to write about or if it makes any sense to write on specific topic or not.
Many keyword tools don't provide the exact info or it's very approximate and you can't create content spending your efforts that will finally result in no traffic at all.
Though Jaaxy is not perfect too, but when it comes to providing CRITICAL data, such as monthly searches, estimated traffic or QSR (competition) for specific keyword, it provides the best data possible, very close to actual search results.
I personally don't know any other keyword tool that could be as good as Jaaxy though it's not perfect too.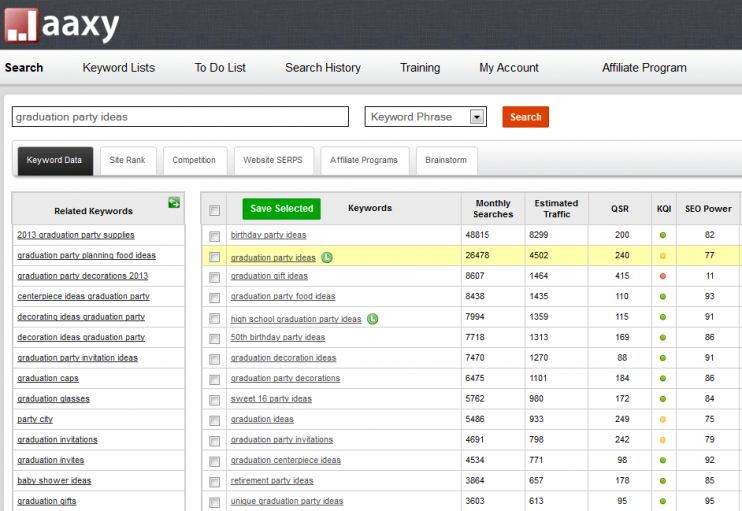 Once you know what keyword you need, you enter it into Jaaxy search box and hit enter. Once you have search results, you need to look at 4 metrics
Monthly searches
Estimated traffic
QSR
KQI
Monthly searches metric shows you how many people search for the term each month. The more traffic the term has the better for you because it means that the term is very popular.
Estimated traffic metric shows you how much traffic, i.e. unique visitors you can expect from the term if you can get your page ranked on the frst page of Google search results.
QSR (quoted search reults) metric shows you real competition for the term. When you choose a keyword to write your content around, you should always look at this metric because it's extremely critical metric. Always choose one that is under 300 because it has a good chance for getting high rankings. QSR under 200 is much better and there is a high chance of getting top rankings.
KQI metric (keyword quality indicator) – green circle means it's an excellent keyword, yellow means it's not bad and red one is not good. You should always focus on green one because there is a high chance that you will be able to get top rankings for the term.
As I know, Jaaxy is the only keyword tool that provides data such as QSR and KQI which makes it stand out amongst all other keyword tools available on the web.
Do you still need Google search if you use Jaaxy?
Yes, you still need to use Google search to make sure that your chosen keyword is exactly what you should focus on before creating content for your website. I would even say that it's very important and I will explain why.
When you get competition data, i.e. the number of competing pages through Jaaxy, you can be 100% sure that this data is correct. But you still need to check your keyword manually through Google search.
Once you have got the data from Jaaxy, you go to Google and enter your keyword in the search box.
Once Google has given you search results, you need to manually check all sites that are ranked on the first pages on Google to make sure that there is a room for your site too.

If you see sites that are ranked for your chosen keyword and among those sites some are not authority sites or they don't exactly match your chosen keyword then there is a good chance that you can outrank them. Or you can write more content on the topic and outrank them.
For example, if they have 1500 words in their articles you can write 2000 or 2500 and I'm sure you will outrank them. It doesn't work with 100% accuracy, but in many cases I can outrank even older sites.
That's why, don't forget to use Google search after completing your search through Jaaxy keyword tool.
Jaaxy or WA keyword tool?
I know of this tool because I'm a premium member of Wealthy Affiliate since 2013 – # 1 online business community that teaches folks how to build a successful online business.
They have the best training, tools and 24/7 support and actually this program has helped many people start making money online and quit their jobs.
They have a keyword tool that is almost the same like Jaaxy and since I'm a member of this program I use that keyword available to the members. If you want to learn how to make money online the honest and legit way, Wealthy Affiliate is a real deal and once you are inside the members area you don't need Jaaxy anymore.
But if you don't plan to join this program then I highly recommend you to try Jaaxy. Anyway, you can try Jaaxy for free before you make your final decision. And you can also try Wealthy Affiliate within 7–10 days.

About the Author: Adam
My name is Adam. I'm the founder of Your Income Advisor. My goal is to help others succeed online, by exposing scams and reviewing top rated products. I can help you start
your own business online