Product Name: Marketing Impact Academy
Website: http://www.marketingimpactacademy.com/
http://www.chalenejohnson.com/instagram-impact/
Product Owner: Chalene Johnson
Price: $1,999
Overall rank: 40 out of 100  
There are tons of different programs you can find online that are focused around using social media sites as a way to grow your online business. As you probably know, if used the proper way, you can drive real traffic from social media sites, such as Facebook, Google plus, Twitter, Pinterest, Instagram etc.
The programs are all different, some offer video lessons, some eBooks but of course, to learn how social media thing works, video lesson is the best option because it shows you exactly how to apply the knowledge. In my review of the Marketing Impact Academy I'm going to show you if the program is worth your time and money.
The main idea behind Marketing Impact Academy
The main idea behind Marketing Impact Academy is to show you through video lessons how to use Instagram and other social network sites to get a lot of followers to grow your business. Chalene Johnson is the presenter of all her videos. But actually, Chalene's course is not going to teach you how to grow your business. It will only teach you how to get new followers on social media platforms.

Read the most recent comment on my site about Marketing Impact Academy

Pros of the program
Money back guarantee
Some tips given by Chalene are great and useful
Videos are of good quality
Cons of the program
There is too much noise around the program
The information is basically generalized and motivational though contains some useful tips
Some practices taught by Chalene are spammy
No real support from Chalene
The price $1999 is too high for that type of product. You can find other similar products for a much lower price
The course is very specific and can't serve as a good starting point for someone who wants to start an online business
Inside the program
Here is what you will get with Marketing Impact Academy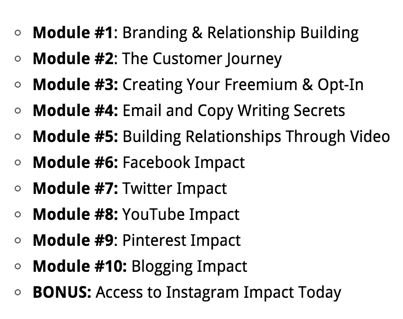 1. First off, as I said above, this course is not about teaching you the basics of internet marketing. It's just about teaching you how to get new followers on social media sites. But one thing you need to understand – getting new followers on social media doesn't mean that you can make tons of money. Not at all.
First of all, it's not an easy task to get new followers on social media. If you think you will watch Chalene's videos and start getting tons of followers right away, you are wrong. Getting new followers requires time, hard work and patience.
You need to create your own content on your site first because if you don't have your own engaging content then how are you going to get new followers? What can you offer them if you don't have content on your site? and why should they follow you then?
2. You have to interact with people on a daily basis or every other day at least, be active on social media, read other posts, leave comments. To be short, it requires time and effort. Getting new followers is not about watching video lessons and then applying simple steps, 1,2,3.
3. Also, I have my social media accounts at Facebook, Google Plus, Twitter and Pinterest. Often times other people read my posts that I share through my site and they like it, they leave some comments but they don't follow me.
Reading your content and liking it doesn't always mean that people follow you. And even if they follow you, this doesn't always mean that they will buy from you. What I mean is that in this sense Chalene can't help you in any way. She just gives you a theory but she can't guarantee results.
4. There is a separate course called Instagram Impact which you can buy for $99. But if you buy Chalene's main course for $1999 then you will get Instagram Impact for free. You can buy Instagram Impact and it's a good course, but I don't recommend to spend money on this course simply because you can find a lot of tutorials on how to use social media accounts to your benefit, including Instagram on YouTube FOR FREE.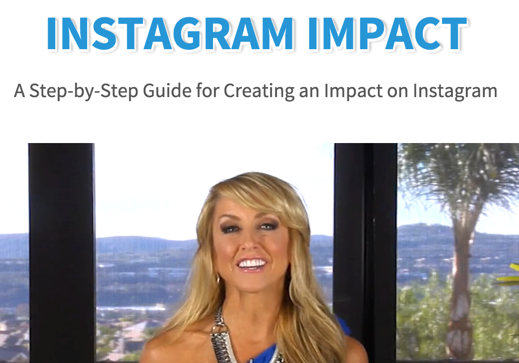 5. On a side note, Chalene is a good and professional presenter and really does a great job by explaining things in her videos. I think, I could recommend it but the product is overpriced and that's why I don't think it's a good idea to pay for it.
6. Chalene also teaches you how to share info on different social networks by focusing on things such as choosing the best time to post or colors that work best and some other useful small tips but the main problem of such approach is that it can't be applied for long. Everything changes in the world, trends change and social media changes too.
7. Many internet marketers use third party tools to control their social media accounts and Chalene does teach you to do the same. I personally never use those tools and don't recommend them.
It's always advisable to post on social media manually because it's much more effective in terms of communicating with people and getting new followers. Scheduling your posts with third party tools always looks robotic and people notice it.
8. Chalene doesn't provide any good support like many other product owners. Without support you can never achieve your goals, no matter how great a product is. Good and timely support is the fundamental part of any product/program. If support is not good I never recommend that product to anyone.
9. You will also learn how to use the power of email marketing and this is of course an effective method to grow your business. But though this method is good, it requires time, patience and hard work before you can build your list of subscribers.
10. Chalene also teaches you how to use the power of YouTube which is of course another method of driving traffic to your business. From my experience I can tell you that I have my own YouTube channel, I have my videos top ranked on YouTube and I have daily visits to my channel but still it's extremely hard to get visitors to your site from YouTube.
My e-friend, Nathaniell, a successful internet marketer who has much more videos on his channel still can't get a good traffic from YouTube. What I mean is that like I said above, there is too much noise around Chalene's product and it's overpriced.
Don't pay attention to the magic words that most internet marketers use to make people believe that once they buy their product money will flow into their pockets or tons of traffic will come to their sites. This will NOT happen.
Final word on Marketing Impact Academy
Finally, Marketing Impact Academy is not that bad. Videos are good and helpful. Some parts of the training are also good. BUT I can't confidently recommend it to everyone simply because it's too expensive for that type of product. Aside from that, social media is not the only method you should use to grow your business.
To be honest, from my experience I can say that in terms of driving traffic to a site, I find social media to be more effective than a YouTube. But the best method of driving tons of traffic to a site, was, is and I'm sure will always be search engines, Google, Bing and Yahoo.
To pay $1999 for a training on social media alone is not reasonable. This is my opinion.
Just, as an example, I'm a premium member of Wealthy Affiliate – online business community that helped me to build my own online business and I pay $359 per year for my membership ($29 per month). But this membership fee includes all you need to build a successful online business.
A membership includes: hosting, free websites, complete training on internet marketing, social media, weekly live webinars, building a website, SEO, live chat, 24/7 support from the founders of Wealthy Affiliate, other successful internet marketers, support from me, a lot of tutorials literally on any topic, such as email marketing, PPC etc.
I don't know any other program on the entire web that can compete with Wealthy Affiliate. And the best part of it is that you can try it for free within 7 days.
That's why I can't recommend Marketing Impact Academy. For more info about my top ranked program read my review by clicking on my top ranked program below.
About the Author: Adam
My name is Adam. I'm the founder of Your Income Advisor. My goal is to help others succeed online, by exposing scams and reviewing top rated products. I can help you start
your own business online