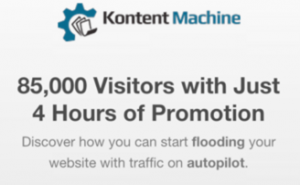 Product name: Kontent Machine
Product owner: Georgi Georgiev
Website: kontentmachine.com
Price: $37 per month or $217 one time payment
Verdict: Not recommended
Kontent Machine by Georgi Georgiev is the type of software that he promises will make you rich overnight. On his website you can watch a promotional video that explains that it's a revolutionary program that can make you $33 a day on autopilot with little effort on your part.
I told in my other reviews that the idea of making money on autopilot is an old marketing trick used by so called internet gurus to make people believe that making money online is very easy and different from making it in real life while in fact, it's not true.
Making money online is as hard as making it in real life and Georgi's Kontent Machine is not going to make you money on autopilot because it still requires hard work and time before you can see real results.
In my review I will take a closer look at this program so you can have a clear understanding how it works and if it's worth your money and time.
The main idea behind Kontent Machine
The main purpose of Kontent Machine is stealing content from other sites and using it as your own content. Using this software you can steal content, then rewrite it and put on your own website. It's also called content spinning which is in fact a plagiarism. Though this technique doesn't work as well as it used to work in the past some people are still using this method.

Pros of Kontent Machine
You probably can make some money using this method
Cons of Kontent Machine
Unrealistic promises
Stealing content is not ethical
This method can destroy your entire business overnight

Inside the program
1. The fact is that very often Google doesn't rank such content well and you need to have tons of this type of content to be able to get a decent traffic from search engines. I'm sure this type of low quality content won't bring you enough traffic in order to make enough money and that's why using this software doesn't make any sense in my opinion. He also claims that this type of content gets ranked super fast. This is not true.

I have enough experience in internet marketing and always write my content myself to drive traffic from search engines and I don't plan to use this type of software in the future.
Gaining authority in Google takes time and hard work while in case of using content spinning software such as Kontent Machine you can lose your authority and site rankings and the traffic accordingly.
Would you want to lose your traffic and destroy your entire business you have been building for months? I can use this type of software too to make the whole process easier but I will never do it because I don't want to put my site at risk.
2. With this type of low quality content you probably can get some decent rankings in search engines, on the 2-d or 3-d page of Google, but it won't bring you the amount of traffic you expect and that's why you can't build a real business.
Most probably you won't get any rankings at all or even your site can be penalized entirely. Anyway, you shouldn't expect serious results or serious money using this deceptive method.
If it was so easy then everyone would be stealing content and making tons of money on autopilot and I would be the first one to use this method instead of writing original content which takes time and effort.
Yes, it takes time and hard work but it pays off and I'm building my business on a strong foundation. Besides that, stealing content is not ethical and there is really no way for such business. Also, Google becomes smarter and smarter and don't think that you can be smarter than Google.
3. In his promotional video Georgi claims that his software has nothing to do with writing interesting and engaging content and you just need to use his program to get as more content as you want and easily make money. This is not true.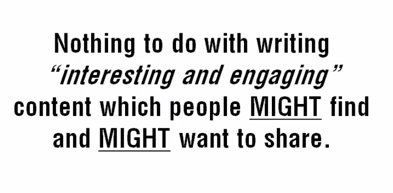 Writing original and interesting content is extremely important for your online success because you don't write for Google robots, you actually write your content for real people and I can tell you with full confidence that content that has been rewritten using software doesn't look like content written by human and readers understand it.
In most cases your readers will leave your site and never come back again. Do me a favour and ask yourself a question: "Do you want to read original content or content generated using software like Kontent Machine?" I think the answer is obvious.
4. Also, in his promotional video Georgi claims that he had a successful website and then was slapped by Google and lost his business. I can tell you that he was slapped most probably due to using some black hat SEO techniques, such as keyword stuffing, buying back link packages or fake likes etc.
If your content is original you most probably won't be slapped by Google. I know sites that have been around for over 10 years now and none of them was slapped by Google updates because they always strictly followed Google guidelines.
Trust me, if someone gets slapped by Google most probably those will be sites that use a low quality content generated by softwares like Kontent Machine.
5. Instead of manipulating search engines I recommend you to join legit program, one that I've tried myself and go through quality training on internet marketing to understand how to make money online.
They will teach you how to build a site (actually it takes a few minutes and doesn't require some special skills), how to write content for your site or hire someone to write for you and how to start making money on the internet. Look at my site. I hope you like it.
I'm not a professional designer and yet I built it. I'm not a professional writer and yet I write my content myself. I learned all this stuff at Wealthy Affiliate and honestly recommend it.
6. Another bad method Georgi teaches you is create hundreds of small websites, fill it with a low quality content created with Kontent Machine and then link from these low quality sites to your main site.
The purpose is again about manipulating search engines and make them think that your site is very popular and other sites link to you. This is how Georgi explains you can boost your site rankings and get a massive traffic to your site. This is not going to work or even if does work it won't be as effective as Georgi promises.
7. If you want to know how to do it the right way it should be done through creating quality and original content and sharing it through social media. You will get back quality back links to your content over time and it will be much more effective than manipulating search engines.
Final word on Kontent Machine
Based on my experience and knowledge I can't recommend you Kontent Machine simply because I'm sure buying it will be a complete disappointment. I recommend you to try a much better program with a much better training, supreme 24/7 support and finally it's legit and highly reputable on the internet.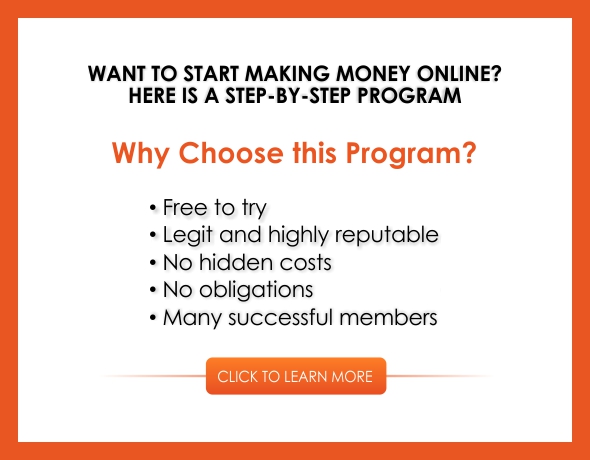 About the Author: Adam
My name is Adam. I'm the founder of Your Income Advisor. My goal is to help others succeed online, by exposing scams and reviewing top rated products. I can help you start
your own business online