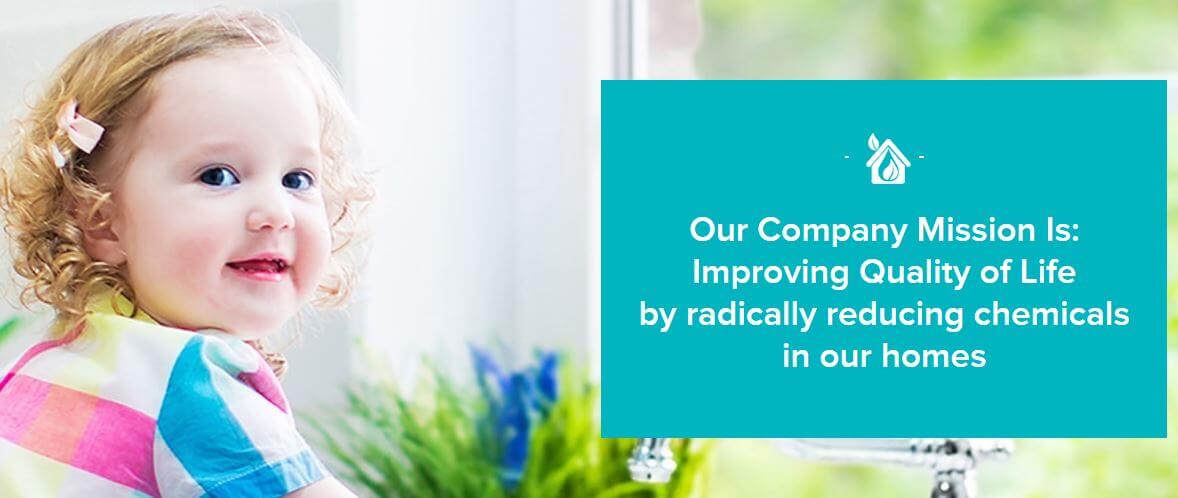 Product name: Norwex
Website: www.norwex.com
Price: $200 starter kit
Owner: Bjørn Nicolaisen
Overall rank: 50 out of 100
Norwex is a multi-level marketing company known as MLM based in Norway and holds strong positions on the market.
It has been in the business for many years now and it looks like the company is doing alright.
Norwex claims it can help you turn your home into a safe heaven and improve quality of your life by radically reducing chemicals in your home.
Norwex has now offices in Canada and North America, Australia, Austria, Germany, Ireland, Lithuania, Sweden, United Kingdom, New Zealand.
So, the company is not new and offers good, quality products. Though there are some complaints about the quality of their products.
Very few complaints to be honest but still there are some. Looking at Norwex as a money making opportunity it's really hard to say if it's a great way to make money selling their products or it's better to look for some other better ways.
Trying to answer a classic question: Is Norwex a scam? I will say: No, It's definitely not a scam. There is no reason or a strong argument to say so.
But let's see if this program can make you money or not or improve the quality of your life.
Short review of Norwex
Norwex is one of the most respected cleaning and personal care companies in the world. They offer a wide range of products, such as dusting mitt, wool dryer balls, cleaning paste, Ultra Power Plus- laundry detergent, kitchen cleaning kit, microfiber cleaning cloth, floor systems and more.
Products are good but prices are not cheap. They are quite expensive compared to other similar products. Selling them is not easy.
Without selling experience joining Norwex is going to be a big challenge for you.
Pros of Norwex
Good products
60-day money back guarantee
Cons of Norwex
You need to be a sales person
Prices are high
Norwex is a legit program. Joining it makes sense ONLY if you feel you can make a lot of sales. Without prior experience you will be struggling to make sales. Norwex requires you to make $250 in sales during every 3-month period. Instead I recommend you to try another program that can help you make money online with no obligations whatsoever. It's FREE to try.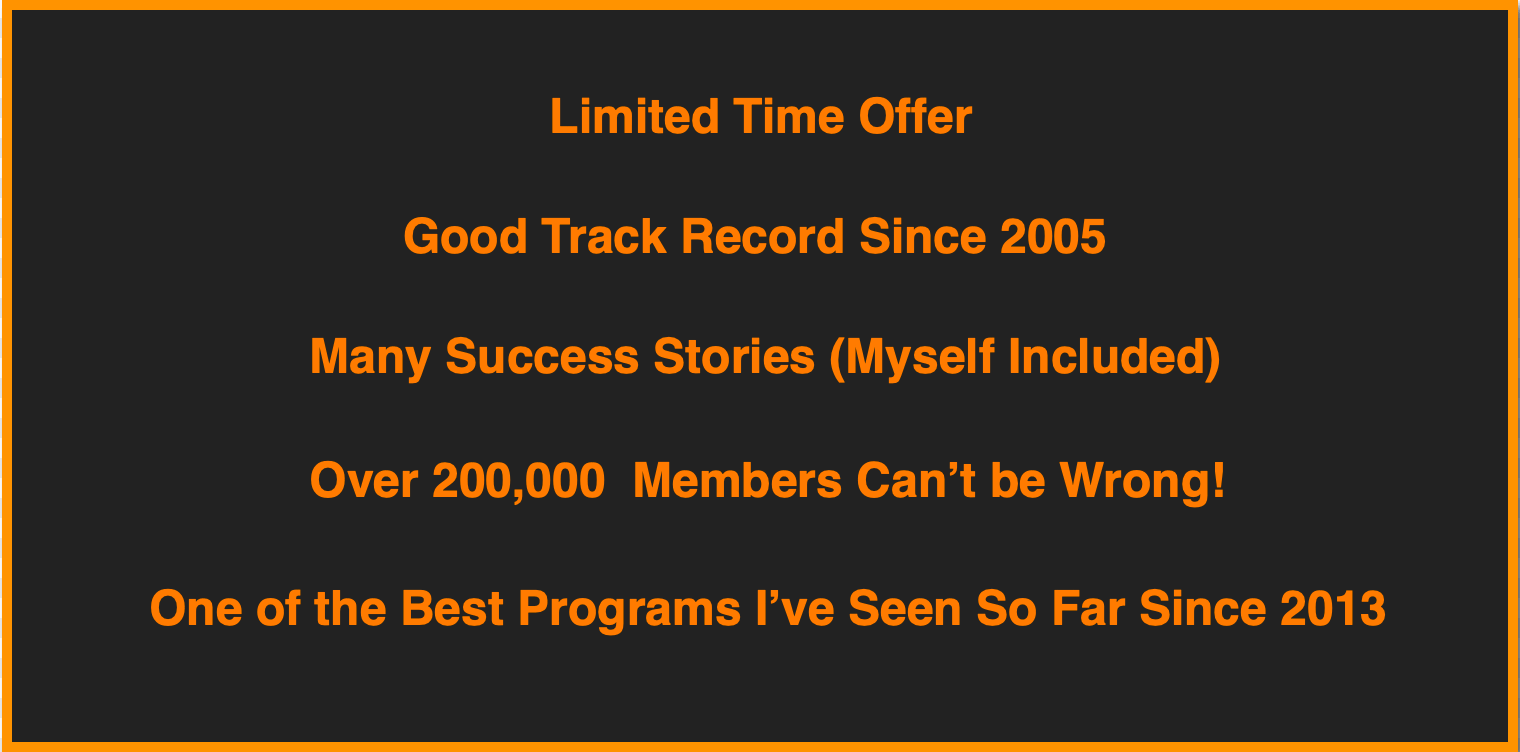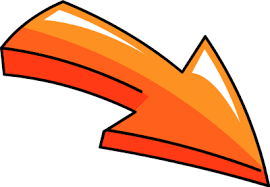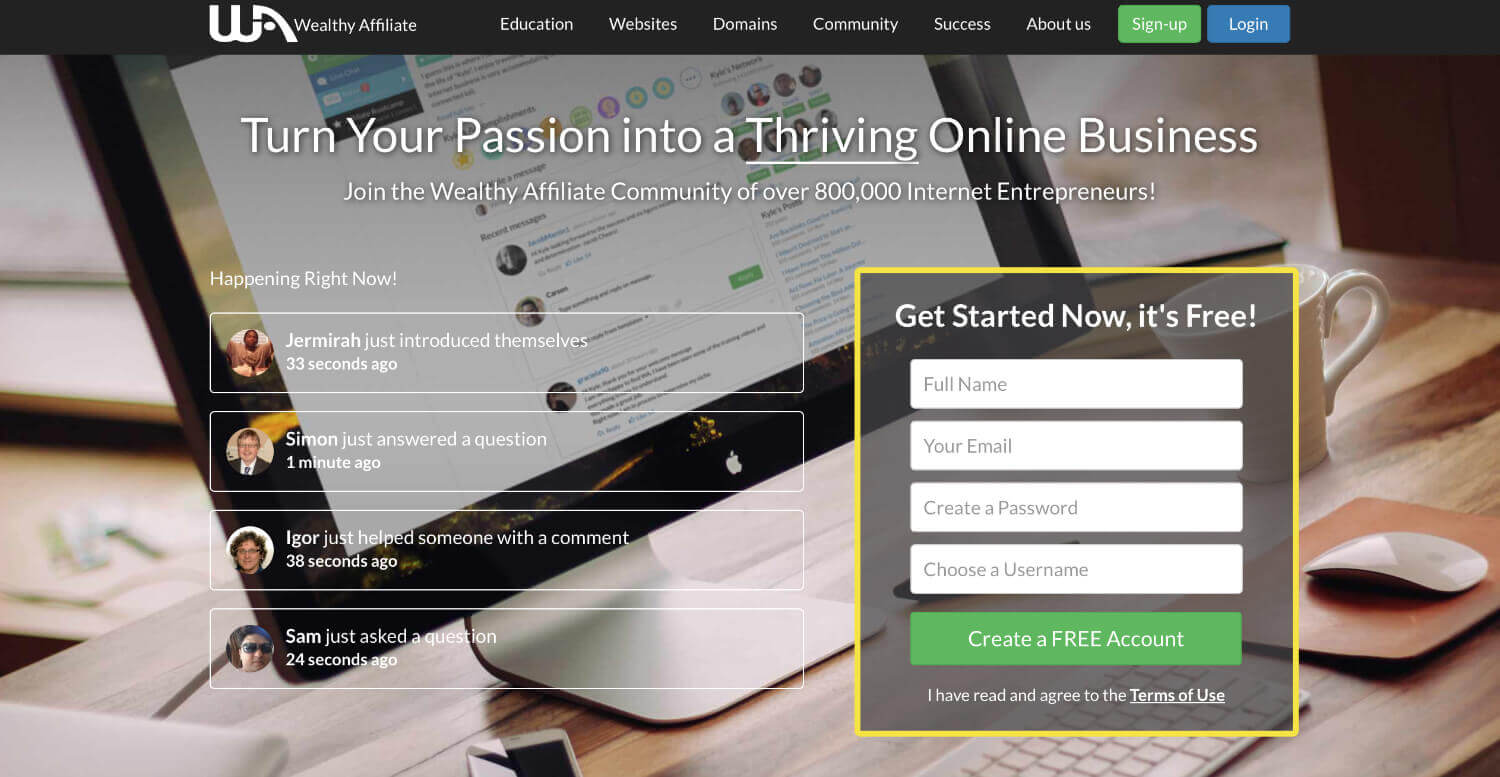 Norwex review
Norwex has been in the business since 1994 and is now operating in more than 10 countries. I already listed countries above.
It has over 40.000 distributors around the world. Influenster.com website shows a positive rating for Norwex that you can see on the screenshot.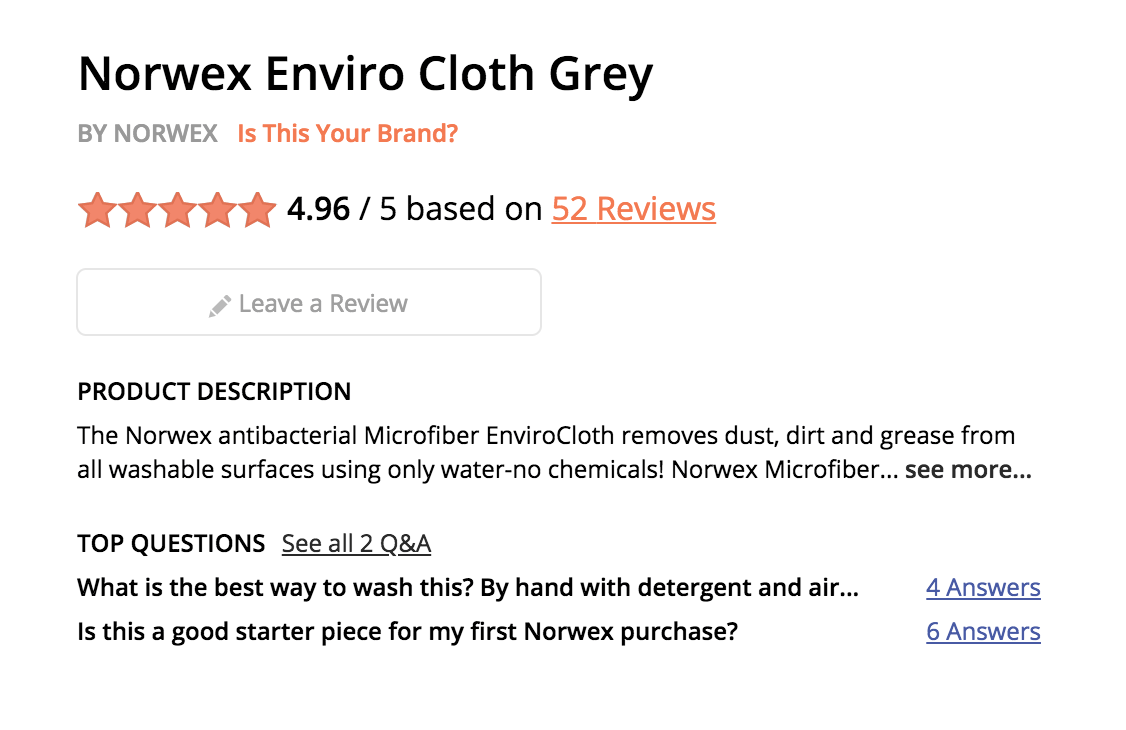 As I said above, Norwex offers various products under the following categories, such as Home Essentials, Floor Systems, Personal Care, Body care, Kitchen Cleaning. All their products are chemical free which is great.
As you can see from the screenshots, Norwex products are not cheap. Not everyone can afford to buy them.
We all get used to buy conventional cleaning products because they are way cheaper. Yes, I know that chemical free and natural products are more safe.
It's true that only 200 chemical products out of 80.000 have been tested for their impact on human health.

But there is no a scientific proof that all others have a bad impact. Most people can't afford to buy Norwex products and there is no way to change the situation.
The only way is only if Norwex reduces its prices and makes its products cheaper so all people can afford to buy them. But it doesn't look like Norwex is planning to reduce prices.
BTW you can find a lot of video on YouTube about Norwex products. There is some interesting info there. But don't get fulled.
Before making your decision I suggest that you go to Amazon.com website and read customer reviews to see not only pros but cons of Norwex products.
Anyway, the idea of Norwex products being free from chemical or containing minimum of chemicals is appealing to many people.
But these products will become affordable only when companies such as Norwex reduce their prices.
Norwex compensation plan
In the United States the average party sales are about $600. This claim comes from Norwex itself. I don't recommend to trust that type of info.
First, it depends on your personal skills and how many friends you have or how often you organize home parties.
There are many factors that should be taken into account. They also claim that a Norwex independent sales consultant receives 35% commission on all retail sales. You can see the screenshots below.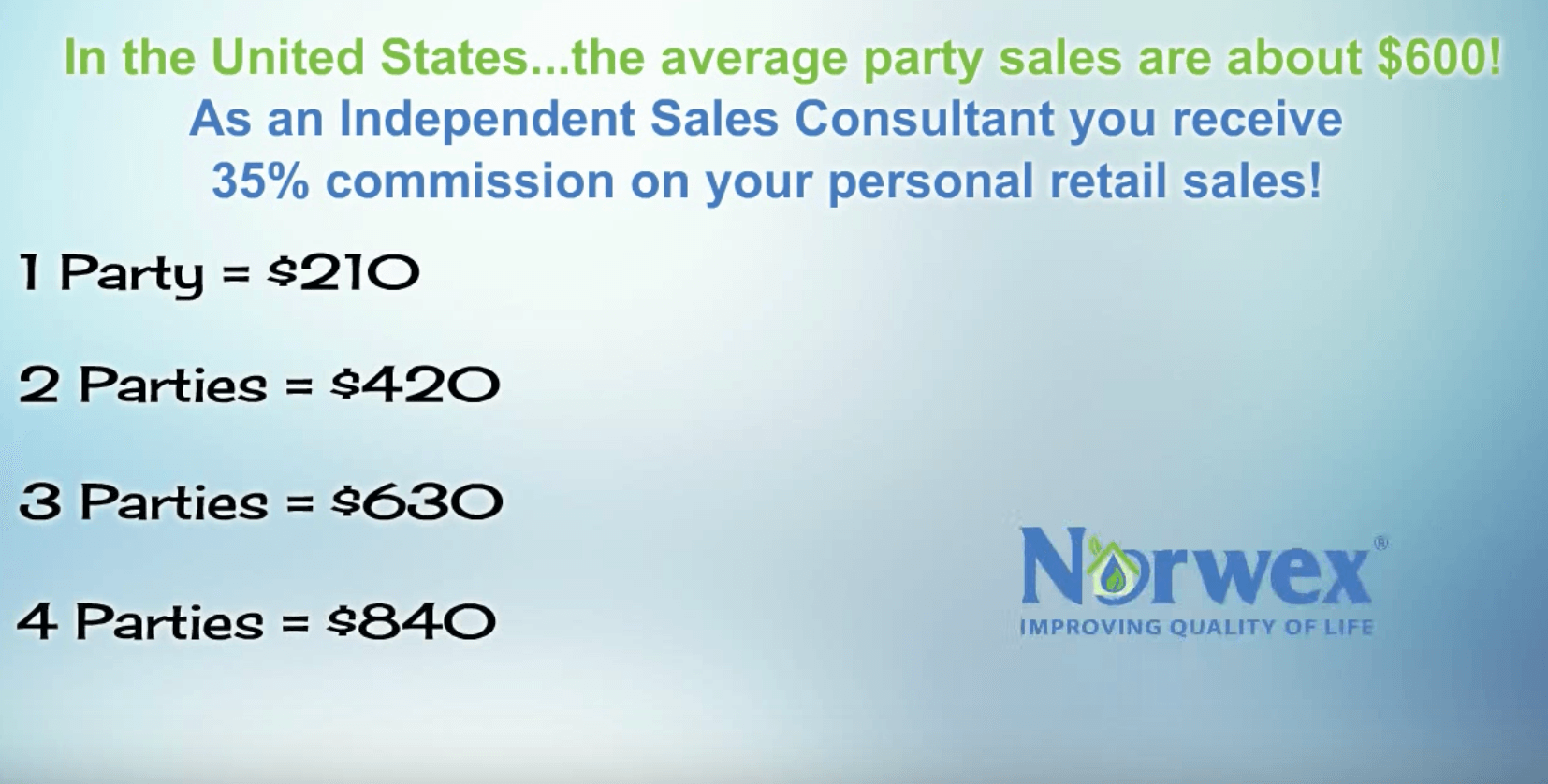 1 party = $200
2 parties = $420
3 parties = $630
4 parties = $840
You can watch their video if you want. But take it with a grain of salt. Your income from Norwex depends on many factors.
Norwex compensation plan video is just an advertising of how it can be which doesn't mean it will be.
Norwex career opportunities
On Norwex website you can find info about career opportunities they are currently offering.
You can join Norwex as Operations Manager, Project Manager or you can send them your CV, cover letter and contact info. Here is Norwex career page.
You can apply on the website and maybe they accept your CV. This is good because you can not only choose to distribute Norwex products but you can possibly get a job at Norwex.
What I like about Norwex
The main thing that like in Norwex is that they don't have any restrictions for their members which is great to be honest.
For example, recently I reviewed another MLM program called Chloe Isabel and found that they had some restrictions. They accepted only 20% of all applicants.
You had to pass their interview first in order for them to decide if you qualify for their program or not.
When it comes to Norwex, they have no any restrictions and anyone can join their program. Compared to Chloe Isabel this is an obvious advantage.
Plus Chloe Isabel doesn't allow its members to promote products from other companies if you decide to work with Chloe.
This is really bad. Norwex doesn't put such restrictions and this is good for you as a Norwex distributor.
It's always bad when a company puts restrictions. Norwex is way better than Chloe Isabel in that sense.
They also give you a website so you can promote Norwex products in online space. This is good of course.
But in order to be successful in online space with your website you need a solid training on affiliate marketing.
For this you will need this program because I know Norwex can never come close to this program when it comes to teaching an affiliate marketing.
What I don't like about Norwex
If you decide to focus on recruiting other people to the system you need to bring a ton of people and build a huge team that will be under you and you will make more money from them.
This part again comes down to MLM structure, a pyramid scheme that I don't like.
The truth is that most people that join MLM become very annoying by pushing mlm opportunity to their friends, neighbors.
I don't know about you but I personally don't want to be an annoying person.
With Norwex you will have to if you want to recruit a lot of people. Or you can do it through your website and for this again you need to join this program.
I personally think Norwex is a good program but there are way better programs out there that you can try for free.

Norwex products are natural and chemical free which is great. But majority of people can't pay for those products.
For example, Norwex Ultra Power Plus Laundry Detergent will cost you $39. It's a lot. Will you pay this amount of money for a detergent?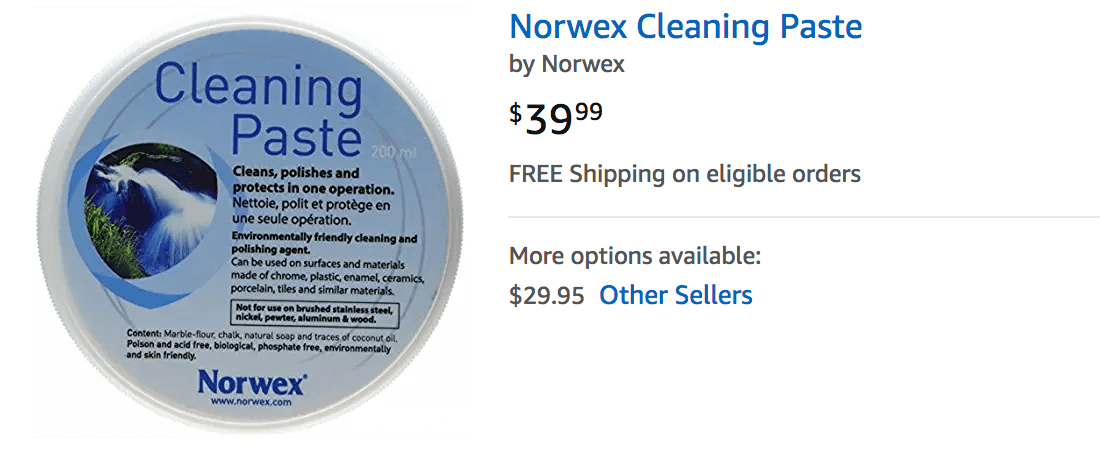 I personally can't afford.
Or Norwex Basic Antibacterial Microfiber Cloth Package will cost you $52.
Norwex Cleaning Paste will cost you $39.
Complaints about Norwex products
To be honest, I didn't find many complaints about Norwex. Very few which is normal.
There are always some people that are not happy with anything you show them. When it comes to Norwex, there some complaints.
For example, I found complaints that you can read below on the screenshot.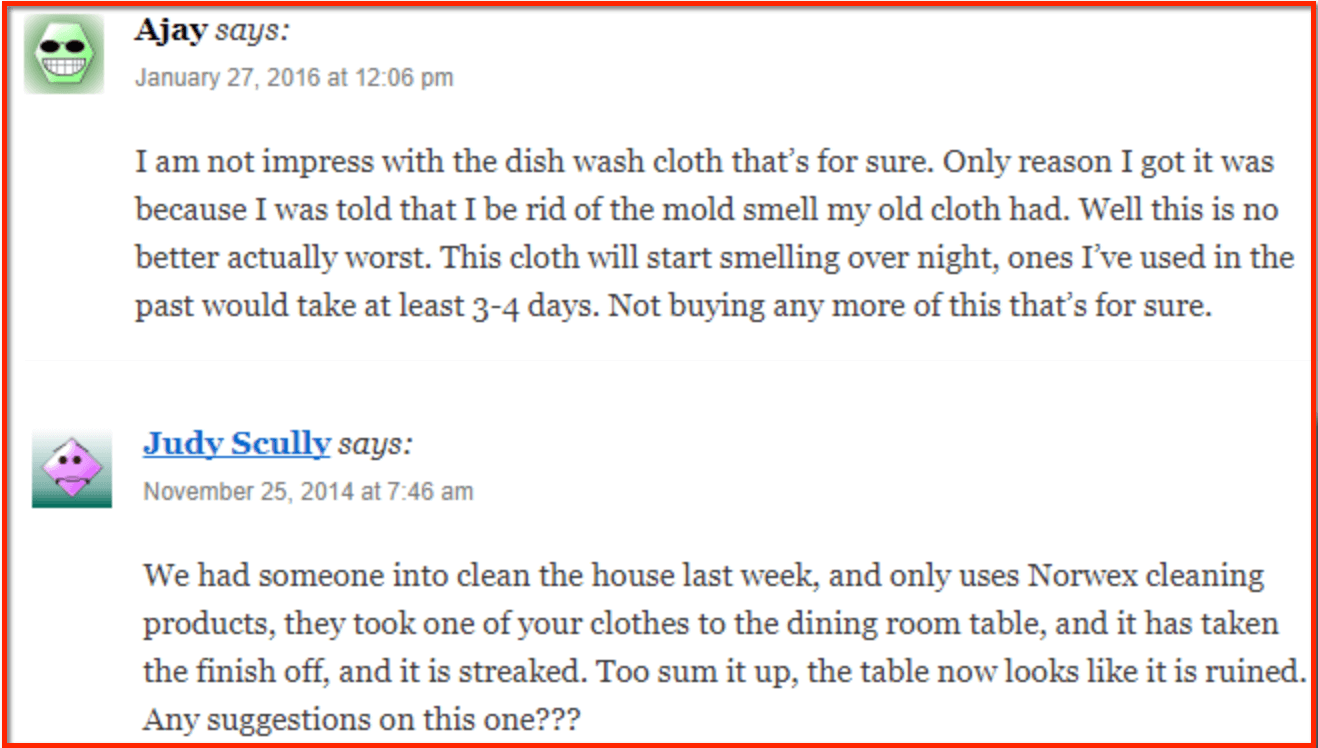 I found them on other blogs left by people in the form of comments.
This means Norwex products are not that perfect at all though most people don't complain.
Like I said, there are always some people who always complain.
BTW, I also found some complaints about Norwex Cleaning Paste on Amazon website.
See the screenshot below. 11% of those who bought the product were not happy with the quality of paste.

Not all Norwex products are quality products. This means if you plan to promote them there will be some people that won't be happy with Norwex products and you should keep this in mind if you plan to join this program.
If you continue your search at Amazon.com website for Norwex products you will find even more complaints.
What does all this mean? Are these products bad? No, they are not bad. But they are not perfect as well.
Can you become successful with Norwex?
Like with any other company like Norwex or any other company you can be successful or fail. Everything can happen.
For example, if you decide to focus on promoting Norwex products you need to have a lot of friends and organize home parties in order to make a lot of sales.
And you need to make sales on a regular basis. Plus you need to make $250 in sales every 3 months.
If you can't then you have to buy products for the same amount or otherwise you will lose your membership.
This is definitely not going to be easy for you. Plus Norwex products are not cheap compared to other similar products available on the market.
So, competition should also be taken into account.
Your second focus should be on recruiting other people because this is the nature of all MLM programs.
If you can do it you can be successful and if not then you will be struggling like most people are struggling with MLMs. This is the main challenge for all MLM distributors.
From my experience in recruiting people to other programs I can tell you that you need to invite approx. 200 people in order to get 6,7 of them to accept your invitation, i.e. join Norwex.
Really really hard. Believe me. I know what I'm talking about.
There is some good potential in Norwex products but relaying on sales through home parties or to your friends is going to be a big challenge.
The only way is to reach to a wider audience which may be possible only through your own website and promotions via internet.
It can be social media, such as Facebook, YouTube channel or some other paid or free advertising methods.
It's always better to start with free methods first. Paid methods are for advanced marketers only.
Final word on Norwex
I think I did my best to provide quality information about Norwex. As you can see from my review, Norwex is a solid company with a wide range of quality products.
Buying their products for your own use is one thing and promoting them for money is another thing. For your personal use it's a good option.
But Norwex products are not cheap. I'm not sure if you are willing to spend $29.99 for Norwex napkins or $24 for 1kg of Laundry detergent. It's up to you.
I don't know level of your income.
When it comes to the MLM nature of Norwex, it's not much different from other MLMs. Your income mainly depends on selling Norwex products and recruiting more people to Norwex system.
Is it possible to do both tasks? Yes, it's absolutely possible in theory. But you need to do it using two methods: methods 1: in real life through home parties, method 2: do it online.
Norwex can help you with method 1. For method 2 you need to join other programs like this one.
If I were you I would instead join this program and promote anything I want without any need to join Norwex.
You can promote various products online and you don't even need to buy their products.
Final glance at Norwex
Good products
60-day money back guarantee
You need to be a sales person
Prices are high
Overall rank: 50 out of 100
About the Author: Adam
My name is Adam. I'm the founder of Your Income Advisor. My goal is to help others succeed online, by exposing scams and reviewing top rated products. I can help you start
your own business online