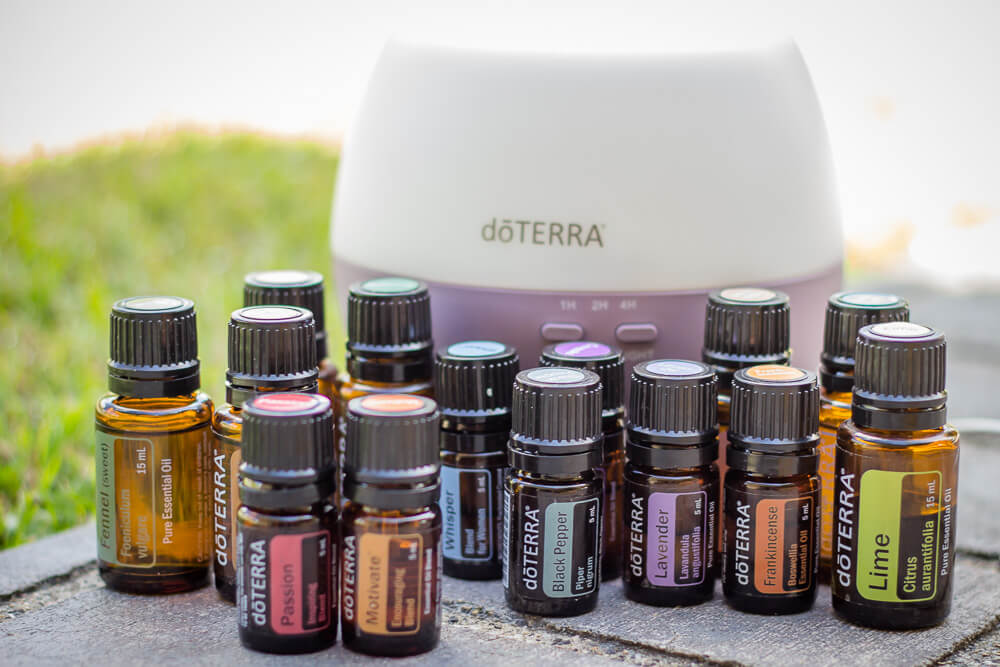 Product name: doTERRA
Website: doterra.com
Price: $35 starter pack+ $100 per month
Owner: David Stirling & Emily Wright
Overall rank: 50 out of 100
doTERRA is a relatively new MLM company that mainly focuses on selling essential oils. It was founded in 2008. It's has been in the business for 10 years now.
It looks like the number of MLM companies is growing but majority of them are not so great in terms of opportunity for people to make money.
I did some research about doTERRA essential oils and found some interesting facts that I want to share with some of you.
Because I know some people are still doing their research to find out what is doTERRA. If you want to know: Is doTERRA a scam? my short answer is "NO".
It's not a scam. It has both good and bad points and I will try to show you all of them so you can see the whole picture.
Short review of doTERRA
doTERRA is based in Utah, USA and was founded in 2008.
It has various products, such as essential oils, laundry detergent, hand wash products, respiratory drops, skincare, body and hair care products, weight loss products, oil diffusers and more.
You can earn some money here and I will discuss it further within my review.
Pros of doTERRA
Cons of doTERRA
Income potential is low
Some complaints
Warning letter from FDA
Let Me Help You and Recommend a Program I've Been a Member of Since 2015

doTERRA review
As I said, doTERRA has a wide range of products, such as essential oils, personal care products, weight loss, accessories, such as key chain, child resistant caps, mouse pad, diffusers, bamboo box double drawer, amber roller bottles, doTERRA orifice remover, FCO bottle pump, pipettes, sprayer, children's supplements, digestive health capsules, vitamins, doTERRA baby collection pack.

So, the product line is really impressive. You have a choice to choose from, to buy for your personal use or sell to others.
doTERRA provides training and some resources for doTERRA members.
Training has several levels:
Discover Solutions
Empowered Life
Empowered Success
Empowered You
doTERRA University
– Discover Solutions has some training materials that you can use to help people understand which essential oil will work for them.
– Empowered Life is a monthly webinar designed to educate you in the field of essential oils. If you plan to join doTERRA you can learn some useful tips to apply in your business.
– Empowered Success is more advanced training. It consists of:
Step 1: It's Simple. Properly Use and Share Oils
Step 2: Participate in Monthly Training, Community, and Events
Step 3: Learn the Basics of Sharing and Building
Step 4: Launch Your Business Or Go For The Next Rank
You can also download some PDF and PowerPoint files, join doTERRA Facebook group, go through social media course.
– Empowered You is a personal development program that has:
Get Started
Use Your Strengths
Unlock Your Potential
Grow Your Business
– doTERRA University is another opportunity to get more education about essential oils. It consists of 3 steps:
Living doTERRA
Sharing doTERRA
Building doTERRA
doTERRA also offers Resources page where you can find literature, Klass kits, eBooks, Flyers, Images, Presentations, Videos and more.
There are several competitors to doTERRA, such as Young Living, Now Foods, Shaklee, Amway, Melaleuca, Nu Skin, Plant Therapy, Aura Cacia, Edens Garden.
With this kind of competition your job as a doTERRA distributor will not be easy. Because doTERRA prices are not cheap.
You will have to educate yourself in the field of essential oils so you can explain to people why they should buy doTERRA products instead of let's say products from Now Foods or Young Living.
According to the information taken from doTERRA website, doTERRA products are CPTG Certified, i.e. Certified Pure Therapeutic Grade.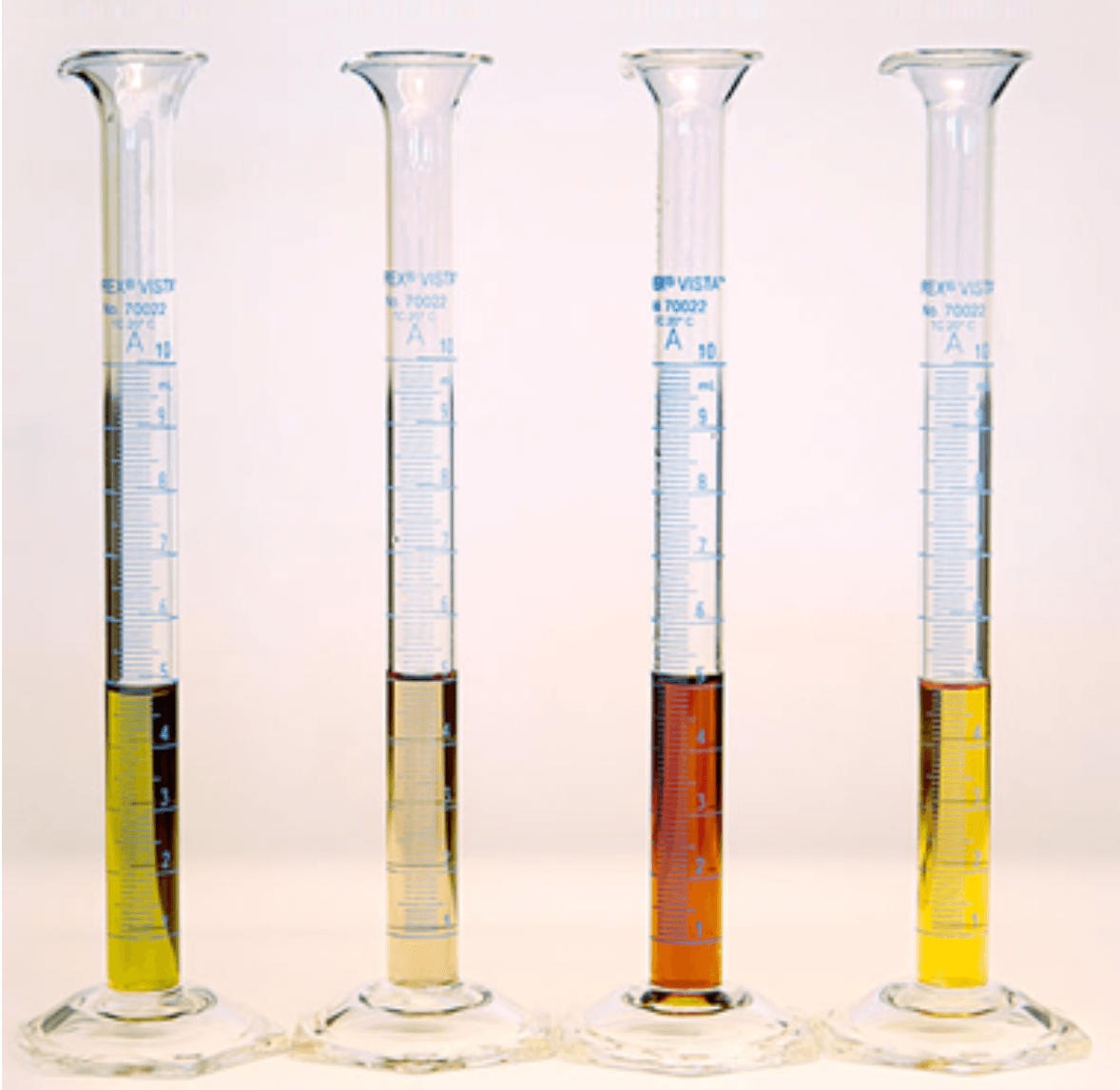 This means doTERRA essential oils are of good quality without synthetic or harmful components. CPTG quality includes the following tests:
Organoleptic testing Microbial testing Gas chromatography Mass spectrometry Fourier Transform Infrared spectroscopy (FTIR) Chirality testing Isotopic analysis Heavy metal testing
For more information about this test you can learn here.
I'm not an expert in this field and can't say if this Certificate does really prove the quality of doTERRA products.
I have no such a knowledge to give such verdicts. More on this read below under the title "What I don't like about doTERRA".
What I don't like about doTERRA
First thing that I don't like about doTERRA is regarding its CPTG ( Certified Pure Therapeutic Grade).
I did some research and found some interesting facts that I believe will interest you too.
doTERRA claims their certificate is from FDA, i.e. their products have therapeutic grade.
The truth is that doTERRA registered its trademark and paid money for it.
It doesn't mean that FDA (Food and Drug Administration of the USA) gave doTERRA that certificate.
Officially doTERRA admits that their products have certification from US Patent and Trademark Office.
This Office is not a laboratory that gives quality certificates. It's not about quality rather than about business trademark.
This means doTERRA tries to convince people that their products have therapeutic quality while it's not true.
You can even read a short paragraph from a warning letter from FDA to doTERRA. There is some food for thought here.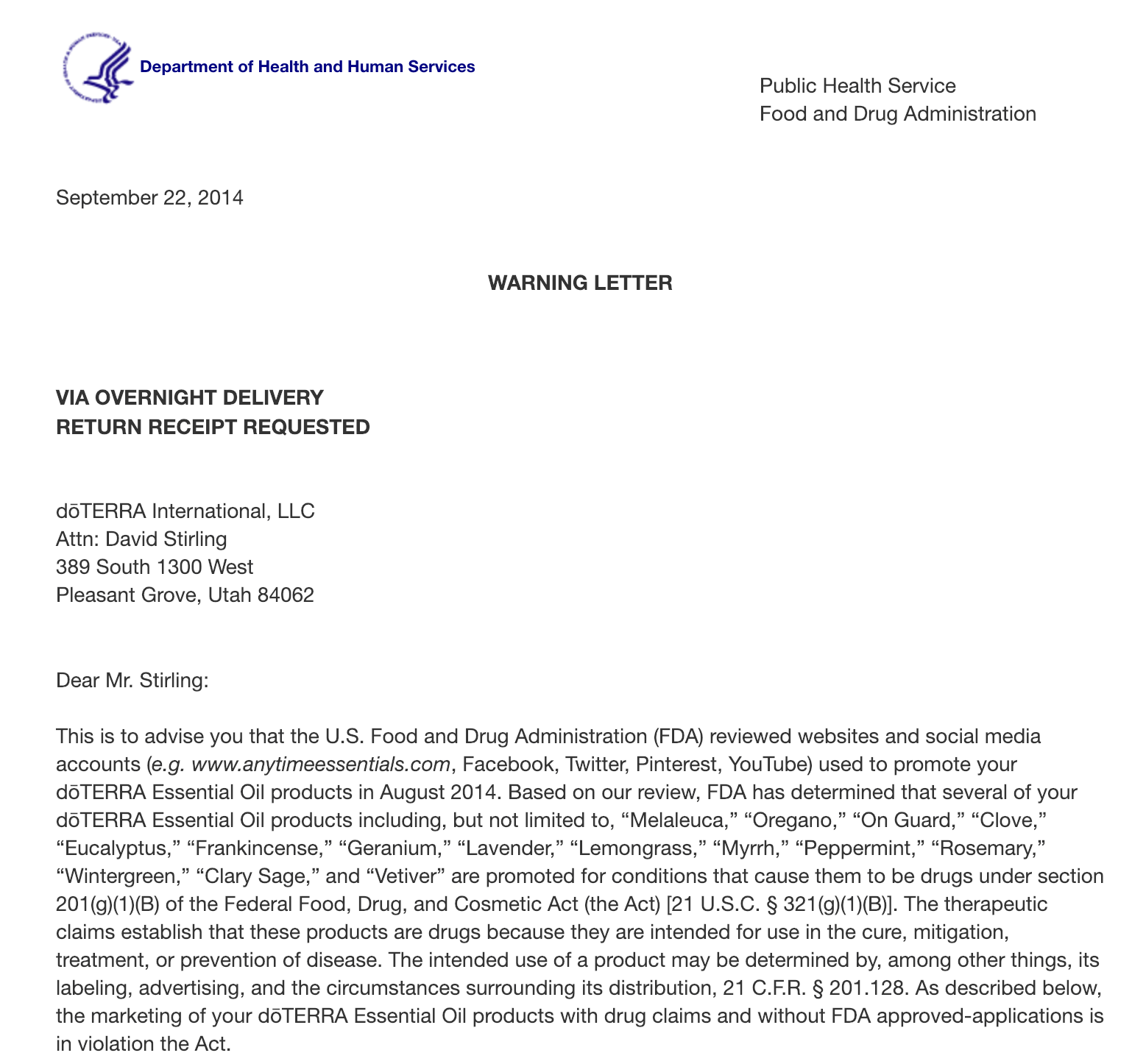 BTW, FTC (Federal Trade Commission) says that companies that make health claims must provide solid proof.
Prices of doTERRA are not cheap though they are not most expensive.
Among brands specialized in essential oils highest prices have these companies:
Brands that have similar products and quality have way lower prices. These companies are:
Now Oils
Edens Garden
Mountain Rose
Herbs Starwest Botanicals
Plant Therapy
For example, you can Lavender oil from Young Living for $32 per 15 ml bottle and for $23 from doTERRA per 15 ml bottle.
And you can buy the same product from Now Oils for $4 or for $11 from Edens Garden. See the difference? I think it's huge. For more info read this post.

I show you the difference so you can see for yourself and decide to join doTERRA or not. I mean competition is very tough.
You really need to try hard to convince people to buy from you if you decide to promote doTERRA products.
I personally think promoting Now Oils or Edens Garden products will be much easier because prices are affordable.
There are really many negative reviews of doTERRA on the internet. Some complaints are from bloggers, some complaints from users of doTERRA products.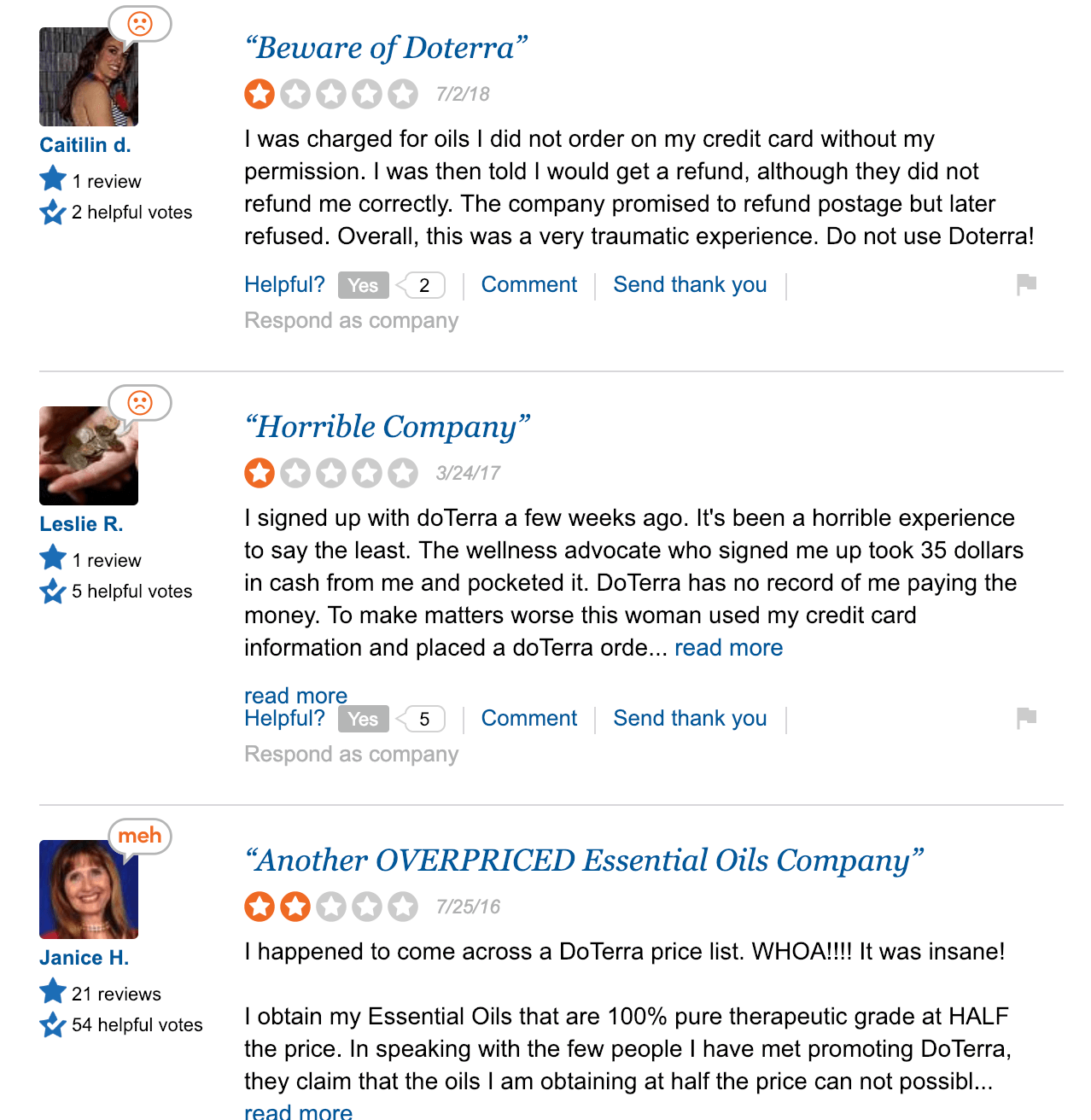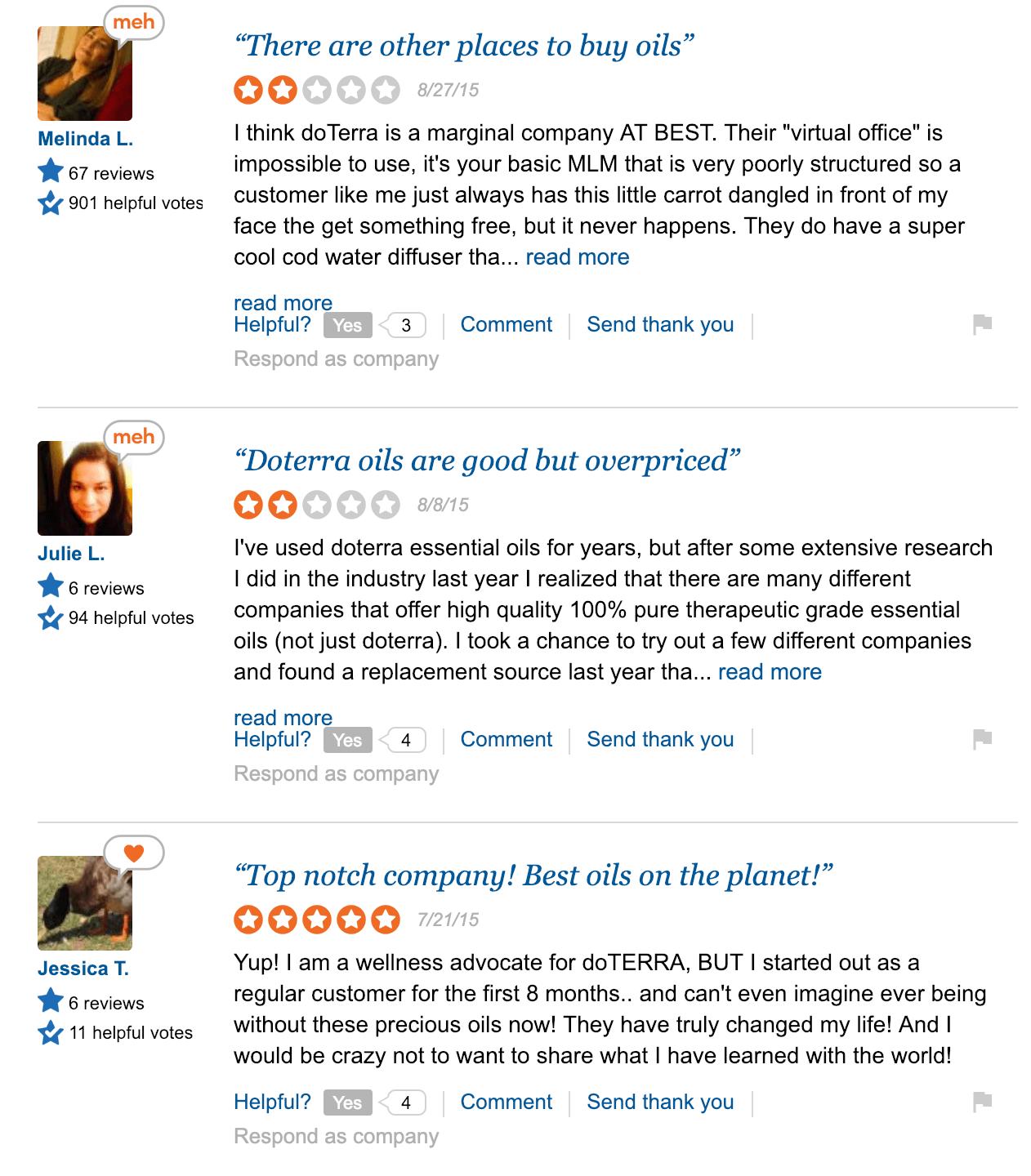 There are positive reviews too. See them below. For example, one of the regular users of doTERRA, Julie say he found a better company that delivers the same quality and their prices are way better than those from doTERRA.
This proves again that doTERRA and Young Living prices are very high. You can buy similar products from other companies mentioned above and save your hard earned money.
The last thing that I don't like about doTERRA is that income potential is low with the company.
What I like about doTERRA
There are some things that I like about doTERRA. First, the company has been in the business for over 10 years and they still have their share of the market.
Generally speaking doTERRA is a legit company and has a a wide range of products you can choose from.
They have good support and help you get started with your business. They have training material and give you tools required for your MLM career.
Though there are many negative reviews of doTERRA due to using misleading product certification strategy some people are happy with the quality of doTERRA products.
I found a story on the internet about someone who had blood disorder and got cured thanks to using doTERRA's Frankincense.
It's good to know that doTERRA products helped that person. But it doesn't mean it can help other people too.
As I know, there is no scientific proof that essential oils can cure you from serious diseases like cancer.
Again, here we come to the same warning that gave FTC regarding exaggerated health claims.
We have to be very careful making such claims. Here is I found another warning letter from FDA addressed to Young Living and doTERRA.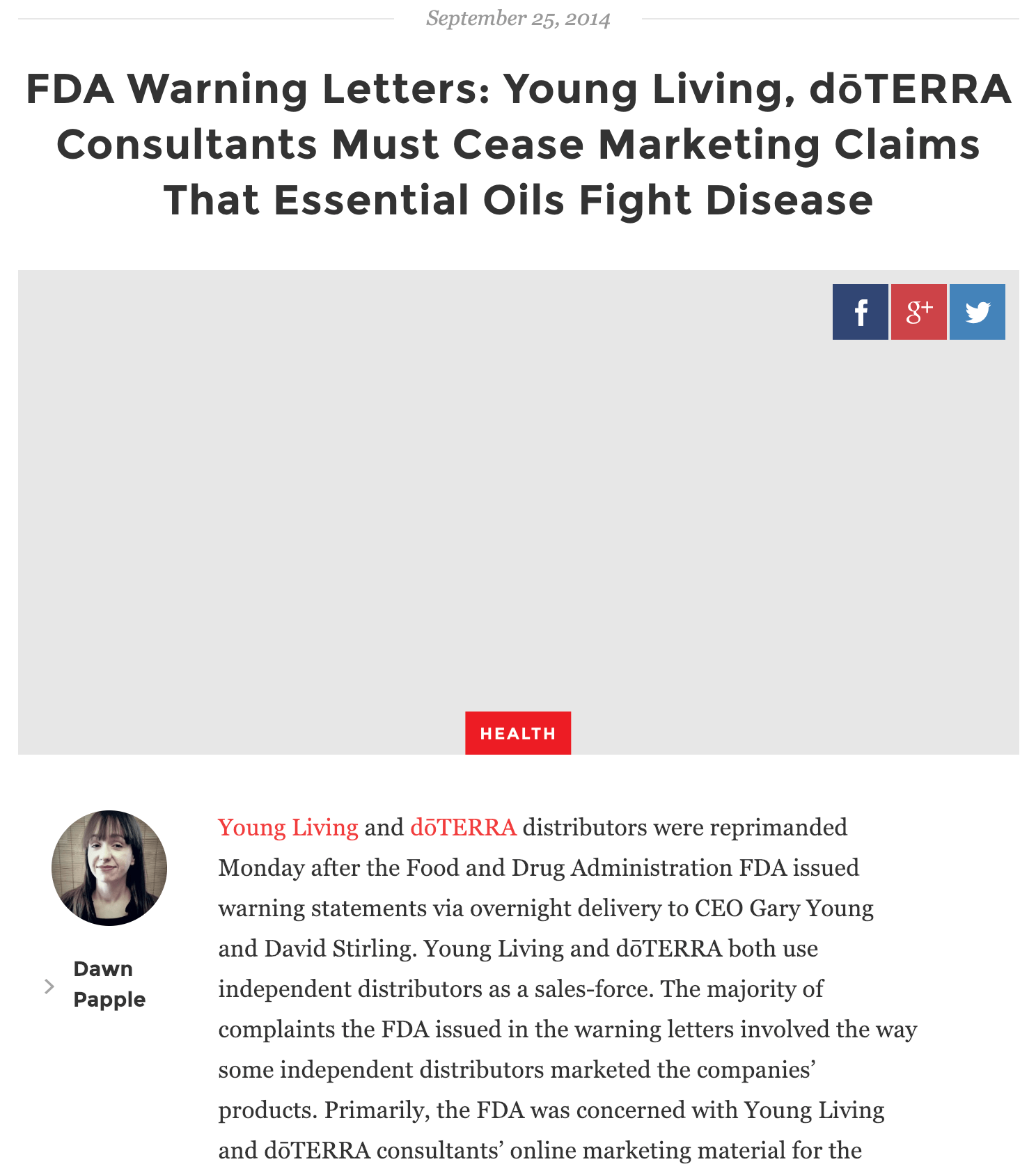 doTERRA compensation plan
doTERRA pays you as follows:
Retail Bonus – 25% commission
Fast Start Bonus – New members can earn 20%, 10%, 5%, level 1, level 2, level 3 from their recruited members
Power of Three Bonus – Cash bonus $50, $250, $1,500 for recruiting new members
Unilevel Bonus – Residual income opportunity for recruiting new members
Like with many other MLMs that I've seen so far doTERRA compensation plan looks good on paper but very hard achievable in real life.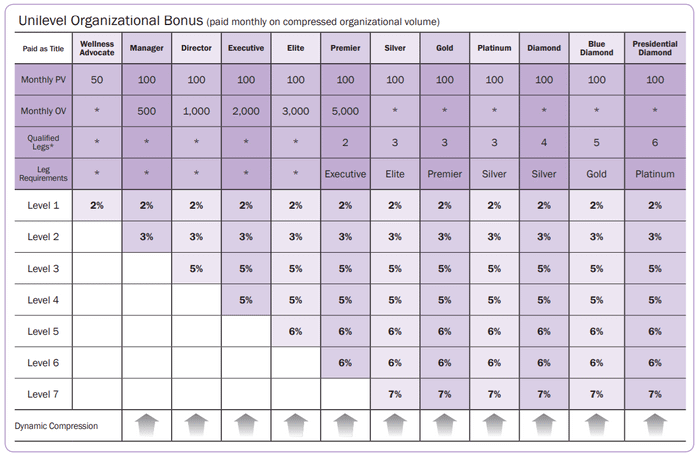 You can see income statement from doTERRA below. According to it they have different levels, ranks.
The first sustainable rank starts from Silver level which can earn you $27,557 annually.
But the main problem here is that before you reach that level you need to pass other levels, such as Wellness Advocate, Manager, Director, Executive, Elite and Premier. These 6 levels earn you very little income.
Complaints about doTERRA
I did some research and immediately found many complaints about doTERRA. Complaints are different.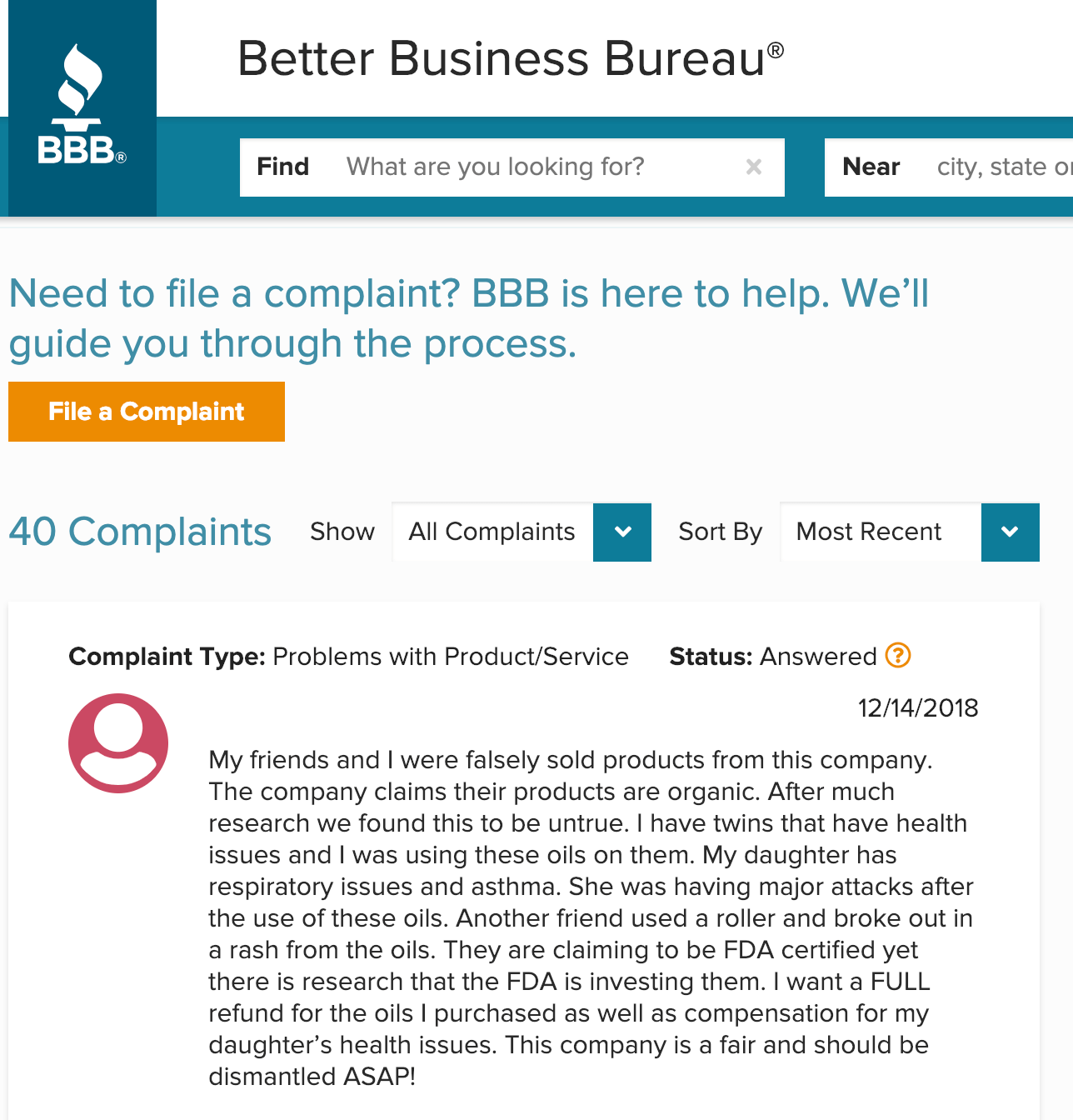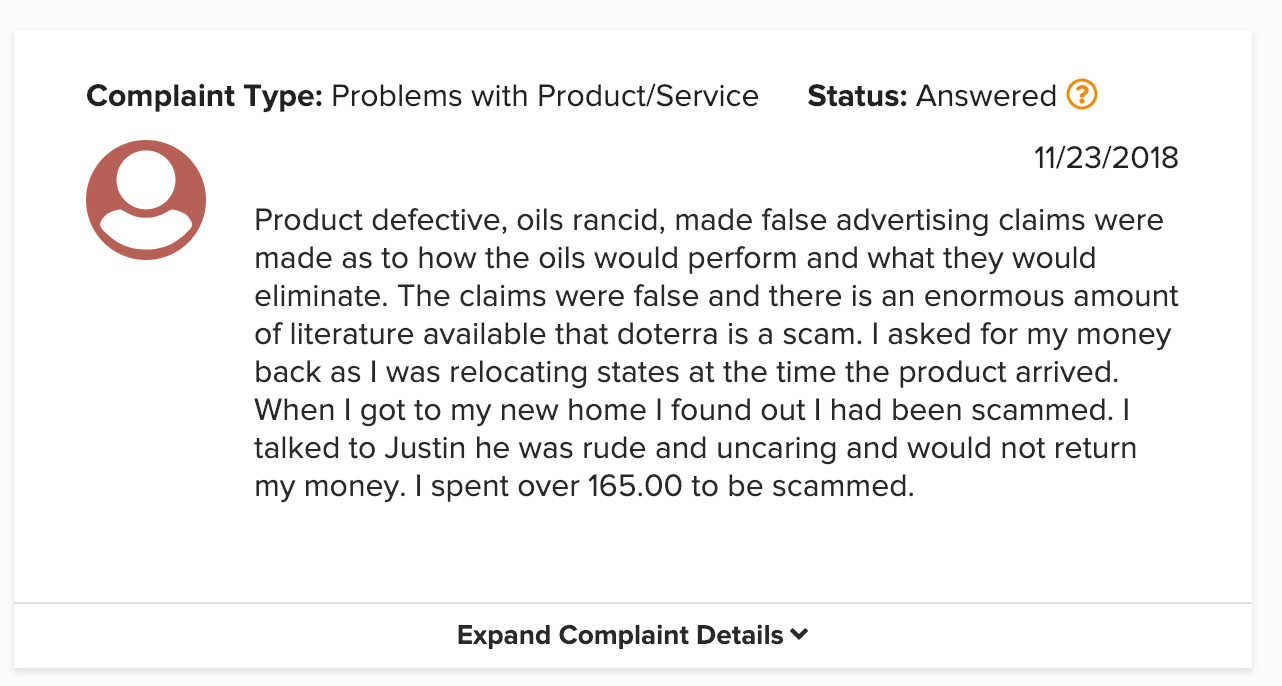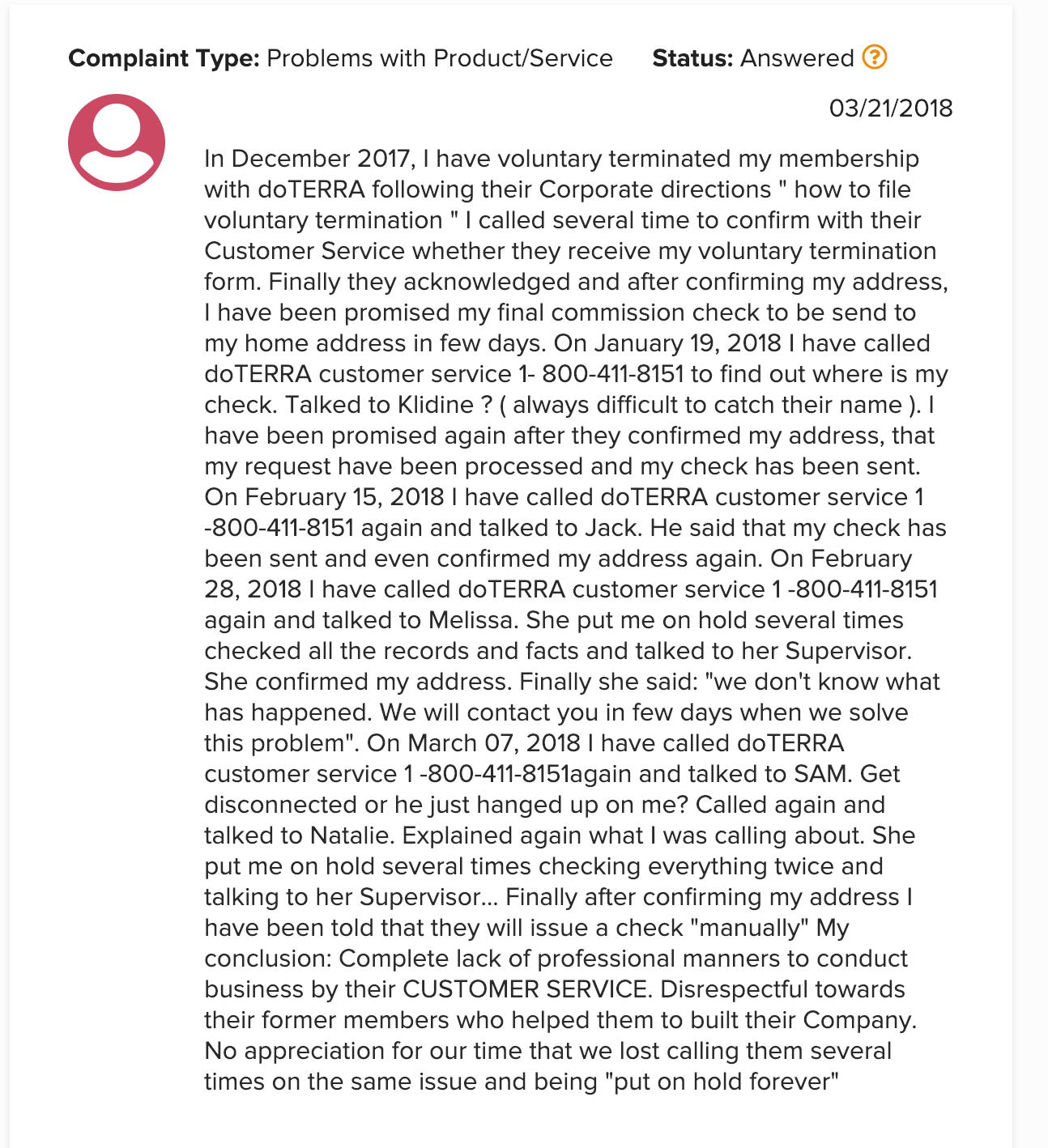 Some people complain about the quality of doTERRA products, customer service, problems with service, advertising issues, sales issues and more other reasons.
You can learn more details by clicking on the link above.
Can you become successful with doTERRA?
Like with any other MLM you can not only buy doTERRA products for your personal use. You can sell them if you can do it. The question is: can you sell?
Of course, anything can be sold even overpriced products.
But it will not be easy to sell essential oils for $23 when there are other alternative products can be bought for $12 or even less and the quality is almost the same.
Plus you need to pay $35 to activate your membership to doTERRA. Also, you need to spend $100 per month to be able to earn commissions from doTERRA.
Most MLM companies require from you either meet their monthly minimum sales quota or spend a certain amount of money per month and buy their products.
Buying is ok. The main thing here is to be able to sell those products before you spend another $100.
If you have a lot of friends you can sell to then this business is for you.
Otherwise it will be a big struggle for you. doTERRA also can help you with your promotions but generally speaking I don't know how it will work for you.
If you are not a sales person like me then you better look for some other programs without minimum sales quotas or minimum monthly spending.
This can be achieved with affiliate marketing which is my favorite method to earn my income online. You are free to promote what you want and work part time when you have your free time.
Another way to make money with doTERRA is inviting people to join doTERRA under your team.
This requires from you certain skills and knowledge to find those people interested in joining you and making money.
Your success depends on whether you can invite a lot of people or not and their success depends on whether you can help them do the same.
Generally speaking, there is a tough competition when it comes to doTERRA and you need to learn new skills.
Final word on doTERRA
After reading my doTERRA review and learning some interesting facts can we have a question that we need to answer: Is doTERRA a Scam?
Even after many complaints and negative reviews that we found on the internet? No, I don't think it's a scam.
They have products and have been in the business since 2008.
Some of their health claims are misleading and they had warning letters from FDA which is not so good for their reputation.
But still you can make money with doTERRA.
It will not be easy at all with all the competition that you will have to face. If you think you can make money with doTERRA it's ok.
But I believe affiliate marketing is much better because you are not limited to doTERRA products.
You can promote anything without any minimum quotas or minimum monthly spending. It's up to you to decide which of these two opportunities is better for you.
My personal recommendation is affiliate marketing. You can start with this program. It's free to start. If you have questions I will be happy to answer them.
Final glance at doTERRA
Support
Quality products
Income potential is low
Some complaints
Warning letter from FDA
Overall rank: 50 out of 100
About the Author: Adam
My name is Adam. I'm the founder of Your Income Advisor. My goal is to help others succeed online, by exposing scams and reviewing top rated products. I can help you start
your own business online