Owner: Allen Payne
Website: www.impho.com
Price: $1 free trial for your first week for a premium access or $0 as a starter account
Monthly price: $37
Discount price $27
Verdict: Legit
First of all, I would like to say that in my review I'm going to compare IMPho and Wealthy Affiliate community (the best online business community in the world). I think that way will be much easier to understand how IMPho can help you or how good it really is.
IMPho is an Online Business Community helping people to build a business online. It was founded in 2011 by Allen Payne to offer those who are new to internet marketing an effective training course on affiliate marketing or teach them how to build a real business online using legit methods.
Compared to other online business communities, such as Wealthy Affiliate, which was started in 2005, IMPho was founded in 2011. So it is the youngest among other similar programs out there.
From the point of overall rating and quality, Wealthy Affiliate is the best among other online business communities (Affilorama – 2005, Chris Farrell Membership -2008, Bring the fresh – 2012) in all aspects.
IMPho is still among good ones, but is by far not the best one. All these communities are legit and really have helped thousands of people build their online businesses. The longest standing site, with the best experience is WA, because it strictly follows Google's Guidelines and is second to none in the industry.
Pricing policy
So, what can we expect from this membership? The first thing worth mentioning is that you can join the community for 1$ for a premium access and see what is inside it within the first week and then if you decide to stay in the community you are expected to pay 37$ monthly.
But there is one thing I would like to mention and which I don't like. When you try to sign up and pay for a membership you are redirected to the payment page to pay the amount mentioned above.
But if for any reason you change your mind and decide not to pay then you will be offered a new price, 27$. That leaves a bad impression, because if you don't refuse to sign up, that means you will pay 37$!
That kind of approach is not a good sign for a company that claims to be trusted one. Because it gives rise to some doubts about IMPho that claims to teach folks legit business using ethical methods.
In regards to WA, their price policy is very clear. Start up price at WA is $0, then $19 for the first month. If you decide to stay as a premium member then you have to pay $47 per month or go yearly and pay $359.
Training course at IMPho
The training course at IMPHO is pretty good and lessons are very informative. It has a lot of training modules (500), such as generating traffic, social media engagement, affiliate marketing, email marketing and email list building, search engine optimization, wordpress, creating product and selling it and even marketing through PPC (paid traffic).

So, the training course is really good and provides a new member all the information he might need to build a successful business online. I would even say that the training material is too overwhelming and it can take too much time to complete the full course.
Though it will pay off later when you start building a successful business, but it is still too overwhelming.
Compared to Wealthy Affiliate, there is an abundance of information at WA too. But most of it is an additional material, which you are not required to learn.
What you need is just go through WA main certification course (50 lessons) and Affiliate Bootcamp (70 lessons). Total 120 lessons and you can start building your successful business online.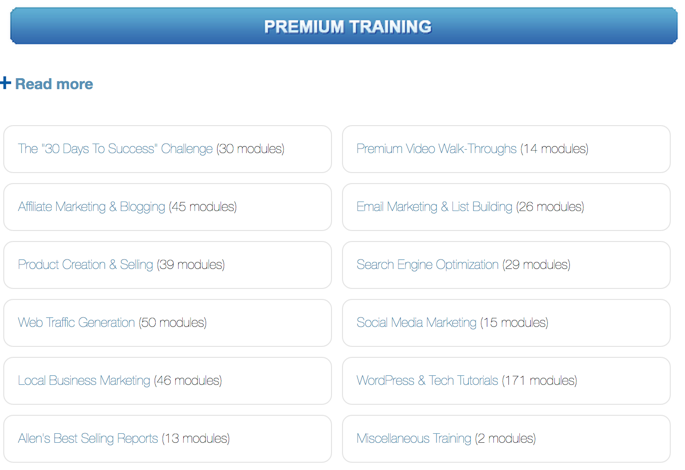 In regards to the tools that IMPho offers its members, they are good and helpful. Among them are keyword rank checker (very useful to know how your pages rank on Google), Instant on-Page SEO review (to know how to fix issues if you have ones on your pages to be able to rank well), Backlink tool (absolutely useless) and some other tools. The only tool that I don't like is a backlink creator.
You should know that after recent Google algorithm changes this tool can hurt your website rankings in search engines. I believe they will remove this tool in the future because it's not going to help you in any way in your business.
Compared to WA, all the tools offered inside WA community are absolutely legit. In my view, the Jaaxy (keyword research tool) alone, offered at WA is top of the line, in today's competitive market.
PLR content and the future of your success with IMPho
PLR (Private label rights) is the content that can be used by everyone but this is a big NO-NO.. Allen Payne teaches his members to use that kind of content though it can hurt your website rankings. He tells that you can make some changes to that content and use it. Actually, creating content that way doesn't work anymore.
That's why to be honest, I really don't understand that part of the training offered by Allen. I mean that Allen is a seasoned internet marketer and that strategy coming from him really amazes me. If you want to be successful online and have a search engine friendly website, you need to create an original, unique content for your website.
Of course, before writing an article you can read some other reviews on other websites BUT when it comes to writing your own content you should write with your own words and use your own and unique approach.
In regards to WA, they teach people to write only original content, i.e. legit methods. Creating original content is one of the major factors of your online success and anything different from that approach is the first sign to be on the alert for a particular company.
JV products offered at IMPho – Yes and No
IMPho recommends its members to promote JV products, which are by far not the best ones in the industry. Many Clickbank products related to making money niche are poor quality products and misleading.
IMPho founder knows it very well and since they teach and want their members to be successful online, they should explain that they can't be successful if they promote poor quality products. That is my personal view.
Many people who are new to internet marketing, don't know how to separate good products from the bad ones and selling bad ones is the fastest way to failure. Compared to IMPho, WA teaches its members to promote good products only, by teaching you how to build long-term relationships with people.
Support
The IMPho forum is very active and the members are very knowledgeable and willing to share their knowledge and help new members. Allen himself, the founder of IMPho, is an active member of the community and you can get help even from him. In this regard both WA and IMPho are great.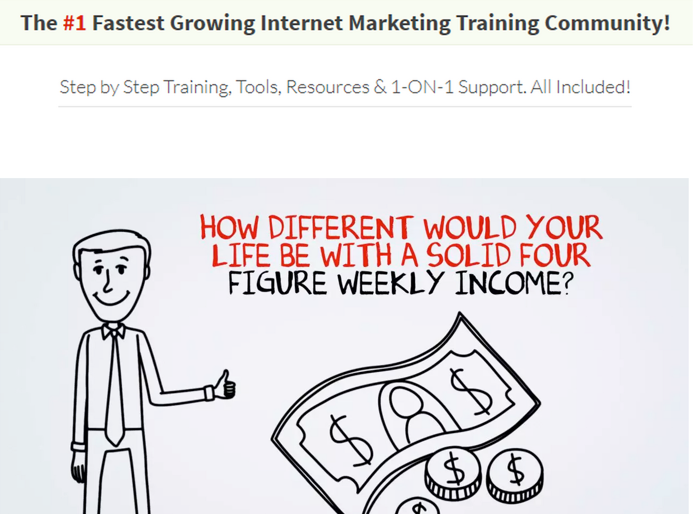 Pros of the program
You can create account and benefit from some resources offered by IMPho for free
No upsells compared to many other similar programs
Good training course
Good support
You can earn 50% affiliate commission by promoting IMPho
Cons of the program
PLR content (out of date)
Backlink strategy (out of date)
Final word on IMPho
Finally, let's compare IMPho and WA:
| | | | | |
| --- | --- | --- | --- | --- |
| Experience | * | IMPHO | *** | WA |
| Price | ** | IMPHO | * | WA |
| Pricing Policy | * | MPHO | *** | WA |
| Training | ** | IMPHO | *** | WA |
| Tools | ** | IMPHO | *** | WA |
| Methods | ** | IMPHO | *** | WA |
| Support | *** | IMPHO | *** | WA |
As you can see above, WA is a winner and I highly recommend to join WA. I'm a premium member of WA and know the community from inside. I forgot to mention that you can try Wealthy Affiliate for free within 7 days. But IMPho is a great community as well.
Anyway, Allen is doing a great job by helping people succeed online and this alone is a great thing. If you are on a low budget then you can join IMPho or read my review of the WA below. Wish you all the best! I hope my review was helpful and I tried to be honest. If you have any questions feel free to contact me.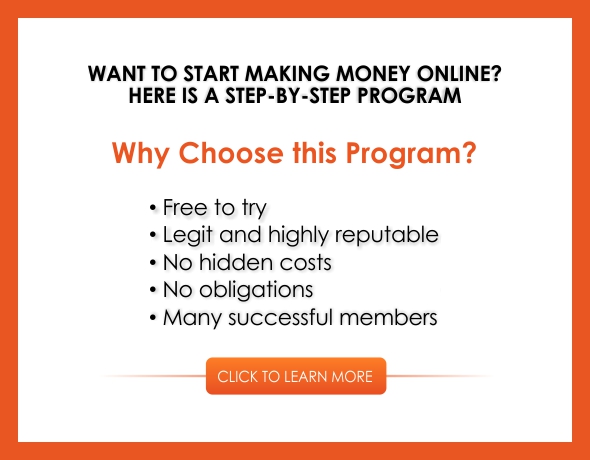 About the Author: Adam
My name is Adam. I'm the founder of Your Income Advisor. My goal is to help others succeed online, by exposing scams and reviewing top rated products. I can help you start
your own business online