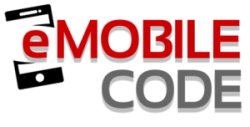 Website: http://www.emobilecode.com
Owner: Ronnie C Montano
Price: $49
Verdict: Pure Scam
Emobile Code is another "awesome" program that can help you make money on the internet with little to no effort from your side. Every other program that appears on the internet in the money making niche tries to scam people out of their hard earned money and unfortunately, Emobile code is exactly from the same range of online business opportunities out there.
The owner of the program claims that his system is a revolutionary opportunity for people dreaming of an easy way of making money online. And I almost forgot to mention that he had a gift for you 🙂 Yes, you're not wrong. A gift that is waiting for you, on their website.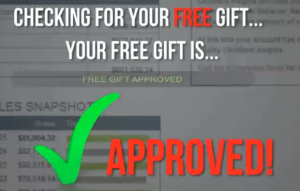 The promotional video starts with convincing words with empty promises like all other scams that I know. Ronnie tries to convince you that someone has made $5000 just in one day! etc…


What is eMobile Code?
And I'm going to look into this program to help you make the right decision. So, the main idea behind the program is that once you've created your account you will get mobile friendly website to start making money online.
Mobile friendly means that your website can be accessed from any device, PC, laptop, mobile phone or a handheld mobile device. By the way, mobile friendly sites are available everywhere on the internet at a very low price.

Pros of the program:
The only positive feature that I see in the program is that they give you a mobile friendly website. BUT, I'm giving you the tool that you can use to build your very own website and it's FREE.
Cons of the program:
False promises
Exaggerated earnings
No active forum where you can get help
No real support from the owner of the program
Many upsells in the program
Training is very basic and will not answer most of your questions
Useless techniques such as free traffic to your website
 Inside the program:
1. First off, I would like to point out that the training within the program is very basic and if you're new to internet marketing, you will get completely confused with it. The training doesn't explain the basics of internet marketing or how you can build your business using legit techniques. Without this knowledge you will surely get stuck and waste your time and money with little or no results.
2. Their promotional methods are really dated and worth laughing at because some of their products even promise that you can start making money in 60 minutes 🙂 up to $500.000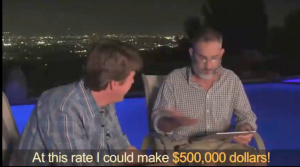 3. Once you get access to Emobile code members area, you will find there 7 steps that theoretically should help you make money BUT in reality it's you who is expected to spend extra money because all these 7 steps are actually another upsells you have to spend money on.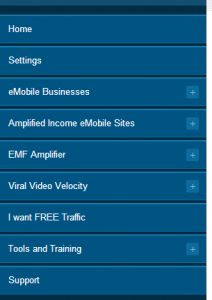 4. Another stupid thing is that from the very start they want you to pay for autoresponder service which is another $19 per month while you aren't probably even familiar with the basics of internet marketing.
5. Free traffic to your website technique that they try to upsell you is another stupid thing. Instead of teaching you legit methods how to drive free organic traffic to your site from search engines, they offer you a shady product you have to pay for to drive untargeted and useless traffic that will most likely not help you make any real money.
6. The program teaches how to promote products to people through email marketing, i.e. building a list of subscribers. If you're new to internet marketing you may probably think that it's so easy, just send sequence of emails to thousands of people and they will buy your product. Yes and NO.
You can use email marketing successfully if only you know how to do it and if you learn the basics of internet marketing at Wealthy Affiliate. What I know exactly is that eMobile code isn't going to teach you all those things.
7. To use the potential of eMobile code, if only this word can be used here :), you need to spend extra money, up to $1000 and with the kind of very basic training they offer and no real support, you can hardly make any money.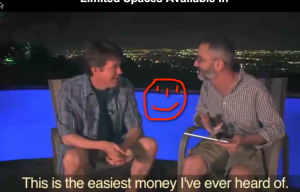 8. Some resources on the internet report that Ronnie Montano is the author of other crappy products, such as Tube cash code, Mobile Cash code, Easy cash code etc. The common nature of all these products is the same, i.e. they promise exaggerated earnings, with no real support and are basically aimed at making money off you instead of helping you to make money.
Final word on eMobile code:
If you read my article Scam Review, you will easily understand that Ronnie Montano's product goes directly to my black list. Just, as an example, here is what I've found about eMobile code on BBB.org website. According to their report, there are some factors that lowered eMobile Code's rating and among the factors are the following:
9 complaints failed against business.
Failure to respond to those complaints.
BBB has not received a response from eMobile and has not been able to verify the information about this business.

There is a major complaint from their customers and the main problem is that after their initial purchase, Ronnie Montano offers some upgrade options (upsells mentioned above) sometimes costing thousands of dollars. Also, most of their consumers claim that Montano's product is not what they were led to believe.
And here is another important information that I've found on scamadviser.com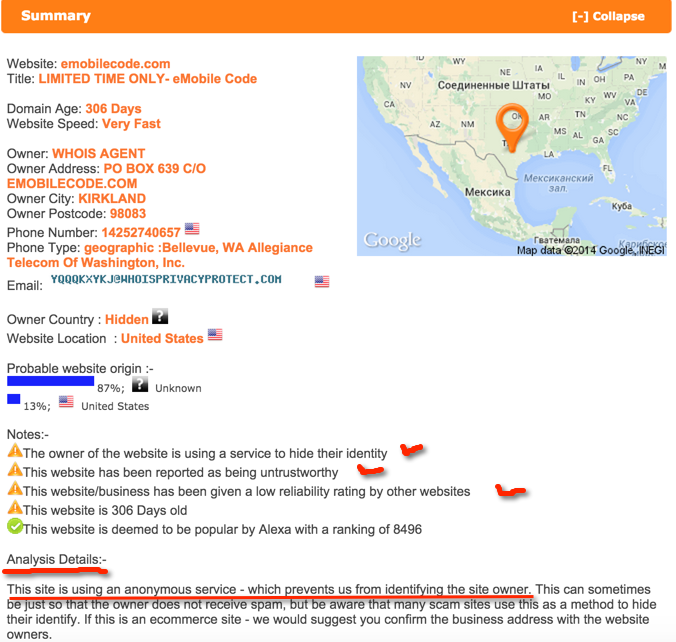 With all this information, I think there is no place for any doubts in regards to this program. When you watch their promotional video you will hear as Ronnie with another paid actor talk about how great the system is and no one else knows about amazing system that Ronnie has to offer to those that are lucky to find and join it… bla-bla-bla.
Long story short, avoid eMobile Code!
You may want to ask, WHAT NOW? My sincere advice would be, read "For Beginners" section on my site to understand how internet marketing works. I know, it will take an hour or two, BUT it is for your own good. Otherwise, you will be surfing the web, jumping from product to product, wasting your time and money.
Also, read my article, Scam Review to know how to easily spot scams.
Finally, if you're interested in making money on the internet and want to have a website, like mine, I honestly recommend you to read my #1 recommendation about Wealthy Affiliate. This is the best place on the entire web that helped thousands of people build their real businesses online and it helped me build my business too.
And the most important thing is that the owners of WA never promise 6 figures to anyone. If you want to make money on the internet, you must follow the certification course at WA and then apply what you will learn there to your business and I promise you, you will be making serious money.
About the Author: Adam
My name is Adam. I'm the founder of Your Income Advisor. My goal is to help others succeed online, by exposing scams and reviewing top rated products. I can help you start
your own business online