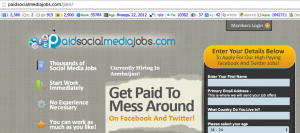 Paidsocialmediajobs
Advertised price: $97/$47/$37
Verdict: Legit but not recommended
Today I'm going to review a product, which is actually not a scam but it's being advertised in a way that makes it scam like. The program I'm talking about is paid social media jobs. The product appeared on the market due to high demand for social media manager jobs.
There are so many articles and reviews on the internet about this product that it's really hard to imagine what an average searcher should do after reading all this information.
Really hard! Each reviewer looks at this product from a different perspective. Some reviews are honest but most of them are NOT. I personally was about to buy this product too because like you and many others I wanted my dream of making money online come true. And I'm happy that I've never bought this product. Let's try to figure it out if this product is a scam or not.
Paid social media jobs is not a scam but…
Actually, "paid social media jobs" is not a scam. But the way it's promoted and advertised definitely makes this product scam like. If you visit their website it will start like many other similar products, with promotional video. Normally, after watching this video, many visitors order the product. But why does this happen?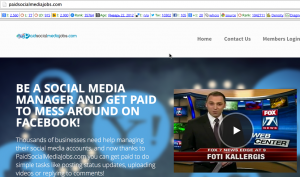 Because the promotional video has been created by experienced internet marketers who know how to sell stuff to people. They try to convince you to buy their product and promise you that once you buy it, you will immediately start making a lot of money. They tell so much, that it is easy and simple to make money with their product that you buy into their hype right away.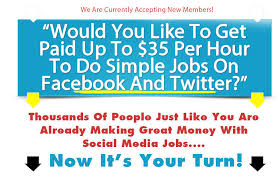 What kind of product are they actually selling?
They promise that using Facebook and Twitter you can make a lot of money. Almost all big companies use social media sites as a way of driving people to their websites. So, do paid social media jobs advertisers lie? No. But they do not give you any instructions on how to do it and you are not going to get any serious training.
They provide some instructions and training but it is not enough to manage social media accounts for high paying companies. To be able to manage social media account you need to have more qualifications. Ok, then, what are you expected to get from this product? Once you buy it, you get access to a huge database of jobs posted by different small and big companies.
They are looking for people who are willing to get paid to manage social media accounts (Facebook, Twitter, Pinterest, Google plus etc.). In short, you need to do all that is needed to make social presence of a company on a daily basis. And most important thing you need to know is that they do not need average internet users.
They need specialists who have a few years of experience in social media at least. They need specialists who understand the difference between spamming and making real social presence. If you have no enough experience, believe me, you can't do it.  And in addition to that, this field is highly competitive.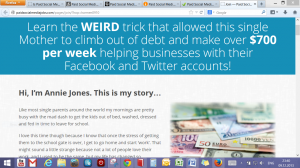 Another thing, which you should keep in mind, is that even if you get access to those jobs, it doesn't mean that you will immediately find a job.
As I said, this field is highly competitive and there many people who are willing to do this work just for 5$ per hour.
If that person is living in China, for example, where standard of living is much lower than in the United States, then of course, he can do this work for $5 per hour.
But if you are looking for this kind of job and live in the US or European country, then ask yourself a question: are you willing to do this for that low price? Do you really need such a job?
Those companies that are ready to pay $40 per hour for that kind of job, they pay for a strong presence on social media and it requires from you not only good experience but a considerable amount of time, not just 1,2 hours a day as it is falsely advertised.
If you are willing to work from home I can show you a good place where you can create your profile and apply for jobs. You can apply for jobs like proof reading texts, creating professional videos, managing someone else's Facebook or Twitter accounts etc. You can create your account at Fiverr.com and see around what YOU can do to make money.
What I don't like about paid social media jobs
Another lie that comes from the advertisers of this product is that they tell you that no experience is required and all jobs are very simple. Is this true? I hope you see now that it is far from being true. I do not understand people who invent so many lies. Why do they lie? I understand that they, like many others, want to make money fast. But not that way!
Another thing I don't like is that the advertisers first offer their product for 197$. They tell that due to increased demand they reduced the price to 97$. Then they offer you a discount and when finally you click the "order" button they offer a new price 47$. It's an unethical selling strategy.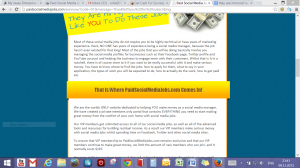 Another thing that I don't like is that you can come across different types of web pages for this product on the web. Here's an example of these web pages. I don't think it adds value to their website or product. A serious company can have only one official intro page but not different promotional pages for the same product. There are 5 of them just in this review.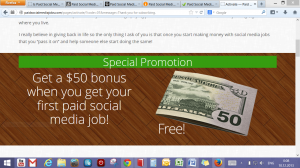 Final word on paid social media jobs
Finally, to be honest, if you have enough experience in social media manager jobs and are willing to manage Facebook, Twitter, Google plus and other social media accounts then you need some time before you can find a high-paying job. To be an average user of social media sites is not enough to get a high- paying job.
You need to have more qualifications to be able to do that for a company that is going to pay you. And to find that kind of high-paying job is not as easy as it is falsely advertised. But there is good news for you.
There are many freelancing websites on the web where you can create your profile and find similar freelancing jobs without paying to anyone. Here are the examples of these websites: www.odesk.com, www.freelance.com, www.fiverr.com
I'm giving you this info for free 🙂
Finally, I'm not going to convince you into not buying this product, because it is up to you. It is your choice. I was honest with you and I tried to be objective. If you are willing to work from home, be your own boss and learn how to build a real business online then I recommend you to read my review of the WA below.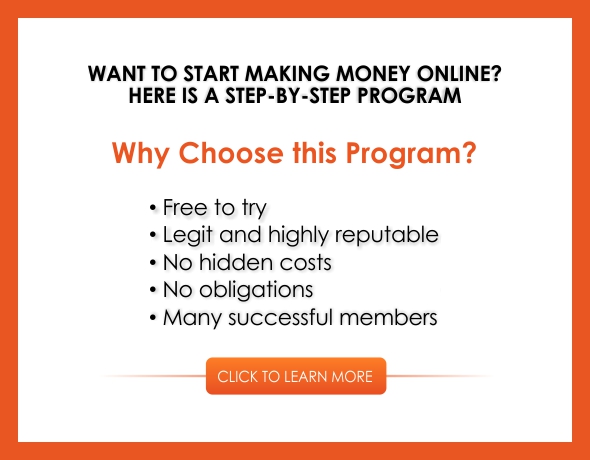 About the Author: Adam
My name is Adam. I'm the founder of Your Income Advisor. My goal is to help others succeed online, by exposing scams and reviewing top rated products. I can help you start
your own business online