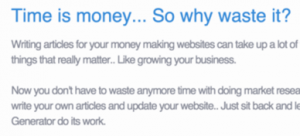 Product name: Commission Cash Generator
Product Owner: Jamison Terry
Website: http://www.commissioncashgenerator.com/
Price: $37
Verdict: Scam
Commission Cash Generator is a "revolutionary" software created by Jamison Terry that can easily make you a lot of money with little effort from your side through completely automated process.
You can come across many reviews on the internet that blatantly lie to you by claiming that the software is absolutely unique and absolutely different from any other program out there.
Jamison claims that you don't need to write content for your site anymore because his "amazing" software will do it for you. The whole process is explained in 3 simple steps you need to follow and apply and then grab the money. This is of course not true and in my review I'm going to show you what you can expect from this "amazing" program.
The main idea behind Commission Cash Generator
Commission Cash Generator is basically a software that finds articles on the web, makes some changes and then you can use them as your own content to get to the top of Google search results and get tons of traffic to your website in no time.
It will save you hours of work by doing it in three simple steps so you don't need to waste your time. Also, you get access to his bonus training on search engine optimization and keyword research.
Pros of Commission Cash Generator
Training on keyword research
Cons of Commission Cash Generator
The program is absolutely useless
You won't get good rankings in search engines
It will destroy your entire business
No support
He doesn't promise you a popular "No questions asked money back guarantee"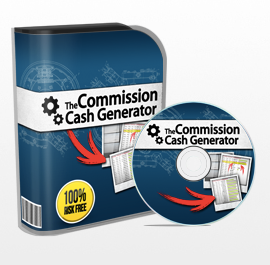 Inside the program
1. The main problem with Commission Cash Generator is that Jamison tries to sell you a useless software based on outdated techniques which if applied can seriously hurt your website rankings in search engines, especially Google, because it's the main player on the web.
Of course, his software can generate hundreds of articles for your site and save you hours of work, but what is the use of such content if you can't get it ranked well on Google and other major search engines?
To get visitors to your site is only one side of the coin while the other side is to catch their attention and offer them a value so they have a reason to come back to your site. Because if a site doesn't have return visitors that means that site is useless and search engines know that.
Automatically generated content is a useless bunch of pages that no one likes to read. Google is always looking for an original, quality content and ranks it well when finds it.
Content, generated by Commission Cash Generator will get you nowhere simply because you will not get any traffic from search engines, few visitors a day at best. A complete waste of time and money.
2. But the product is not that bad. It has some materials that you still can use and apply to your business. That part of the training is about keyword research which is important to learn in order to build a successful business online.
This training though is not perfect you still can benefit from it. If you are looking for the best keyword research tool, I can recommend you a tool I'm using for my site almost every day.
That tool is the Jaaxy. You can try it for free for the first 30 searches and then upgrade to a paid version if you want. Learn here how to use this keyword tool.
3. Jamison teaches you how to build a website, fill it with tons of affiliate links and start making money. The idea is not bad. Affiliate marketing is one of the best ways to make money online without actually owning a product.
But the main problem here is that if you create that type of content using Commission Cash Generator you will not get any traffic from search engines and no one will click on your affiliate links to make a sale.
4. Terry also promises that once you complete the order and get access to the members area you will get 50 well optimized ready websites and start making money from them. The fact is, no matter how many websites he is going to give you, if one site is useless other 50 sites are useless too. At best you can probably make a few bucks.
5. Also, Jamison shows fake testimonials on his website which is an outdated deceptive method. You can easily find such fake testimonials on many other similar crappy sites. Just look at this testimonial below and ask yourself honestly: do you really believe it is real? I could use tons of such "testimonials" on my site too but it goes against my ethics.

Or he shows another testimonial from Ben K. 🙂 who says this:


This is really so laughable…
6. And there is no money back guarantee on his website. Most crappy sites show their money back guarantee to convince people to but their product. This is very old deceptive tactic and in most cases you will never get your money back though they claim so. But Jamison doesn't even promise you that he is going to refund your payment. So, think twice before you buy from him.
7. The only way to be successful online is writing an original content for your site and getting to the top of search engine results, engaging with your readers, providing them value, helping them and gaining their trust.
This is the most proven method of building a successful online business and making money. This is a fact known to all successful internet marketers. Jamison knows it too but unfortunately, he doesn't want you to know about it because his main goal is to make money off of you.
Final word on Commission Cash Generator
I suppose you guess what I'm going to say about this "amazing" software. Of course, I don't recommend it to anyone simply because I wouldn't pay even a $1 for that type of software. This software is your direct way to failure and destroying your business even before you start building it.
If you want to build your own business online, I can recommend you a program that I know and tried myself. Wealthy Affiliate is my # 1 program and I've been a premium member of it since 2013. Read my review below and if you have any questions, feel free to contact me.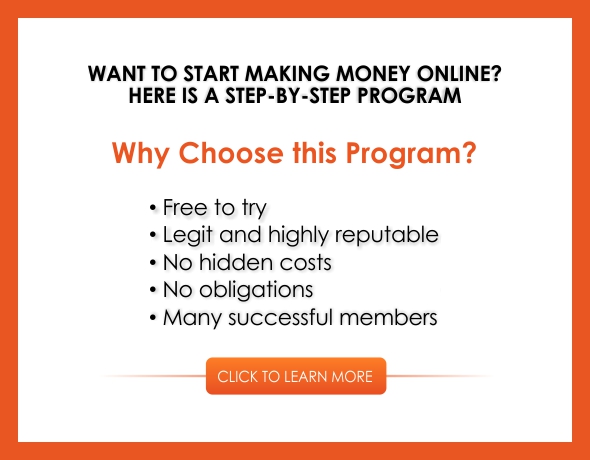 About the Author: Adam
My name is Adam. I'm the founder of Your Income Advisor. My goal is to help others succeed online, by exposing scams and reviewing top rated products. I can help you start
your own business online