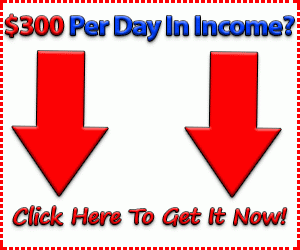 Product name: Automatic Mobile Cash
Product owner: unknown
Website: automaticmobilecash.com
Price: $25
Verdict: Not recommended
Automatic Mobile Cash is just one of those programs that a newbie is looking for in the hope to make money with little effort on his part and a seasoned marketer is avoiding because he knows that this program is just another poor product.
What I like the most about Automatic Mobile Cash is that it's really "unique" program due to its unique approach. Every scam or poor product that I review has its own advertising approach.
Some of them claim that if you can click a mouse you can make money with them, or you can make $41.000 in a single week, or you will be a millionaire in 3 months whether you like it or not, or go from $0 to hero, etc.
Automatic Mobile Cash has its own unique approach: They claim that you can collect $300 everyday without even lifting a finger! Let's take a closer look at this program to see if it's true or not.
The main idea behind Automatic Mobile Cash
Automatic Mobile Cash works as follows: you invest your money in the company that produces mobile apps and then they sell those programs and you get your share of the profits, i.e. you can collect $300 without even lifting a finger.
This is not true simply because to get your share of the profits you need to buy a network package, and that means you already need to lift your finger. Right?
Pros of Automatic Mobile Cash
Getting involved in mobile apps development
Cons of Automatic Mobile Cash
False promises
No money back guarantee
No information about the program
You invest your money in a company you don't even know about
Inside the program
1. First off, you don't have any information about what type of mobile apps the company produces if they do at all. Without this information it doesn't make a sense to participate in the program, in my opinion.
Another problem is that you don't have any information about how much profit you can expect from the program. Their promise that you can make $300 without lifting a finger is absolutely ridiculous and I'm sure you are smart enough to understand that it's just another empty promise.


2. Another red flag is that when you pay your real money, you are not going to actually buy any product. You just invest your money in a company you don't even know and then sit and wait when you'll get a chance to get your share of the profits. In my opinion, it doesn't look like something realistic or honest. Most probably, you won't even get your money back.
3. The good part of this program is that though they are lying to you right from the start, they give you some info about how you can make money, i.e. through mobile apps. Most scam or poor products/programs don't even explain how you make money if you join their program, but Automatic Mobile Cash gives some info at least.
4. To be able to make money, YOU, as they explain on their website, absolutely must buy network packages for as little as $25 if you want to make $300 per day in real passive income. This is their promise to you. Every time they or their partner develop an app, you will receive a payment from each sale. That means you just sit and wait when they sell their app and send you the money.
Just imagine that you buy network packages and they (the owners of AMC) recommend you to buy as many as possible, and you don't know when you start making money. Does this process looks realistic to you? What I can see here and it's pretty clear is that THEY will make money, not you.
5. And they suggest that you hurry to buy network packages because it's the only way to guarantee your $300 per day income stream! I strongly believe that even if you're new to internet marketing, you are smart enough to understand that they are lying to you.


6. And here is another lie: Just imagine, they promise you to start getting $300 per day in automatic income in 60 seconds from now! Does it look realistic?


7. One fact you should always keep in mind that legit programs are always careful in giving any estimates of how much people can earn, which most people don't like to hear and that's the main reason that they tend to go to poor sites because they want quick money. Be realistic first, and if a program promises you easy money, most probably it's a scam.
8. It's true that many companies now are creating mobile apps and make a lot of money, but not every company is successful in this business due to a high competition. The company you are going to work with, such as Automatic Mobile Cash is not a well-known company on the market and there is no guarantee that they can sell their apps and make profit off them. And even if they sell an app, you don't have any control and never know whether they sold an app or not.
9. They also suggest that you make money through recruiting other people into their system. The main problem here is that you haven't tried it and how then can you promote it to others? You are not even sure if you can make any money with it.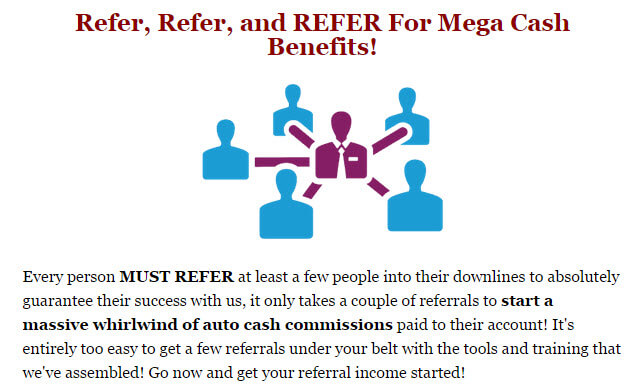 As I understand, the only way to make money for them is to get as many naive people into their system as possible, and as for you, I'm not sure you can make any money at all. Just look at the screenshot from their website. Doesn't it look suspicious or fishy to you? It reminds me of a poor program I've reviewed recently called My Advertising Pays. Their main promoter, Simon Stepsys who has a bad reputation on the web, recommends to buy more, refer more, and earn more.
The problem here is that I know from my own experience that it's extremely challenging to recruit someone even into a legit and reputable program, not to mention a program like Automatic Mobile Cash.
10. Remember, if you see or hear an ad saying about automatic cash or making money on autopilot or sit and grab the money or done for you money making machine, run away from it and you will be on the safe side.
11. They recommend you to recruit other people, but they even don't teach you how to promote their service. Any serious and reliable company interested in promoting its services to others and recruiting people, provides a basic training on how to do it the right way for maximum results. That's why, this program doesn't look trustworthy to me at all.
12. Also, they have a few testimonials on their website. Just look at them and ask yourself honestly a simple question: Do these testimonials look like real testimonials?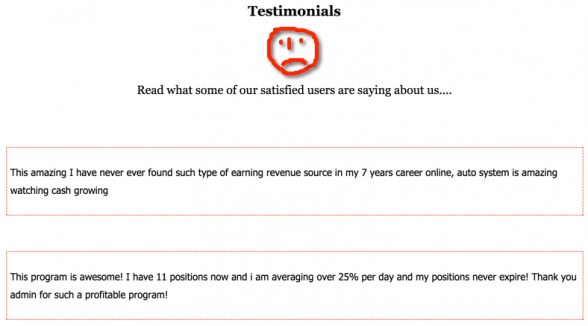 13. They also use some sort of an ad on their website, a creeping line that shows you recent earnings of their customers. I REALLY can't believe that some people will take it seriously.

14. And of course they use another trick to lure you into buying their network packages by claiming that only 17 network packages left. That means you must act fast!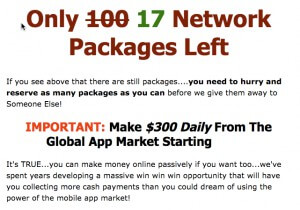 Final word on Automatic Mobile Cash
I think if you like the idea of getting involved in mobile apps development, it's fine. But before you invest your hard earned money you'd better find some reliable company that has experience and good reputation first. I don't know such a company to recommend you and can't help you in that.
But I can help you learn how to make money online legit and the honest way through a program I've been a premium member of since 2013. The program is absolutely legit and highly reputable on the web and never makes any false promises to anyone.
Actually, I owe this program for having my site up and running and making me money. If you want to learn more about this program, you can read here below and if you have any questions, feel free to contact me or you can leave your comments below and I will reply shortly.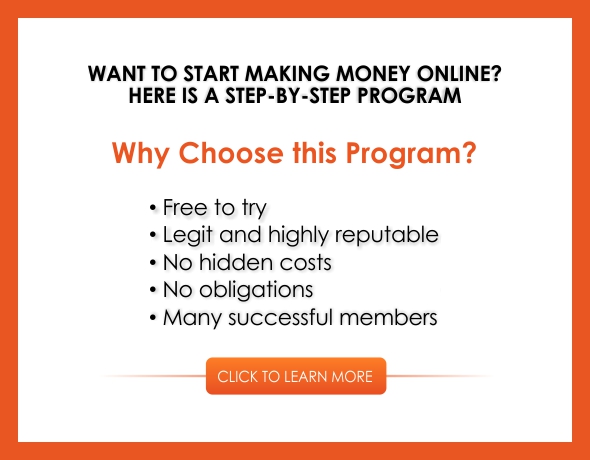 About the Author: Adam
My name is Adam. I'm the founder of Your Income Advisor. My goal is to help others succeed online, by exposing scams and reviewing top rated products. I can help you start
your own business online