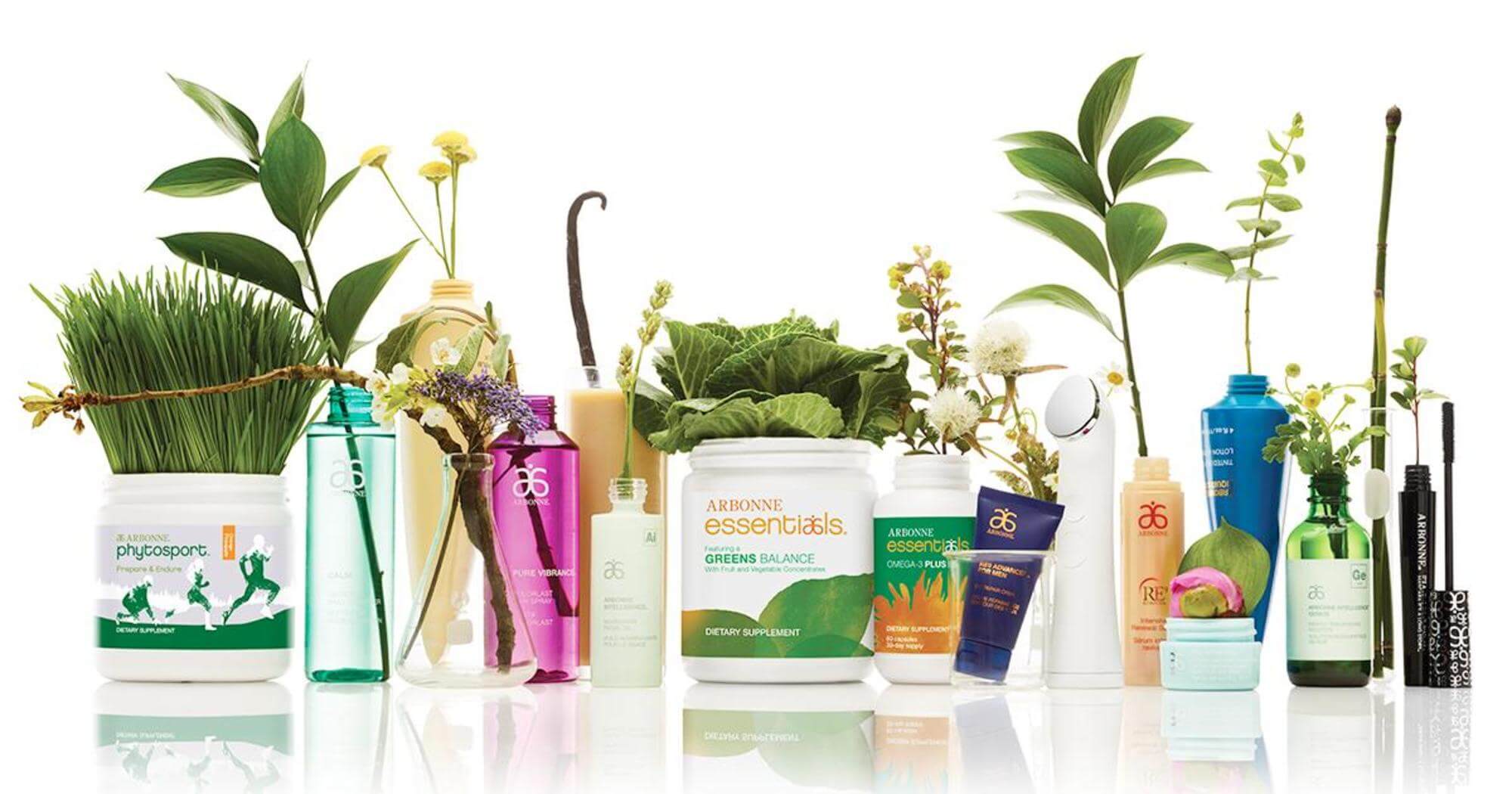 Product name: Arbonne International
Website: www.arbonne.com
Price: $79 registration fee/$30 renewal fee
Owner: Petter Morck
Overall rank: 45 out of 100
Recently I've come across a program called Arbonne or Arbonne International and after checking it using my favorite keyword research tool I found that there have been a lot of searches done for this same term on the internet.
Being an internet marketer I know what it means.
It means a lot of real people are searching for the term to find out if they can make money with this program.
Helping people with this is part of my daily work process.
In fact, I review programs like Arbonne to help folks make the right decision and save them from wasting their time, energy and most importantly money.
I did my research and got some interesting facts about Arbonne.
Arbonne International is an MLM ( multi-level marketing) company that mainly focuses on recruiting people to their system.
In my opinion, Arbonne is a controversial company and in my Arbonne review I will try to explain everything in details so you know what to do.
By exposing some interesting facts about this company I will tell you exactly if Arbonne International is a scam or not. Keep reading and I promise my review will be very interesting.
Short review of Arbonne International
Arbonne International is specialized in skin care, beauty and nutritional products. It was founded in 1975 and since then has developed a wide range of products, such as skin care, hair, cosmetics, nutrition etc.
According to the statistics most people joining Arbonne earn less than $100 per month. There is a strong focus on recruiting people instead of selling products. Prices are relatively high compared to other similar companies.
Pros of Arbonne
Quality products
45-day money back guarantee
You can make some money
Cons of Arbonne
You need to be a sales person
Prices are relatively high
Strong focus on recruitment
It went through bankruptcy
Some restrictions
Though Arbonne is not a scam I can't confidently recommend it due to some reasons explained within my review. You can continue reading my review or I suggest that you try my recommended program. There are no restrictions or obligations whatsoever. Try it FREE now!

 

 
Arbonne International review
Arbonne International was founded in 1975 by Petter Morck. They now have offices in California, Canada, United Kingdom, Poland, New Zealand, Australia.
They have a wide range of products, such as bath & body products, skin care (anti-aging) and hair care products, sun protection, makeup, nutrition products, immune support, digestion, weight management.
Among skin care products I can name:
RE9 Advanced, RE9 Advanced for Men, FC5, Arbonne Intelligence, Calm, Clear Future.
Personal care: Rescue & Renew, Shea Butter, ABC Arbonne Baby Care, Pure Mint, Arbonne Liquid Sunshine,
Nutrition: Arbonne Essentials, Arbonne PhytoSport, Arbonne Evolution
Hair care: Arbonne Pure Vibrance
Arbonne claims all their products are eco-friendly but I don't know if they have any scientific proof.
Here you can find more information about Arbonne products.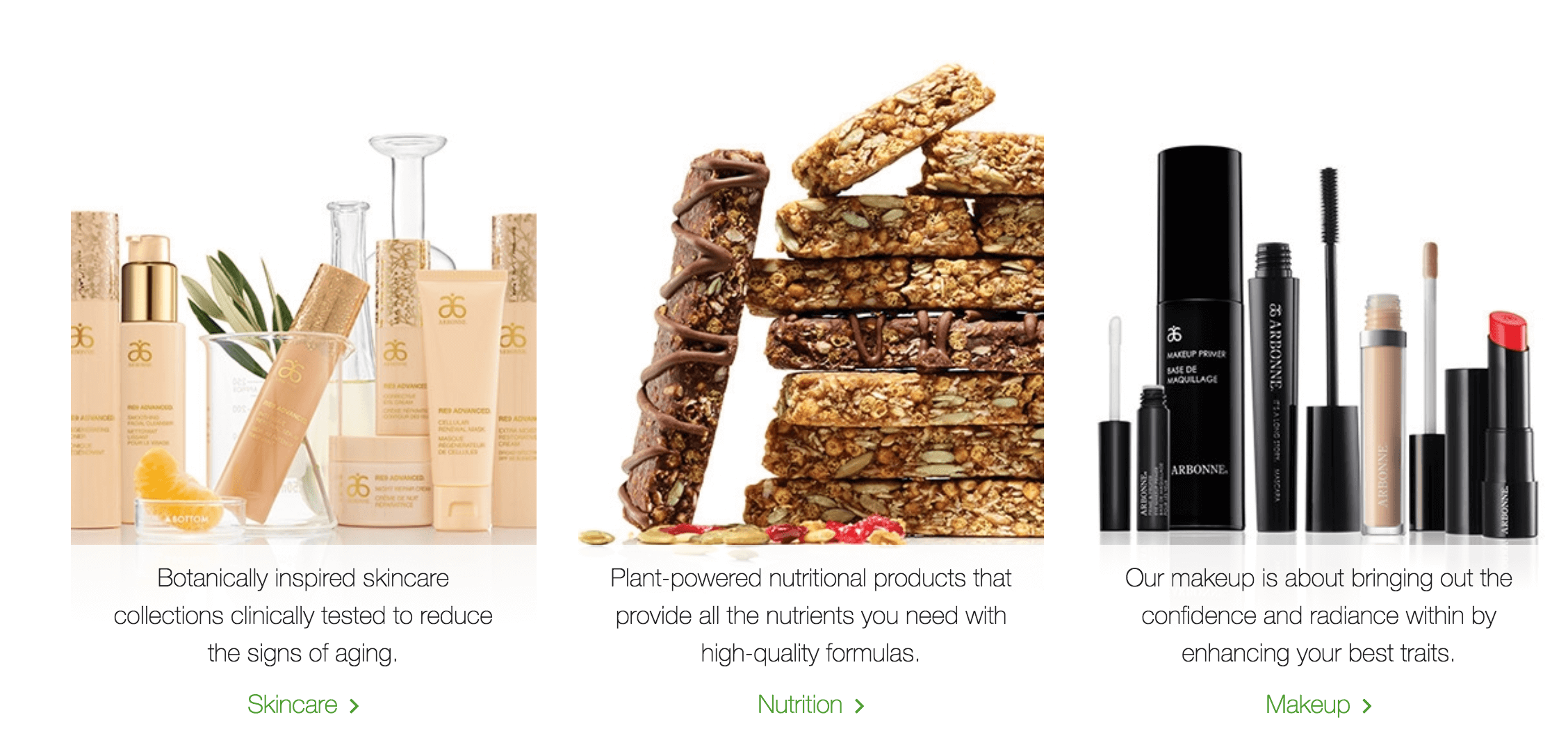 Arbonne compensation plan
Arbonne compensation plan is a little confusing in my opinion and difficult to follow.
First of all, if you decide to become Arbonne consultant you need to meet their minimum requirement which means ability to sell 150 in Personal Retail Volume every single month.
Fail to meet this requirement and you will lose your privilege to stay as Arbonne independent consultant.
You can earn up to 35% commission from any Arbonne product that you will buy from Arbonne consultant and then resell it.
You can earn 15% commission from Preferred Clients registered at Arbonne through you.
They also have Mercedes-Benz Cash Bonus Program at the Vice President or higher Arbonne membership levels.
The downside of this system is that in order to sell something you first need to buy something. So you need money to invest.
Compared to this MLM model I'm making money through affiliate marketing and in fact I don't buy anything. I don't own a single product or service.
I just advertise someone else's products or services and earn a commission when someone buys from from my ad.
This is called affiliate marketing and I believe it's WAY better than MLM business.
At least it's better for those that don't have money to invest in products. You can also earn a commission on 6 levels deep in Arbonne program.
But to make it happen you need to bring a lot of people that will register under you.
It's true that some people can and are making a lot of money from MLM programs but they have a huge list of referrals registered under them.
So, if you can do it you can make a solid income through MLMs.
And I forgot to mention that you need to pay $79 registration fee for one full year if you decide to become an independent consultant for Arbonne.
This will allow you to buy Arbonne products at a 35% discount.
As an Arbonne consultant you can also earn 6% commission on all sales of your direct referrals IF you can reach PQV volume 500.
If you become a district manager you will earn 8% commission. In my opinion, it's too complicated.

It's much easier to find a ton of similar products from other companies and promote them for a fixed commission through affiliate marketing without any minimum quota requirement.
In the screenshot above you can see that an average independent consultant earns $788 per year. It's not a lot to be honest.
It takes months and years most of the time to make a solid income selling this type of products.
What I like about Arbonne
There are a few things that I like about Arbonne International.
First of all they've developed a wide range of quality products and there is some audience that is interested in those products.
Your job is to find the right audience and promote Arbonne products.
Arbonne offers 45-day money back guarantee which is great. This means you can return their products if you haven't used them.
Not all companies offer this kind of guarantee.
Theoretically speaking you can sell Arbonne products and make money.
There is some potential here and if you have a lot of friends, if you know how to promote products without being annoying, if you are a goal oriented person you can achieve all or some of your money goals.
Arbonne gives you a Cookie-cutter website but you can hardly do anything with it because there is no original content on it so you can promote it and dominate search engines and drive traffic to your site.
And BTW, for this you must pay $30 yearly renewal fee.
What I don't like about Arbonne
This part of my review is also very important because in this part I always explain issues if they are and in this particular case there are certainly some issues that you need to know about Arbonne International.
Like any other MLM, Arbonne requires from you good selling skills and also you need to be super active in communicating with people.
If you are the type of person that likes staying at home and working from home then Arbonne is not for you.
You need to meet new people almost every day in order to make new contacts and sell Arbonne products.
I'm not that type person and that's why I don't like Arbonne. But who knows? Maybe this business is for you. You decide.
Arbonne prices are relatively high because there are always similar products on the market that have lower prices.
Plus some old members of Arbonne sell Arbonne products via eBay which is going to make a serious competition for you. Anyway, prices are not cheap.
Are you willing to pay $76 for 20 gr of protein? Or $38 for 10 small packs of protein? Or $40 for daily protein boost, or $54 for refreshing bubbly drink?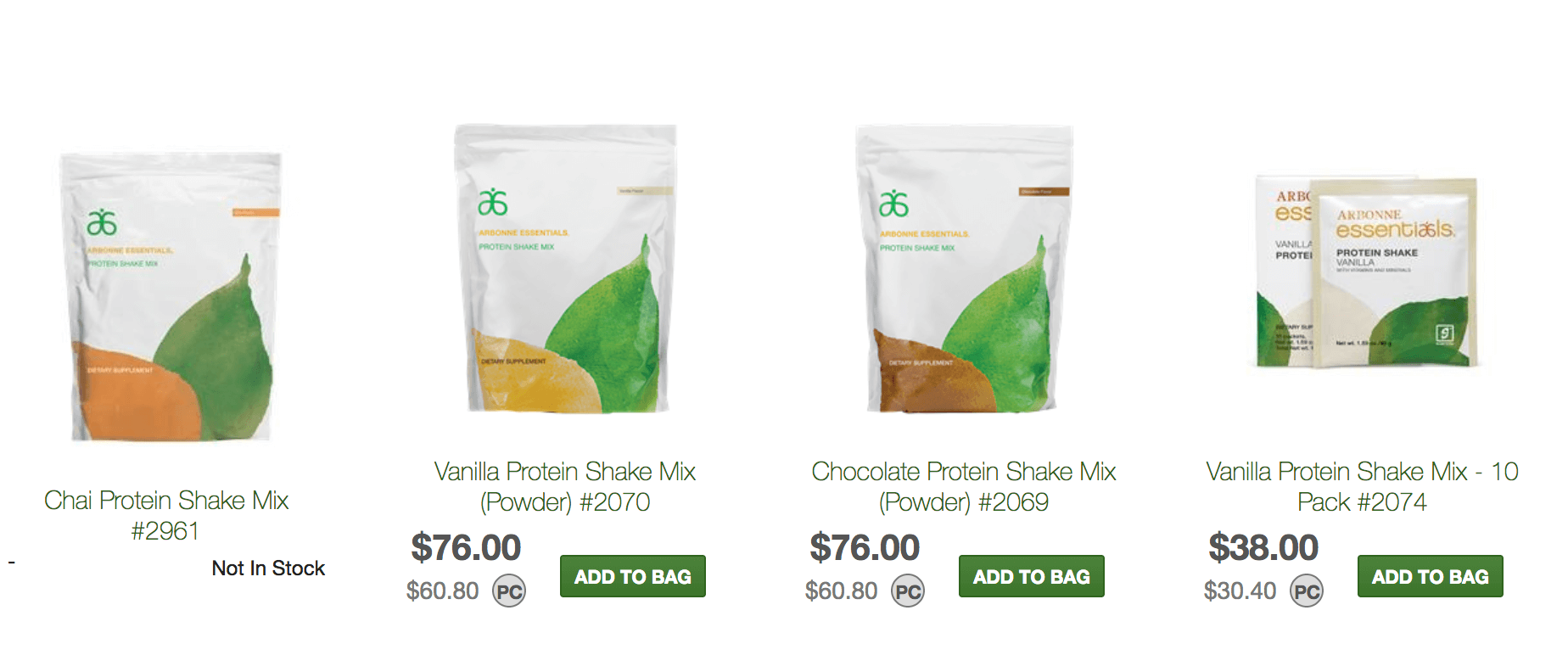 I have to admit that some people can afford it and I have to admit that many people can't afford it.
Arbonne puts too much emphasis on recruitment aspect of their business and that's why they pay 6 levels deep. Even Arbonne products can be purchased from Arbonne consultant only.
But as I see from their website you can register as their preferred client and get 20% discount on all your purchases but you have to pay $20.
You really need to bring a ton of people and convince them to join Arbonne and stay active after that so you can earn a commission on all 6 levels.
But how can you bring so many people? As I said above, you need to be vey annoying and meet new people every single day and convince them. I'm not that type of person and that's why I don't like Arbonne International.
Arbonne went through bankruptcy in 2009 which means there is a chance that it can happen again in the future.
I may be wrong but I think it's because they focus too much on recruitment aspect instead of showing quality and value of their products.
They put some restrictions on their independent consultants, such as they don't allow to sell Arbonne products using online means, online stores, e-commerce sites, eBay, Amazon etc.
If you do so Arbonne will immediately suspend your activity as Arbonne consultant and I suppose it can also be a reason to not pay your commissions if earned any.
Anyway, I don't like restrictions because they don't allow me to grow my business.
I've seen the same in another MLM program called Chloe Isabel. They don't allow their members to sell products of other companies if they decide to sell Chloe Isabel products. Restrictions are never good or in your favor.
The worst thing about MLMs including Arbonne is that you need to organize home parties in order to meet new people, show them products and possibly make some sales.
This is the nature of almost all MLMs and for this reason I don't like MLMs. As I know, many people don't like it too.
Below you can read two complaints that I came across on the internet. These comments are from actual users and promoters of Arbonne products.


One complain is from someone that is not happy with Arbonne compensation system and the other one from someone who failed to get a refund from Arbonne International.
It doesn't mean Arbonne is bad or a scam. Not at all. Just something you should keep in mind before you decide to join.
Can you become successful with Arbonne?
I think this is the main part of my Arbonne review and I will try to explain what I think about Arbonne. As I said, Arbonne is a classic example of MLM company.
But not all MLMs are bad. Some of them are flat out scams and ripoff. Others are legit with pros and cons.
When it comes to Arbonne in some aspects it's better than many other MLMs but in some aspects it's worse than other MLMs.
But we need to answer a simple question: Can you become successful with Arbonne International and make money with it? Of course, you can.
But there are some obvious cons in this program that I want you to know before you join.
Arbonne puts some restrictions on its consultants, i.e. distributors. You can't sell their products using social media or online means or eBay or any other online service. This is a huge problem in my opinion.
And keep in mind that some of their members still do it or some of their old members. What does it mean to you? It means you will be competing with them.
This will be a big challenge for you. Plus Arbonne obliges you to meet their minimum PQV (Personal Qualifying Volume) $150 per month.
If you can't you will lose your consultant privilege. And there is a strong focus on recruitment aspect of the business. Yes, it's good that they pay commissions on up to six levels. But in order to make this work for you and make you a lot of money you need to invite hundreds of people to join under you.
Only in this case their success plan will make sense for you. I have a question for you: Can you invite hundreds of people to Arbonne?
And even if they decide to join will you be able to convince them to stay active and invest money in this business?
I'm sure most people won't be able to achieve these goals. The only way to succeed with Arbonne is to sell a lot of Arbonne products.
Can you do it? If you can then go and join Arbonne. Otherwise look for some other programs/companies.
Realistically speaking, if you do some search on Google you will find many other products in the same niche at lower prices.
You will be able to join many other companies without any restrictions and promote their products using both online and offline means.
You can even find such products at Amazon.com which is a very popular site and most people will readily buy from Amazon instead of Arbonne.
Because very few people know about Arbonne while almost everyone knows about Amazon and this is a big trust factor.
It will be really difficult to sell Arbonne products because though they are good, they are expensive.
Final word on Arbonne
I think there is nothing special in this program. I have to admit that Arbonne products are good and if you know how to find the right audience and promote Arbonne products to them you possibly can make some money.
But their prices are relatively high and it won't be easy to sell Arbonne products.
You have to compete with other companies in the same niche whose prices are cheaper.
Some people also buy Arbonne on eBay at lower prices which means you will be struggling to make sales.
Plus you have to reach minimum PQV (Personal Qualifying Volume) $150 per month which is not easy.
The company also went through bankruptcy in 2009. I think joining Arbonne International makes sense only if you have strong selling skills under your belt.
Only in this case you can reach minimum PQV volume and beyond that and become profitable in this MLM business.
Otherwise you will be struggling like many others to make a sale.
Final glance at Arbonne International
Quality products
45-day money back guarantee
You can make some money
You need to be a sales person
Prices are relatively high
Strong focus on recruitment
It went through bankruptcy
Some restrictions
Overall rank:

45 out of 100
About the Author: Adam
My name is Adam. I'm the founder of Your Income Advisor. My goal is to help others succeed online, by exposing scams and reviewing top rated products. I can help you start
your own business online