Owner – Anthony Morrison
Website: successwithanthony.com
Price: Not clear: $7, $147, etc. (unethical pricing policy)
Verdict: Not recommended
I had been searching online for quite a while, before I found the program that worked and delivered on its promises. Like many others who search online, all I found was an endless stream of scams, promising overnight success or push buttons to instant wealth.
If you are looking for a way to build a real business online you are definitely going to come across Anthony Morrison's program and before you decide to buy it or not you should find an answer to a simple question: Does this program work or is it exactly what you are looking for or really need?
The first thing I would like to mention is that there is no any helpful content on his website, just a typical promotional sales video. Morrison uses the same method used by George Brown, owner of Google Sniper, as well as is used by many other similar programs.
All those programs have one thing in common:
1.They tell you a story of having huge debts that they were unable to pay.
2.They were frustrated having no idea what to do.
3.Finally they found a magic button and became online millionaires.
For me, as an experienced internet marketer it looks funny and not convincing at all while for someone who is absolutely new to internet marketing, this looks very convincing and promising. Ok, let's check out Morrison's System.
Does Anthony offer real opportunity to succeed online?
Success with Anthony Morrison includes three modules:
Email marketing,
Social media marketing
SEO tactics.
Training material includes video lessons and PDF guides. The material is not easy to implement for beginners, that is why this product will well fit those who have some basic knowledge in the internet marketing.
So, in his video he claims to be earning $100.000 a month and this probably looks amazing and attractive to people.
Anthony uses this kind of trick to catch people's attention and at the same time he tries to show that if you buy his magic formula you will be able to earn the same amount of money that he is earning. But I'm sure if you buy his secret tactics and even apply them you can hardly make even $100 per month.
Another thing that looks funny in his video is that he claims to be earning lots of money through sources no one knows or uses! He claims that his success is based on his own secrets! This is an outrageous lie! There are no secrets to making money online.
There are proven tactics that work and will work for years and there are some "black hat SEO" tactics that may work for a short time but you can never make any serious money or experience continuous success if you use those tactics.
Anthony teaches folks how to apply a tactic called "keyword stuffing" which actually doesn't work anymore and Google can even penalize your website for doing that. Keyword stuffing is a REСIPE for your website failure.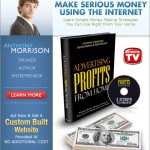 Success with Anthony course is not about teaching or educating you. It is about collecting your information so that later they can sell you other more expensive products.
During sign up process they want to convince you to sign up for a hosting account with Hostgator, for which they earn a commission. Anthony really does know well how to make money! He probably doesn't care about ethical ways of making money.
I don't think you need a hosting account at this initial stage of building your business online. First, you need someone to walk you through the process of understanding how internet marketing works.
You need to learn some skills and knowledge and then start applying it to your business. But Anthony thinks different; he wants to start making money immediately – by pushing you his crappy product.
Another thing I would like to mention and which surprised me a lot is the Warrior forum where I found a post by member saying that Anthony's product delivers more than it promises and that you actually don't need to create content for your site! The only I can say – It is a pure hype and lie!!!
Is Anthony really helpful and honest?
Anthony's program was banned from Clickbank in May 2012 due to a high number of complaints, which again is another proof that his program fails to deliver what it promises to and has no any value. Normally, Clickbank removes only those products that have high refund rate or due to a high number of complaints.
Does Anthony provide any real support?
First off, his program comes with limited support. I know what internet marketing is and I know how hard it is to build a business online because it requires some skills you need to learn before you can start making money.
I know from my own experience that even if you buy a product similar to Anthony's program, you are still going to face many problems and questions along your way. I simply can't believe or imagine that Anthony is going or will be able to answer all his customers' questions.
In one word, if you buy this product you are expected to make your way online on your own. Don't expect any real help from that guy.
Anthony's pricing policy
Anthony's price policy is another bad side of the product. In regards to the price for this product there is no fixed price and you can easily get confused. You will be asked to pay either $7, $9, or $48. He even has another option at $147.00 on the web. Ethical pricing? I think not, however not surprising given products of this kind!
Anthony's hidden tactics
Once you buy Anthony's product you are going to receive a lot of phone calls. When you purchase Morrison's course, you soon come to realize that there are other products to buy, which of course, Morrison neglects to mention, prior to membership. The price of the hidden course starts from $1000! Are you ready for that!
Many Complaints about Anthony Morrison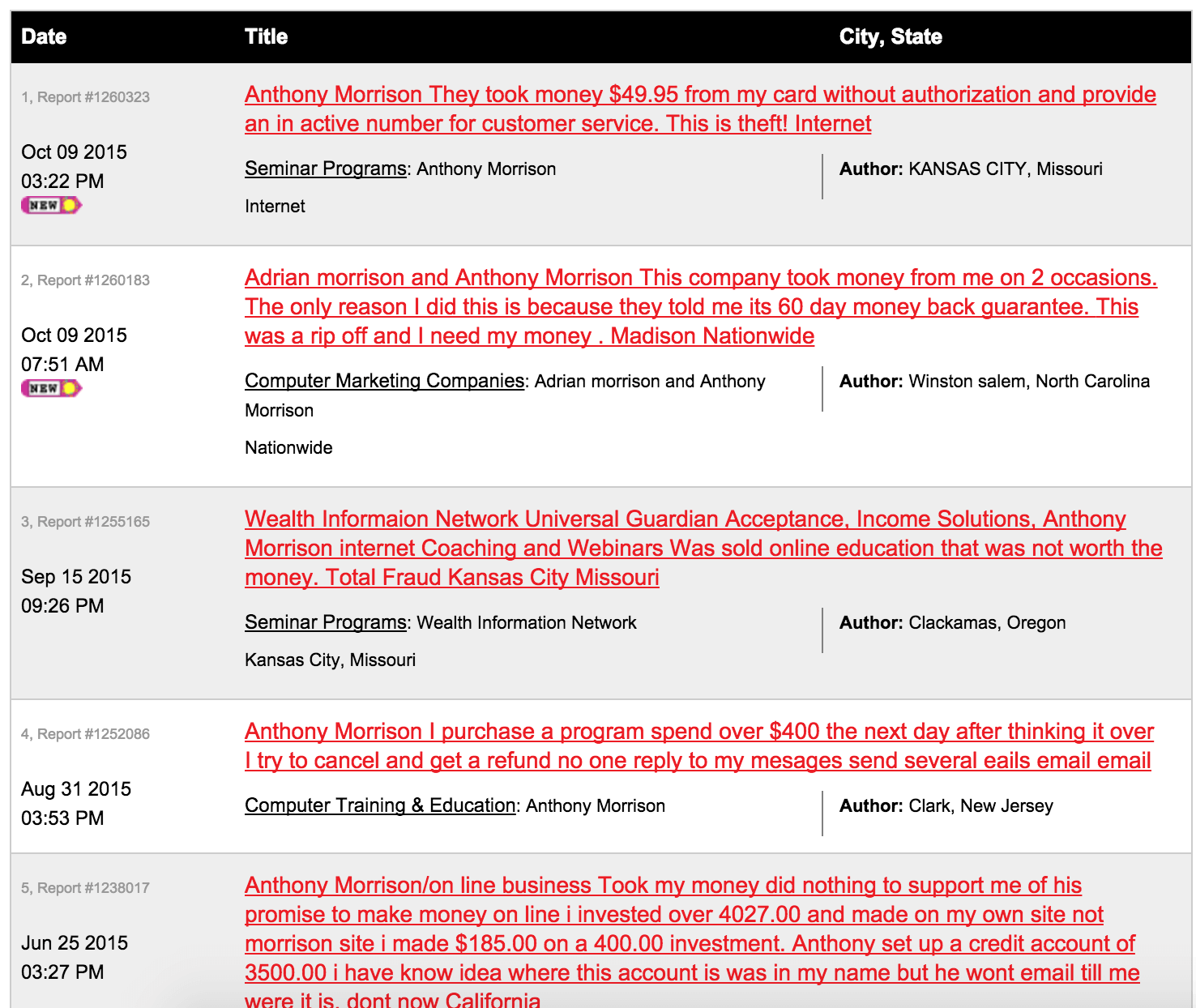 Final word on Anthony Morrison's success program
Finally, I would like to say that if you are really interested in internet marketing and want to have your own business online then the only reliable, tested over years, really delivering on its promises, teaching you only legitimate tactics, website I would dare to recommend you is the Wealthy Affiliate – program #1 on the entire web. The program I'm talking about fits the needs of both beginners and seasoned internet marketers.
Compared to Anthony Morrison's success… and many other similar products, WA program provides you with everything you might need to build a successful business online: video lessons, text tutorials, unlimited support, live chat, active forum, research tools, website building tools and many more.
You literally can't fail if you have such awesome tools, easy to implement step-by-step instructions and support.
The only reason for you to fail can be your unwillingness to work hard and learn. Instead of paying unknown amount of money to Anthony Morrison's course, you'd better sign up for a free account with WA and see what it can deliver you.
There is nothing special in Anthony's course that WA can't deliver you. WA helped thousands of people to become successful online, including me.
I can prove you right now that what I'm saying is true. Please read my post created at WA. Please note that only few members replied to my post. There are literally thousands of members that have joined the WA community, and the numbers are growing every day.
I highly recommend you to read my honest review of Wealthy Affiliate before creating your free starter account to try the program for 7 days. Once you create it, you can post a question: "Does really WA program work?"
AND see how many positive replies from real people you will receive. That is the best proof to my words. Now ask yourself, who did Anthony Morrison really help to become a successful internet marketer???
Or in other words, who is Morrison really helping to become a Successful Online Marketer, other than himself?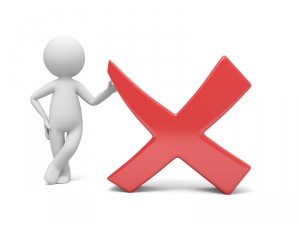 About the Author: Adam
My name is Adam. I'm the founder of Your Income Advisor. My goal is to help others succeed online, by exposing scams and reviewing top rated products. I can help you start
your own business online