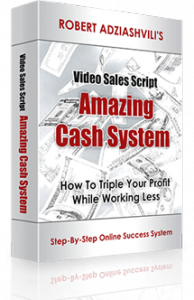 Product name: Amazing Cash System
Product owner: Robert Adziashvili
Website: filmmarketingwithyou.com
Price: $17
Verdict: Legit
Amazing Cash System is a surprisingly good product though it's not perfect at all. I like Robert's approach because he doesn't make false promises and he teaches you realistic things.
Amazing Cash System is a training that teaches you how to increase conversions on your website and to achieve it Robert encourages you to create videos because videos are growing in popularity.
I can only say that it's true and if you create enough videos you can get a good portion of traffic and increase the sales accordingly.
You don't need any previous experience to create videos because the training is a step-by-step system. Let's take a closer look at Robert's Amazing Cash System to know if it's really so amazing.
Pros of Amazing Cash System
Good training course
Money back guarantee
Affordable price
No upsells
Cons of Amazing Cash System
Though the course is good, it's not enough to be successful online
No free trial
No support
Inside the product
1. Robert's tutorial contains a lot of valuable info on how to create videos for your website, how to create good headlines for your videos to catch your visitor's attention or personalize your videos through telling a story etc.
The tips are really helpful but to be honest, I can't say that creating videos is always the best solution for increasing conversions of your website. I know many internet marketers that don't do video marketing and still they are making enough money.
Writing a text copy can be even more effective than a video in my opinion. It depends on how good you really are at applying any of these two methods.
2. Robert offers you 7 modules. You can watch modules or even download an audio version or a PDF file with the same info. In fact, it's good because some people prefer text tutorials over videos when it comes to learning.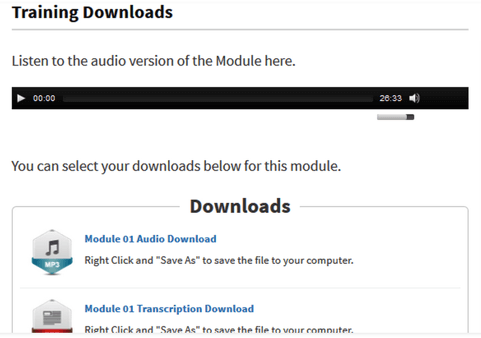 Module 1: Quick start cash guide. The main idea of this module is that sites that contain a lot of videos convert much better than text sites do. As I said above, I can't agree with this claim. Some people prefer reading texts and they tend to use a traditional Google search function while some people prefer using YouTube. It's a matter of choice and I can't agree that text sites convert worse than ones that have videos.
Module 2: Done for you simple Video Sales Template. In this module you will learn how to create a video that can catch the attention of your visitors through telling them a story which makes your video more personal and convincing. In theory, it sounds great but when it comes to practice it becomes much harder.
Module 3: Step by step checklist. In this module Robert explains how to make a power point presentation with bullet points which makes your message stronger, more clear and convincing. I can only agree with such approach.
Module 4: 365% sales booster. You will learn how to make great headlines for your videos to make them more appealing and also Robert will show you how to test your videos to see which one works better in terms of conversions.
Module 5: Instant Traffic System. You will learn how to link all your youtube videos to your website in order to drive traffic from youtube to your site. In theory it sounds great but in practice it's not. I have my YouTube channel and have received about 2000 visits to my channel so far but in fact only few of my YouTube visitors visited my site.
I have a friend of mine, a successful internet marketer who has a YouTube channel and more than 200 videos and he's never received any good traffic to his site.
What I mean is that it's not easy at all to drive traffic from YouTube to your site because those that visit YouTube prefer watching over reading and that's why most of them don't go to your site.
The best way is to add a call to action to your video and encourage a youtube viewer to take action instead of sending him to a site with a long text copy. This is what I know from my experience.
Module 6: Resource Tools Guide. In this module Robert will show you different programs that allow you to make your videos more appealing by customizing them and he also recommends to keep your videos short, under 3 minutes.
I agree with this approach because most people are impatient and won't watch a video that is 30 minutes long. But it's also not an exact formula you can always apply to all videos because some videos, such as tutorials should be as long as it requires to allow a viewer get enough info.
Module 7: The Lazy Man Guide. Robert teaches you how to hire someone to create videos for you. Generally speaking it's ok but why pay someone if you can make your video yourself?
If you plan to make a brandable, presentation video then I can agree because it may require some technical skills you don't have, but when it comes to creating let's say review videos it's always better if you create them yourself without spending money.
3. Inside Amazing Cash System you will also find Resources and Bonuses that include some good programs and videos about getting traffic.
4. In fact, you can use Camtasia program for creating videos and there are plenty of tutorials on YouTube. Snagit is another useful program. BTW, you can read my article about ranking on youtube here.
Final word on Amazing Cash System
Amazing Cash System is a good course and you can learn some helpful stuff from Robert. I like that there are no upsells inside his product or false promises on his website. If you want to add video marketing to your current online project you can buy his product.
But it has some flaws too and I think this course alone is not enough to be successful online because successful online business is not about video marketing alone. It's a combination of different methods that makes you successful. And finally there is no support.
If you have no any experience in internet marketing and want to learn how to make money online I can recommend you a program that provides a complete training on internet marketing, provides you with all necessary tools and 24/7 support.
It's been my favourite and top recommended program since 2013 and I've been part of it for almost 2 years now. You can read about this program here and if you have any questions don't hesitate to contact me. And I forgot to mention that you can create a free account to try my favourite program.
About the Author: Adam
My name is Adam. I'm the founder of Your Income Advisor. My goal is to help others succeed online, by exposing scams and reviewing top rated products. I can help you start
your own business online