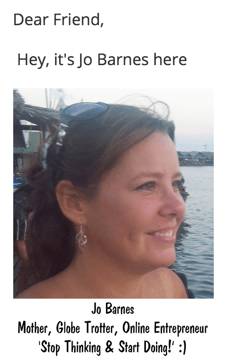 Product name: Online Marketing Academy
Product owner: Jo Barnes
Website: jobarnesonline.com
Price: $1 trial, then $49 per month
Verdict: Legit
Online Marketing Academy is a website that focuses on helping people start their online businesses through a proper education and communication with other like-minded successful people helping each other achieve their goals.
Jo Barnes has a lot of experience in internet marketing and social media and can really help you start on the internet on the right foot. It's not a get rich quick program and you HAVE TO be willing to put in the work and time before you can achieve success with it.
The main idea behind Online Marketing Academy
With this program you can learn how to create your own product and make money with it. Having your own product is a real money maker, provided your product is really helpful. Also, you will learn how to promote affiliate products and earn affiliate commissions.
Promoting affiliate products is also a proven method of making money online. Basically, Online Marketing Academy is a membership site and once you become a member, you will get access to training videos, weekly live webinars and also you will join a private Facebook group for a better communication and support.
Pros of Online Marketing Academy
A lot of training videos
You can try it for $1
Cons of Online Marketing Academy
Some videos don't provide "over the shoulder experience" which is not good for newbies
Some training materials don't contain enough info for a newbie
Support is not so good
Inside the program
1. I review tons of products/programs and write reviews almost every day and what I like the most is when I find that a particular product has a free trial or gives a trial just for a few bucks. This is the case with Online Marketing Academy. You can try the program for $1 within 21 days and that's really good because you can make an informed decision before you join it.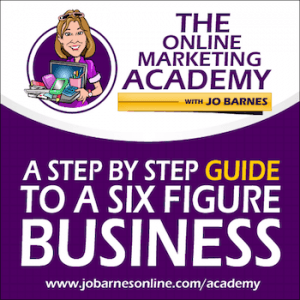 2. Also, the good part of the program is that to get access to the system, you have to pay $49 per month over the course of 12 month. You are free to cancel your membership at any time, but if you choose a 12 month membership, after it expires, you will still have access, a lifetime free access and that's really awesome. Not many programs offer such opportunity.
3. Another good thing I would like to point out is that Jo Barnes is very honest internet marketer because you won't find any false promises on her website. She clearly explains on her website what you can expect from their training program and she doesn't promise that you will be making tons of money right after joining the community.
And it's really good because most programs out there that I review, promise people tons of money right after joining and they promise it on a complete autopilot. Thankfully, Jo's website is free from such claims.
4. It will take two full months to go through Online Marketing Training and learn a lot of stuff required to be successful online. Jo Barnes explains that after watching all this material you still need to put in the work and time before you can start making money and I like her approach because it's realistic and honest.
She will teach you how to find a niche, create your own product or sell an affiliate product, create a website, drive traffic to your website, how to use email marketing, increase conversions of your website, create content for your website or use social media for maximum results. The training material is really helpful and gives you a good start if you are new to internet marketing.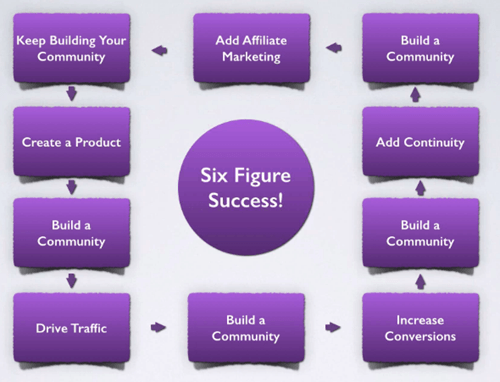 5. Also, you will get access to weekly live webinars that include a lot of helpful stuff and info, such as:
Get set for success
Choosing your niche
Defining your market
Setting-up hosting, a domain and a WordPress website
Build an online presence without a website
List building – the techie part
Setting-up Your social media profiles
List building – the attraction technique
60 minute opt-in funnel
Content marketing
Being your brand
Online survey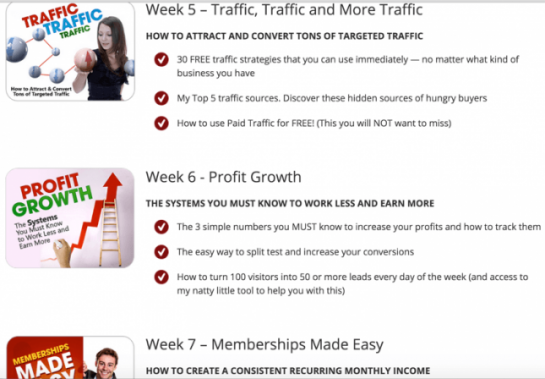 6. Jo Barnes also teaches you how to create a membership site which can allow you to create a consistent recurring monthly income and she will show you the easiest, quickest and cheapest methods to build such a site in a weeks or less.
7 .I also like that Jo pays much attention to teaching you how to create quality content for your site because it's the content that drives traffic to your site from search engines or social media. And she pays a lot of attention to social media which is good because if you use social media with knowledge, you can drive a lot of traffic to your site. And she does the same in regards to list building which is important too.
8. You will also learn how to install a wordpress site or update it, how to customize it, install plugins and understand how they work, how to add images, contact form to your site, add widgets and many other things. This is of course very important because any online business starts with a website first.
9. But one thing that I didn't like is that she talks about creating a membership site, its advantages that allow you to create a consistent recurring income, but she doesn't show you exactly how to create that type of site and that means you have to search for this info in some other places, which is not good.
10. Another thing that I didn't like about Online Marketing Academy is regarding their support which is by far not the best one on the web. You can't even ask questions on Jo's website which of course is not good at all. Their Facebook group is active but still it's not as effective as I expected it to be.
And there is no live chat which makes the process even harder and worse. Their email response is also not as fast as I expected it to be and sometimes it can take up to 3 days before you get a reply.
11. And the last thing to mention is regarding a membership site that Jo teaches people to create and make money. Though she teaches people to create a membership site, she doesn't have the same on her own website, Online Marketing Academy.
Final word on Online Marketing Academy
Online Marketing Academy is absolutely legit program and offers quality training on internet marketing and if you are looking for something realistic, it's a good start for you. But not everything is perfect with the program, though it's one of the quality trainings that I know.
The main problem is the support, because whenever I review a product and see that support is a weak side of the program, I can't add that program to my top list, though Online Marketing Academy has many positive sides. And the best part is that you can try it for $1. You can join it and try and I think it will be the right decision.
If you want a better alternative, I can recommend you a much better program I'm a premium member of that offers a much better training with supreme 24/7 support, live chat and extremely active community of like-minded people where you can get support within minutes if not seconds, and that's the main reason that this program wins my # 1 recommendation since 2013.
And the best part of it is that you can try it absolutely for free within 7–10 days. If you still have any questions, feel free to contact me and I will be happy to help you out or you can leave your comments below.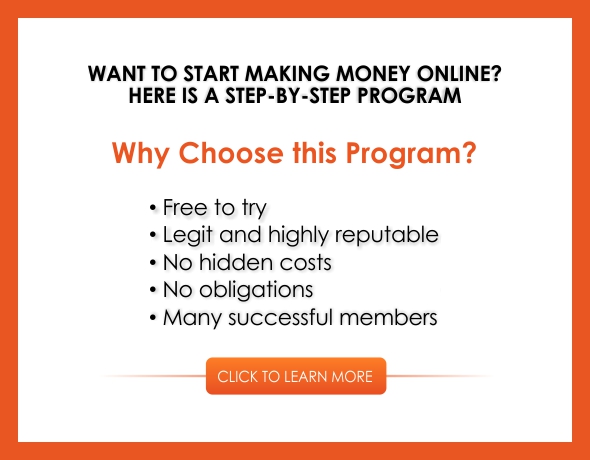 About the Author: Adam
My name is Adam. I'm the founder of Your Income Advisor. My goal is to help others succeed online, by exposing scams and reviewing top rated products. I can help you start
your own business online