Product name: My Income Team
Product owner: Alan Magliocca
Website: myincometeam.com
Advertised Price: $97, real price: $297 + $97 per month
Verdict: Scam
My Income Team is really one of the most "amazing" programs I have ever come across on the internet. It gives you false promises right from the start. Their site is a kind of locked system that never explains what you are expected to do to make money online. Not only that, you even can't get access to their crappy site until you submit your email address.
It's pretty obvious why they need your email address, they need your email to spam you later and to finally change your mind about their crappy product. Alan promises you to reveal his secret to making tons of money. So let's take a closer look at My Income Team to see if his promise real or another empty promise.
The main idea behind My Income Team
The main idea behind My Income Team is about creating your accounts with Clickbank, Clicksure and Cash Network, getting your affiliate links, adding them to your website and then Alan's team will do all the work for you, just sit back and grab the money as they come. Sounds great! Right?
But to be honest, I've seen many similar programs with similar bold claims and none of them have delivered even a fraction of what they promised on their websites. Unfortunately, the same applies to My Income Team.
Pros of My Income Team
Alan promises to reveal his secret to making tons of money
Cons of My Income Team
False promises
No support
Overpriced product with zero value to you
No free trial
No money back guarantee
His secret won't make you any real money
Inside the Program
1. First off, I would like to point out that Alan starts lying to you right from the start and it's the first signal to stay away from the program. Just look at this image, which says: "You won the key to my $143.000 business!" Does it really look real to you? It's so laughable..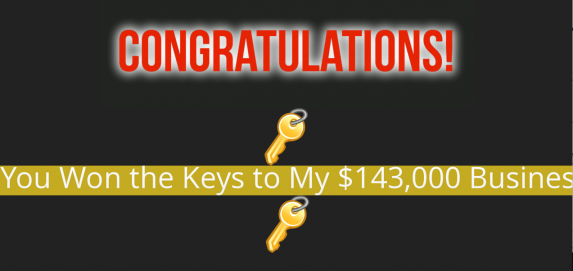 2. Another Alan's false promise is even more laughable, he promises to give you $1900 in 4 minutes. When you visit his site and start watching his promotional video, it will take approx. 15 minutes to watch it and as you probably guess you will not get $1900 that Alan promised at the beginning.


3. Then, Alan offers you his crappy and useless news network for $97. It's just another laughable offer and his attempt to scam you out of your money.
4. Another problem with Alan's My Income Team is that he doesn't explain to you what you are going to do to make money with his system. He just tries to get you inside and then upsell you, which is very normal for that type of programs.
5. As I mentioned above, you need to create your accounts with digital product networks, such as Clickbank, Clicksure and Cash Network, get your affiliate links and add them to your site and start making money. At least, it sounds simple in Alan's words but in reality it's not so.
Thousands of people create their accounts with these networks and fail to make even $5 per month. So, adding affiliate links to your site doesn't mean having a cash generating machine at all. And even if you create your accounts, I would suggest creating with Clickbank because their products are way better than those you can find on Clicksure network. Also, Clickbank's support is much better too.
6. Another problem is that they try to sign you up for a package that includes services you don't need at all when starting online as a newbie. They try to bill you for domain privacy ($9.95 monthly), automated daily backup ($9.95 monthly), traffic credits ($97 monthly), account setup ($50), etc. Total = $ 319.63.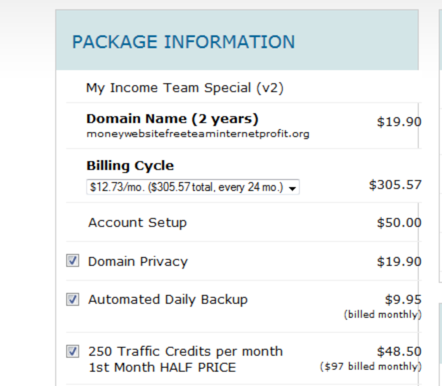 7. Just as an example, you have to pay Alan $97 for the traffic credits, which is a PPC (paid traffic). I personally buy part of my traffic through Bing Ads (PPC) and pay $50 to get 300 visitors and pay on average 0.15 cents for every visitor. My campaign CTR is on average above 8% and CPC is 0.15 cents which is very good. And I don't need to pay Alan $97 instead of $50.

8. On a separate note, I would like to point out here that if you are new to internet marketing, PPC is not what should be your first step because if you don't have a proper knowledge on how to organize your PPC campaign to make it profitable and enough experience, you can easily waste your money with no results.
To pay someone to organize your PPC campaign doesn't seem reasonable to me at all. Additionally, Alan claims that he will pay $1500 out of his pocket to send you the traffic 🙂
9. Besides that, you will most probably be getting traffic from traffic exchange networks which is useless because people are being paid there for clicking the ads and that's why they are not interested in buying anything.
10. The best source of traffic is a free search engine traffic from Google, Bing and Yahoo and to get that traffic you need to write an original content for your site. This is what Alan is not going to teach you simply because he wants you to lock into his system.
11. Also, Alan wants you to pay for 2 years of hosting which is absolutely laughable. Why should you pay for 2 years? I think the answer is obvious, he wants to lock you into his system and make as much money as possible.
12. Another lie from Alan, look at the image and smile if you have a sense of humour 🙂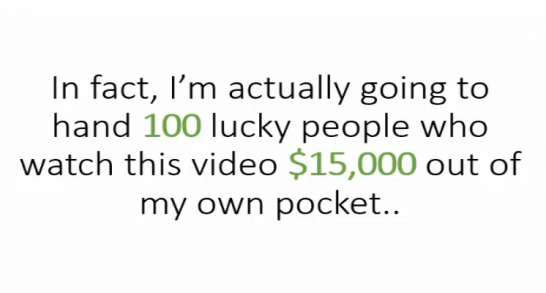 13. Another fact is that you have to pay Alan $97 per month to be a part of his amazing team which is very expensive simply because there are many other programs that deliver a much better service with a much better price.
14. On top of that, there is no support and that's the main reason why I add this program to my scam list.
Final word on My Income Team
Finally, to be honest, I can't recommend this program simply because of many lies and false promises that surround this program. Their system is useless and a waste of time and I'm pretty sure you won't make even a penny until you are a part of their team.
Just as an example and a better alternative to Alan's amazing system, I can honestly suggest that you try a program that wins my # 1 recommendation for a number of years now and it's a program that I'm a part of since 2013.
I pay $29 per month and have access to the best training material on internet marketing in the field, tools, active community of successful internet marketers ready to help me whenever I need, supreme 24/7 customer support, live chat, etc.
The program I'm a part of is the best program on the web and is highly reputable. Their service is WAY BETTER than Alan's so called Income Team and Alan's system fails to deliver you even a small fraction of what delivers my # 1 program. If you have any questions or comments leave them below and I will respond within 24 hours.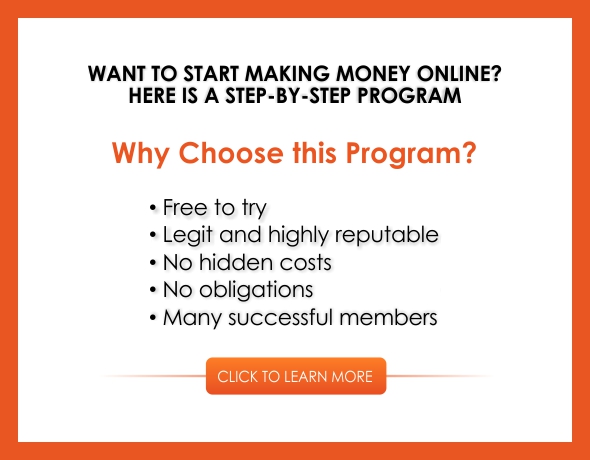 About the Author: Adam
My name is Adam. I'm the founder of Your Income Advisor. My goal is to help others succeed online, by exposing scams and reviewing top rated products. I can help you start
your own business online