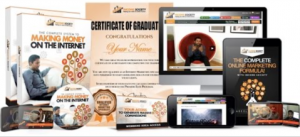 Product name: Income Society
Product owner: Adeel Chowdhry
Website: incomesociety.com
Price: $9.95 + upsells
Verdict: Recommended? Yes and No
Income Society by Adeel Chowdhry is just another program that teaches you to make money on "autopilot". When you land on Adeel's Income Society website you will watch his promotional video full of BS claims.
He will show you the payments he's received for the last 2,3 hours and that means he is not fake, he is making money. That's true. But does it mean that you will make money if you follow his training and learn from his experience?
If you are new to internet marketing you might be thinking that if Adeel can make that much money then I will make too. I would say, Yes and No. If you follow his training, most likely you will make money IF you are willing to put in the work.
But my main issue with Adeel's Income Society is that though his program is legit, he makes some bold claims and false promises, like he can help you make money on autopilot. This is not true!
I guarantee that you WON'T make money on autopilot! It won't happen. Ok, let's take a closer look at Adeel's program to see what exactly we can expect from this guy.
The main idea behind Income Society
Income Society is a video course on internet marketing that teaches you how to make money through affiliate marketing or how to create your own product and make money from it. Both methods are legit and the overall quality of the training is good. But it takes some time before you make your first buck and it's not as easy as Adeel is trying to convince you.
Pros of Income Society
Good training course
Money back guarantee
Cons of Income Society
Some false promises
Exaggerated earnings
Weak support

Inside the program
1. First off, the overall quality of the training (video and text) is really good and if you are completely new to internet and affiliate marketing, you can benefit a lot from this training. You will learn how to find a product on different digital product marketplaces, sell it on your own website and make money from it.
But one thing you MUST understand that there is no shortcuts to instant wealth. Even if you get trained in the best program you still need to put in the work before you can achieve even a decent success, not to mention huge profits.
That's why, I really don't like that Adeel uses some misleading marketing tricks in his promotional video to lure people into buying his product, though he knows that there is no guarantees that someone can repeat his success.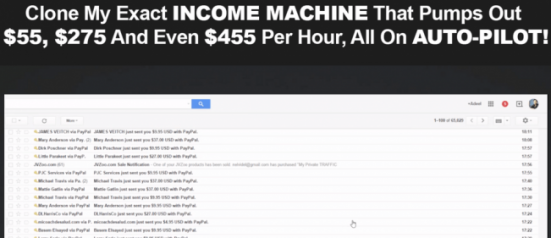 All people are different, 10 people can be trained in the same program and apply the same strategies but their results will be absolutely different. That's why, the fact that Adeel claims that anyone can clone his exact Income Machine that pumps out $455 per hour on autopilot is absolutely ridiculous!
2. Also, Adeel promises that he will give you a website valued at $1997 for free. This doesn't mean anything or that its real price is that much. Just as an example, you can buy a website at flippa.com for $2000 that already has some traffic and makes sales. As for Adeel's free website, it doesn't make any money and is not getting any traffic. That's why, in this case Adeel is trying to sell you a dream.
3. Also, Adeel is trying to sell you a bunch of videos (first upsell) about successful online millionaires though you can easily find tons of such motivational materials elsewhere on the internet, especially on YouTube. And his second upsell is a affiliate commission website for $37 which he claims to be free, but actually it's not free.
4. Once you get access to the members area you will be offered an extremely expensive private coaching that might cost you from $500 up to $50.000.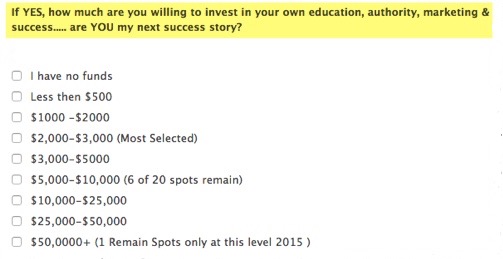 It is not realistic at all. Just as an example, I'm a premium member of Wealthy Affiliate ( a much better and cheaper alternative to Income Society) and have access to a much better training than that offered by Adeel, have all necessary tools, 24/7 supreme support, live chat, access to many successful internet marketers, Kyle and Carson (the founders of the program) an many more and I pay for my membership $29 per month.
I can contact the founders of WA via live chat and get support from them almost every day.
5. The training inside the members area is absolutely well worth the price you pay for it. The training includes modules such as:
SEO for beginners
List building creating opportunities
Email marketing master class for list building
Squeeze page integration in list building
List segmentation and split testing and many more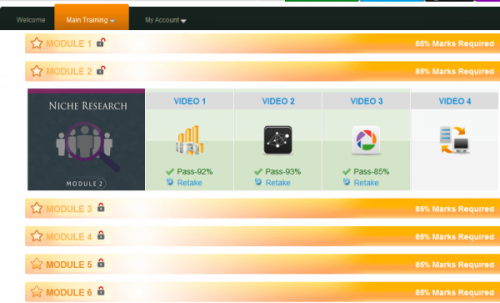 The quality is very good and Adeel is an excellent presenter. The main training consists of 22 modules and there is also a ton of extra training. The members area includes "main training", "vault" (25 lessons about YouTube) and "special training".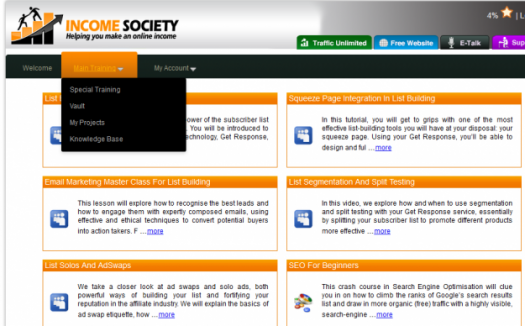 At the end of each lesson you have to pass the test (get an 85% score at least) which is really a good feature. It seems Adeel has really put a lot of effort in creating this training that makes a big difference compared to many other trainings available on the web.
6. If you are new to internet marketing, this course will be a good start for you, but if you have some experience, I don't think it's a good fit for you, especially because the training was designed in a way to not allow you to skip lessons.
7. Adeel also suggets that you use Market Samurai keyword research tool which is very important for your online business. Using keyword tool is extremely crucial because before writing content for your site you must do some research to know which keyword can bring you a good traffic while being not too competitive.
I'm personally using Jaaxy keyword tool and in my opinion it's better than Market Samurai. While Market Samurai has more options, Jaaxy provides more precise data, especially in regards to competition metrics which is extremely important.
8. My main issue with Adeel is the support because it's really not as good as I was expecting from such quality program like Income Society. There is no:
24/7 support,
Live chat
Active community where you could get assistance whenever you need
Access to other experts (successful internet marketers)
The only way to get support is through Zendesk which is useless in case you have any question related to the training in particular or internet marketing in general. If you want personal coaching you will have to pay Adeel and it's not cheap at all.
Compared to this program, I'm a premium member of Wealthy Affiliate and my membership fee ($29 per month) includes absolutely everything: Top quality training, website, keyword research tool, weekly live webinars, 24/7 support, live chat, access to hundreds of successful internet marketers, access to the founders of the program via live chat etc.
Though Income Society is a good program, it does really have some flaws compared to a program I'm a premium member of.
Final word on Income Society
Adeel's Income Society is a very good training course and a good fit for anyone starting online but has some flaws as I mentioned above. My main issues with the program is that Adeel uses some misleading tactics and makes false promises and there is no real support and without support you will certainly get stuck at some point.
If you are looking for a legit training that has the same quality that Income Society does provide, BUT with much better support which is extremely critical, I can honestly recommend you my # 1 program I'm a premium member of since 2013. And the best part of it is that you can try it for free. Let me know if you have any questions and I will be happy to help.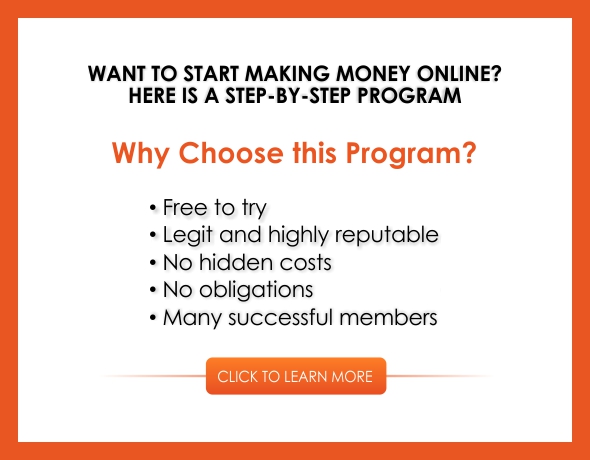 About the Author: Adam
My name is Adam. I'm the founder of Your Income Advisor. My goal is to help others succeed online, by exposing scams and reviewing top rated products. I can help you start
your own business online