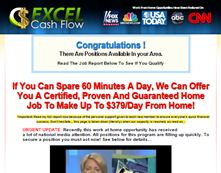 Product name: Excel Cash Flow
Product owner: Cami White
Website: secureonlinesite.com
Price: $97, after discount $77, then $67, $57, $47, and finally $27 🙂
Verdict: Scam
Excel Cash Flow is just another classic scam program that promises you to make a lot of money and uses the same deceptive methods like many other poor programs that I review every single day. They encourage you to take your financial future into your own hands and start using Excel Cash Flow to change your future to a better.
They play on your feelings saying that you are probably not aware of thousands of people making money with their program and that's why you should pay very close attention to their program to join that lucky group of people…
The main idea behind Excel Cash Flow
The main idea behind Excel Cash Flow is pretty simple. They promise that you can make money by just posting links and they are going to pay YOU $15 per link. Looks attractive, right?
I review a lot of products, most of which are scams and I've been involved in internet marketing since 2000 and can tell you definitely that no one is going to pay $15 per link, just for posting them. It's a waste of time and I'm going to explain it below.

Pros of Excel Cash Flow
You can probably make a few bucks
Cons of Excel Cash Flow
False promises
No real money back guarantee
Too much exaggerated earnings
Deceptive marketing methods
Inside the program
1. The first thing that I don't like about Excel Cash Flow is that right from the start they make bold claims and use deceptive methods to make you believe that you really can make tons of money with Excel Cash Flow, though it's far from reality.
They promise that you can make as much as $379 per day from home! $379 per day x 30 days = $11.370 per month. This is not true.
I've been involved in online business since 2000 and can definitely tell you that to make that amount of money per month requires 1 to 2 years of hard work.
And even then, not every person can reach that amount. Many internet marketers that I know, make around $5000 per month and only few make over $10.000. That's why, what Excel Cash Flow promises you is pretty much exaggerated and not realistic.


2. They promise that you can spend 60 minutes a day to make that amount of money, but in reality you need to work very hard to be able to make just a few bucks with their system. This of course is exactly what they don't tell you on their website. That's why, be aware of that.
3. Also, think twice before you pay that site because I'm pretty much sure that if you pay, it will be extremely difficult to get your money back if possible at all. I reviewed tons of products/programs and can tell you that poor programs like Excel Cash Flow are not trustworthy sites and you'd better think twice before you pay them.
4. They tell you fantastic stories about home business owners that post their links every year and that companies need people to process them. And this is where Excel Cash Flow comes into play and gives you a great opportunity to make over $10.000 per month by just posting links. This is really unbelievable to make $225 for 60 minutes.
5. They tell you that companies don't want to buy new office space or hire employees to do this job and that's why they are ready to pay YOU to do this job from home. This is of course a classic story to make you believe them and has nothing to do with reality.
You will need to partner with many different companies (sites) that promote different products and then you need to post those links here and there in the hope that someone will click your links and buy some stuff and you will earn a commission.
The problem is most of your links will be removed by site owners because no one likes spam and I think you would remove them too if you had your own website.

Also, you can't post your links on the same place and that's why you need to be very active and always find new places.
You REALLY HAVE TO BE VERY ACTIVE and post tons of links which will take hours and hours of hard work and the worst part of it is that like I said you above, most of your links will be removed immediately after you post them.
As you probably understand, chances that you make money are extremely low and I'm sure you will be able to make a few bucks at best and zero at worst.
6. The only thing I like about Excel Cash Flow is that they tell you on their website how you are expected to make money, i.e. by posting links. I like this approach because many scam programs don't explain exactly what you need to do to make money. That's why their being honest in this at least is really appreciated.
7. There are also many complaints about Excel Cash Flow on the internet and if you make some search, I'm sure you will be amazed by the facts. Here are just two complaints that I've found.
I think it's pretty obvious that the program is not worth your time and money and trust me and my experience, you will not make thousands of dollars by just posting 15 links a day spending 3,4 minutes per link. It's just not going to happen.


8. And the last issue with Excel Cash Flow is about using fake ads, such as Excel Cash flow being featured at CNN, USA Today, Fox News. This is of course ridiculous and I hope you are smart enough to understand that this is not true.

9. Also, they use an ad, as if Google, Yahoo and other search engines are their search partners and that you will be a search engine agent which is another clear signal that they are lying to you. Search engines, such as Google, a multibillion-dollar company doesn't need services of such crappy sites like Excel Cash Flow.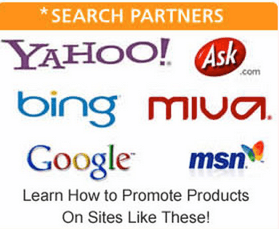 Note: None of these search engines has partnership with Excel Cash Flow
10. And they've even put a calculator for YOU to make the process of counting your profit MUCH easier. I hope you will like it if you have a sense of humour and I believe you will…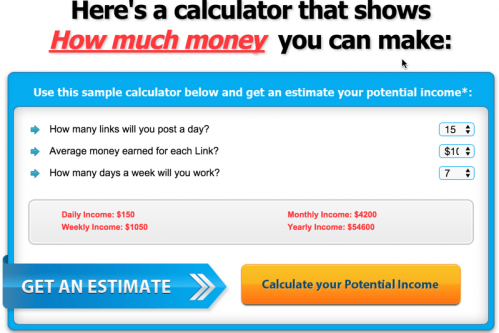 And of course, they promise you this:


Final word on Excel Cash Flow
I believe after reading my review it becomes pretty clear that Excel Cash Flow is not the right option to start online. But it's still up to you. I personally don't recommend it because I would never pay them even a penny.
Remember, if a company makes false promises, use deceptive marketing methods, promise thousands of dollars at the click of your mouse, most probably it's a scam. Excel Cash Flow is a SCAM.
If you want to start your own business and make money on the internet, I recommend you to read about my # 1 program below and if you have any questions, feel free to contact me and I will be more than happy to help you out.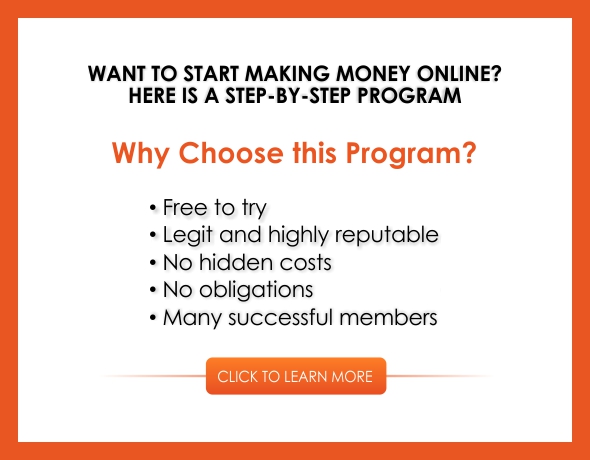 About the Author: Adam
My name is Adam. I'm the founder of Your Income Advisor. My goal is to help others succeed online, by exposing scams and reviewing top rated products. I can help you start
your own business online