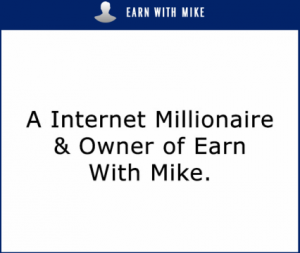 Owner: Mike Anderson
Website: www.earnwithmike.biz
Price: $97
Verdict: Scam
When I first came across "Earn with Mike" website, I was really very surprised, not only at the quality of their promotional video, but an outdated approach as well.
But when I say outdated, I mean that the video starts with a typical salutation followed by an outrageous lie that you are minutes away from making money with a few clicks of your mouse. The video promises you that you will never be asked to do anything, except a few clicks of your mouse a day.
Their approach is absolutely outdated because I'm an experienced internet marketer and don't buy into that type of trash anymore. The video tells that Mike's created a new income generating system that can help you earn $175-$1800 a day.
If you're new to internet marketing then know that it is a LIE and I'm going to prove it in this article but before that I would like to look into details of Earn with Mike program.
The program owners, Winter Valko and Graig Davidson have also created a few other low quality products, such as Mass Money Traffic Machine, My Vegas Business, Quick Income, and other programs.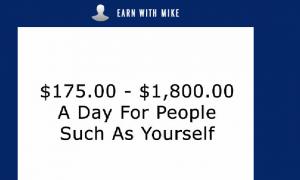 Inside Earn with Mike member's area you can find video trainings and tools. There are different sections inside the member's area, such as First start, Video Guides, Products for profit, Resources, Automatic Traffic system and Bonuses.
The member's area overall design and structure is really horrible just like their home page. While some of the information is legit you can easily get confused inside that area. It is really hard to figure out which part of the training is the part of the course and which is not.
After filling out the application you will be sent to the payment page to pay $997 and after entering a "discount" coupon code you will be offered to pay $97. I hate such a misleading sales technique, because of the way they try to convince you, as if they give you an amazing product of high value for a small price.
Actually, their product is not even worth that price ($97). But it is not the end of that story. If you click off 3 times you can get this "amazing" product for $17! And it doesn't even stop there.
You would be informed that your application was approved out of many others but it is not true. This is another misleading technique and I advise you to ignore it. Actually, all applications get approved.
Inside Earn with Mike
As I said, there are different sections inside the member's area, such as First start, Video Guides, Products for profit, Resources, Automatic Traffic system and Bonuses.
First start includes: Earn money, Finance tips, Thinking like a millionaire;
Video guides include: 7-day E-coach videos, Idea generator, How to create membership sites, No income streams, No money down, Easy re-sell;
Products for profit include: Some products to promote
Automatic traffic system: How to create traffic
Bonuses: audio, video bonuses, product and software bonuses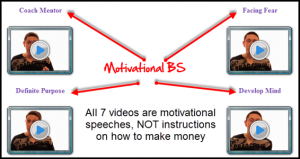 What I didn't like:
You can also get your bonus (websites) but they are actually files full of code and I don't really think you need them. With the power of WordPress you can build a website within a few minutes and that's why I consider their bonus websites to be absolutely useless.
They offer some bonuses, such as viral traffic secrets, fast content producer, keyword tool, free cash generator, make money with membership sites and more. Some of them are useful while others useless. Fast content producer is absolutely useless because any content created by software will never give your site any good rankings in search engines.
7-day E-coach video course includes videos on how to be successful online. All these videos are motivational and don't teach you any real strategies that you can apply to your business and start making money.
Resources section offers you 3 links to: autoresponder (Aweber), hosting (not the best one) and Clickbank. So, there is nothing special, because all these resources are available on the internet.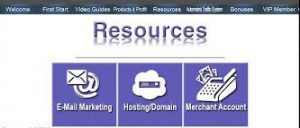 Does Earn with Mike provide any support?
There is a support team that can theoretically help you if you get stuck but to be honest, I don't know whether they are really helpful or not.
My final word on Earn with Mike
Now is the final part of my review and I'm going to prove that the program is not worth your money and precious time. You have probably read other reviews or will read after mine. I have come across some reviews on the internet saying that if someone says "Earn with Mike" is a scam, it is because he tries to promote his own product.
I don't think those reviews are honest. To promote a good product that has a lot of positive reviews is not bad while promoting a product that has a lot of negative reviews (for example, Earn with Mike) is really bad.
I can honestly recommend you to try the best program (Wealthy Affiliate) on the internet that has a lot of positive reviews and can really help you build your business online and the best part of it is that you can join this program for free. If you like it you can go premium and if not then forget it.
You have nothing to lose. I'm not saying that they will build a business for you and that you don't need to do anything. They will teach you how to build a successful business online, and give you all you need to accomplish the task.
Some other bloggers who have an affiliate link to "Earn with Mike" program try to convince you to join that program because they earn a commission from that program.
Some of them even claim that after joining that program they earned $300 in their first week and $2000 in their first month! Do you really believe them? Very few people can make that amount of money in the said time frame and it's true for experienced internet marketers.
I can honestly tell you that any program that promises you just like "Earn with Mike" that you can easily make a lot of money with it, stay away from that program. I'm really tired of that type of misleading and false statements. I tried many similar programs and trust me, none of them worked.
Building a real business online requires time and hard work and if you follow the right course you can start making decent money in a few months and serious money by the end of your first or second year, but not by the end of your first month as many programs similar to "Earn With Mike" claim.
I am not going to convince you that "Earn with Mike" is a scam but I can't recommend it because there are many other quality programs that have a lot of positive reviews, such as Bring the Fresh, Chris Farrell Membership, Affilorama and Wealthy Affiliate. I can honestly recommend you Wealthy Affiliate because I tried it and know from my own experience. Read my honest review of WA below.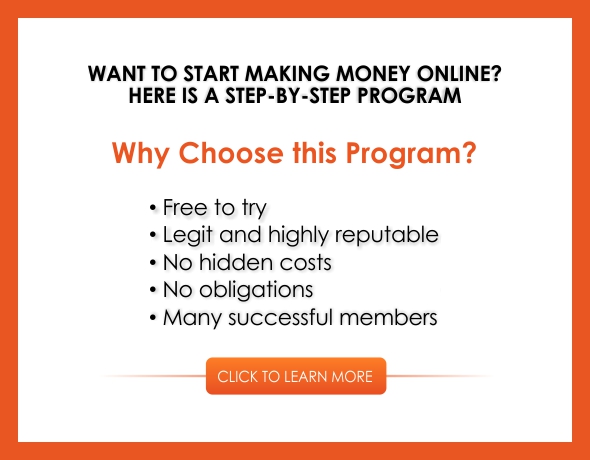 About the Author: Adam
My name is Adam. I'm the founder of Your Income Advisor. My goal is to help others succeed online, by exposing scams and reviewing top rated products. I can help you start
your own business online