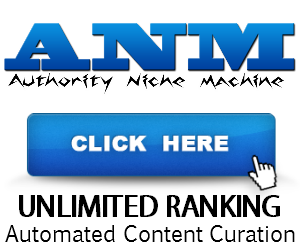 Product name: Authority Niche Machine
Product owner: Shane Paxton and Carl Smith
Website: authoritynichemachine.com
Price: $27 + upsells
Verdict: Not recommended
Authority Niche Machine is a program that Paxton claims can help you rank your sites on autopilot with minimum effort on your part. As you probably know content is the foundation of any online business and if you have original content on your site that means you can gain authority in search engines and drive free organic traffic to your site.
You need to have an original content so that people can benefit from it and this way you can build relationships with your audience. This takes time and effort and over time you will gain a strong authority.
Paxton and Smith claim that with their program you are now in an advantageous position because their program is going to do all the work for you. Let's take a closer look at this program so we can know if this program is worth our time and money.
The main idea behind Authority Niche Machine
The idea of this program is not new. It provides you with a niche sites with prewritten content (spun content), then allows you to drive a massive traffic to your site and finally make money. You don't need to work hours because this program is a done for you system.
The truth is that like I said in my other reviews that there is no such a thing as easy money, done for you system, set and forget cash generating machine. Like many other programs, Authority Niche Machine doesn't live up to its promises and I'm going to explain why this program is not recommended.
Pros of Authority Niche Machine
Some training videos and tools are useful
Cons of Authority Niche Machine
No real support
No free trial
Spun content is not the right path to online success
Their strategies can destroy your online business
Inside the program
1. With this software you can build a website, fill it with spun content, add affiliate links and promote your products. The program also allows you to do a keyword research and it claims to send you a massive traffic, but to be honest this type of traffic is useless and won't help much in making money.
They have 5 main modules:
Module #1: Add A New Website
Module #2: Setting Your Site Preferences
Module #3: Create Campaigns
Module #4: Keyword Research
Module #5: View and Manage Campaigns
Module #6: WP Poster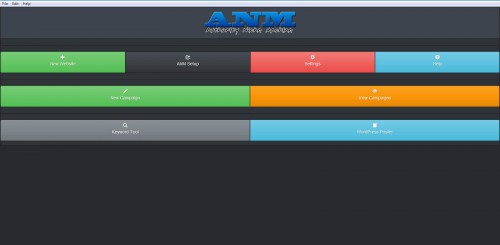 2. I don't know of any quality program/product that comes from Shane Paxton and Carl Smith and especially Shane. He has created other products like Niche Site Revolution, Home Fitness Special Offer, Baby Shopper Portal, FBA Domination, Dating Niche Profits, Camping and Hunting Shopper Portal etc.
Most of his products are done for you systems and to be honest are poor products because there is no such a thing as sit back and grab the money. Any online business and success requires hard work and patience before you can take your business to a desired level.
I know from my experience that most of the time all these done for you systems are nothing more than just another empty promise.
3. What I like about Authority Niche Machine is that these two guys don't promise you thousands of dollars overnight and in that sense they are different from other programs.
Also I like their honest approach because on their website they show you exactly what you are going to buy from them and you can see in the video how their software works before you pay for the product.
It's really good keeping in mind that most programs that I know always hide the info and you have no idea of what you are going to get for your money. I appreciate their honest approach.
4. Though Authority Niche Machine has some useful tools and training modules (9 modules) the overall quality is not good because it encourages people using spun (PLR) content. It means you can take someone else's content, rewrite it using their software and then use it as your own content.
Google hates content created this way and with each update Google becomes smarter than before. I can tell you with full confidence that Google can easily detect spun content most of the time and the site that uses that type of content will be removed from search results immediately. What does it mean?
It means you will lose your traffic and your business accordingly. That's why I really don't recommend using this type of content and even those who encourage other people to use it they never use it themselves.


5. In general, the idea of niche research, doing keyword research, selling affiliate products is legit but doing it through spun content is unacceptable and that's why I can't recommend this product to anyone.
6. They also have a live chat option on their website and I decided to contact them to ask some questions and you know what happened? I know from my own experience that programs like this one always have poor support and I was right.
I tried to contact them via live chat, waited to be connected and nothing happened. A friend of mine tried to contact them too, waited for over 30 minutes, asked questions and never received any reply. I think it's very normal when it comes to products like this one.

Final word on Authority Niche Machine
I don't want to say that Authority Niche Machine is a complete scam. I think it's not. But the program is really poor and their support is terrible. You can't even try it for free. With all this in mind I don't think it would be wise to pay for the program.
Instead of wasting your time and money on programs like this one I honestly recommend you a program that has been proven to work through years. It's legit and highly reputable and I've been a premium member of it for almost two years now.
They have a top-notch training, tools and supreme support including live chat. You will learn all you need to build a successful
online business. You will never be in the darkness because whenever you get stuck the community will help you right away. You can even try this program within a week and ask questions if you have any before you take your decision.
I'm sure you will be happy with the program because it's one of the best programs that I know and can vouch for its quality. Let me know if you have any questions and I will be happy to help.
About the Author: Adam
My name is Adam. I'm the founder of Your Income Advisor. My goal is to help others succeed online, by exposing scams and reviewing top rated products. I can help you start
your own business online