Product name: Andrew Taylor Enigma Code
Product owner: Andrew Taylor
Website: enigmacode.co
Price: Requires investment
Verdict: Not recommended
Andrew Taylor Enigma Code has been tailored specifically for people that don't have any clue about making money online or experience so using this program they could make a lot of money with little work on their part.
Based on my experience I can say that I spot programs like this one a mile off because it has been already proven through years that making money online requires time and effort while it has been proven that any program promising you money on autopilot is a scam.
Trading binary options is not actually a scam if you learn this skill from a reliable source and trade wisely. It requires a lot of experience and knowledge and taking the right steps or otherwise you will lose all your money in no time.
And even if you learn this skill from a reliable source it still involves a lot of risks you can't even imagine. In the promo Andrew uses on his website he tells that it's a secret system and it can generate you millions of dollars in a matter of a few days.
This is just another empty promise and I'm going to show you some facts and risks involved in this opportunity so you can make your decision.
Pros of Andrew Taylor Enigma Code
Theoretically you can make money at the push of a button
Cons of Andrew Taylor Enigma Code
It requires investment ($200/$250 at least)
You can easily lose all your money at the push of a button
No money back guarantee
A highly risky venture (similar to roulette)
Inside the program
1. I've reviewed many binary options programs so far and have noticed that all these binary programs claim to be super secret and you are very lucky to come across such an amazing opportunity.
Some tell a story about Harvard professor who has secretly generated millions of dollars, some tell that you are the chosen and now Andrew claims that you can make money at the push of a button.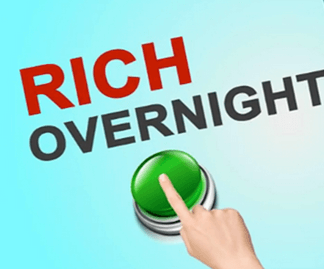 This is of course not true and the approach is wrong and dishonest. By getting involved in trading binary options you are going to become a gambler because in this business you never know when you lose or win.
If you are looking for a legit opportunity that can help you make money online consistently in order to quit your 9–5 job then this opportunity is not for you because it's not a stable method of making money. You can make money a few days in a row and then lose all your money in the next few seconds at the push of a button.
2. I also told in my other reviews that very often sites like Enigma code warn you that trading binary options is a risky method of making money and they don't guarantee you any income. You just need to be a bit more attentive to see that warning.
At the bottom of their site you will see it. It says that you can lose your investment or income is not guaranteed. All this means that you have to be very careful before you invest your money because there is no money back guarantee in binary options business.

3. Below I want to tell you about 3 ridiculous claims made by Andrew and then ask you one simple question:
He claims that you are going to be a millionaire within 5 short days
He claims that all money problems gone thanks to his Enigma code
He claims that your chance to make millions will expire if you don't take action now




My question to you: Do you really believe Andrew?
4. Please take a look at the testimonials Andrew uses on his amazing website and tell me honestly: Do these testimonials look real?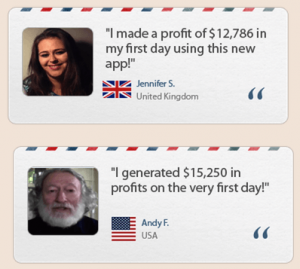 5. When you create your account at enigma code you need to sign up with a broker to start trading. You must know that Andrew admits that his site deals with unlicensed brokers which means that you're going to risk your own money.
Also, you should keep in mind that many brokers are from countries with a weak regulatory system which means you may have difficulties when withdrawing your money. Some brokers have a bad reputation with a long list of complaints under their belt.
6. Also, keep in mind that many binary options programs have legal issues. In this document you can learn some interesting facts about online binary options programs. Most of them are not complying with U.S. laws. There are many complaints about binary options programs and it's a fact that a lot of folks have lost thousands of dollars at sites like Enigma code.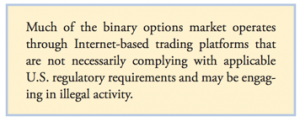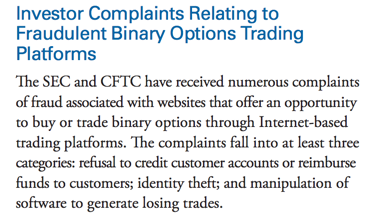 7. All binary options programs claim that you can start making money for free which is not true. You need to fund your account to be able to trade and the minimum amount is $200/$250. If you lose your money no one is going to return your deposit.
All binary programs encourage you to invest more to be able to make more and each time you add some funds to your Enigma account Andrew will earn a commission off you.
8. Most binary options programs don't provide any training which is very bad because before using this type of software you must get trained to know how to trade binary options with minimum risk if only this word is appropriate here. Even experienced and licensed brokers lose a lot of money in this business because it's almost impossible to predict market.
9. Most programs claim to be 99% accurate when it comes to trading binary options though it can't be true because no software in the world can predict market. It's simply impossible. If it's true then why there are so many complaints about these programs and why people lose thousands of dollars?
10. I also recommend you to not trust those sites that write positive reviews about binary options programs because most of them are lying to you. They always add affiliate links to the program they review in order to make money off you while they can't themselves make even a penny with the same program.
11. If you like this type of business you must realize that in order to trade successfully you need to analyze the market, read economics and financial journals to understand world market and to see the whole picture. All this means that in order to be successful in binary options business you need to do a lot of research which is time consuming.
Final word on Andrew Taylor Enigma Code
My answer is simple. I don't recommend it. But if you want to learn how to make money online the honest and legit way I can recommend you my # 1 program I've been a member of since 2013. You can try it absolutely for free within 7–10 days without any obligations or credit card. Let me know if you have any questions and I will be happy to help you out.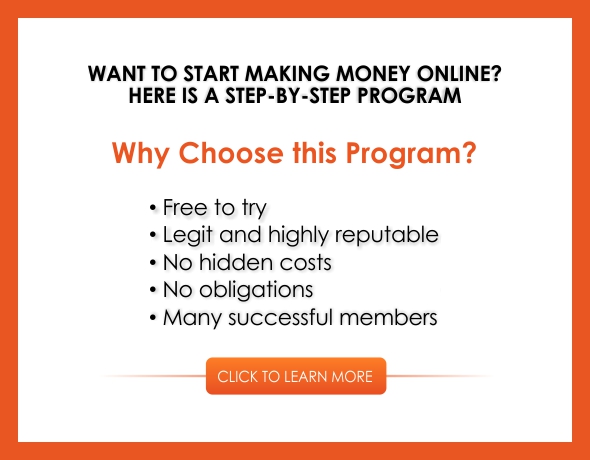 About the Author: Adam
My name is Adam. I'm the founder of Your Income Advisor. My goal is to help others succeed online, by exposing scams and reviewing top rated products. I can help you start
your own business online